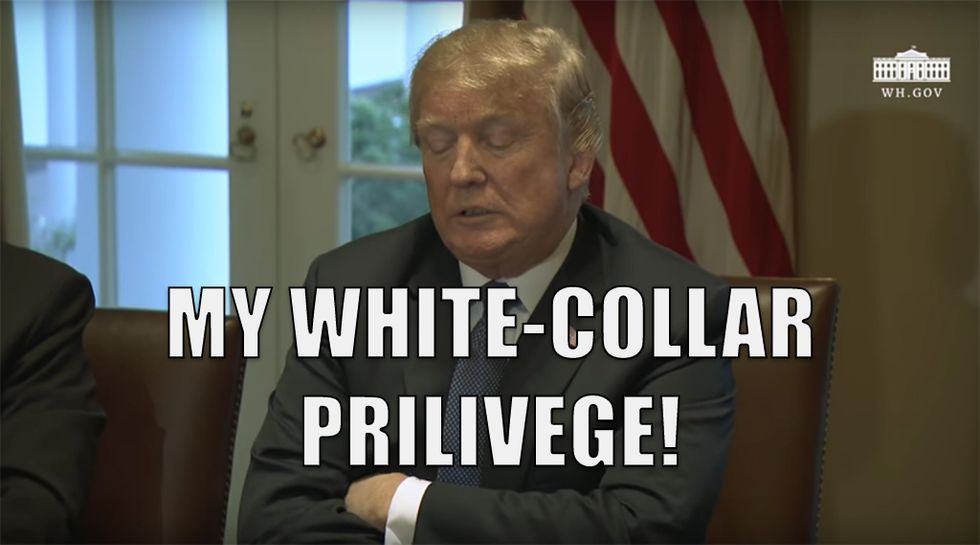 Morning Wonketariat! Here's some of the things we may be talking about today.
---
The FBI raided the New York lair(s) of Michael Cohen after Robert Mueller tipped off the United States Attorney for the Southern District of New York, suggesting that this is as serious as Trump-Russia, and entirely separate. Cohen is being investigated for possible bank fraud and campaign finance violations, potentially stemming from ALLEGED hush money payments to Stormy Daniels. [Archive]
Trump is beyond pissed that Cohen's office was "broke in to" by the FBI, lashing out at reporters as he called the investigation a "disgrace" and a "witch hunt" before ripping into Jeff Sessions, Robert Mueller, and HER EMAILS. Some analysts are calling this "a bomb on Trump's Front Porch."
Lawyers for Paul Manafort want to omit evidence seized during Robert Mueller's wake-up call last July, arguing the warrant was too broad, and he didn't even have a chance to clear his browser history!
Maggie Halebertron reports that Mueller is looking at a $150,000 payment made to the Trump Foundation after Trump gave a tele-speech to Ukraine during the early months of his campaign. 
A number of top Republicans in the Senate are warning Trump's White House not to start slicing up the omnibus spending bill just to take a cheap shot at Democrats.
The Trump administration snuck in new rules for the ACA while you weren't looking. The new rules shift more power to states and create retroactive loopholes.
Mike Pompeo has asked Hillary Clinton how not to get Benghazi'd during his confirmation hearing, and has reportedly made "lengthy" calls to the former Secretary for advice.
The Office of Government Ethics sent a nasty-gram regarding all the swamp-ass creeping out from EPA Director Scott Pruitt, noting his actions "raise concerns about whether the Administrator is using public office for personal gain." Ya think?
HHS has placed Deputy Comms Director Ximena Barreto on administrative leave after some do-gooding journalists saw her name pop up on a database of Trump hires. They found some deleted social media posts pushing the Pizzagate conspiracy, calling Islam "a fucking cult" and claiming, "African-Americans are way more racist than white people." Serious question: How are these disqualifying opinions? Donald Trump ran on them.
The Pentagon is offering more details about the National Guard troops Trump ordered to the border to protect America from all the poor Latin American refugees. The 4,000 National Guard personnel approved through Sept. 30 will use a combination of helicopters, drones, and harsh language to spot migrants, but they won't be carrying out armed patrols. It's still unclear if they are going to build Trump's stupid wall.
The military's Defense Manpower Data Center has removed the number of troops serving in Iraq and Afghanistan from its quarterly report on the web. According to the Military Times, the new report "...just had blank spaces where Iraq, Syria and Afghanistan figures used to be."
The DOD doesn't give a crap if the UN wants to ban killer robots as the military is going ahead with plans to expand its suite of drones. ROBOT WARS!
The Navy continues to walk back the number of ships it said it needed back in 2016, with Vice Adm. William Merz telling a military conference that it's not the size of your fleet that matters, it's how you use it.
Early estimates for the Florida Senate election between Republican Gov. Rick Scott and incumbent Democratic Sen. Bill Nelson suggest the race could top $200 million. Sen. Nelson tells Politico, "[Scott] has unlimited money, we know that he'll spend it, and as the campaign progresses you'll see how much his personal wealth has increased while he's been governor."
Cindy Hyde-Smith has become Mississippi's first female member of Congress after being sworn in to the US Senate yesterday (replacing Thad Cochran, who's been ailing.) So that's something!
VA Republican Rep. David Brat rode the Tea Party wave into power with jargon and nonsense, but the Blue Wave is threatening to send the obnoxious Republican off to the mediocre Sunday show in the sky.
Parkland survivor David Hogg has been accepted to UC Irvine (where your editrix used to teach poli sci), but he will first take a gap year to work on the midterm elections. Real world experience really is the best education!
Jamie Allman, a St. Louis TV talking head, has been quit-fired from a Sinclair-owned ABC affiliate for the now-deleted tweet, "I've been hanging out getting ready to ram a hot poker up David Hogg's ass tomorrow. Busy working. Preparing."
An EDGY student group at University of Alabama wants to invite white nationalists to speak on campus in an effort to highlight "all social and political views." This is why nobody invites creepy edgelords to parties.
A DC Council member will introduce legislation to lower the voting age to 16.
Former Trump minions AJ Delgado and Jason Miller are in the middle of a nasty custody battle, and (surprise!) Delgado is claiming that Miller is trying to nickel and dime her into giving up the kid. These are the days of our deplorables...
Sometime in the next day or two, Trump will decide if he's going to do anything to help all the people dying in Syria, but all signs point to another symbolic airstrike, like the one he did on an abandoned Syrian airbase last year.
Meanwhile, Nikki Haley went before the UN Security Council and claimed Russia's hands "are all covered in the blood of Syrian children." Haley also implicated Iran in the gas attack on Syrian civilians this past weekend.
According to the BBC, Yulia Skripal was quietly released from the hospital last night. The hospital says that her father's condition has been upgraded from critical, but caution that he is "recovering more slowly than Yulia."
Trump was pissed when he found out he might lose his hotel in Panama, so his lawyers sent a letter to the Panamanian president, begging him to "influence" the judicial process, and threatened the president. Guess nobody told him about that whole "separation of powers" thing.
Deutsche Bank suddenly switched CEOs without warning. Weeks of bad headlines and a string of losses prompted COO Kim Hammonds to comment to colleagues that the company was "dysfunctional."
India is spazzing out after Sri Lanka sold 80 percent of a sea port to the Chinese. The Sri Lankan government is trying to calm fears of a military invasion as China continues to make big investments into the small South Asian nation.
OF COURSE Laura Ingraham spent her first show railing against the "intolerant left." Did you actually expect her to learn something on "vacation"? PFFFFF.
Facebook told Diamond and Silk that their "content and brand" were "unsafe to the community," but the conservative echochamber began shrieking about racism and censorship. Now Facebook is walking back/clarifying that the deplorable duo received an "inaccurate" message, and they've been given more information about Facebook's policies.
One of the biggest Black Lives Matter Facebook pages was actually run by a middle-aged white guy in Australia, CNN reports. The group encouraged people to donate money to BLM causes via its PayPal and Patreon accounts, but all the money went to Australian bank accounts.
Mark Zuckerberg will try to avoid being eaten alive by Congress this morning as he dodges questions of fuckery on Facebook, potentially setting up a debate on the nature of privacy in the 21st century and the responsibility of tech giants. In prepared remarks, Zuckerberg apologized for making the world a shittier place. Among those criticizing Zuckerberg, badass Kara Swisher puts it best on Politico's "Women Rule" podcast stating, "He's one of the richest people on earth. He's an adult...He can answer questions if he's the CEO. He founded this company. Stop juvenilizing men here in Silicon Valley."
Geeks are still trying to scare the shit out of people by warning about the ramifications of newer cyber attacks.
Even though it's technically not a law (yet), the Stop Enabling Sex Traffickers Act (SESTA) continues to kill what few protections exist for sex workers and their clients. After federal authorities seized Backpage.com last week on charges of human trafficking, money laundering, and child prostitution, a controversial site to review sex worker services blocked US access to its servers. Trump is expected to sign SESTA into law later this week.
And here's your morning Nice Time! A LITTLE DIK-DIK! I <3 dik-diks!
HEY! We need your help to pay the bills! We don't have that Rick Scott/Mark Zuckerberg money, and we rely on you to keep the coffee flowing.
Dominic Gwinn
Dominic is a broke journalist in Chicago. You can find him in a dirty bar talking to weirdos, or in a gutter taking photos.