Donald Trump Jr Tried His Hand At Lawyerin' With Congress, It Went GREAT!
Elections
December 07, 2017 11:15 AM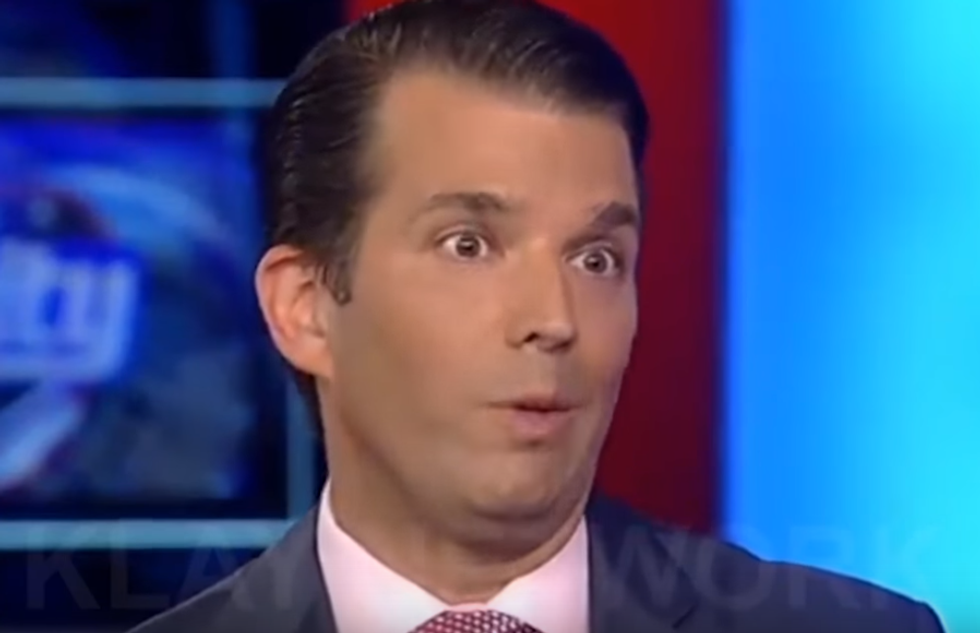 So fucking stupid
---
If there's one thing the First Family of Grifting has made great again, it's Legal Twitter. Sure, the president is a threat to all living things. But it warms our hearts to log on every day and see a pack of lawyers descend on the latest Trumpland fuckery like a Doberman on a rawhide. Let's watch them take apart Don Jr.'s bullshit testimony before the House Intelligence Committee yesterday. It is delicious!
Can't Tell You Because ... A LAWYER!
Lil' Donny testified yesterday for more than eight hours, and only refused to discuss one particular conversation he had with his father after the infamous "If it's what you say, I love it!" emails. Via WaPo,
Rep. Adam B. Schiff (D-Calif.) said Wednesday that Trump Jr. told the committee he did speak with his father about the Trump Tower meeting several days later, after emails showing he had accepted the meeting after being offered "dirt" on Clinton were made public. However, Trump Jr. declined to detail the conversation to the committee, indicating a lawyer had been present and he believed it was subject to attorney-client privilege.
Donald Trump Jr. just out here claiming attorney client privilege because an attorney is in the area. Bruh! Way dey do dat at?

— Bakari Sellers (@Bakari_Sellers) December 7, 2017
Sorry, what? A LAWYER was present? Really? That's what you're going with?
Trump Jr. "refused to answer any questions about conversations he had with his father" @RepSwalwell on Trump Jr. speaking to Russia investigators today about 2016 Trump Tower Meeting pic.twitter.com/lhKLH9fuQN

— TheBeat w/Ari Melber (@TheBeatWithAri) December 6, 2017
Care to tell us who this A LAWYER was?
You really can't analyze privilege issues without knowing who the lawyer was, who the lawyer was representing, whether anyone else was present, and, if there's a privilege that theoretically embraces both DJT and DTJ, how much of the convo was germane to it.

— southpaw (@nycsouthpaw) December 7, 2017
Was he your A LAWYER, DJ? Because if he's your personal attorney, then your father's presence negates the privilege. (And vice versa if he was your dad's personal A LAWYER.)
Was each lawyer present, in each conversation, representing both President Trump and Don Jr?

If not, and the lawyers are representing only one of the two parties, then the presence of the other destroys the privilege. https://t.co/q33fdvQpUz

— mieke eoyang (@MiekeEoyang) December 7, 2017
And even if the A LAWYER was somehow representing both of you, there's no privilege if it was part of a criminal conspiracy.
Trump Jr refused to tell Congress what he & dad discussed when news broke of the Trump Tower meeting w/ Russians. He claimed attorney-client privilege bc he said lawyers were present. a) Not how it works. b) Crime-fraud exception renders the privilege moot https://t.co/cNknOA0GDa

— Paula Chertok? (@PaulaChertok) December 7, 2017
And by the way, if you talked about it to anyone else after that day, you waived the privilege.
Paging @FuterfasLaw Client control emergency on aisle 3. Send cleanup crew stat. Slippage of privilege/ third party disclosure. #TrumpJr

— Jeannine vd Linden (@kameraad52) July 11, 2017
Dude, when even THAT John Dean is laughing at you ...
Donald Trump Jr. claimed attny-client privilege in today before the House Intel Committee re discussions with his father based on the apparent fact an attny was present. Problem: (1) Jr. has no such privilege; (2) Congress does not recognize the privilege even when it exists.

— John Dean (@JohnWDean) December 7, 2017
Thanks for the heads up!
The nice thing about the Trumps is that they always tell you exactly where they buried the body. If Poppy says Mueller better not look at the Trump Organization's finances, you know damn well that's where the evidence is. And if Don Jr. was willing to discuss everything but the conversation he had with his father after the New York Times story, you know that meeting is where shit went down.
So, everyone's (fairly) mocking this dopey misunderstanding of attornet client privilege. But isn't the telling thing that he strained to invoke it here, even though a lawyer was surely present for *lots* of conversations investigators are asking about? https://t.co/HQbAO1900t

— Julian Sanchez (@normative) December 7, 2017
Like, the takeaway here isn't really "failson is dim," which we knew, but "failson is specifically awfully anxious about the contents of this conversation & doesn't want to talk about it & will grasp at any pretext to avoid doing so."

— Julian Sanchez (@normative) December 7, 2017
If this is just generic ignorance of the law, after all, why is it cropping up here & not vis a vis all the other conversations where there was almost certainly a lawyer in the room?

— Julian Sanchez (@normative) December 7, 2017
EXACTLY. Of course Congress isn't going to do a damn thing about it. They let that demented leprechaun Jeff Sessions make up a privilege to avoid answering questions before the Senate.
If there are no real consequences for invoking a made-up privilege, doesn't it then basically become a real privilege? Not legally, of course. But practically?

— Radley Balko (@radleybalko) December 7, 2017
But that shit is not going to fly with Robert Mueller. That guy made Paul Manafort's own lawyer testify against him. So good luck trying that shit with the special counsel.
Mueller will pierce that pretty easily. The privilege doesn't work like that. https://t.co/N37R7XW4Ie

— Bradley P. Moss, Esq (@BradMossEsq) December 6, 2017
You want to plead the 5th, knock yourself out, DJ. As for attorney-client privilege, that dog won't hunt.
Atty-Client privilege is evidentiary, a narrower privilege to not testify about confidential communications, & shields only information obtained from the client/agents. WHICH MEANS THE ATTY MUST SHUT UP, NOT THE CLIENT. Client pleads the 5th.

— Propita106 (@Propita106) December 7, 2017
When all else fails, blame the help!
And we see you trying to dump this shit on Hope Hicks, Junior! Via CNN,
Donald Trump Jr. told House investigators that he did not communicate directly with his father when confronted with news reports about his June 2016 Trump Tower meeting, according to multiple sources with knowledge of his testimony.

Instead, Trump Jr. said he was speaking to White House aide Hope Hicks about how to respond to the reports. He said President Donald Trump, according to the sources, was debating between a longer and a shorter statement while the President and Hicks were aboard Air Force One.
Okay, let's just say for the sake of argument that this is actually how it went down. Lil' Dipshit hollered into his Obamaphone, "Dad, I am a jackass who sent emails about Russian dirt on Hillary." And then Hicks turned to the president and said, "He says he's a jackass who sent emails about Russian dirt on Hillary." They drafted that whole bullshit statement about bouncy Russian babies and she never handed over the phone or pressed speakerphone because ... reasons. Fine, whatever.
But don't go pretending that your father is out of the loop because he doesn't do email.
Any time you see in the news that an email about Russia was sent to this person—HOPE HICKS—it means that email was seen by TRUMP.

Don Jr., Papadopoulos, Page, and others appear to have used Hicks as an "email launderer"—she shows emails to Trump he can later claim he never saw. pic.twitter.com/DIvVRNdCXb

— Seth Abramson (@SethAbramson) November 13, 2017
There is no plausible deniability because you forwarded emails to Hicks instead of your father. Literally no one believes that the 29-year-old who steams your father's baggy pants while they hang off his bloated carcass is the end user.
1/ Trump Jr's statement that Hope Hicks, not Trump, worked with him to craft a statement about the Trump Tower meeting doesn't help him or his father from a legal perspective. https://t.co/L2WoYIsjUf

— Renato Mariotti (@renato_mariotti) December 6, 2017
2/ Hicks communicates often with Trump, so Mueller will care about her communications with Trump. What did Trump tell her about the Trump Tower meeting? Who was the source of the misleading language in the statement about the meeting? What edits and changes came from Trump?

— Renato Mariotti (@renato_mariotti) December 6, 2017
3/ You can expect Mueller to closely scrutinize everything Hicks told Trump or Trump Jr., making her a key witness as he investigates both of them. Anything either of them told Hicks is fair game and admissible in court. /end

— Renato Mariotti (@renato_mariotti) December 6, 2017
Hicks may be young, but her money is old. NFW she fell on her sword when Mueller interviewed her last month. If anyone's walking out of that dumpster fire unscathed it's Hope Hicks. She's even smart enough to stay off Twitter, unlike some people ...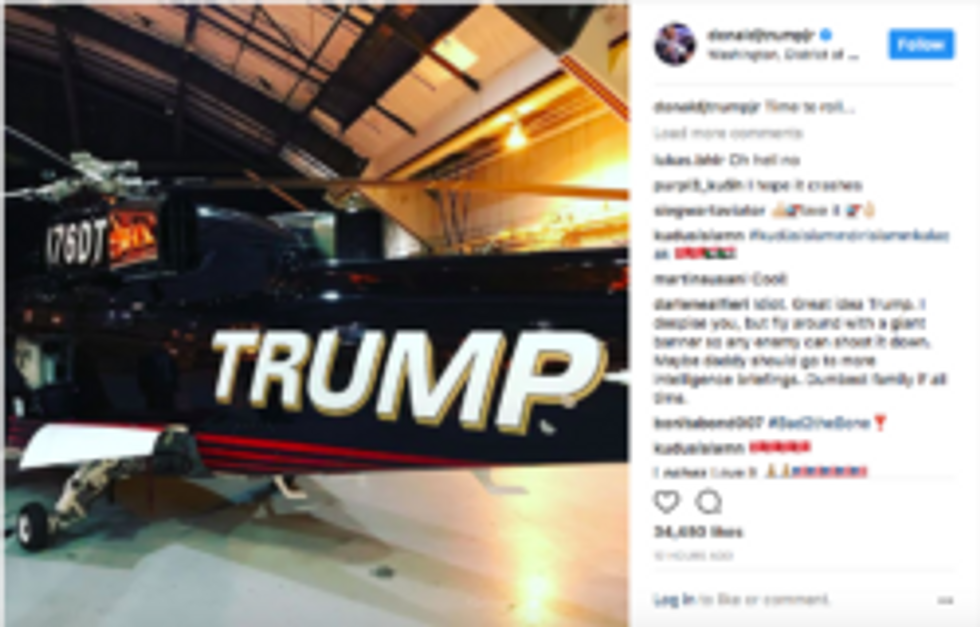 Oh, Junior ... you have no idea what's about to hit you.
Please hit us WITH MONEY! We will turn it into further giggles over the Trump's super-amazing legal strategery!
Liz Dye
Liz Dye lives in Baltimore with her wonderful husband and a houseful of teenagers. When she isn't being mad about a thing on the internet, she's hiding in plain sight in the carpool line. She's the one wearing yoga pants glaring at her phone.