Donald Trump Justifies Fat Shaming Alicia Machado By Slut Shaming Her Instead
2016 Presidential Election
September 30, 2016 11:06 AM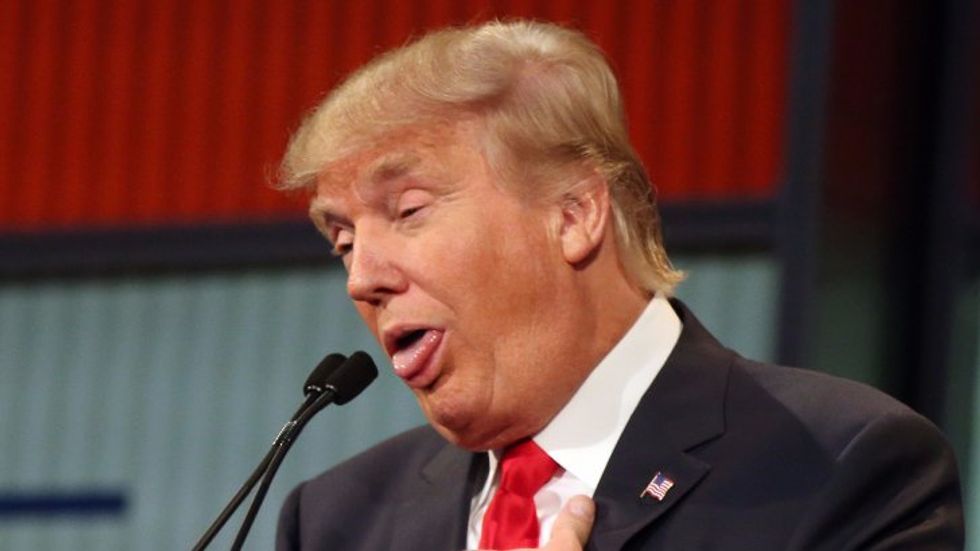 Yooge problem. Yooge.
---
Many of us have been appalled by -- though hardly shocked by -- former Miss Universe Alicia Machado's tale of how Donald Trump went around calling her "Miss Piggy" and "Miss Housekeeping" and going on television talking about how she gained a "massive" amount of weight and generally being a horrible person to her. He has already attempted to justify this by calling her fat again, and also by suggesting that he was only trying to save her job, and is now attempting to justify it by insinuating that she is a slut, and therefore unworthy of being listened to about a totally unrelated thing.
At around four o'clock Friday morning, Trump unleashed a series of bizarre tweets about Machado, urging voters to "check out" her "sex tape." Which, by the way, isn't really even a "sex tape" so much as some grainy footage of Machado hooking up with a co-contestant on a reality series. (The butt-porn was somebody else, "Angel Dark," who looks like her.) In the tweets, Trump suggested that this somehow meant that Clinton showed bad judgment by being appalled at Trump's treatment of Machado in the first place.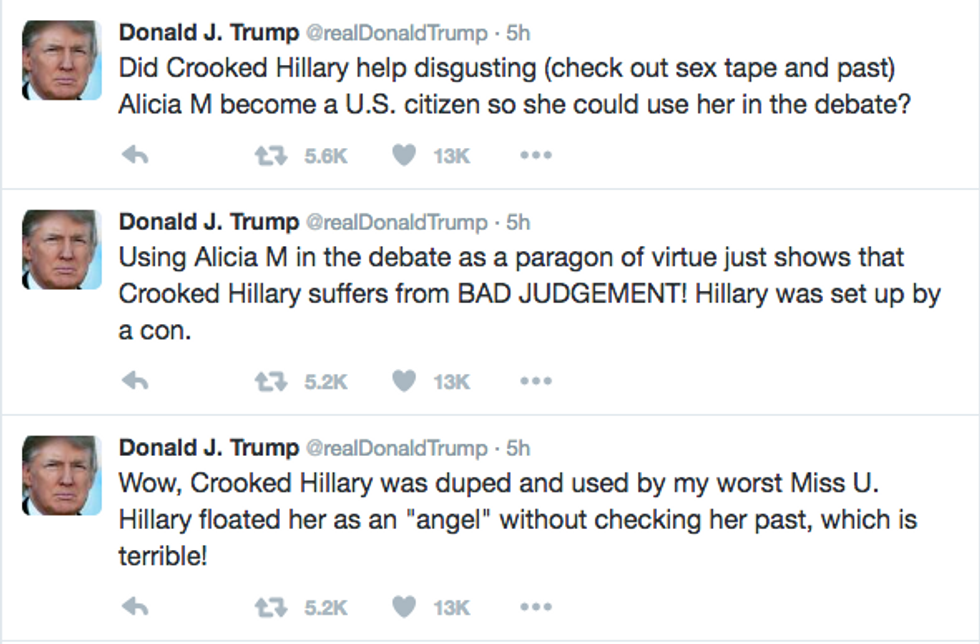 I HAVE QUESTIONS!
1. Is Donald Trump claiming that he psychically knew, when Machado was Miss Universe, that she would later appear topless in Playboy and have fairly bland sex scandal on a reality show?
2. Is Donald Trump suggesting that it is acceptable to fat shame someone who may, in the future, do either of these things?
3. What's the difference between a duck?
4. If a tree falls in the forest and no one is around to hear it, what's that got to do with the price of a wall in Mexico?
5. Does being naked in front of a camera REALLY mean that one can no longer be a paragon of virtue, and that it is thus fair to say horrible things about them?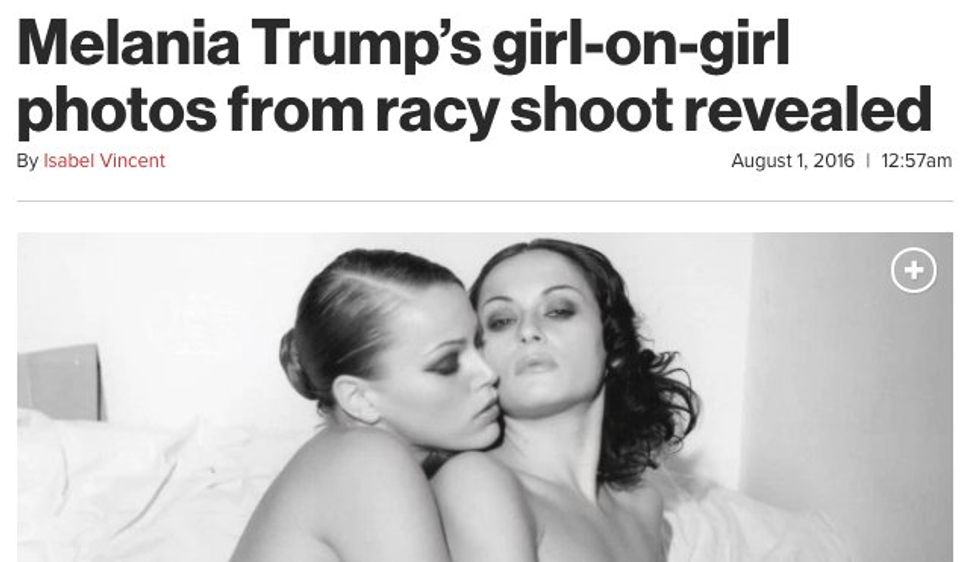 Over the past few days, Trump, Newt Gingrich and Rush Limbaugh have all come out swinging against Machado, who they cannot believe would have the gall to have gained weight or have maybe done sex things they may not approve of. These men are all, as we know, super-fit dreamboats who have never cheated on their wives or been caught trying to enter the Dominican Republic with a pound of Viagra they didn't have a legit prescription for.
[Twitter]
Robyn Pennacchia
Robyn Pennacchia is a brilliant, fabulously talented and visually stunning angel of a human being, who shrugged off what she is pretty sure would have been a Tony Award-winning career in musical theater in order to write about stuff on the internet. Follow her on Twitter at @RobynElyse