Donald Trump Thought Presidenting Would Be Easy As Grabbing This Pussy
News
April 28, 2017 10:56 AM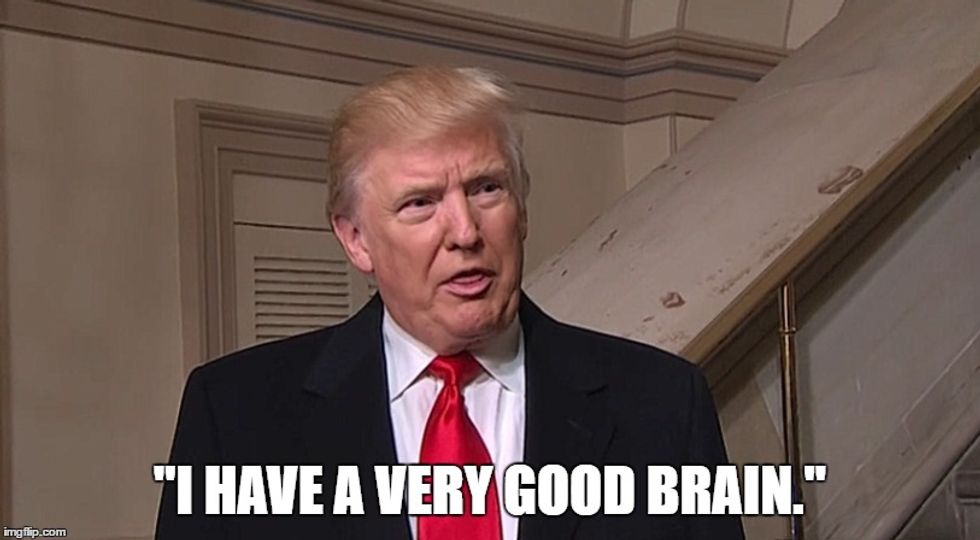 FAKE NEWS
---
We began our week with Donald Trump giving an interview to the Associated Press, which was SHOCK AND AWE! because of the sheer number of insane things the AP got Trump to say. Thursday, on the eve of Trump's 100th day in office, Reuters looked at the AP and said, "WE'RE GONNA INTERVIEW HIM NOW, HOLD OUR BEER." And oh boy, have we got some live quotes!
Yr Doktor Zoom has already told you about how Trump, in the middle of saying sorta sane words about North Korea, all of a sudden prematurely ejaculated that maybe we might do a great big GO BOOM! contest with North Korea, something that's sure to go over well with the regime. That sure was somethin'. In this post, we will focus on the part of the interview where Trump said he really truly honestly for real thought being president would be the easiest, and now he's finding out it's not the easiest, because WHOA, there are so many things to learn and so many things to do! He probably wouldn't have stuck his foot up his own butt and ate it with his North Korea comments if presidenting wasn't so haaaaaaaaaaaaard.
Check it:
I love my previous life. I love my previous life. I had so many things going. I actually ... this is more work than in my previous life.

I thought it would be easier. I thought it was more of a ...
MORE OF A WHAT?
I'm a details-oriented person, I think you would say that. But I do miss my old life. This -- I like to work, so that's not a problem, but this is actually more work.
NO SHIT?
From Reuters's report on the interview:
"You're really into your own little cocoon, because you have such massive protection that you really can't go anywhere," he said. [...]

He said he missed being behind the wheel himself.

"I like to drive," he said. "I can't drive any more."
REALLY? BEEP BEEP?
Was Donald John Trump, 45th president of the United States, a 70-year-old man who has lived through and presumably been aware of approximately one million American presidents in his old balls life, REALLY completely unaware that being president is hard?
And was he also unaware that the president for real can't get behind the wheel of his PT Cruiser and go through the White Castle at 4:00 AM after a particularly rowdy night of tweeting?
We have watched Trump learn many brand new things on the fly over the past 100 years days. Off the top of our head:
OK so fine, he's on a learning curve here, because first of all, he's never been in government, and second of all, he's lived his entire life without ever reading a book or paying attention to anything that wasn't either gold-plated or a scantily clad pageant contestant.
BUT REALLY? THE FUCK?
Donald Trump spent his campaign talking about how easy presidenting would be, because he is perfect and wonderful and brilliant, and he's the only one who can fix all these things. On some level, we think he actually believed this, because he is a salesperson, and he was projecting the image he wanted everyone to see. Deep down, Trump is likely consumed by grievous self-hatred and doubt, but the icing on his cake, the person he shows to the world, is a guy who is uniquely qualified to fix EVERYTHING, because he's so "good at business," you see.
BUT FOR REAL? ARE YOU FUCKING KIDDING US RIGHT NOW?
Wonkette must end this post before our splodey head starts sploding everywhere.
Wonkette is fully funded by people like you! If you like us, click the banners below, to fund us!
[Reuters]
Evan Hurst
Evan Hurst is the managing editor of Wonkette, which means he is the boss of you, unless you are Rebecca, who is boss of him. His dog Lula is judging you right now.
Follow him on Twitter RIGHT HERE.