Donald Trump's Triumphant Scotland Sojourn Everything He Could Have Hoped For, Hooray!
News
June 25, 2016 04:20 PM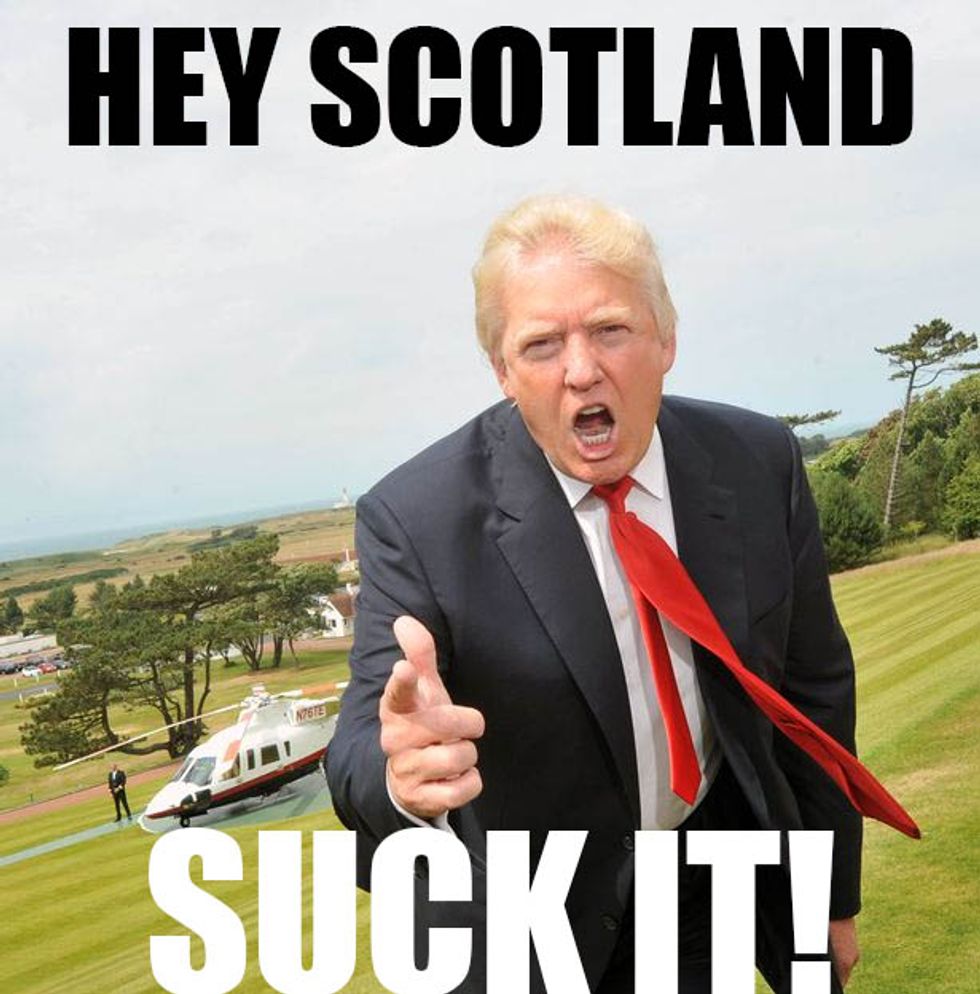 Unlike most leaders in positions of political influence throughout the world, Donald Trump doesn't use complicated excuses to travel overseas. He's a businessman, and every businessman knows they have to get down to business and run their businesses or they won't have a successful business! Donald Trump knows that he has to prioritize and set some things aside sometimes (like running for President of the United States) to open up a golf course, or play golf, or ride around on golf carts at your fantastic golf palaces with Mick Jagger's ex-wife and Rubert Murdoch while the world falls apart around you.
---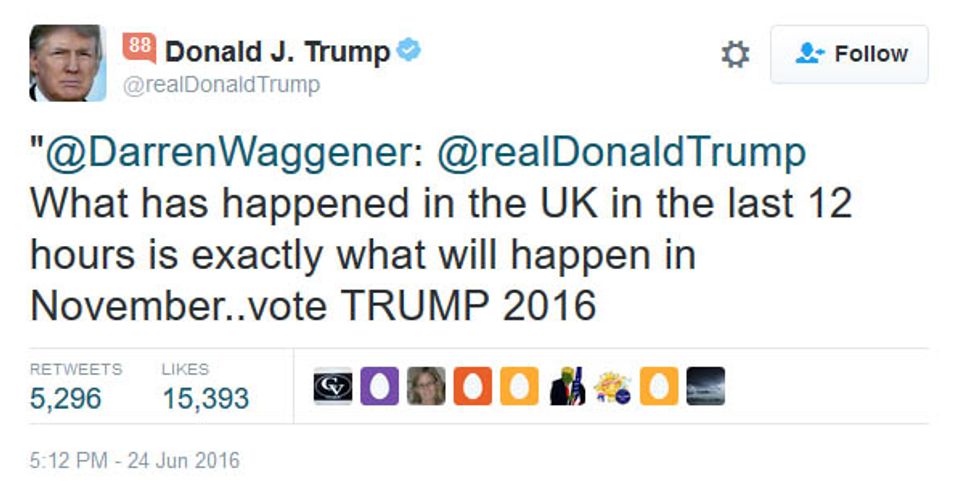 Would you look at this bloody shite? What load a bollocks!
While the United Kingdom was
busy losing its goddamn mind
Friday, Donald Trump took the time to remind everyone that the the fall of the British Empire was only the beginning of the end of the modern world. As the results of the Brexit destroyed the British Pound and sent financial markets around the world into a free fall, Trump was slapping his baby dick across the face of the international press corps in Scotland. Instead of addressing the collapsing markets, he spent about 20 minutes giving a rambling
infomercial
for his next huge embarrassing failure, another golf resort.
"We've taken the lighthouse, which is a very, very important building in Florida — I mean in Scotland — and we've taken that building and made it something really special. Inside the lighthouse right now is incredible suites. It's called a halfway house because this is the ninth tee, and  this is the halfway house. On the bottom you have dining, and golfers will stop and they'll have something to eat... When you see -- I don't know if you'll get the chance, but if you do you should try and get to see the suites because they are two of the most beautiful suites you'll ever see."
Pretty much every major network cut away five minutes into the speech after realizing Trump was again abusing his white privilege by using free media coverage to hawk more Trump-brand bullshit to a weary audience.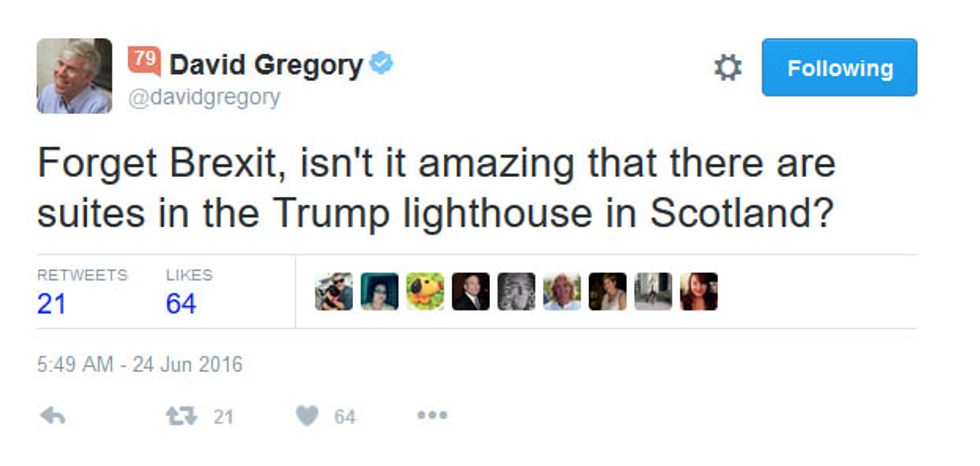 OMG, Dave, U R SO rite! Luv ur hair! xOxOxOx
Eventually, Trump got around to talking about the Brexit, and that lame foreign policy stuff that practically nobody cares about when he said he hadn't brought any foreign policy advisors.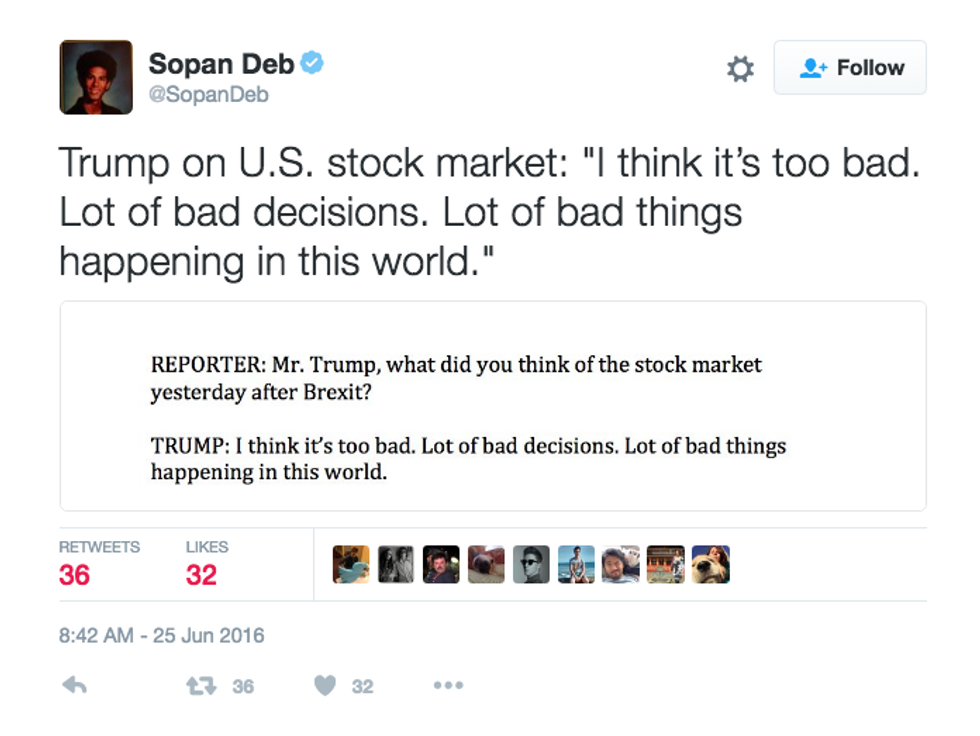 Yes, very bad, those things that are happening because of the thing (Brexit) that Trump is for.
Trump later stated, "When the pound goes down, more people are coming to Turnberry, frankly… For traveling and for other things, I think it very well could turn out to be a positive," and thus he joined Vladimir Putin in praising the Brexit (until Putin sort of changed his mind). The lesson here is that winners are like the Highlander, there can only be one.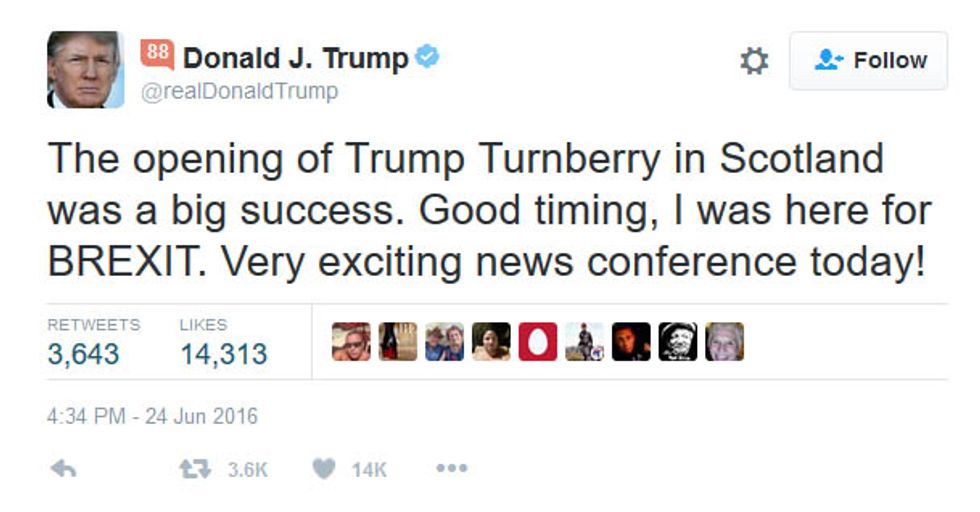 Yeah, a quick note about all that "excitement": before Trump could even sputter his usual series of adjective-filled sentence fragments, he was greeted by British comedian Simon Brodkin (as alter ego Lee Nelson), who thanked the esteemed Cheddar Goblin on his return to Turnberry by showing off the new, totally real, official, legit, Trump Turnberry Nazi golf balls.
Sorry for the delay giving out the balls you ordered Mr Trump... pic.twitter.com/7FIem5Npsl

— Lee Nelson (@RealLeeNelson) June 24, 2016
In all fairness, most of the Scots hate Trump not because of his inability to understand that the United Kingdom is a collection of several independent countries that were colonized and oppressed by the British for so long that they eventually said, "Fuck it," but because he purposefully meddles in local affairs. His previous golf course in Aberdeen has cut off a farm belonging to "Top Scot" Michael Foley, whose efforts to thwart the resorts incursion on his land have gone on for almost a decade, prompting Foley to raise a Mexican flag next to the course.
Trump initially promised that Aberdeen would benefit from millions in cash and thousands of jobs, but even after bitching like a petulant child with small hands that building his resort on protected land with a fragile ecosystem would be ultimately beneficial, the resort still has yet to turn a profit. Trump even fought the building of a wind farm off the coast of Aberdeen, earning him the scorn of Alex Salmond, the former head of the Scottish National Party, who called Trump a "three time loser" and "has-been," adding, "we welcome all Americans - minus Trump."
In fact, the Scots hate Trump so much that they not only stripped him of an honorary DBA from Robert Gordon University, but Scottish First Minister Nicola Stugeon removed Trump from his position as a GlobalScot ambassador. Britons even circulated a petition that netted just over half a million signatories last year that called for a ban on Trump entering the U.K., prompting Prime Minister David Cameron to encourage people to "unite against him."
It isn't enough just to describe how much people in the the Scotland don't like Trump, so I'll leave you with the following pictures of people protesting Trump.
Olé, chaps!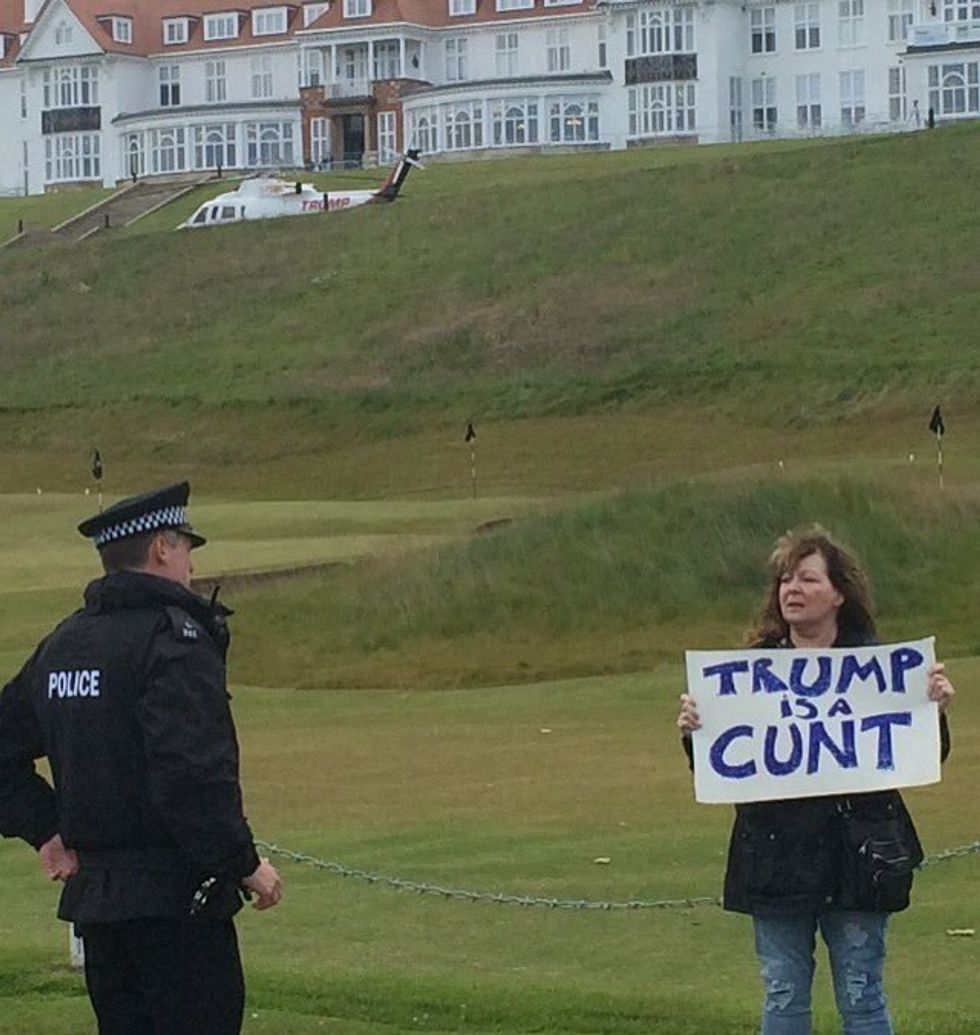 Simple, and efficient.
Dominic Gwinn
Dominic is a broke journalist in Chicago. You can find him in a dirty bar talking to weirdos, or in a gutter taking photos.