Don't Be Tardy For The Obstruction Party! Wonkagenda For Fri., May 25, 2018
Elections
May 25, 2018 09:06 AM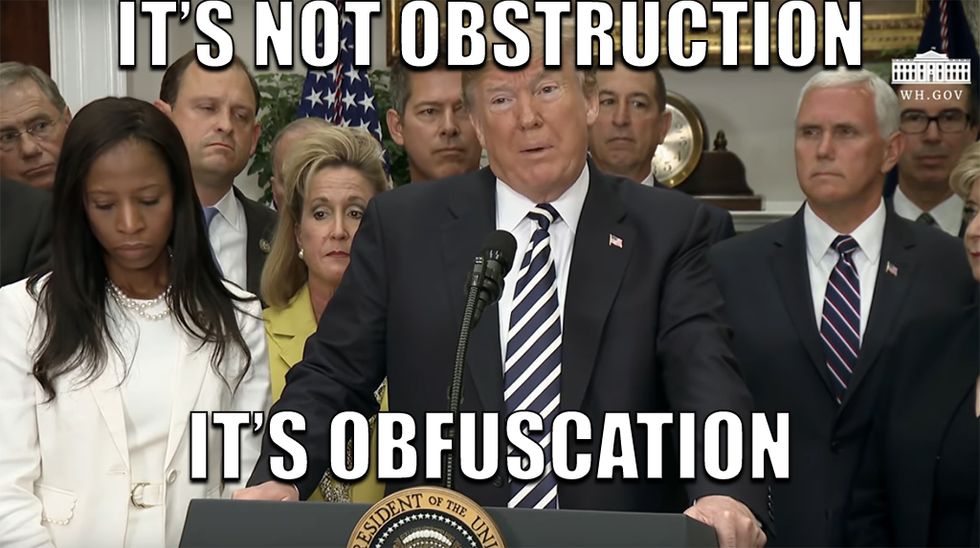 Morning Wonketariat! Here's some of the things wemay be talking about today.
---
While the FBI was getting ready to brief the Gang of Eight on the FBI informant who poked Carter Page and George Papadopoulos during the 2016 election, Trump's lawyer, Emmet Flood, crashed the meeting. Meanwhile, Rudy Giuliani continues to be a smarmy old codger, telling reporters that Trump's legal team is "entitled to know" about the classified material, adding, "I'd assume they'll be very careful we don't get information we shouldn't get. I don't want the guy's identity. I don't want classified information. What I need to know is, 'What's the basis for their doing it?' Most important, 'What did the informant produce?'"
Elliott Broidy says that his years of conspiring to undermine the nation of Qatar for the Persian Gulf states has left him a victim of state-sponsored "cyber mercenaries" who wanted revenge. So, maybe paid for that abortion, and maybe he didn't?
The fancy law firm that gave Michael Cohen an office and a shitload of cash says that they were just looking out for their business, and all this business about Cohen's business is just bad for business, so they stopped doing business with Cohen and his businesses.
The fallout from Trump's failed nuclear summit with North Korea continues to chap everyone's ass as analysts point to the deplorable bromance of the world's two least likeable heads of state. But the inside story of how everything fell apart is even worse than you thought, with one "friend" of Trump saying, "He's not taking this guy's shit." Sigh...
The CBO released a report on Trump's 2019 budget and found that it would significantly raise the federal deficit over the next decade, not lower it.
Mick Mulvaney is is dead-set on skull-fucking the CFPB to death. In a new profile with Bloomberg, Mulvaney says it's his mission to kill the agency, adding, "We are still Elizabeth Warren's child. As long as we're identified with that one person, we'll never be taken as seriously as a regulator as we should." [Archive]
Back in Scott Pruitt's younger and more formidable years as a low-life state senator, he introduced a bill granting men "property rights" on unborn fetuses that would have made women obtain permission before getting an abortion. Twice.
The Trump administration just "You're Hired" a guy from the Center for Immigration Studies, a known hate group, to be the head of the Bureau of Population, Refugees, and Migration.
The head of the National Border Patrol Council is calling Trump's troop surge a "colossal waste" of resources, adding that the presence of National Guard troops hasn't done doodly squat.
GOP senators are starting to freak out about Trump's trade war as his team of rich old white guys doesn't seem to understand how badly tariffs can fuck up the country.
Amy Klobuchar and Mitch McConnell high-fived after the Senate's new sexual harassment bill passed on a voice-vote. A number of lawmakers are joining civil rights and women's groups over concerns the bill doesn't have enough balls to hold members of Congress accountable.
The Senate voted to 30-1 to pass the Energy-Water fiscal 2019 spending measure, but a number of Senators are trying to sound alarms about proposals dealing with nuclear waste and new low-yield nuclear weapons.
The Senate Armed Services Committee passed its version of the annual defense policy bill, and it's rather strict on Russia and Chinese bullshit, calls for the creation of a controversial cyber warfare doctrine, and calls for far fewer soldiers than Trump's White House wants.
Trump's White House has a curious list of demands for the 2019 NDAA, most of it centering around the acquisition of YUGE things, as well as keeping the DIA.
Mexican-loving moderates damn near dropped their immigration bill on the House floor yesterday, but Paul Ryan's last minute wrangling of conservatives staved off the looming debate as Trump continues to demand his fucking wall.
Mitch McConnell is tipping his hat to Don Blankenship in a new interview with Politico where he comments that "Cocaine Mitch" really helped to soften his image. Wut...
Democrats are not happy about the Trump administration's lack of enthusiasm about securing 2018 elections, with Illinois Democratic Rep. Raja Krishnamoorthi telling reporters, "Coming out of that briefing I just feel kind of a pit in my stomach."
The Koch Brothers are dumping a ton of money into the Senate race in Texas and knocking both Ted Cruz and Beto Rourke.
On the eve of the California elections, Dana Rohrabacher told the Orange County Association of Realtors that he didn't think the Fair Housing Act should cover sexual orientation or gender identity, adding "We've drawn a line on racism. But I don't think we should extend that line." That's right, Dana Rohrabacher says it's OK not to sell homes to gay people.
California Democrats are still a bit worried that they could be their own worst enemy on Tuesday as the state's jungle primary could see a glut of Democratic candidates cannibalizing themselves.
Virginia Republican Rep. Tom Garrett kept reporters in limbo all week as he considered whether or not to run for reelection. He finally held a very awkward presser and eventually said yes.
OMG! Florida man and disgusting creepo Alan Grayson wants his old House seat, and he's got a new ad of VERY OLD TV spots featuring people like Chris Hayes and Michael Moore saying nice things. Remember when he assaulted a reporter? Or his ex-wife?
We can't stress how important these midterms are going to be as half of all state and elected officials who draw new district lines will be elected this year, and that sets the stage on future elections for a decade. REGISTER TO VOTE!
ALLEGED pedophile Roy Moore is still suing people for coming forward and telling the world that Roy Moore might be a racist pedophile.
DNC Chair Tom Perez endorsed Andrew Cuomo, setting the stage for all hell to break loose in the New York governor's race.
A Florida man attacked five young Muslim men with a stun gun while they stood in the parking lot of a McDonald's eating burgers at 1:30 a.m. on Wednesday. According to police, the man was reportedly drunk and asked, "Are you American boys," before screaming, "Get the fuck out of my country! You don't deserve American food."
A Border Patrol agent in Rio Bravo, Texas, shot an undocumented woman in the head after trying to apprehend a group of people.
Ireland is set to vote on legalizing abortion, and it's so contentious that people are actually flying home to vote on whether or not to repeal the country's Eighth Amendment.
Bad news, nerds, a study commissioned by DOD has concluded that we probably won't live to see time travel or warp drives.
Federal prosecutors accusing anti-Trump protesters of rioting have been using selectively edited footage from James O'Keefe's Project Veritas as evidence that the activists were conspiring to riot during Trump's inauguration, and lawyers for the defense want a mistrial.
The woman formerly known as Rachel Dolezal has been charged with welfare fraud. Yep.
Earlier this morning Harvey Weinstein surrendered to police on rape and sexual assault charges. #LockHimUp!
A jury in Clayton County, Georgia, has awarded Hope Cheston $1 billion in damages in a lawsuit stemming from her 2012 rape at the age of 14. Jurors reportedly hugged her and and said, "You're worth something."
And here's your morning Nice Time! Caracal lovies!
We're ad-free, reader-supported, AND we're working nights and weekends! PLEASE, BUY US COFFEE!
Dominic Gwinn
Dominic is a broke journalist in Chicago. You can find him in a dirty bar talking to weirdos, or in a gutter taking photos.