Duggars Want Judge To Know What A Swell Guy He's About To Sentence For Having Child Sex Abuse Pix
Crime
May 13, 2022 12:15 PM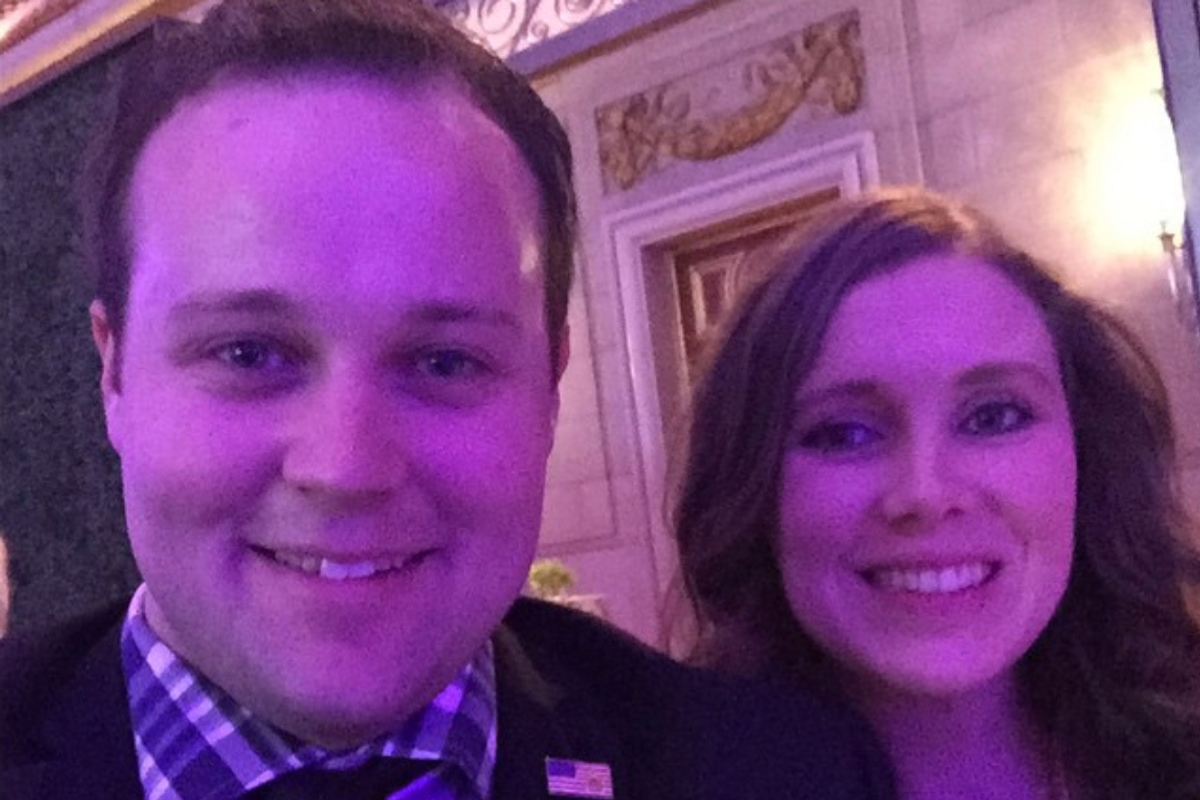 Last April, noted reality television Christian family man/child molester Josh Duggar was arrested on federal charges of possessing tons of images of children, including toddlers, being sexually abused. In December, he was convicted by a jury of his peers in Arkansas who somehow just did not buy the idea that someone had secretly replaced all of the Psalms and pictures of Precious Moments figurines and other wholesome things on his computer with explicit images of child sexual abuse.
Duggar is facing sentencing on May 25, and federal prosecutors are asking that he get 20 years in prison for his crime. The Duggar family, however, is asking that he get five years. In hopes of convincing Judge Timothy L. Brooks to be lenient in his sentencing, both Michelle (Josh's mother) and Anna Duggar (his wife) have submitted letters testifying to his wonderful character.
Unsurprisingly, they are pretty nauseating. Let's start with the letter from his mama Michelle.
---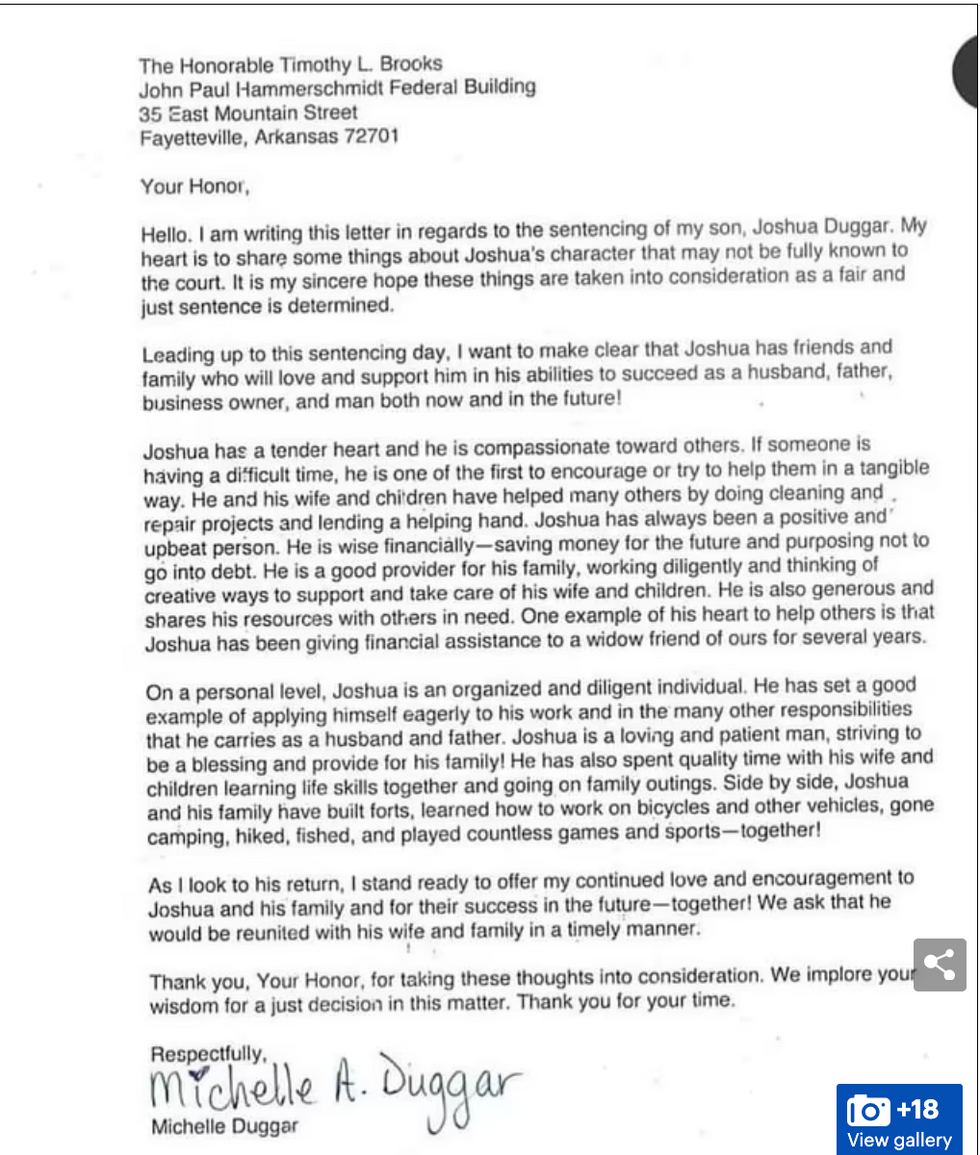 Yes, in an official court document, adult woman Michelle Duggar dotted the "i" in her name with a heart. In her letter, Mama Duggar talked about what a lovely young man her son is, how he has a "tender heart" and loves to help people in need — unless of course they are toddlers being sexually abused. She also noted that he and his family do things together.
For your visually impaired people, via Daily Mail:
My heart is to share some things about Joshua's character that may not be fully known to the court. It is my sincere hope these things are taken into consideration as a fair and just sentence is determined,' she wrote.

'Joshua has a tender heart and he is compassionate toward others. If someone is having a difficult time, he is one of the first to encourage or try to help them in a tangible way,' she went on, describing how he and his family help others with cleaning and repair projects. [...]

'Joshua is a loving and patient man, striving to be a blessing and provide for his family. He has also spent quality time with his wife and children learning life skills together and going on family outings.

'Side by side, Joshua and his family have built forts, learned how to work on bicycles and other vehicles, gone camping, hiked, fished, and played countless games and sports — together!

Michelle wrote that Josh 'has friends and family who will love and support him in his abilities to succeed as a husband, father, business owner, and man both now and in the future' and she offers her 'continued love and encouragement to Joshua.'
Reportedly, Michelle has not been around much during the trial and word on the street is that she, Jim Bob, and several of their daughters have been maintaining a distance from Josh. Perhaps they're hoping to get their shows on TLC back. The only one who has been by his side the whole time and believes him to be innocent is his wife, Anna — who reportedly believes that her husband was set up by Joe Biden, a man who definitely knows what a "Josh Duggar" is.
In her letter, Anna talked about what a wonderful husband he is and compared him to Ronald Reagan, because of course she did.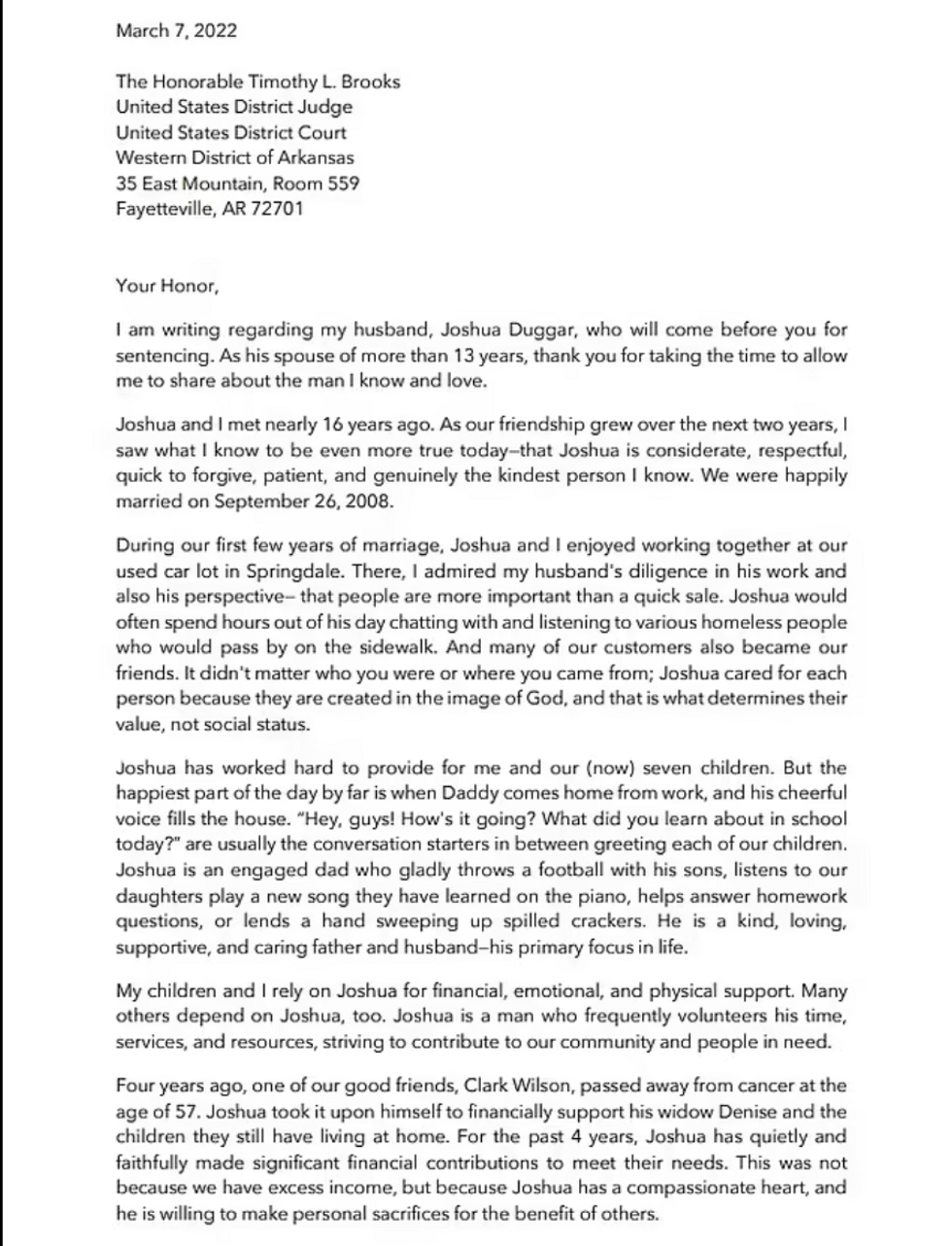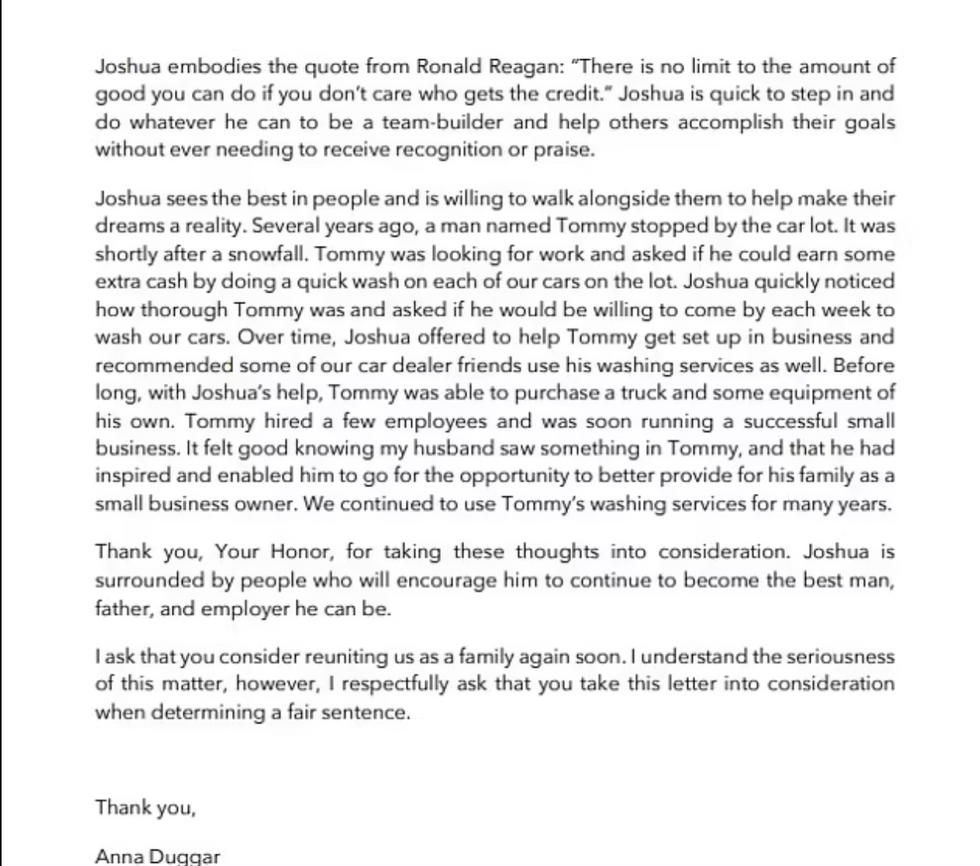 "Joshua is considerate, respectful, quick to forgive, patient, and genuinely the kindest person I know," she wrote, before going off on how nice he is to customers at their used car lot, how he talks to homeless people who he doesn't even think he is better than because "they are created in the image of God," how he is nice to his kids and even cleans up their spilled crackers sometimes, like a woman might do.
She also wrote that "Joshua embodies the quote from Ronald Reagan 'There is no limit to the amount of good you can do if you don't care who gets the credit.'"

So both Ronald Reagan and Josh Duggar have done good things, we just don't know about them because they were too humble to take credit and also because all their good deeds live in Canada.
Both Michelle and Anna agree that Josh should not be kept in prison too long because he shouldn't be kept from his family, which comprises several prepubescent children.
On a more serious note, there is a certain amount of difficulty in sentencing in cases like this. How do you even begin to determine what number of years in prison is going to keep someone from looking at child sexual abuse or, you know, doing something worse than that? I'm not sure that's even a thing. We know that receiving psychological treatment in prison drops recidivism rates for child predators, but that's not going to garner a lot of public support because people generally don't want to see child predators "coddled." There just aren't really any good options here.
It would, however, be real lovely if the Duggars and the people posting on Anna Duggar's Instagram about how Josh should be let off because God and Anna both forgive him and everyone makes mistakes were just as concerned about the welfare of other prisoners in the United States who are not white Christian men from TLC reality shows, but that seems highly unlikely.
Do your Amazon shopping through this link, because reasons.
Wonkette is independent and fully funded by readers like you. Click below to tip us!
Robyn Pennacchia
Robyn Pennacchia is a brilliant, fabulously talented and visually stunning angel of a human being, who shrugged off what she is pretty sure would have been a Tony Award-winning career in musical theater in order to write about stuff on the internet. Follow her on Twitter at @RobynElyse