Elizabeth Warren, We Love You So Fucking Much. You Are So Fucking Wrong Right Now.
Elections
November 03, 2017 04:59 PM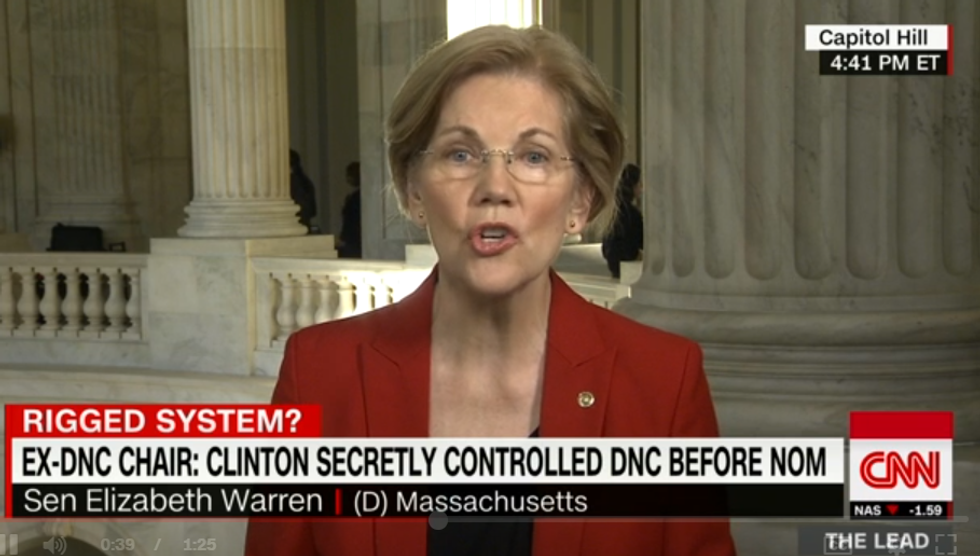 We still love you even when you are wrong.
---
GATHER, ALL YE LOVERS OF LIBERTY! Hillary Democrats, Bernie Democrats, liberals who don't like party labels because "ugh" ... hey, #NeverTrump Republicans, WHO LET YOU IN HERE? OK fine, we'll let you stay. Everyone say hi to Bill Kristol, hiiiiiiiiii Bill Kristol!
We need to have a family meeting about the stupid shitstorm that exploded Thursday when Donna Brazile, apropos of nothing we can see aside from promoting her new book, published an excerpt in Politico that alleged that Hillary Clinton had "taken over" the DNC with her evil claws, which gave LITERALLY EVERYONE the impression Brazile was endorsing the incorrect claim that the 2016 Democratic primary was #RIGGED.
And we need to talk about how Senator Elizabeth Warren, WHOM WE LOVE, decided to throw gasoline on the newly rekindled flame by saying this to CNN's Jake Tapper:
TAPPER: Senator, do you agree with the notion that [the Democratic primary] was rigged?

WARREN: Yes.
"Yes." Not "Yes, but only in the sense that argle bargle campaign finance." Not "Yes, you could look at it that way, but the truth is bing bong!" Not "I understand where the Sanders fans are coming from! We need to have a productive discussion about how to make sure everything all's fair in party politics going forward, because FUCK TRUMP."
"Yes."
Senator Warren? We love you many bunches, but that is just fucking incorrect and you know it. Why? Why throw gasoline like that? WHY WHY WHY?
In case not everyone has noticed, there is a lot going on right now. The Robert Mueller investigation is drawing actual blood, and in response, Baby Pol Pot is talking more and more like the authoritarian leader he dreams of being. Oh and then there are all the regular day-to-day horrors of the Trump regime, like labeling 10-year-old undocumented immigrant girls with cerebral palsy as national security threats. As Wonk pal Charlie Pierce notes, the Democratic Party is the "only vehicle capable of resisting Trumpism." For real, and we are sorry if the DNC makes you mad sometimes (us too!), but he is absolutely correct.
Also too, we have TWO major gubernatorial races coming up, in Virginia and New Jersey. (Holy shit! A new poll has the racist Republican UP THREE POINTS IN VIRGINIA. Fuck!)
And yet here we are, slap-fighting like brothers and sisters. "NOT TOUCHING, CAN'T GET MAD," say the Bernie people. "YOU FUCKING TOUCHED ME, GODDAMMIT. MOM, HE FUCKING TOUCHED ME," reply the Hillary people. "Watch your language! You two are going to have to sort this out for yourself, as I am very busy drinking right now," says Mom.
SO WHY YOU DO THAT, ELIZABETH WARREN? Like we said, it's not even like she stated some kind of "hard truth," because Brazile got her fucking facts wrong, and even she is quietly starting to walk her shit back (A LITTLE BIT).
What people seem to be mad about is that it's somehow unfair that Hillary Clinton used the current fundraising system we have, and as a result, reached MORE VOTERS with her message. Bernie Sanders had that system available to him (the EXACT SAME joint fundraising agreement Hillary had, actually), and he elected not to use it. This is an important point, so we will say it again: Bernie Sanders was availed of the EXACT SAME OPPORTUNITIES Hillary Clinton had, but he chose to do it his own way. And that is fine! And it's not anti-Bernie to state that fact! Want to read the DNC memo about the agreements? Because it was just published.. And since we don't trust everyone to click on that link and read it, HERE'S A SCREENGRAB. Read and watch Donna Brazile's story fall apart before your eyes!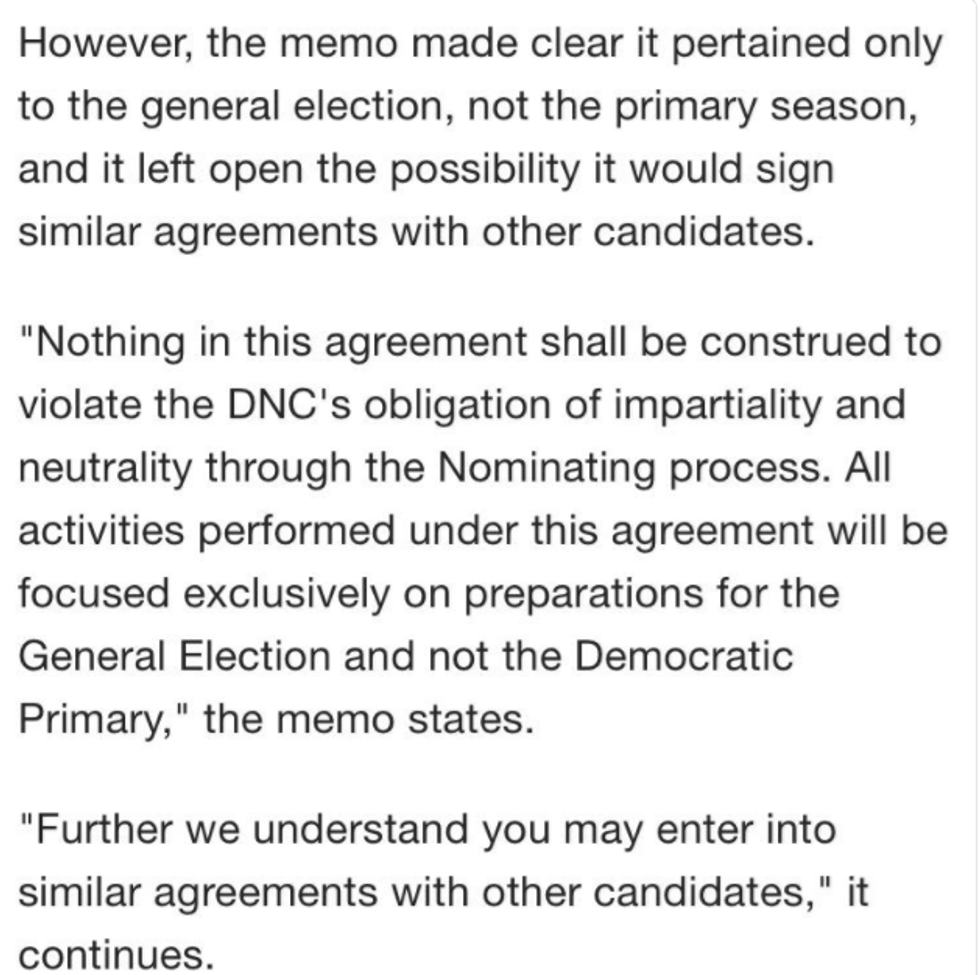 Don't hate the playa, y'all. Hate the game.
And if you want to change the game, that's a good noble thing the whole family can get behind! But we have to use the system we have right now to elect good Democrats who want to change the role of money in our politics, because otherwise we're just over here in the corner being morally upright about campaign finance reform, and also losing elections a whole lot.
People are also mad because literally almost every elected Democrat and the party loyalists at the DNC got behind Hillary Clinton and mostly ignored Bernie Sanders. (Why, staffers even said mean things about him in emails!) It's not all that surprising, since party people are party people and Hillary was the only longtime, committed Democrat in the race, and she's a ridiculously good fundraiser at that. So, in effect, did the DNC have "half-a-thumb" on the scale for Hillary, as Charlie Pierce puts it? Yeah sure probably. You can't have your mavericky "fuck the party" cake and then expect to eat it too.
But that still doesn't meant the primary was #RIGGED.
Once more, for the kids in the back:
THAT DOESN'T MEAN THE PRIMARY WAS #RIGGED.
What's that, MSNBC's Joy Reid and two other badass people on Twitter who did the legwork and research to really explain this in detail? You wanted to say something?
JOY REID AND PALS: "Here are some GINORMOUS FUCKING TWITTER THREADS WE WROTE to explain, once and for all, how the DNC works, and how the primary was not #RIGGED. Gonna need you to read them, please."
Thanks for sharing, Joy Reid and pals!
As Reid notes, if you're going to take the position that the Democratic primary was irrevocably #RIGGED against Sanders, you actually have to believe that DNC is an all-powerful monster cock of doom that can install any candidate it wishes regardless of the views of (four million fewer?) people. Hell, it can even force people against their will to vote for that asshole Hillary, even though deep down what they really want is Bernie. Meanwhile, as Brazile's own piece said, the DNC she inherited was a total fucking mess, incapable of finding its ass with both hands and an assist from Carmen Sandiego. (When was it not? That is Wonkette's question.) (Also, how can both of those things be true? That is Wonkette's other question.)
The messages from Warren and Brazile were heard loud and clear by the Training Wheels Despot in the White House, though, who immediately seized on the grievances of (SOME, NOT ALL) Bernie Sanders supporters who believe the primary was #RIGGED: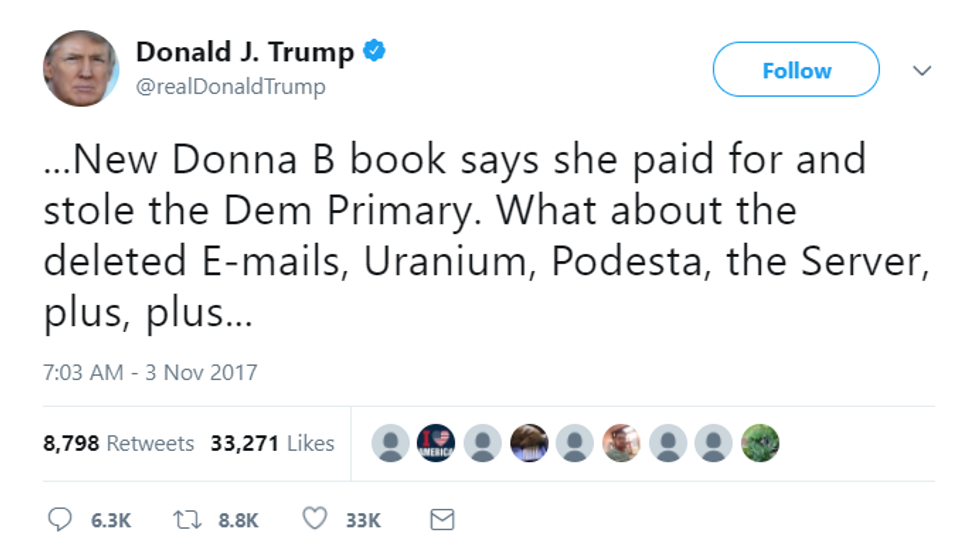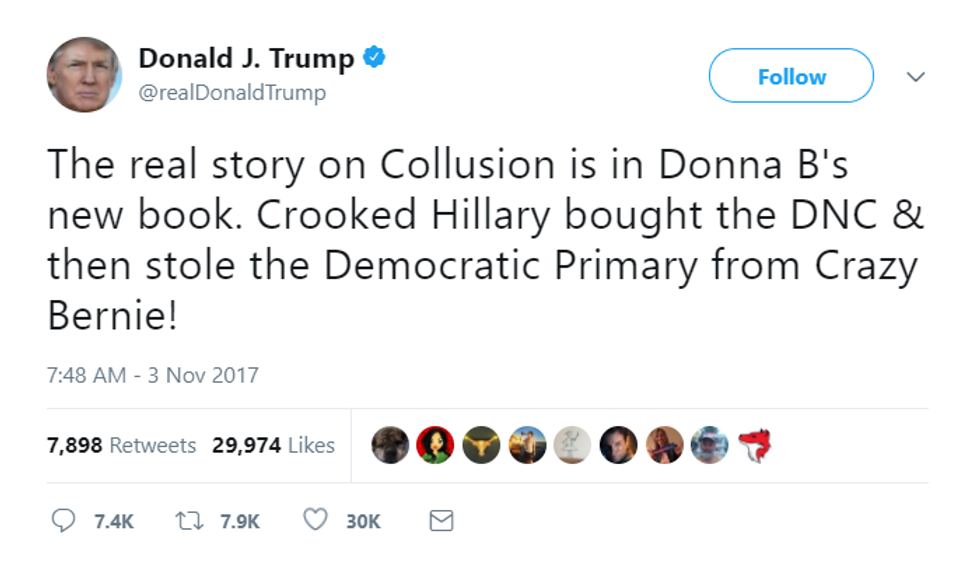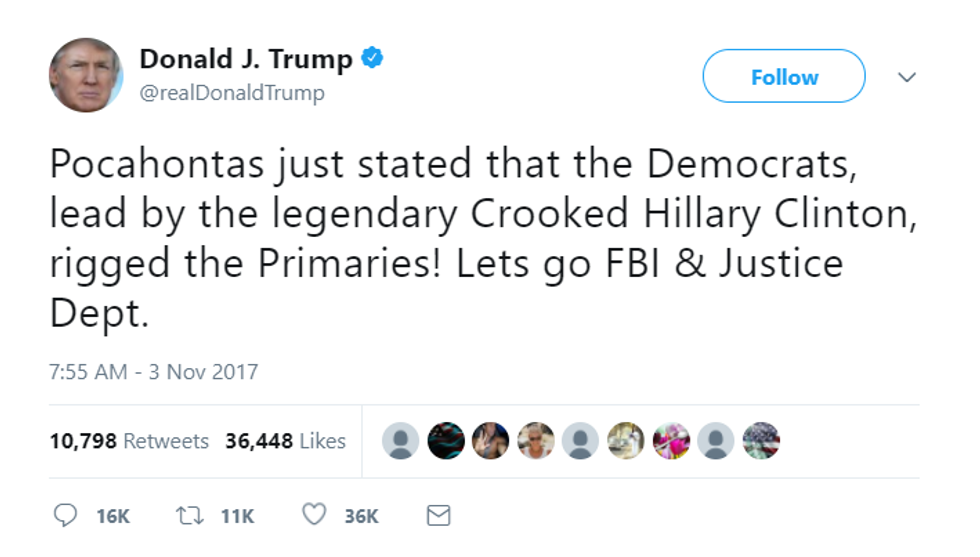 "Pocahontas." The joke never ever ever lands, but idiots just keep telling it!
But regardless, MISSION ACCOMPLISHED, Donna Brazile and Elizabeth Warren (whom we love! Brazile, meh, not so sure right now). Any other ways you'd like to help President Pussgrab divide and conquer and consolidate power?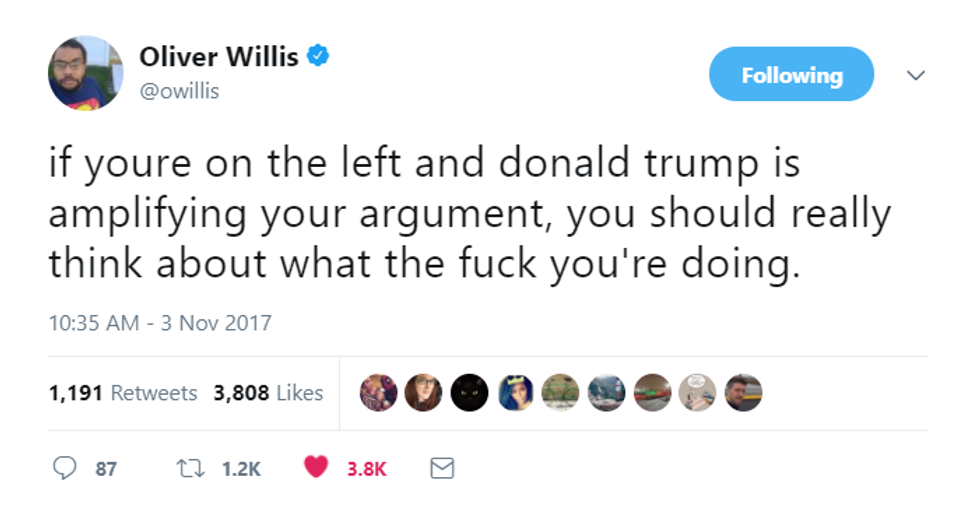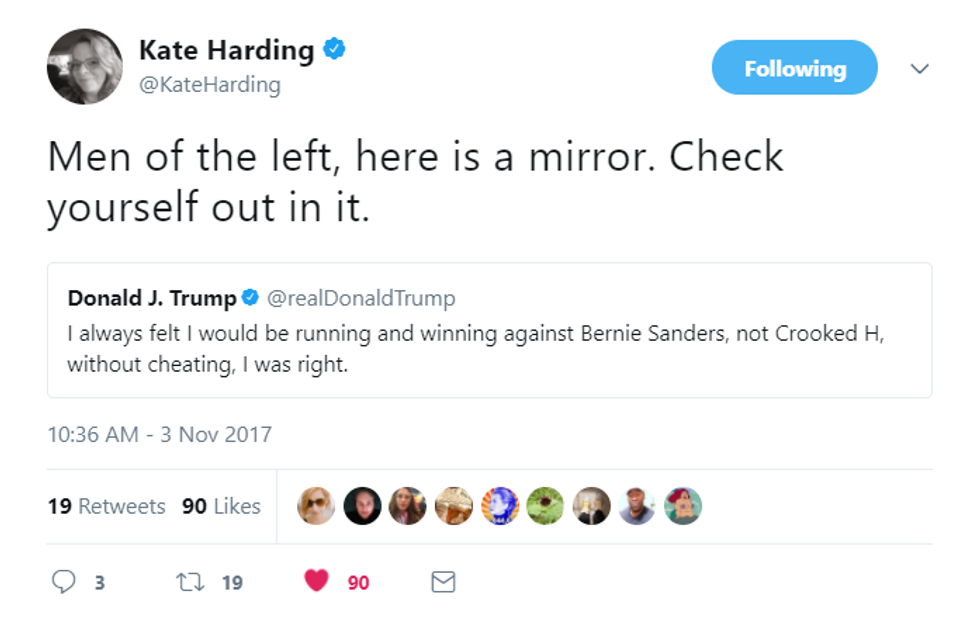 Elizabeth Warren fired back, and bigly!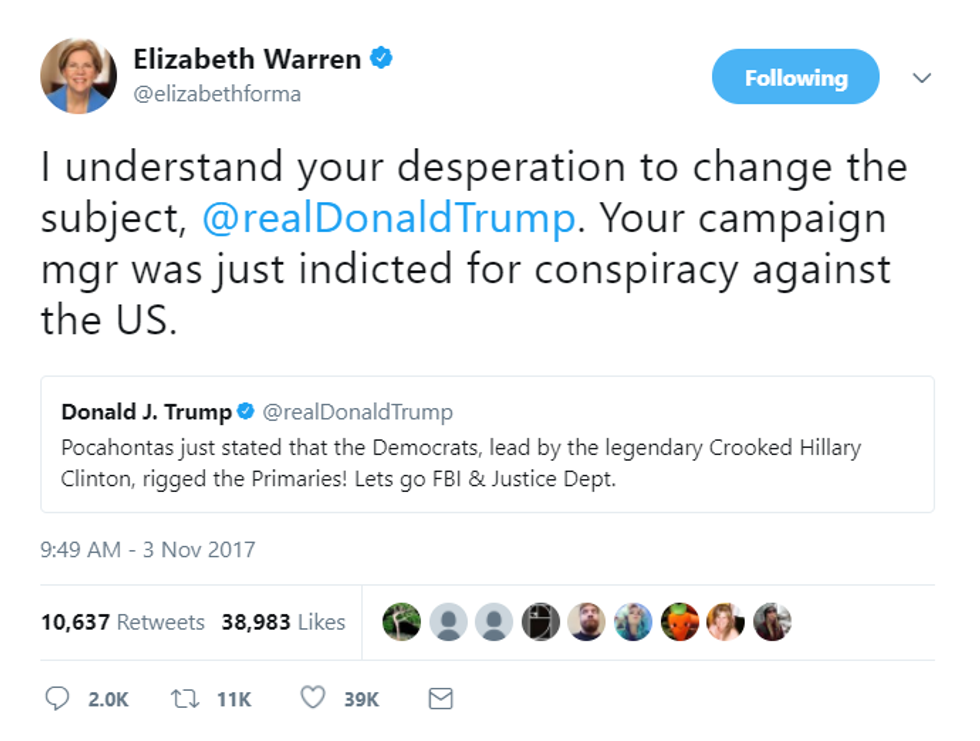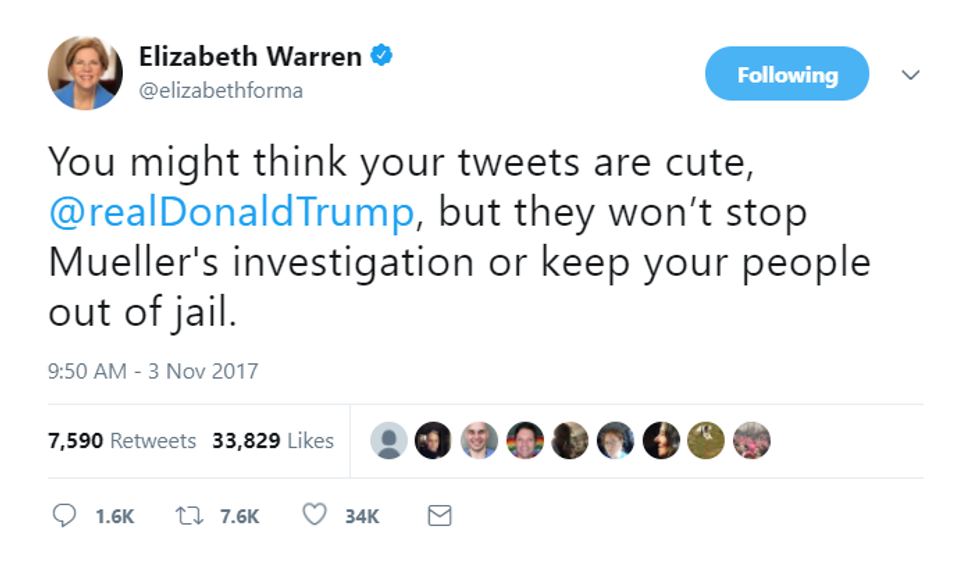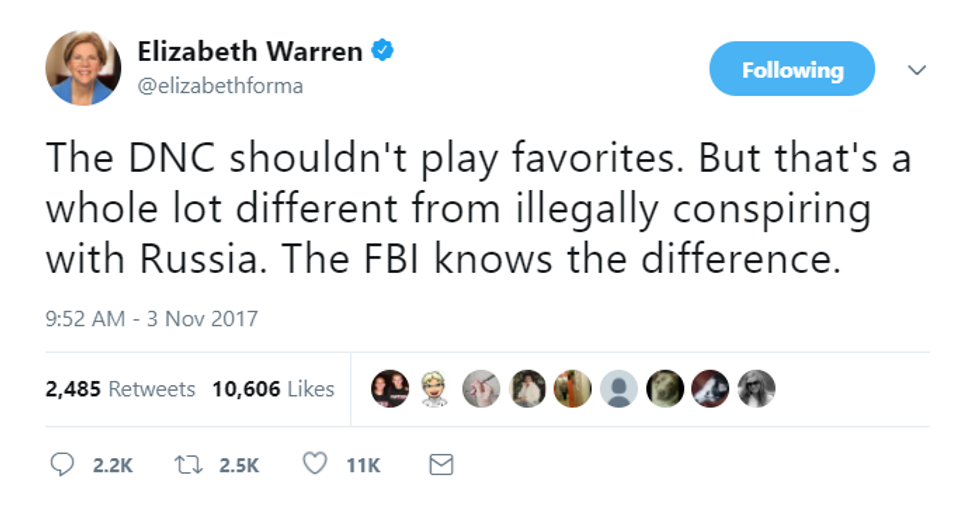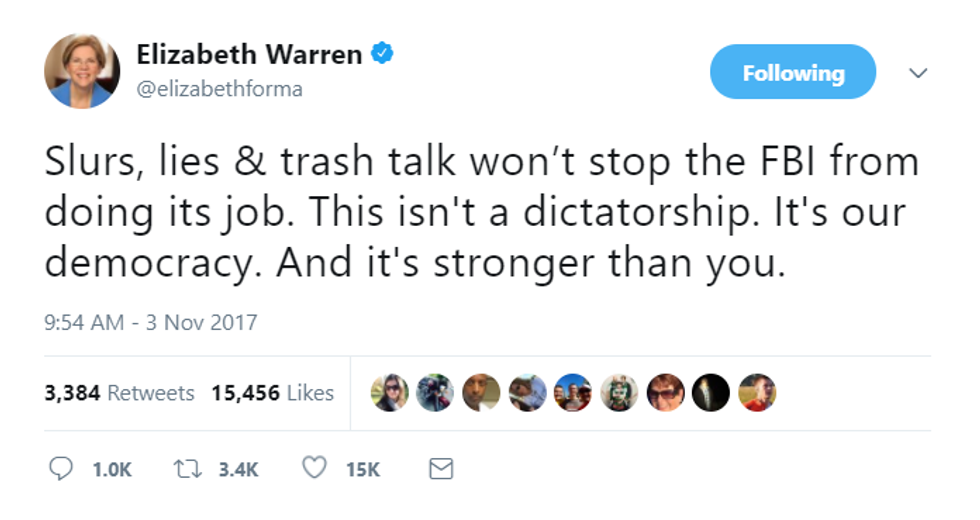 YEEEEEEEEEAH! That's the warrior we all know and love!
Except: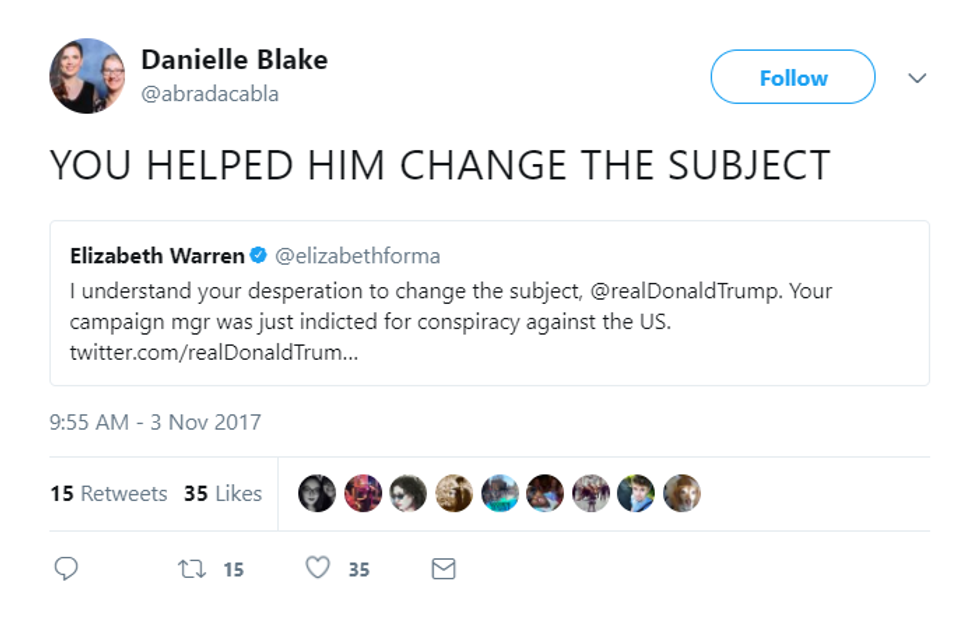 She did. And so did Donna Brazile.
We don't know why Brazile decided to launch this fake news grenade, especially right at this moment. We hope she really did just fuck up her facts, thinking she had found a smoking gun when she had found nothing of the sort. We'd hate to think she simply came to the harsh realization that there wasn't that much of an audience of buyers for her book in the first place, so she concocted a strategy to create one. (Maybe Donald Trump would like his own copy! Can he read?)
As for Warren, we're going to hope that as Charlie Pierce suggested, it was an "unforced error" on her part. And we're not going to stop loving her.
But, family, listen up: We cannot do this. The 2016 primary is over. There is a Trump in the White House. We have our differences, to be sure! Hell, we just let Bill Kristol into our family meeting, because the threat to our republic is that dire. (Hiiiiii, Bill Kristol! Did you try the punch?????)
So can we cut this shit out and start thinking about maybe coming together to kick Donald Trump's ass back where he came from, if Robert Mueller doesn't jail him first?
Thanks, that would be great.
TO ELIZABETH WARREN: This was not an intervention. We are sorry we had to make you the center of attention like this, but shit, you started it. We love you very much, though.
Now everyone, go with God.
MEETING ADJOURNED except also Rebecca says NO CATFIGHTING HILLZ AND BERNIE PEOPLE IN THE COMMENTS. Save that for the next one, which will be your open thread, not this one, which is not your open thread.
Follow Evan Hurst on Twitter RIGHT HERE.
Wonkette salaries, servers, and all of the things are fully funded by readers like you! If you love us, click here to fund us!
Evan Hurst
Evan Hurst is the managing editor of Wonkette, which means he is the boss of you, unless you are Rebecca, who is boss of him. His dog Lula is judging you right now.
Follow him on Twitter RIGHT HERE.