Elon Musk Can Buy Twitter And Turn It Into A Troll Site, But He Can't Force Anyone To Stay
The Internet
April 14, 2022 12:19 PM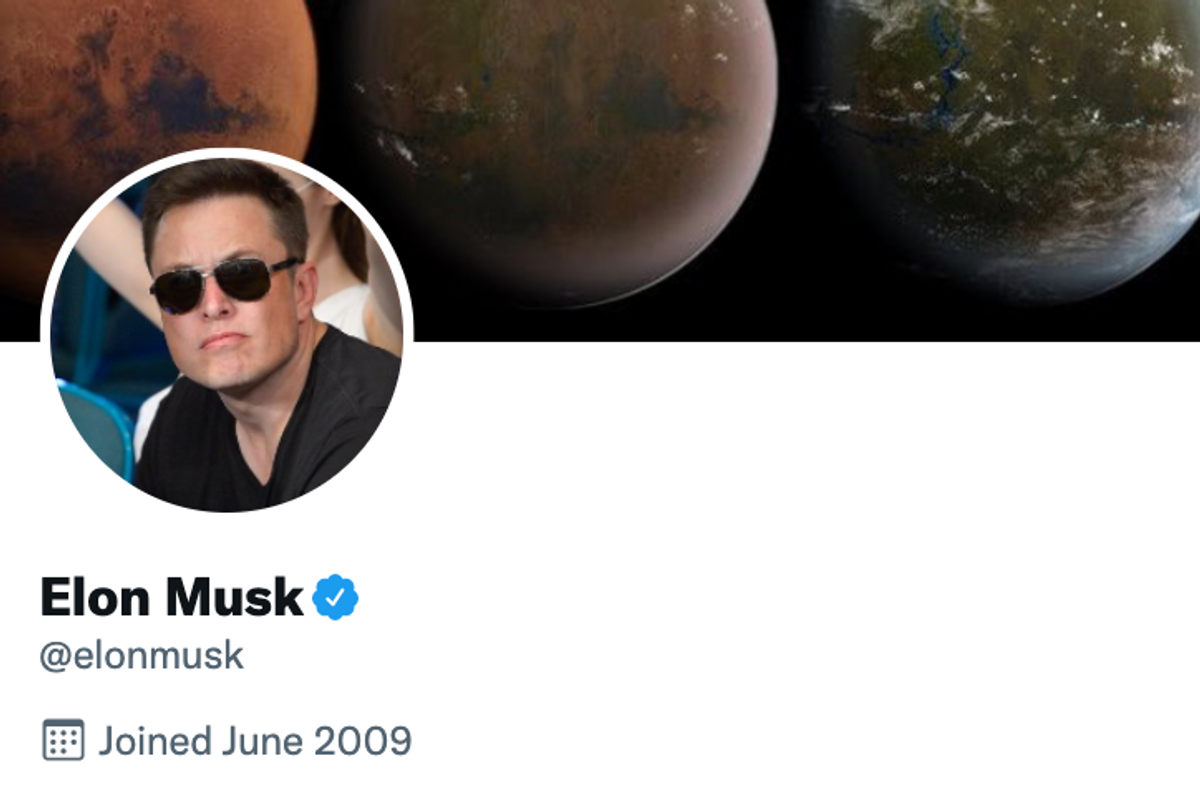 Thursday morning, news broke that Elon Musk plans to attempt a hostile takeover of Twitter, offering to buy the company outright for $41.4 billion dollars, at $54.20 a share. This comes days after Musk became the biggest shareholder in the company and found out this would not actually allow him to change the company's rules with regard to moderation. So now he's threatening to dump his shares unless the company allows him to take over entirely and take the company private.
"I invested in Twitter as I believe in its potential to be the platform for free speech around the globe, and I believe free speech is a societal imperative for a functioning democracy," Musk wrote in the Securities and Exchange Commission filing detailing his proposal to buy the company.
"However, since making my investment I now realize the company will neither thrive nor serve this societal imperative in its current form. Twitter needs to be transformed as a private company." he continued. "As a result, I am offering to buy 100% of Twitter for $54.20 per share in cash, a 54% premium over the day before I began investing in Twitter and a 38% premium over the day before my investment was publicly announced. My offer is my best and final offer and if it is not accepted, I would need to reconsider my position as a shareholder. Twitter has extraordinary potential. I will unlock it."
---
Yeah that's probably not going to happen.
This weekend, Musk suggested the company was "failing" because many of Twitter's most followed accounts post very little content, ignoring that many of them were never prolific tweeters to begin with, and that Barack Obama is no longer president and Ellen DeGeneres's show has been canceled.
Most of these \u201ctop\u201d accounts tweet rarely and post very little content. \n\nIs Twitter dying?https://twitter.com/stats_feed/status/1512729717085929475\u00a0\u2026

— Elon Musk (@Elon Musk) 1649511151
It also seems important to note that it is highly unlikely that bringing Alex Jones back or otherwise changing the content moderation policies at Twitter would do anything to entice these accounts to tweet more.
As Wonkette wrote earlier this week, the gang at Fox has been overjoyed over the prospect of Musk coming in and taking over, welcoming back the Nazis and the trolls and the purveyors of misinformation, allowing them to participate in the "public square" with everyone else. The inevitable result, of course, would be that people would become as inured to hate speech as they are to people live-tweeting "The Bachelor."
There's a pretty big problem with that plan, however.
Twitter is far less of a "public square" than it is a "third place." For many, it serves about the same purpose as bars, clubs, parks or coffee shops. The thing about third places, however, is that they don't last forever, and small changes can lead to people leaving and finding new ones. It can be that another place is cooler and everyone goes there instead, or that legal, social and cultural changes lead to people simply abandoning that place in favor of another.
If you were a regular at a bar and all of a sudden Nazis started hanging out there all the time, you'd probably find another bar. If you couldn't go on Twitter without being harassed by Nazis, you'd probably use it a whole lot less. If a super rich person felt polka should be more popular than it is and went and bought the coolest dance club in town and played nothing but polka, polka would not suddenly become the latest thing. Rather, everyone would leave and go to a club that was playing the music they actually like.
Henry Ford hated jazz, which he believed was invented by Jewish people for the purposes of corrupting the nation, and he poured piles of money into trying to make square dancing popular, in hopes of destroying jazz. But despite the fact that many of us, through his efforts, had to square dance in gym class, very few of us ever go on to do it in our spare time. Today, far more people listen to jazz than go square dancing every night.
The only value social media sites have is that people use them — and more specifically which people use them. The reason all the right-wing "freeze peach" sites like Truth Social, Gab, Parler, and others fail is not just because they suck, but because those who use them are largely unappealing to others and no one cares what they say beyond "Oh god, can you believe what these wackos are saying now?" Were those people to come back to Twitter, what would stop all of the people others do actually want to follow from migrating to a new site that is actually moderated and nice to use? Absolutely nothing.
Such a site would be far less likely to go the way of right-wing Twitter and Facebook clones, because while the Right wants to hang out where we are, the Left has no desire to hang out where they are. We also tend to be early adopters of technology and culture, preferring to move things along rather than force them to stay the same forever.
Elon Musk can come in and buy Twitter and turn Twitter into what he thinks it should be, but neither he nor the Right in general are ever going to get what they want on this front, because you can't force people to hang around trolls and Nazis in their spare time any more than you can force them to square dance outside of a gym class.
Do your Amazon shopping through this link, because reasons.
Wonkette is independent and fully funded by readers like you. Click below to tip us!
Robyn Pennacchia
Robyn Pennacchia is a brilliant, fabulously talented and visually stunning angel of a human being, who shrugged off what she is pretty sure would have been a Tony Award-winning career in musical theater in order to write about stuff on the internet. Follow her on Twitter at @RobynElyse