If A Woman Wins A Nobel Prize Without A Peener, Does It Make A Sound?
Media/Entertainment
October 14, 2019 02:30 PM
Abhijit Banerjee and Esther Duflo from MIT won the Nobel Prize in economics today "for their experimental approach to alleviating global poverty." The married couple will share the honor with Michael Kremer from safety school Harvard. The Economic Times announced the news in a headline from 1953.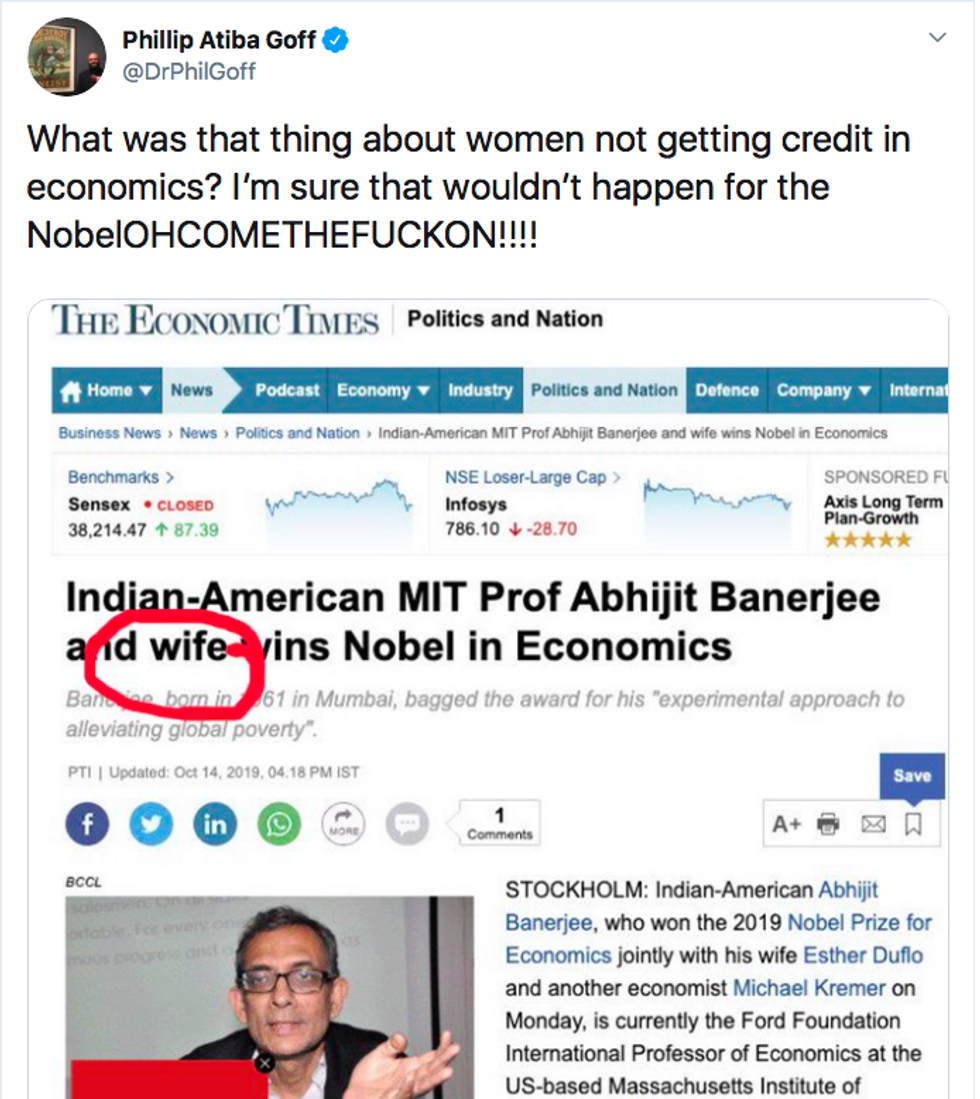 Twitter
Yep, the Economic Times gave Duflo the "and the rest" treatment. The article didn't even use a photo of both her and Banerjee. They've been married since 2015. There's at least one photo of them together. Duflo is the youngest person and only the second woman to win the Nobel Prize in economics. She was offered tenure at both Princeton and Yale when she was just 30. Duflo's more than just some guy's wife. This isn't Of Mice and Men.
---
vlc record 2015 10 04 20h00m13s Treehouse Of Horror VIII www.youtube.com
You'd think newspapers would know enough by now to stop diminishing a woman's contributions to society just because she married a man. If they weren't a couple, the headline couldn't very well read Abhijit Banerjee And Chick Who's Not His Wife (But He's Working On That Shit) Win Nobel Prize.
In 2016, the Chicago Tribune identified Olympic medal winner Corey Cogdell as "wife of a Bears' lineman" in a Twitter headline.
Wife of a Bears' lineman wins a bronze medal today in Rio Olympics https://t.co/kwZoGY0xAX https://t.co/VZrjOvr80h

— Chicago Tribune (@Chicago Tribune) 1470605613.0
Sure, it was only the bronze, and the Tribune at least ran a photo of Cogdell and not her husband, who I assume is a football player. But her husband didn't win shit. The actual Tribune article at least used her actual name in the headline but it still included her husband: "Corey Cogdell, wife of Bears lineman Mitch Unrein, wins bronze in Rio." Can you imagine how awkward that'll be if they get divorced? She'll have to bust out the White-Out. It's as bad as a tattoo.
Page Six once tried to cosplay as the society pages for a Newport, Rhode Island, paper from the 1940s. The one problem, other than the sexism, is I have no idea who the fuck T.J. Miller is or his wife. This story needs to stand on the news value of Kate Miller or not at all.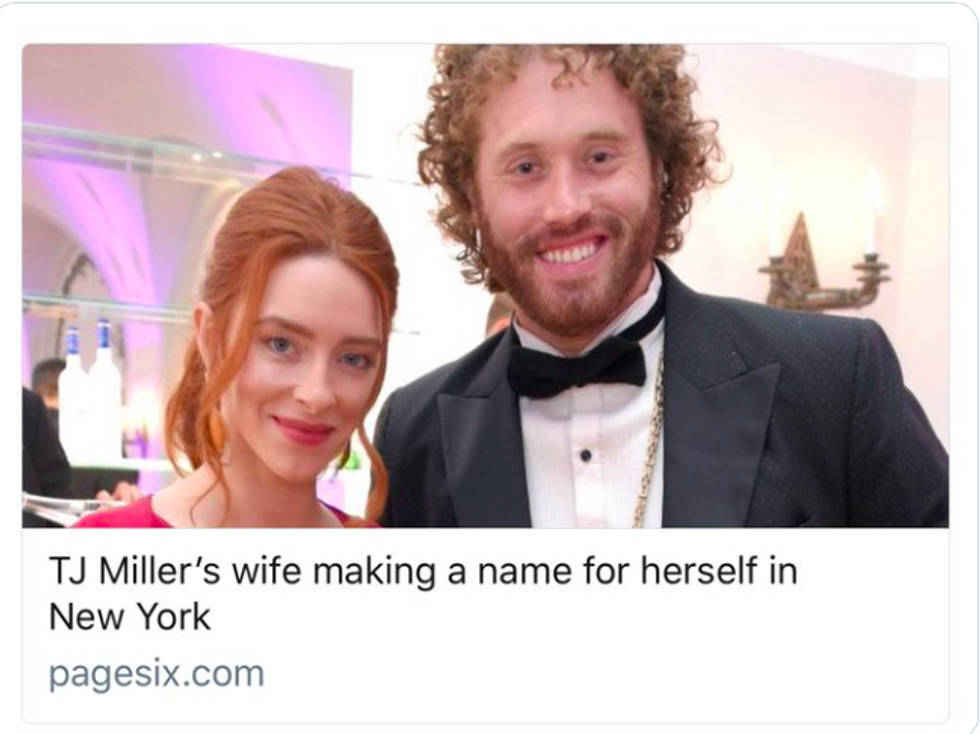 New York Post
The New York Post later updated the headline. It was still lousy.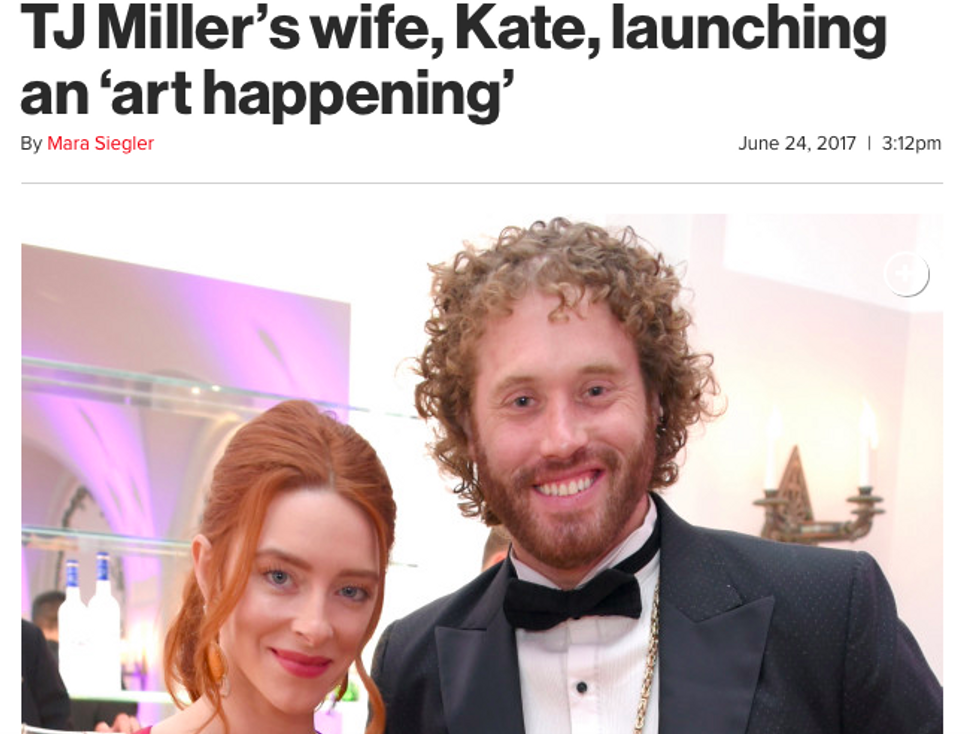 T.J. Miller is an actor with his own IMDB entry and everything. Kate is an artist of dubious merit, but unlike her husband, she wasn't accused of sexually assaulting a woman in college. (MIller's "Silicon Valley" costar Alice Wetterlund recently claimed he was a bullying asshole as well.) Someone should fetch Kate some White-Out.
Ruth Graham at Slate once tried to justify this sexist nonsense. She claimed publications are objectively focusing on the more famous half of a couple so that readers will pay attention. T.J. Miller was in a Transformers movie, and not even one of the "early, funny" ones.
Anti-apartheid activist Winnie Mandela was a controversial figure unique from her ex-husband, Nelson. She still received second billing in her own obituary.

Al Jazeera
Last year, actor Gabrielle Union called out a headline that identified her solely as the lower-case "wife" of husband Dwyane Wade. He is a former professional basketball player. Wade could've hit more three-pointers than, well, someone who hit a lot of three-pointers, the star of Bring It On and Deliver Us From Eva deserves respect and proper recognition.
When they let you know what they think of you. I have a name. https://t.co/EONnNVxCNV

— Gabrielle Union (@Gabrielle Union) 1520868738.0
It seems like the only time a woman gets to ride solo from her husband is when she helps her kid cheat on college admissions exams. Then it's all about "Aunt Becky" and "Desperate Housewives."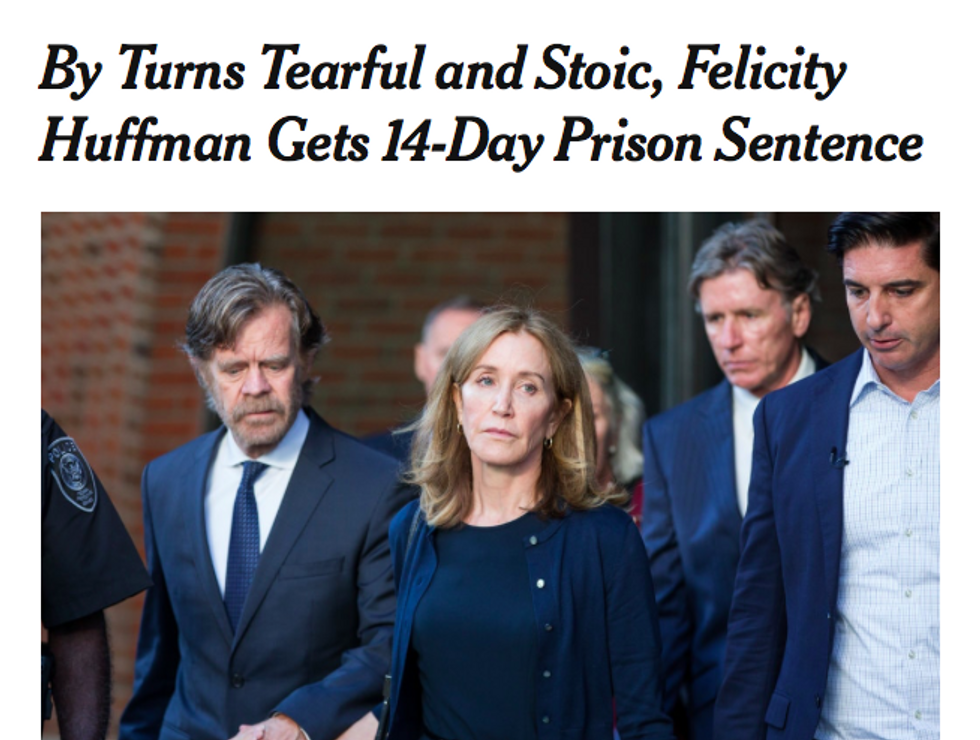 New York Times
William H. Macy is literally in the photo with Felicity Huffman, and he's not just her side dick. She was busted for a crime directly involving their child. If I were Huffman's manager, I'd beg the New York Times for this headline: "Fargo" Star William H. Macy's Wife, Also An Actor, Gets 14-Day Prison Sentence.

NBC News
Lori Loughlin's husband is fashion designer Mossimo Giannulli. He's charged along with "Aunt Becky" with money laundering and bribery. The prosecutors should want to keep him in the headlines so he knows he has to show up for the trial. I guess women get all the blame for the offenses they share with their husband. That's not how the "for better or worse" vow is supposed to work.
Follow Stephen Robinson on Twitter.
Yr Wonkette is supported by reader donations. Please send us money to keep the writers paid and the servers humming. Thank you, we love you.
Stephen Robinson
Stephen Robinson is a writer and social kibbitzer based in Portland, Oregon. He writes reviews for the A.V. Club and make believe for Cafe Nordo, an immersive theatre space in Seattle. He's also on the board of the Portland Playhouse theatre. His son describes him as a "play typer guy."