Everybody Hates Trump! Wonkagenda For Fri., Jan. 27, 2017
Culture
January 27, 2017 09:23 AM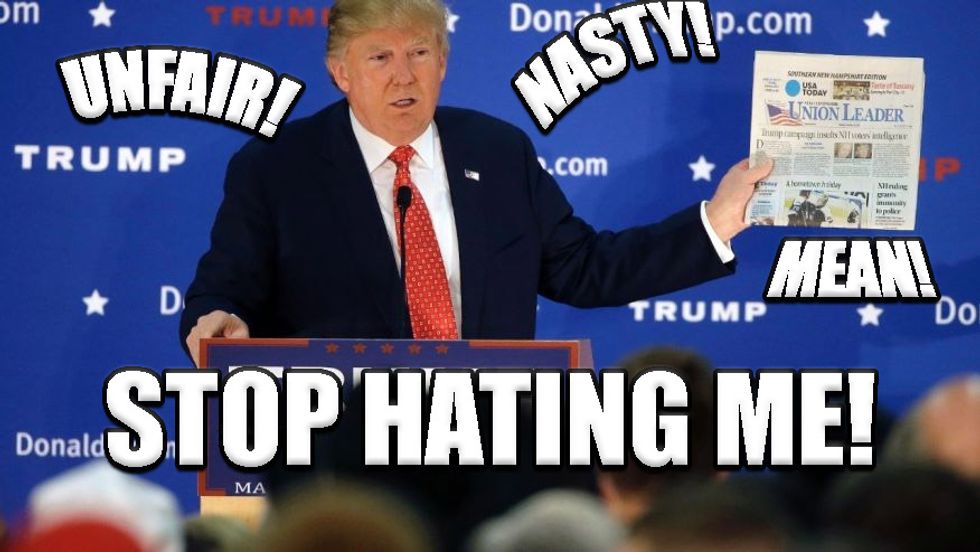 ---

People are nervously holding their breath and biting their nails as Trump will meet British Prime Minister Theresa May later today to discuss the relationship between the U.S. and U.K. Will she make a quick Brexit before Trump grabs her by the fanny?
During an interview with his favorite mind numbing, conspiracy peddling Fox News blowhard, Trump said that military expansion is more important than a balanced federal budget. And people wonder how he could be bad at business.
Mexican President Enrique Peña Nieto decided to stay home and tell Donald Trump to fuck off rather than meet with him to discuss paying for some stupid wall.
Trump's team floated an idea about building the wall with an import tax, but they're already walking it back now that people are pointing out that it's a scam.
Trump's anal aching over his bad media coverage and crowd size at the inauguration has been a bit more painful than we thought. He personally called the director of the National Park Service demanding more pictures after being told he was about average, and that the black guy had a bigger one.
Remember how Trumpkins wanted to lock up Hillary Clinton for dropping private email bombs on puppies in Benghazi? Not only is Trump still using an unsecured and vulnerable phone, he and his aides are using private Gmail accounts to conduct government business, and some Robot hacker person had to warn them to use the most basic Twitter security. LOCK'EM UP!
Anti-abortion/Pro-Life fellas and fellettes will meet in Washington to march around for the repeal of a woman's right to choose, and they're DEEPLY worried they won't get the same almost-a-million people that turned out last weekend, so they called in Mike Pence. (It won't help.)
Thousands of people turned out to protest the Republicans while they hid away in a Philly hotel, but hundreds of people flanked Democrats in a West Virginia hamlet and were greeted by Bernie and Elizabeth Warren. Hurray!
Plans to rebuild the nation's old and broke infrastructure have hit predictable walls as lawmakers in state governments can't decide on how to pay for bridges and roads.
A rich old guy in Virginia was stealing armored S.U.V.s from the State Department and then flipping them for large sums of cash for years, hoping nobody would notice. THIS is what an actual conspiracy looks like.
Immigrants are flooding Tijuana from all over the Caribbean and Central America, but now they're stuck as America rethinks that whole sick, tired, huddled masses thing. Meanwhile, Canada doesn't really have much of a problem being a multicultural home for immigrants.
Mexico's FORMER president went on teevee this morning with an important announcement for Donald Trump: "Please grow up"
And here's your morning Nice Time: Breakfast time with baby sloths!
Dominic Gwinn
Dominic is a broke journalist in Chicago. You can find him in a dirty bar talking to weirdos, or in a gutter taking photos.