Everything About President Dickless's TANKS GO VRRROOOM! Fourth Of July Party Is Pathetic, Illegal, Or Both
News
July 03, 2019 11:31 AM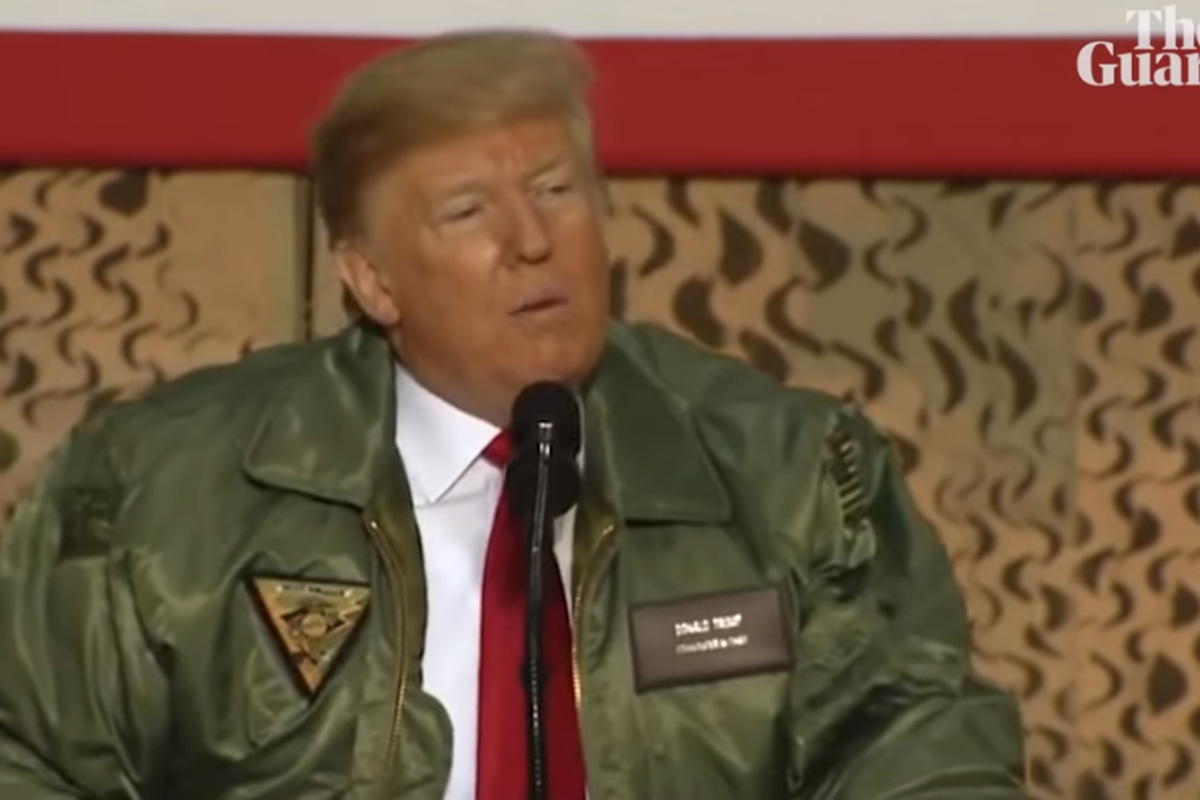 In the olden days, before 2016, the United States America didn't feel the need to throw small-dicked chickenshit displays of military fortitude in order to find its self worth. We didn't need it. For better or for worse, we all knew our military could kick anybody else's military's ass, and that we didn't need to SAY THAT OUT LOUD ALL THE TIME. That's called "speaking softly and having a big dick, we mean stick." But that was before Donald Trump was "elected." Now we have a commander-in-chief in name only who is projecting all his masculine insecurities into throwing a BOOM BOOM TANKS GO BOOM AIR-P'ANE! fireworks party for himself in the nation's capital on America's birthday. No one whose life adds anything of value to humanity will attend.
On that note, here is a video ABC News posted last night, of tanks rolling through Washington so President Dick-So-Small can get a thrill up his scaly inner thigh:
Video posted to Twitter shows what appears to be two Bradley Fighting Vehicles designated for July 4 festivities be… https://t.co/2cUM9zaioJ

— ABC News (@ABC News) 1562125387.0
How fucking embarrassing. Here's another, from somebody on Twitter:
Just left the Nats game, and we were greeted by Trump's tanks rolling through just outside the ballpark @fox5dc… https://t.co/2XV1XlDRjn

— Cole (@Cole) 1562119499.0
Make America Pyongyang Again!
If you are interested in more pictures of TANKS GO BOOM getting sponge baths for their big day, Talking Points Memo has collected some. Do they know where all the tanks are actually going to go in DC? No. Do they know how they're going to get to that unknown place? No. Is it going to damage the DC roads, pretty much no matter what? Ayup! Does Trump care? Of course not! Was this event planned in any kind of thoughtful way by thoughtful people? LOL, planning is for liberals.
Anyway, none of that is illegal. But it is pathetic and stupid and wasteful. Let's look at some other things we know about this shitshow:
---
PATHETIC/GRIFTY/SWAMPY/VIOLATION OF THE PUBLIC'S TRUST: Last night, the Washington Post came out with a report that addresses how we (that's right "we") are paying for this sad spectacle that nobody's going to attend. Surprise, they're pulling $2.5 million from the National Park Service! Hooray! The Post reports that the normal Fourth festivities -- the whole thing -- usually costs the Park Service around $2 million. And the normal Fourth festivities are for all Americans, and not just for one criminal shitheel with fucked hair who lost the popular vote by three million.

By tapping entrance fees to cover the presidential event, Interior is siphoning money that is typically used to enhance the visitor experience either on the Mall or at smaller parks across the country, with projects ranging from road and bridge repair to habitat restoration. The transfer amounts to nearly 5 percent of the funds that less-profitable parks used last year for upgrades, according to budget documents.
Of course, as the Post notes, that's only a tiny portion of the wasted money being pissed away in order to buy aloe vera for Trump's wounded ego and make the Fourth all about him. They brought in all those tanks (from GEORGIA), and members of the military are having to leave their own family celebrations and fly military airplanes through the sky, so that the president may look straight into the sun and say "AIR-PANE!"
If you're wondering how much those planes cost to fly:
The F-35 costs about $30,000 per hour to fly, according to Pentagon estimates. Each Blue Angel jet costs at least $10,000 per hour to operate, and the cost of flying an Air Force One jet is more than $140,000 per hour.
Very legal and very cool.
MAYBE ILLEGAL: And then there's the whole thing about the VIP section, because why steal the Fourth of July from the American people if you can't provide a place for your donors and probably some Russian oligarchs to sit and get their patriotism on? The White House is giving away tickets to their closest associates, and the RNC is handing out VIP section reacharounds to donors, which is totally OK, because somebody from the RNC told the Washington Post that when a DEMOCRAT was president, donors got tickets to DEMOCRAT White House events. Of course, this isn't at the White House (the president's residence, so the rules are a bit different), it's at the Lincoln Memorial, but hey, what are details when Donald Trump is going to cry all day if he doesn't get his precious tanks? (Talking Points Memo has more about how they're pulling that particular sleight of hand.)
Here is an actual quote from an actual RNC money person HuffPost talked to:
"He's going to have tanks out there. It's going to be cool," joked one RNC fundraiser on condition of anonymity. He said he received an offer for the free tickets on Friday but did not request any. "He wants to have a parade like they have in Moscow or China or North Korea."
Isn't that special.
Of course, all this means the taxpayers are footing the bill for what is essentially a Trump rally with a better backdrop, which is HIGHLY INAPPROPRIATE and NOT KOSHER LEGALLY. How un-kosher?
Brendan Fischer, federal reform director for the Campaign Legal Center, said in an interview that while it may not violate federal ethics law to distribute limited tickets to the president's speech to party contributors, "it certainly looks bad."

"Limiting public access to a public monument on Independence Day in favor of wealthy donors just sends a signal that our political system favors the wealthy and well-connected," he said.

Since federal appropriations law prohibits using public money for political purposes, Fischer noted, the issue will depend on what Trump says in his speech. If he refers to some of the 2020 presidential hopefuls, or polling related to the race, Trump's reelection campaign may be required to reimburse the U.S. Treasury.

"The content of the event, and the nature of the event, is probably the determining factor," as opposed to donors getting to see Trump up close, he said.
SPOILER ALERT BEFORE IT EVEN STARTS: There is no way in hell Donald Trump will be able to get through his speech without mentioning Crooked Hillary, Pocahontas, Sleepy Joe Biden, Nervous Nancy Pelosi, the deep state Robert Mueller witch hunt, and a number of other political things he likes to whine about.
Just go ahead and prepare the lawsuits.
HOW MUCH OF A PAIN IN THE ASS FOR THE REGULAR NICE PEOPLE OF DC WILL THIS DESPERATE SHAME SHOW BE? Glad you asked! The Washington Post has some more stats:

The event [...] will freeze air traffic to and from Reagan National Airport for more than two hours Thursday, from 6:15 p.m. to 7:45 p.m., for the flyover of military jets and again, from 9 p.m. to 9:45 p.m., to accommodate an extended fireworks show. In past years, flights at National have not been affected by the fireworks, but the launch point moved this year to accommodate Trump's speech.
Nice. Sounds just great.
BUT HOW WILL DONALD TRUMP PERSONALLY PROFIT FROM THIS EVENT? DID HE EVEN THINK OF THAT? You dumbass, of COURSE he thought of that.

"Look for the big donors to make appearances alongside major Trump administration figures at the Trump Hotel," [Jordan Libowitz from Citizens for Ethics and Responsibility in Washington] said. "It's already sold out for the 3rd and 4th despite charging double what the other luxury hotels are charging around the holiday."
Cool.
DID POLITICO HAPPEN TO TALK TO ANY FORMER MILITARY LEADERS ABOUT HOW DISGUSTING AND APPALLING THIS ALL IS, AND HOW USING THE TROOPS AND THE MILITARY AS POLITICAL PROPS FOR PRESIDENT SHITHOLE'S PERSONAL PLEASURE FUNDAMENTALLY DISRESPECTS THEM?
Yes, Politico did that:
"This looks like it's becoming much more of a Republican Party event — a political event about the president — than a national celebration of the Fourth of July, and it's unfortunate to have the military smack dab in the middle of that," said retired Army Lt. Gen. David Barno, who commanded U.S. troops in Afghanistan under President George W. Bush.

"The president is using the armed forces in a political ploy for his reelection campaign and I think it's absolutely obscene," added retired Army Maj. Gen. William Nash, a veteran of Vietnam, the Gulf War and peacekeeping operations in the Balkans. [...]

"I hope the speech doesn't become partisan, because troops shouldn't be listening to the president talk about the other party," agreed retired Lt. Gen. Russel Honoré. "Presidents usually leave their party business out when they talk in front of military audiences, but people are becoming numb to it."
Lt. Gen. Russel Honoré, BLESS YOUR HEART.
Please refer to what we said above about how there is a fat chance in hell Trump will be able to make it five minutes without whining about his political opponents. This is a foregone conclusion, because this is Donald Trump we are talking about. He wasn't raised well and has literally no idea how to behave in public.
DC WEATHER FORECAST: Partly cloudy with a chance of highly mockable authoritarian displays that will make flyover country white supremacists' dicks hard for a minute, but will be otherwise ignored by all good patriotic Americans. Also the Proud Boys are coming to DC for the occasion, because we guess their moms signed their permission slips.
As for the actual weather forecast, it is a 40 percent chance of "scattered thunderstorms," so it's possible God might cancel this event.
But only if YOU pray hard enough.
[Washington Post / ibid. / Politico / HuffPost]
Follow Evan Hurst on Twitter RIGHT HERE, DO IT RIGHT HERE!
Wonkette is ad-free and funded ONLY by YOU, our dear readers. If you love Wonkette, SUPPORT WONKETTE.

Evan Hurst
Evan Hurst is the managing editor of Wonkette, which means he is the boss of you, unless you are Rebecca, who is boss of him. His dog Lula is judging you right now.
Follow him on Twitter RIGHT HERE.