Evil 'Homeless Costume Party' Eviction Firm Closing, For Being Evil
News
November 21, 2011 03:49 PM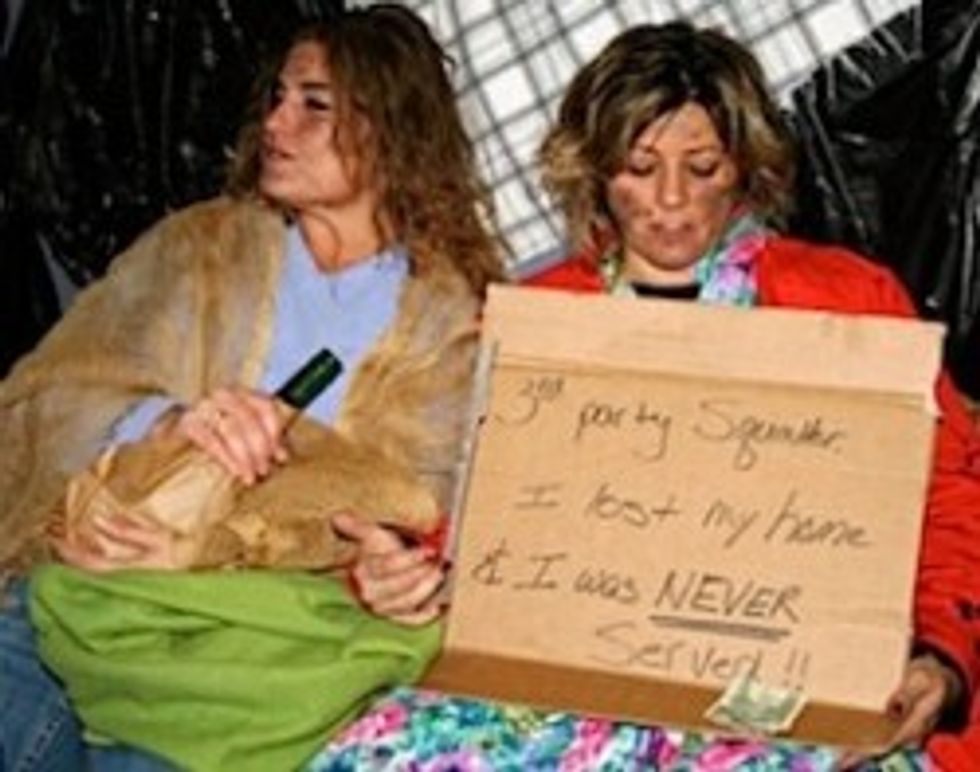 Whoops! It is apparently Not Okay as of "since Occupy Wall Street started" for the sadistic owner of a foreclosure mill to openlymock the struggling families it makes truckloads of money throwing out of their homes by forcing its employees to costume themselves as homeless people for Halloween, so Fannie Mae and Freddie Mac decided to "evict" the law firm of Steven J. Baum from its referral list, for not having the decency of every other government-supported jillion-dollar corrupt business to just have their laffs at the poor in private. Without all these referrals, the firm is being forced to close down.
---
From the Buffalo News:
This month, Fannie Mae and Freddie Mac, the mortgage- finance companies operating under U.S. conservatorship, dropped Steven J. Baum PC from their lists of law firms eligible to handle foreclosures. Servicers including Bank of America Corp. and Ally Financial Inc. also stopped using the firm, which last month agreed to pay the U.S. $2 million and change its practices to resolve a probe of faulty foreclosure filings.

"Disrupting the livelihoods of so many dedicated and hardworking people is extremely painful, but the loss of so much business left us no choice but to file these notices," Steven J. Baum, who owns the firm, said in the statement.
Yes, it IS very sad that these people are all losing their jobs, which we sincerely hope they hated anyway, because Steven J. Baum is the only actual person who deserved to lose his job, for being Satan. [Buffalo News]