Exclusive NYT Interview Indicates That Undecided Voters May Despise Politics Entirely
News
August 09, 2012 05:17 PM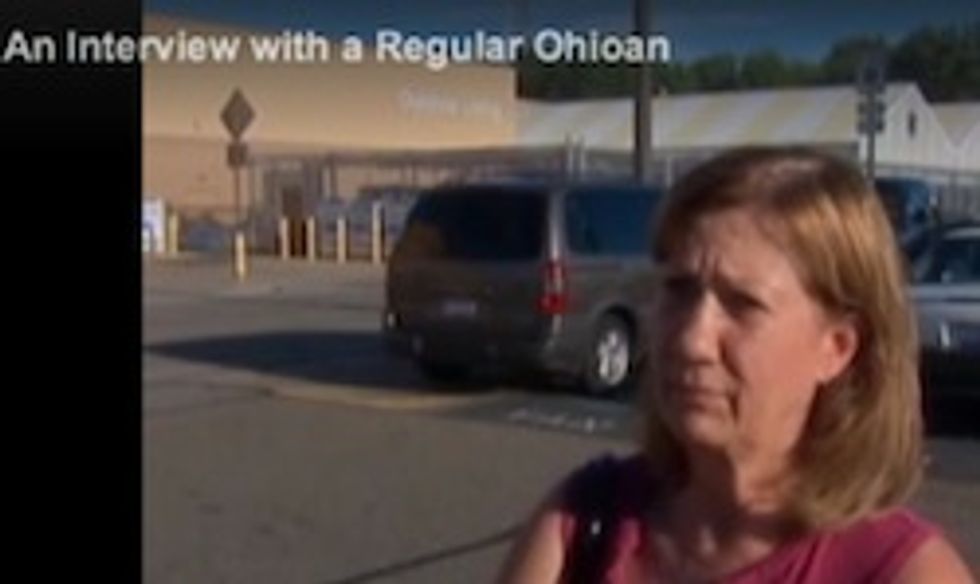 TheNew York Times ventured out of the Big City to conduct one of its most ambitious anthropological studies of the election, deep into the virgin forests of Ohio. Veteran Timesman John Harwood was tasked with a mission that no cub reporter would ever have returned from alive: Talking to some lady in Ohio about the election, in a parking lot. What motivates this creature, the "Regular Ohioan"? How does she respond to political stimuli? Does she see the teevee ads in her flyover hinterland, and how does her genetic wiring influence the words that come out of her mouth? The preliminary results -- and lord knows there's still test after test needing to be run back at the lab -- indicate that she "hates everything about politics," as they term it in Science.
---
The woman, research unit #OH1432McLady or "Rosemary Pallen," offers many variations of "I really just hate all of this" that could represent key breakthroughs for psychologists and sociologists alike:
Q.

How much attention are you paying to the presidential race right now?

A.

If it's on, I listen. Mostly I turn it off.

Q.

You don't seek out information, or try to watch the TV ads?

A.

Oh no. They absolutely get muted.

Q.

Are you starting to get bombarded, in addition to the ads, with mail and phone calls from the campaigns?

A.

Phone calls — totally hanging up on those people, too. Annoying. Very annoying.

Q.

Have you followed the back-and-forth between the two campaigns over Romney's statements on his foreign trip, or Obama's statements like "the private sector's doing fine?"

A.

I heard some of it but I don't even recall what it was about. Kids in a playground having a little fight and a little tiff. Just throwing out names saying 'You did this.' 'You did that.' You don't know what the truth is. [...]

Q.

You've got a House race in this district between two incumbents thrown together in redistricting — the Republican Jim Renacci, and the Democrat, Betty Sutton. How does that feel to you?

A.

I don't know anything about either one of them. I have no opinion. [...]

Q.

Will you watch both parties' conventions?

A.

Absolutely not.
Could there be others like her?
[NYT]