Farewell Comedy Gold: Our Last CPAC Dispatch
News
March 02, 2009 03:07 PM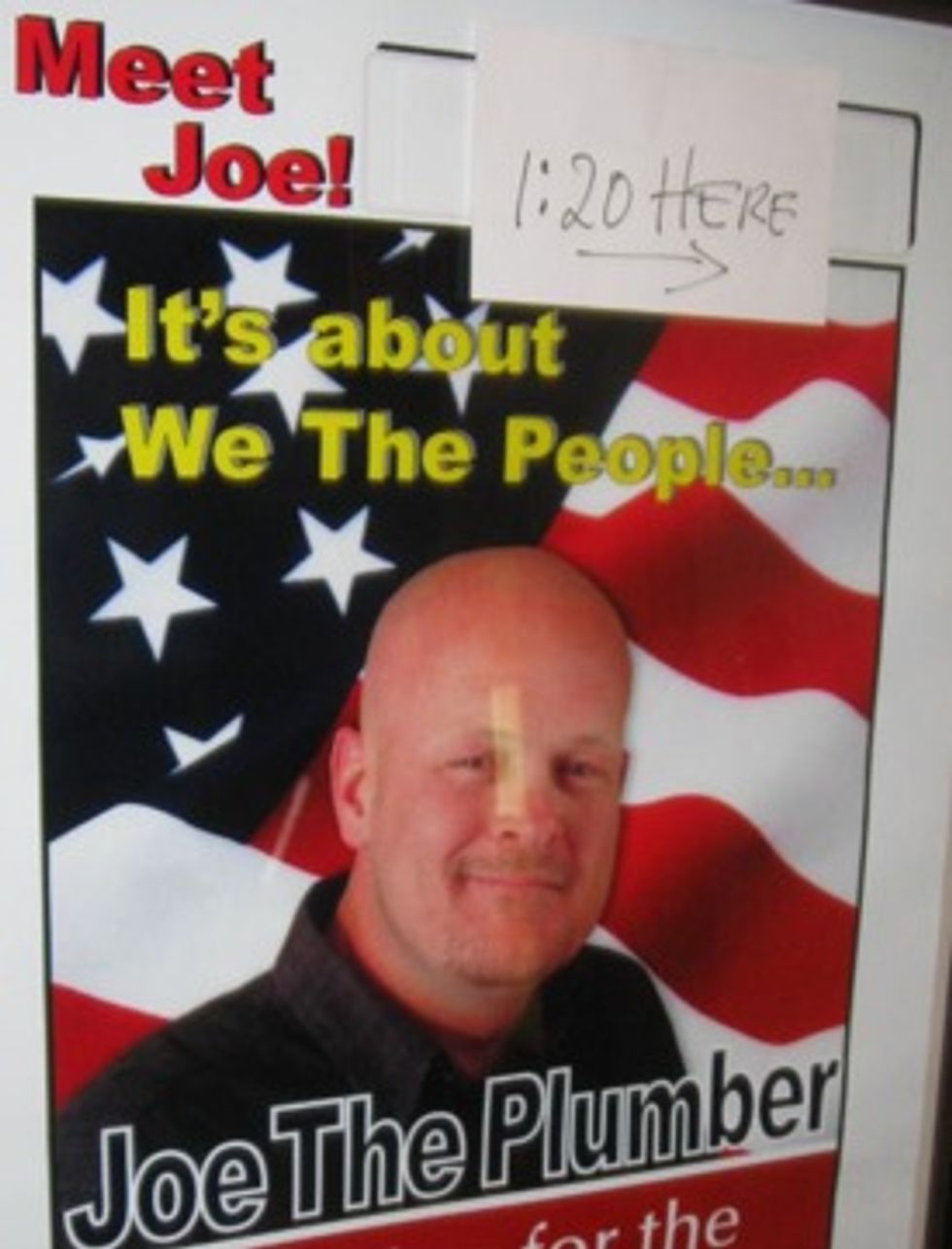 Oh, CPAC, why have you left us all alone? Where will we get all of our super easy comedy posts? Will we be forced towork again? Oh well. Let's say good-bye to the good times with this final CPAC dispatch from our pal Garrett Quinn, who also took this tragic photo of Joe the Plunger's lame book-signing poster, with a piece of tape on his nose.
---
Garrett is that rarest of creatures: A libertarian paultard who is also a friend of your Wonkette! He filed some other email dispatches for us, too. Read them, and then read this:
I will never forget my time in DC because I could smell Harry Reid everywhere.

The "It's OK to be ex-gay" booth was more impressive than any jackass intern dressed as a gay UN sex slave. I really want to riff on them but after interviewing them I actually felt bad for them. Best moment was his response to my question about political involvement.

"Ex-gay" dude: "I don't participate in political activity. This isn't a political issue...it's about love and realizing who you are."

Ummmm...what? Did you not look around at the booths here? There is a cardboard stand-up of sexy librarian/Alaska Governor Sarah Palin right across from you. I hear she loves "the ex-gheys"

Ann Coulter has a big rack and her neck is even more creepy in person.

I think the pubs of DC conspired against us as everywhere we went, pints suddenly cost $7.50. A fellow Paultard told me that if we had the gold standard the pints would cost less. Potential fundraiser name: Pints for Paul.

The Youth for Western Civilization is an awesomely racist Facebook group. (They're so racist they wouldn't pay cheap day-laborin' Mexicans to build them a website.) They should just change their name to "We hate them wetbacks and beaners U-S-A."

Mitt Romney's hair looked great from my perch way in the back of the Regency Ballroom.

Grandpa Paul got up and told us how the Federal Reserve has a giant CFR controlled fire-breathing lizard that will destroy us all. The only way to stop this by pre-ordering his new book: End The Fed. Wicked creative title RP.

There were excess copies of Chuck Norris' book everywhere. I guess conservatives hate karate masters AND plumbers.

Sadly, I did not find any furries after Day 1.

Any gathering of young political activists (of any stripe) ultimately turns into a booze-fueled shit show orgy. I saw at least three kids puking outside the Omni at 4AM.

www.cpacgirlsgonewild.com is still available.

Rush Limbaugh was clearly going for the Johnny Cash look dressing in all black. I wonder if he'll try to pull a Joaquin Phoenix.

Andrew Breitbart moderated the best forums at CPAC.

I did not find a vibrating back massage thingy with the Family Research Council logo on it. Please forgive me. I hope I didn't fail you, Wonkette.