FBI Says Dumb Lyin'-Ass Devin Nunes Memo Real Fuckin' Dumb, Also Full Of Lies
Russia
January 31, 2018 04:32 PM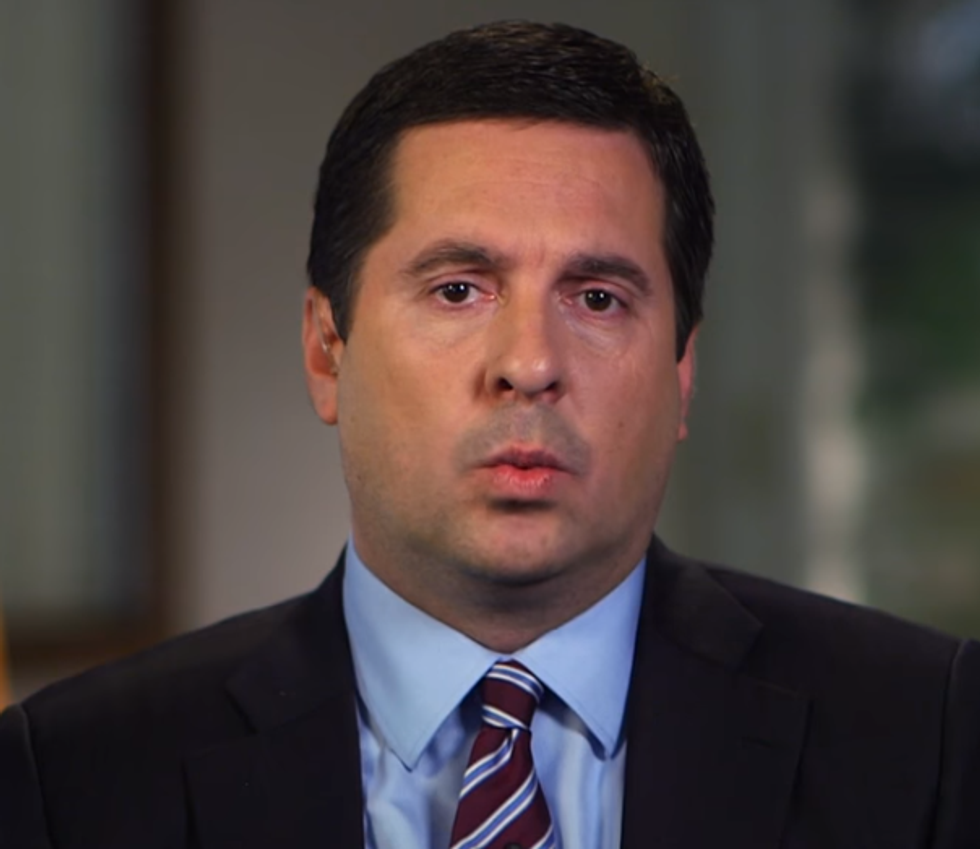 Christ what a fucking idiot
---
TOO MANY NEWS RIGHT NOW!
OK, so did you hear the one about the Devin Nunes staffer who was once (in 2016) given a "U R TOO STUPID 2 LAWYER" badge to sew into his underwear by a US district court judge? It's more properly called an "order of ineptitude," it's rarely given out, and yet it was bestowed upon Kash Patel, the lawyer/staffer who headed up the team that wrote Devin Nunes's Very Dumb Bullshit Memo. Sounds like Mr. Patel found the right congressman to work for!
So yeah, let's keep talking about this goddamned memo, because that's what Donald Trump and Devin Nunes are wasting our time with right now. Bloomberg reports that FBI Christopher Wray has expressed objections to the Trump administration releasing Little Devin's Mash Note About How The FBI Is Bad Stupid, Should Let Trump Do More Crimes For Russia, on account of the memo is quite literally FULL-O'-SHIT.
And in that spirit, the FBI -- just like a Trump appointee at the Department of Justice did last week! -- has released a statement that says, hey, Devin Nunes's memo is quite literally FULL-O'-SHIT: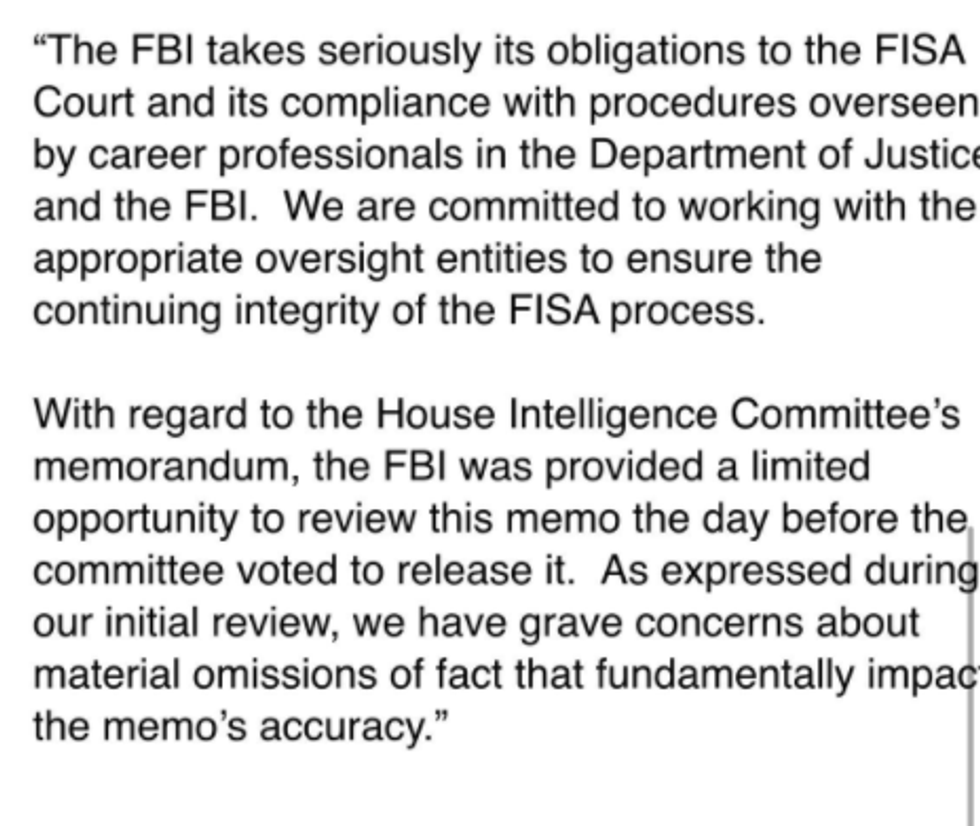 "Grave concerns about material omissions of fact that fundamentally impact the memo's accuracy," huh? Sounds like a Devin Nunes masterpiece to us! Good thing the purpose of this memo isn't "accuracy" or "transparency" or "the truth"!
The purpose of the memo, of course, is to cherrypick "facts" in order to construct a narrative that suggests top FBI and DOJ brass, including and especially Deputy Attorney General Rod Rosenstein, are hopelessly #BIASSSSSSSS against Donald Trump, and that they built an entire federal case out of an improper FISA warrant application on Carter Page, based on NOTHING MORE than MADE-UP NONSENSE from the DODGY DOSSIER. The reality of the matter, of course, is that Carter Page has been on the FBI's radar forfuckingever, because he is the dumbest fucking Russian intelligence asset ever. All Rosenstein did was authorize renewing the application to the FISA court, since the FBI had already been surveilling Carter Page forfuckingever. Any role played by the Steele Dossier -- which was compiled by one of the most well respected spies in all of FUCKING Christendom -- was secondary to intel the FBI already had, and played, at best, a corroborating role.
Also too, fun fact: Did you know FISA applications are between 30 and 100 pages long, just chock FULL of reasons why some idiot Russian intelligence asset should probably get a "wire tapp" implanted up inside his bottom? It's true! You can read all about "FISA, how does THAT work" at the New York Times! Once you're done reading, you will officially be smarter than Devin Nunes! (Kidding, you were already way smarter than that braindead assclown.)
Another fun fact: the poopy-squiggles on construction paper Devin Nunes refers to as "his memo"? Four pages long. That's right, not only is he so fucking full of shit, he and his staff are also lazy.
By the way, Nunes has hit back in response to the FBI's statement. His statement is worth exactly as much of your time as you think it is.
Anyway, White House "Grown-Up Idiot In The Room" Chief of Staff John Kelly says the memo will be released to the public "pretty quick," because apparently General John Fucking Kelly doesn't care about national security anymore, because he's nothing more than a Trump slut now.
Fuck all this, we're going home from Wonkette for the day.
Follow Evan Hurst on Twitter RIGHT HERE.
Wonkette salaries and servers are fully paid for by YOU! Please pay our salaries.
Evan Hurst
Evan Hurst is the managing editor of Wonkette, which means he is the boss of you, unless you are Rebecca, who is boss of him. His dog Lula is judging you right now.
Follow him on Twitter RIGHT HERE.