Federalist Guy Weeps For His Boner As Victoria's Secret Ditches Angels
Feminininism
June 17, 2021 12:45 PM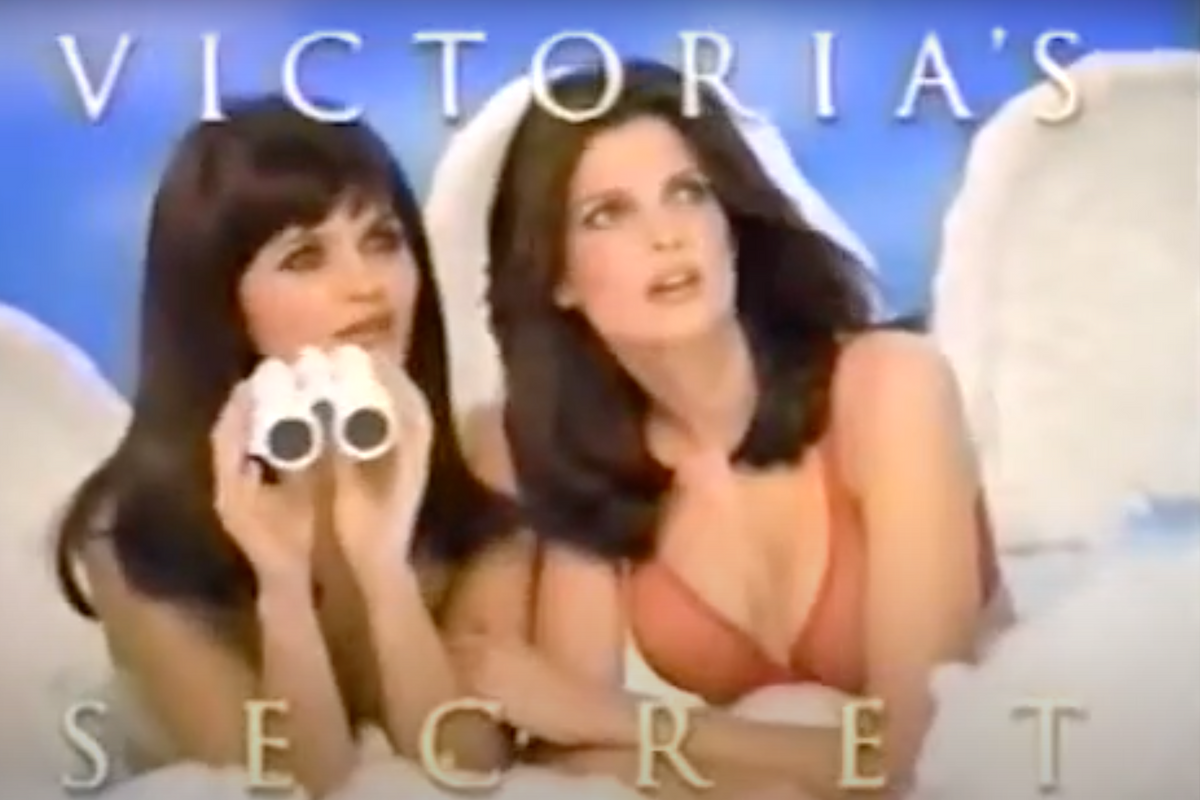 Victoria's Secret is trying to change. They're getting rid of the very outdated-seeming Angels (which only even became a thing in the late '90s) and replacing them with the more modern VS Collective — featuring soccer star Megan Rapinoe, actress Priyanka Chopra, South Sudanese-Australian runway model Adut Akech, Amanda de Cadenet of The Conversation, skier Eileen Gu, plus size model Paloma Elsesser, and trans model Valentina Sampaio.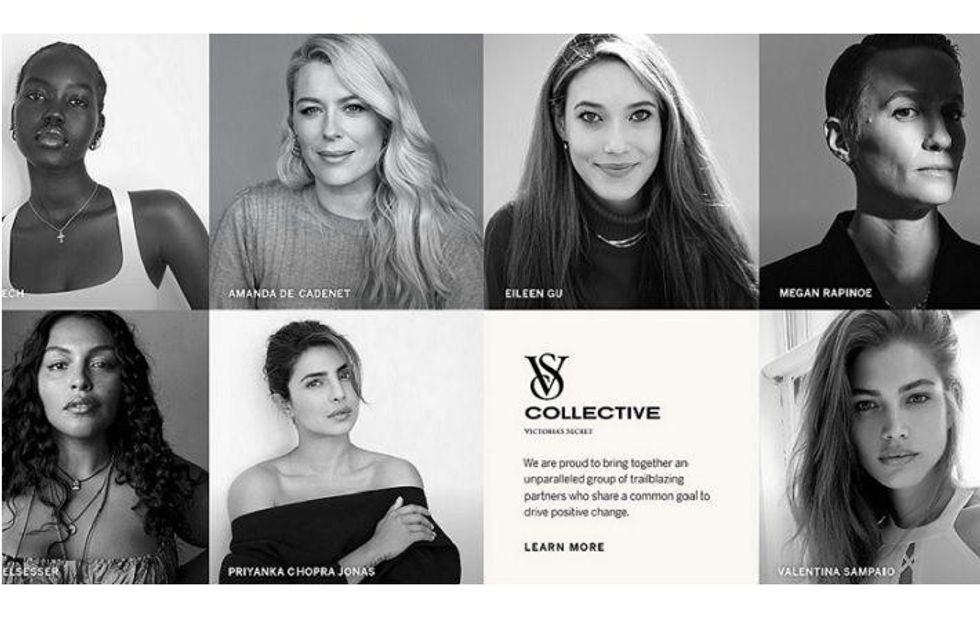 Victoria's Secret collective
It's unlikely that they have suddenly decided to become not-terrible out of the goodness of their hearts, but rather because no one wants to buy anything from them anymore and they can't sell anything to save their lives. There are many, many reasons for this! For one, while there was a time when Victoria's Secret was the only actual bra store many women could even go to, there are tons of options now — brick and mortar and online. They're better and they come in more than four sizes, making the appeal of sobbing in a Victoria's Secret dressing room while an attendant assures you that you must be a 36C is even lower than it once was. But the fact that they have notoriously gross labor practices, a history of making comments about how they'd never have trans or "plus size" (meaning a size 10) models in their runway shows, and generally seeming like a throwback to a more embarrassing time for women probably didn't help them much either. So they're trying to get with the times a little.
Naturally, a whole bunch of rightwing cisgender men are outraged, as they are pretty sure that the models for a brand meant to target women should give them boners.
---
One of those men is Tristan Justice of The Federalist — whom we last met when he was crying about the NFL and various corporations taking away Georgia's "freedom" to enact racist voting laws. In an article titled "Victoria's Secret Gives Up Sexy. America Needs The Coors Twins," Justice tries to explain the importance of ... honestly I don't really know? Basically he's mad because he thinks progressives are saying he can't be attracted to "busty blondes" anymore and forcing corporations to go along with that, and tries to make some point about how conservatives didn't like the Coors Twins but are now the ones valiantly defending his boner.
The clothing line's campaign marks the latest episode of corporate America capitalizing on cultural shifts compelled by progressives to transform the public's timeless concept of beauty, and the major change speaks to how far the culture has indeed shifted.

It was less than 20 years ago that a series of beer commercials featured two busty blonde sisters, Diane and Elaine Klimaszewski. The two were branded as the "Coors Light Twins" and became controversial in the 2004 Colorado Senate Republican campaign of Pete Coors, then the chairman of the brewing company. [...]

At the time, it was a scandal for a conservative politician to endorse the ads in what used to be a red state. Now, it's conservatives mocking Victoria's Secret's abandonment of the busty blonde stereotype as a perfectly legitimate source of sexual attraction as the progressive movement seeks to eliminate gender differences altogether.
I'm sorry, is Tristan Justice looking to buy a bra? The fact that the people who buy bras are people who have breasts appears to be lost on him. Is he perhaps not aware of the fact that a bra is meant to be a functional garment and not merely decorative? For some of us, they serve an actual purpose (though to be fair, we don't really shop at Victoria's Secret). Would he like it if ads for men's products were specifically meant to appeal to women instead of men? I feel like he probably would not.
Lots of people think Megan Rapinoe is super hot and would love to look like her. Everyone doesn't have the same idea of "sexy" that Tristan Justice does, or that anyone does. Hotness is totally relative. I can say that personally, Tristan Justice himself really does not do it for me, but that doesn't mean that there isn't some woman somewhere that would not go for the "kid in class who reminds the teacher she forgot to assign homework" lewk he's cultivating here.
The roles now appear reversed. It's liberals who seem to be repulsed by the unapologetic sex appeal of twin blondes at a football game sponsored by a patriotic American beer company. After all, the "Washington Football Team" (formerly the Washington Redskins) eliminated its cheerleading squad for the next season. The progressive fantasy would prefer they be transgender, minority, and overweight, as a righteous rejection of basic beauty standards demanding viewers reject their primal inhibitions.

This article is not to say the new models promoted by Victoria's Secret aren't beautiful, but it's an instinctual lie to pretend unconventional standards must be promoted above sexual attraction, and it's even at times dangerous doing so.

Conservatives aren't being sex-positive here. They are, as usual, trying to make everything stay the exact same forever and ideally make things as crappy as possible for women while they're doing so. Clearly, Justice and others believe that Victoria's Secret was doing an important public service by setting unrealistic beauty standards for women.
There is nothing wrong with sexual attraction, but the idea that everyone is attracted to the exact same thing is obvious bullshit. The idea that media-promoted beauty standards don't change over time is equally absurd. The trajectory from lusting after Rita Hayworth to lusting after Kate Moss was not a natural progression that people attracted to women just sort of went with on their own. Sure, some people are conveniently attracted to whatever style and body type was promoted by the media at any given time, but many are not.
Beauty standards for women have never been entirely about men's boners, either. They've also been about controlling women. There was a very sharp difference in beauty standards for women from the 1940s to the 1950s. In the '40s, during the war, when the country needed women to go to work, the attractive women of the day were sort of strong, husky-voiced and somewhat more athletic-looking. Shoulder pads were big. Then the 1950s came along, the country wanted women back at home and Marilyn Monroe became the ideal — a figure achieved primarily with waist whittling sidebends. This is why it's actually easier for women today to fit into clothing from the 1940s than to fit into clothing from the 1950s.
Part of the heroin chic crap from the '90s was a direct reaction to riot grrrl and third wave feminism. It was, even if only on a subconscious level, a way of making women weaker and more fragile ... which is what happens when you don't eat.
Conservative cis men are not just afraid for their boners, they are scared that they are losing control. They want to say jump and for women to say "How high?" They want us crying over our lack of thigh gap and starving ourselves to fit into a size zero, they want us feeling like we will never be good enough. They want even the most "traditionally beautiful" women in the world to be photoshopped to the point of absurdity.
I have long despised Victoria's Secret on both a political and personal level. Politically, I hate them because they've used prison labor, they've used child labor, and historically they've been pretty darn crappy on the diversity front. On a personal level, I hate them for fucking up generations of women, myself included, with the wrong bra sizes because it was easier and cheaper for them to sell nothing but 34/36B and 34/36C bras, and thus being the cause of many tears, quadraboob and back/shoulder problems across the nation for decades. It hurts my very soul to have to side with them on any issue.
But in this case, they're doing the right thing (if only to save their own asses, financially) and it's making people at The Federalist upset, so that's nice.
Do your Amazon shopping through this link, because reasons.
Wonkette is independent and fully funded by readers like you. Click below to tip us!
Robyn Pennacchia
Robyn Pennacchia is a brilliant, fabulously talented and visually stunning angel of a human being, who shrugged off what she is pretty sure would have been a Tony Award-winning career in musical theater in order to write about stuff on the internet. Follow her on Twitter at @RobynElyse