Federalist Lady Says No MAGA Pussy Hat Marches Over Losing The House, Because Wingnuts Are CLASSY
2018 Congressional Elections
November 09, 2018 12:40 PM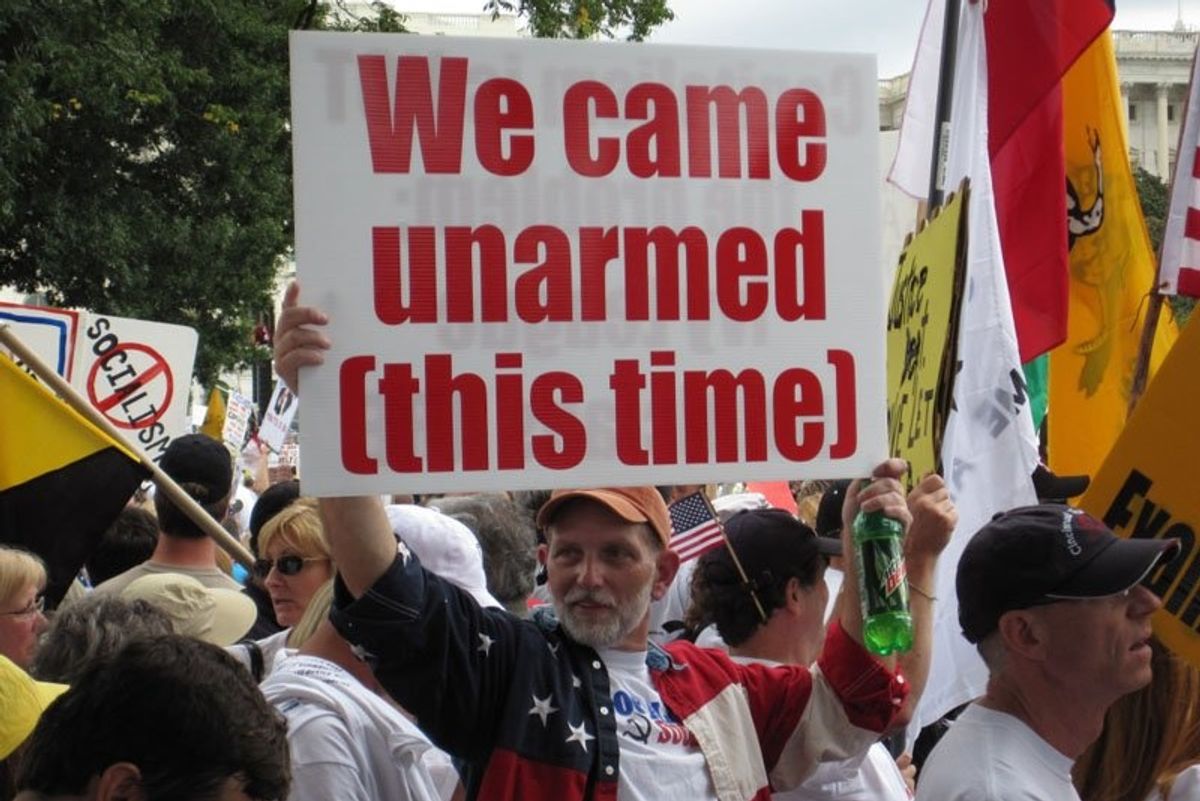 imgur.com
Remember like ten years or so when that The Secret book was all the rage and people were all "If you just BELIEVE something is true and keep saying it's true, then it will be true?" Well, it has occurred to me recently that this is the overarching Republican strategy these days, starting at the rotting head of Donald Trump and moving all the way down through all the equally fetid limbs. If you say something over and over enough, it doesn't matter if it's true. As George Costanza once said -- "Remember, it's not a lie if you believe it."

One of the most adorable narratives they've tried to The Secret into being lately is the one about how they handle political disappointment normally and non-violently, whereas the left is "unhinged" and full of violent mobs who care about nothing other than cruelly ruining Ted Cruz's dinner plans. As such, Inez Feltscher Stepman of The Federalist has compiled a very smug top ten list of things we won't see Republicans doing after losing the House, because of how classy they are.
Spoiler alert: This does not include not threatening a violent overthrow of the government should anyone try to impeach Trump, which has already occurred.
---
Let's peruse, shall we?
1. Having public tantrums and beating on the doors of Congress, the way that Kavanaugh confirmation protesters did on the doors of the Supreme Court.
Interesting choice! But let's jump in our Wonkette Limited Edition DeLorean and whisk ourselves back to the year 2010, when Tea Partiers were threatening and assaulting members of Congress for being, and I quote "Ni**ers" and "Fa**ots:"
Preceding the president's speech to a gathering of House Democrats, thousands of protesters descended around the Capitol to protest the passage of health care reform. The gathering quickly turned into abusive heckling, as members of Congress passing through Longworth House office building were subjected to epithets and even mild physical abuse.

A staffer for Rep. James Clyburn (D-S.C.) told reporters that Rep. Emanuel Cleaver (D-Mo.) had been spat on by a protestor. Rep. John Lewis (D-Ga.), a hero of the civil rights movement, was called a 'ni—er.' And Rep. Barney Frank (D-Mass.) was called a "faggot," as protestors shouted at him with deliberately lisp-y screams. Frank, approached in the halls after the president's speech, shrugged off the incident.
For the record, Stepman considers herself a member of the Tea Party.
Of course, we don't actually have to go back that far to see Republicans engaging in the kind of behavior Ms. Stepman knows Republicans would never do. Just a few weeks ago, the Chair of the Miami GOP joined the Proud Boys, a Republican street gang known for its Clockwork Orange-style antics, in chasing down Nancy Pelosi and then attempting to beat down the doors of Florida Democratic congressional campaign offices.

I could do more, but let's move on to the next one, shall we?
2. Wearing any items of clothing meant to reference genitalia, like Women's Marchers.
Oh my stars! This surely would be very tacky, had it not been a reference to the fact that voters like the very classy Ms. Stepman had literally just elected a man who bragged about grabbing women by the pussy without their permission to the highest office in the land. When you do that, you lose any and all pussy-related pearl-clutching rights. It is the law.
Also, need I remind anyone of the sartorial choices of the Tea Party morans?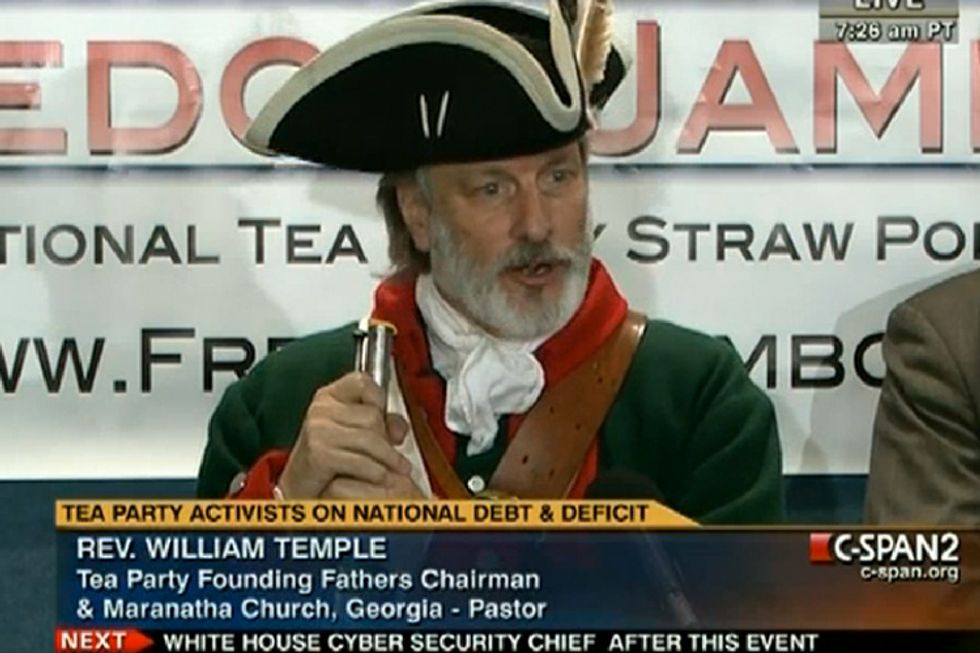 I rest my case.
3. Demanding grief counselors and coloring books in schools and offices, the way real-life grown-ups did in 2016.
You know what? Please do that! It is infinitely preferable to sending out mail bombs and shooting up synagogues. It is preferable to all of you marching around in the woods talking about how you're going to violently overthrow the government if things don't go your way, or getting super-obsessed with bizarre conspiracies like QAnon and Pizzagate. Mental health care is great and conservatives should get more of it.
4. Playing dress-up as characters of the same dystopian novel over and over again, while using its characters to condescend to political opponents and ignoring real patriarchal abuses of women's rights all over the world.
Hey! At least the dystopian novel we keep referencing fits our actual real-life situation. Much better than when conservatives who didn't realize that George Orwell was a socialist kept trying to compare making sure everyone has healthcare to 1984.
And as far as "ignoring real patriarchal abuses" all over the world goes? No one is actually doing that. We're just not doing what the Right wants us to do, which is to say "Oh, well, things are really bad for women in Saudi Arabia, so let's be gracious and not complain about losing our reproductive rights here! YAY AMERICA!"
5. Stripping naked to get out the vote, like some left-leaning celebrities did for the midterms.
6. Making plans to meet up in public on the anniversary of the election date next year to scream at the sky.
7. Doxxing newly elected Democratic Congressmen and women, or chasing them out of restaurants.
8. Declaring that our adopted daughters were better off in authoritarian China.
9. Assuming that Democrat voters made their decisions because they meekly bent to pressure from family members.
The doxxing aside (for which the guilty party was immediately arrested), all of these things are infinitely preferable to the things Republicans actually do when they lose -- hell, they're better than what they do when they win. I would not lose any sleep at all were Republicans to go scream at the sky for an hour. Oh, and for the record, Republicans have absolutely doxxed people before -- hell, Marco Rubio doxxed Salt Bae -- so we can call that one a draw.
10. Pronouncing the House of Representatives an illegitimate institution because the election didn't go our way, like the Democrats have the Electoral College, Supreme Court, and the Senate.
Do we really need to get into the list of government institutions that the Right has declared illegitimate? Come on now.
Discussing the fact that people who live in rural areas are overrepresented (in both the Senate and the House, because of gerrymandering!) and those who live in urban areas are underrepresented due to the way our government is structured is not the same thing as declaring those institutions "illegitimate." Discussing the fact that changes might need to be made so that all Americans are represented equally is not doing that either. It is fair to point out that it's kind of imbalanced for Wyoming to have two Senators when they have only a quarter of the amount of people the city of Chicago has, and that with more and more people leaving rural areas and suburbs to go live in urban areas, we might need to figure something else out.
If this is the kind of behavior that really gets Inez Feltscher Stepman riled up, I can tell you right now that she would not last a single day as a liberal. She should thank us for our silly screaming at the sky protests. At least we're not marching around with torches screaming "Jews will not replace us." I'm going to say that's worse.
How the hell would someone who is that upset over hats and funny protests deal with any of the shit conservatives pull? How would she handle it if we reacted to everything bad that ever happened to us politically by joining militias and talking about how we plan to violently overthrow the government? How she would handle constantly hearing that she and people like her were not "Real Americans?" If a weirdo lawyer kept marching down to Washington to perform a citizen's arrest of Donald Trump with a warrant from a "citizen's grand jury" he convened himself? If liberals were going around shooting up pizza parlors because they thought the RNC was operating a child sex ring in the basement? If liberals thought someone from within the government were sending them secret messages on 8chan that they had to decode in order to help the president on his super secret mission to establish martial law and rid the world of pedophile rings? How would she react if liberals were going around constantly swooning over Pinochet and talking about how fun it would be to drop our political opponents out of helicopters?
There would not be enough pearl strands in the world.
Wonkette is independent and fully funded by readers like you. Click below to tip us!
Robyn Pennacchia
Robyn Pennacchia is a brilliant, fabulously talented and visually stunning angel of a human being, who shrugged off what she is pretty sure would have been a Tony Award-winning career in musical theater in order to write about stuff on the internet. Follow her on Twitter at @RobynElyse