Fiona Hill 'Bout To F*ck Devin Nunes UP. Impeachment Liveblog, Day Five!
Impeachment
November 21, 2019 09:02 AM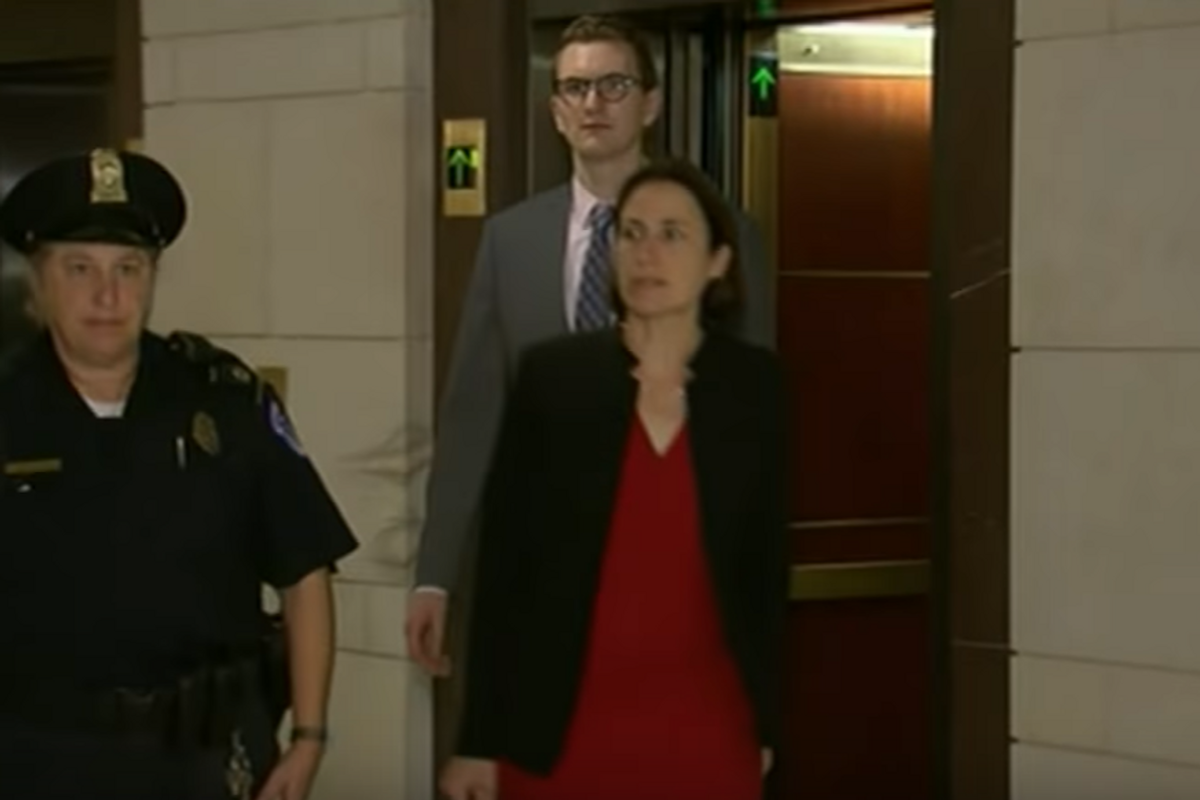 Good morning! Today is the testimony of former National Security Council Russia advisor Fiona Hill and Ukraine embassy hot guy official David Holmes, who heard Donald Trump tell Gordon Sondland's ear and an entire Ukrainian Olive Garden that he was extorting Ukraine for investigations. Should be fun!

You should read Fiona Hill's opening statement. It is hot fire, and it's mostly about how Devin Nunes and Jim Jordan are fucking clowns, without mentioning their names. FINALLY, a witness who is just absolutely through with this horseshit about UKRAINE IS THE REAL COLLUSION and whatnot. She will not abide that Russian propaganda filth, and she is prepared to destroy it today.
Sorry about your upcoming bad day, Devin.
Let's watch 'n' liveblog, you know the drill.
---
LIVE: House Impeachment Inquiry Hearingwww.youtube.com
9:08: We begin with opening statement from Adam Schiff, who starts out with "Hey, y'all see Gordon Sondland yesterday? That ding dong who bought an ambassadorship from Trump for a million of his goin' Galt dollars? Y'all see how he confessed the whole crime and threw everybody under the bus, including Mike Pompeo and Mike Pence and everybody else also too? Anyway, that was pretty great."

9:11: As Schiff explains, Dr. Hill saw and was worried by LOTS of things. The existence of Rudy Giuliani, the "Gordon Problem," the fucked up corrupt campaign to remove Marie Yovanovitch. All of it.

Gotta be honest, we have been wanting to hear from Fiona Hill since pretty much the beginning of this godforsaken presidency.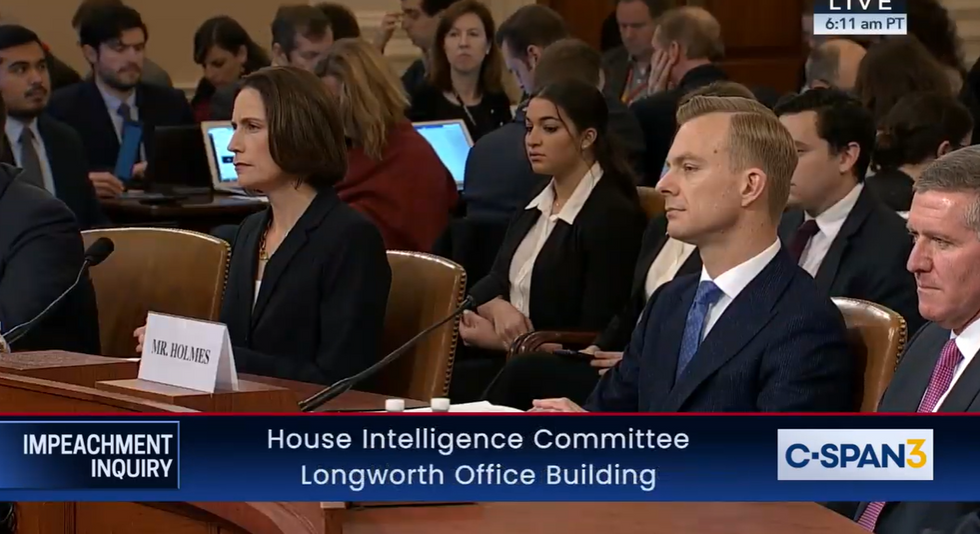 9:15: It's significant that Fiona Hill is going to so strongly condemn the dumbshit "Ukraine did it!" conspiracy, not just because Devin and his idiots have been propagating that particular Russian propaganda, but also because that propaganda was half of what Donald Trump was trying to bribe Ukraine into announcing investigations into.

In other words, he was demanding they give his Russian hallucinations legitimacy.
9:20: Devin Nunes opening statement! It is Russian propaganda, except for how Devin doesn't talk good.

He says UKRAINE ELECTION MEDDLING, because apparently none of his cows read Fiona Hill's opening statement to him this morning.
9:21: Devin is very stupid and thinks Democrats' argument is that Trump got caught before he was going to do something bad. No, dipshit, he got caught while he was doing something bad.

Like, to say a metaphor, it would be like if somebody was fucking a cow and then somebody walked in and caught them. They didn't walk in on somebody getting ready to fuck a cow. They were dick deep already!
Anyway, Devin Nunes finally said his hilarious line about Democrats wanting NAKED PIXXX OF TRUMP, and also Steele Dossier and Alexandra Chalupa, whatever Devin, keep METAPHORICALLY fucking that cow.
We are ready for Fiona Hill's statement now.
9:26: Everything Devin says is not only Russian propaganda, but also projection. "THE DEMOCRATS GOT CAUGHT, TRUMP DIDN'T GET CAUGHT! DEMOCRATS BELIEVE CRAZY CONSPIRACY THEORIES! PEOPLE ARE WORRIED THEIR VOTES DON'T COUNT, BECAUSE NOBODY IS NICE TO THE GUY A MINORITY OF AMERICAN SELECTED FOR PRESIDENT!"

Oh, and now Devin is trying to pre-but Fiona Hill's statement. He's scared of her.
9:28: DEVIN: Two countries can meddle in elections at same time! UKRAINEDIDITIUKRAINEDIDITUKRAINEDIDIT!!!1!!!!!!!MOOOOOOOOOO!!!!!!!!!!!!!!!!!!!!!!!!!!!

9:31: Holmes goes first.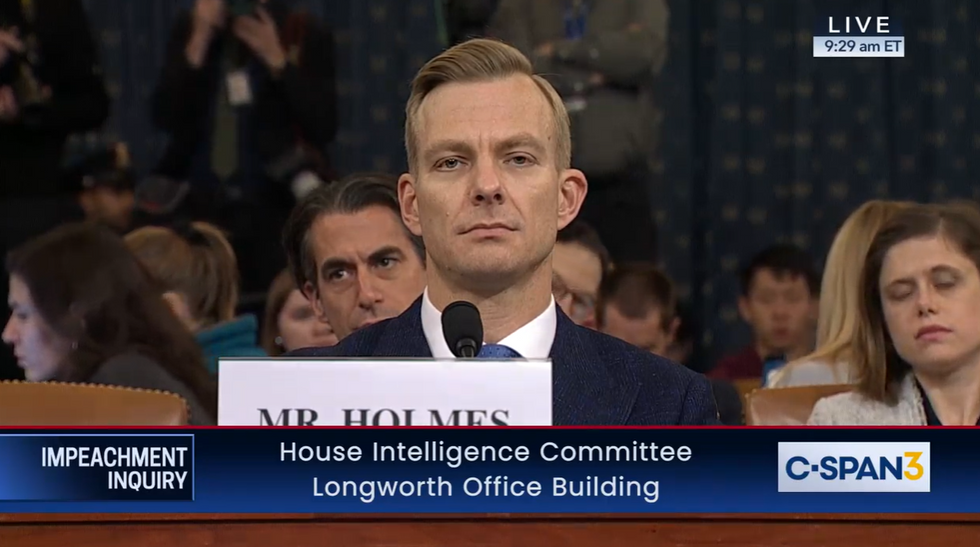 Begins by reading a quote from Mike Pompeo about how witnesses should tell the truth to Congress LOL, we see what he did there.
9:36: Interesting, Holmes is explaining the how of Marie Yovanovitch's anti-corruption activities, specifically how she ended up pissing off corrupt Ukrainians who ended up being big buddies with corrupt former New York City mayors. Those corrupt Ukrainians, like former prosecutor general Yuriy Lutsenko, openly lied about Yovanovitch and the Bidens, filling Rudy's head with all manner of dumb shit he was only too willing to believe, because he is Rudy.
9:42: All of this is happening because Rudy Giuliani believes dumb conspiracy theories and fills Trump's little head with them. Good lord.
Holmes explains how Gordon Sondland should have had nothing to do with this, but presented himself as a conduit both to Trump and to Mick Mulvaney.
9:44: In case you missed it from Holmes's earlier deposition, there was a whole thing where Rick Perry slipped Ukraine a list of people "he trusts" who should advise them on energy policy. (GRIIIIIIIIIIIIIIFT!)

9:49: Holmes casually reminds Elise Stefanik that she has traveled with him in Ukraine and seen what congressional appropriations for Ukraine are for, when she's come as part of a congressional delegation. We read the subtext as "Elise Stefanik actually knows better, dunno why she's decided to be such an idiot lately." But we might be reading into it.

9:52: Holmes says Zelenskyy said that "three times" Trump raised "sensitive issues" with him on the phone on July 25. This was on July 26.

AND THEN THEY WENT TO LUNCH.
9:54: In the first 30 minutes of the lunch, it was "social," and they talked about "marketing strategies" for Gordon's dumb hotels. Obviously.

When Sondland called Trump, he had to hold the phone away from his ear because PRESIDENT STABLE GENIUS TALK LOUD LIKE IDIOT. Sondland said Zelenskyy "loves your ass." Trump said I GET INVESTIGATIONS?????? Sondland said YEAH!
Holmes says his colleagues at lunch heard it too.
Then Trump and Sondland talked about A$AP Rocky, like duh, why wouldn't they?
When they got off the phone, Sondland said Trump was in a "bad mood" like he always is "early in the morning."
Holmes asked Sondland if it's true Trump "doesn't give a fuck" about Ukraine. Sondland said he only cares about "big stuff." Holmes said big stuff like ... their defensive war with Russia? No, Sondland meant Trump only cares about things that benefit him politically, like how he can steal the 2020 election by getting investigations into Biden.
9:58: So many of these witnesses talk about Trump as if he were a particularly stupid three-year-old, along the lines of "We have to figure out a way to convince Trump Ukraine is important, using terms his tiny brain can understand. Maybe if we put it in a pop-up book? WHAT IF WE DO SHADOW PUPPETS!"

10:00: John Bolton expressed frustration about "Sondland's expansive interpretation of his mandate." LOL.

10:01: Holmes was pretty sure Trump was holding up the money either to push Ukraine into announcing the investigations he wanted, or to punish them for not doing so already.

10:04: David Holmes would like to piss all over Republican narratives that this is all "hearsay" or that any of this was done by people going rogue, or not at the direction of the president. Go fuck yourself with that, says David Holmes.

Just before that, Holmes talked a lot about how Zelenskyy felt he was required to do the CNN interview with Fareed Zakaria to announce investigations into the Bidens, in order to get the security aid. (Gordon Sondland emphasized multiple times yesterday that all Trump really cared about was the announcement. He just wanted a political weapon.) Zelenskyy felt it was a "demand." They were still worried they were going to have to do the interview, even after Trump got caught and released the aid.
By the way, we can tell Adam Schiff saved the two witnesses who will be meanest to the Republicans for the end of the week, because he is a good storyteller.
10:08: Re: Ukraine, Holmes says "they deserve better" than what Trump and Republicans have given them.

And now we have Fiona Hill!
10:10: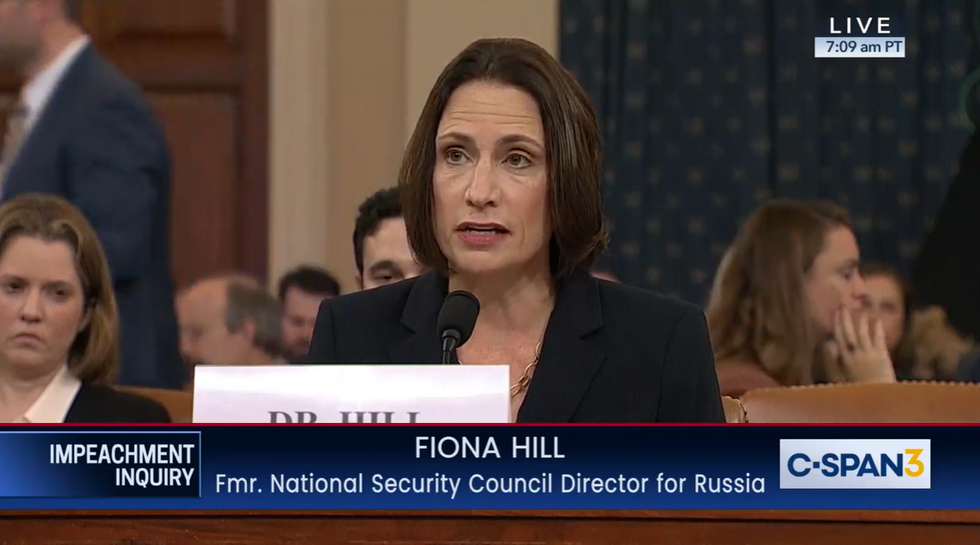 DID NOT COME HERE TO PLAY.
Says she, who is a British, is an American by choice, and tells her story of why she came here and why she thinks this is so FUCKING important.
Also she has a message for people who haven't testified yet:

"I believe that those who have information that the Congress deems relevant have a legal and moral obligation to provide it."
10:15: Fiona Hill was hired for her last postiion by Michael Flynn, but she worked for McMaster, because Flynn got fired after 12 days LOLOLOLOL.

10:16: And now Hill will kick Devin's FUCKING ass: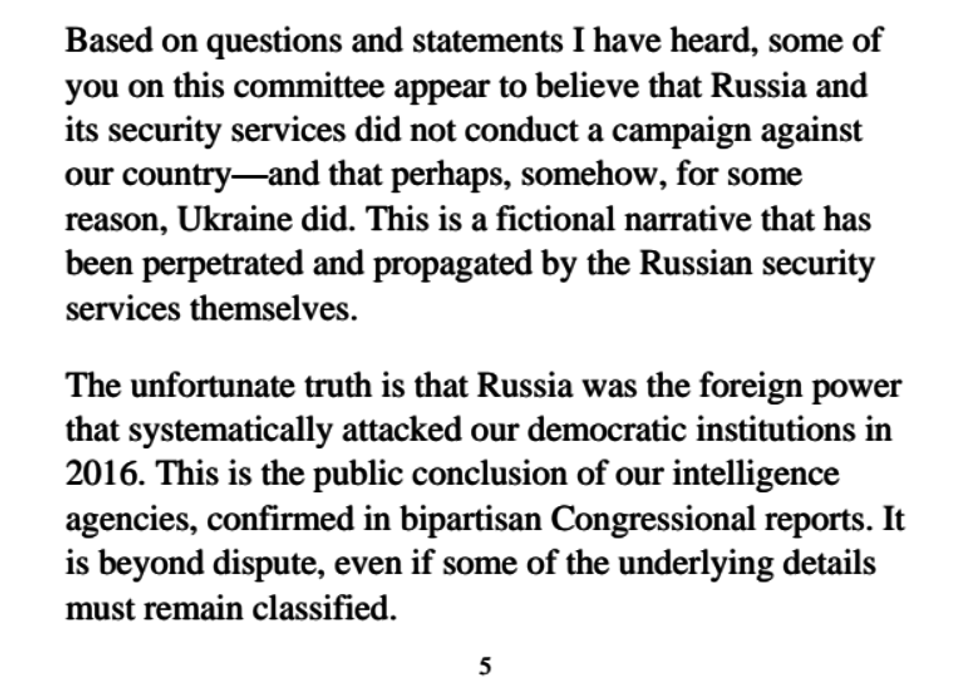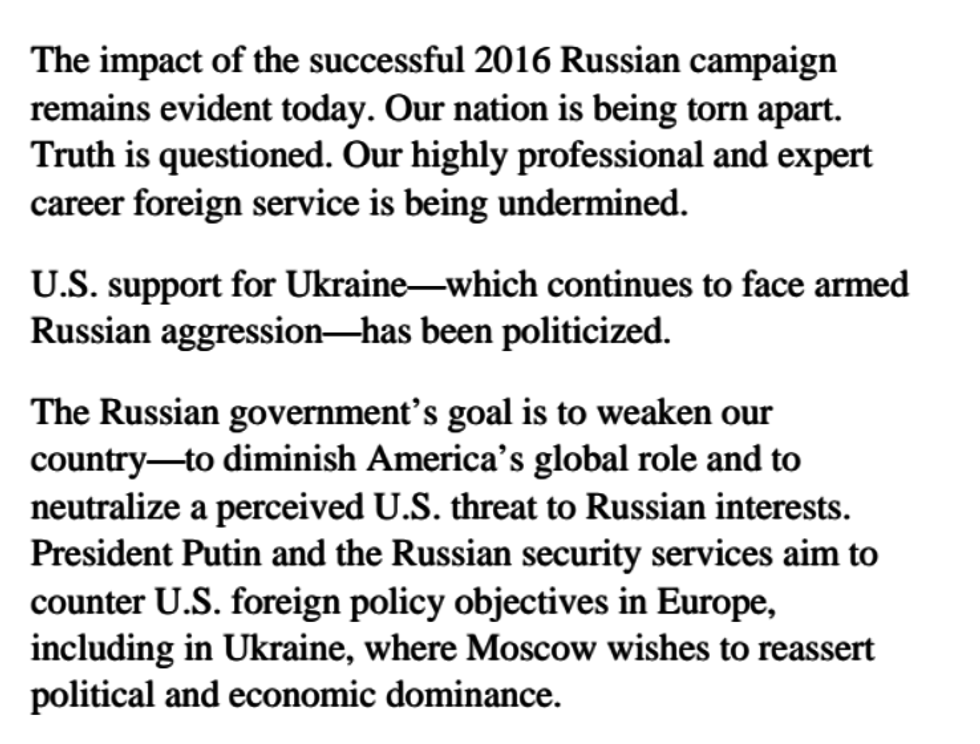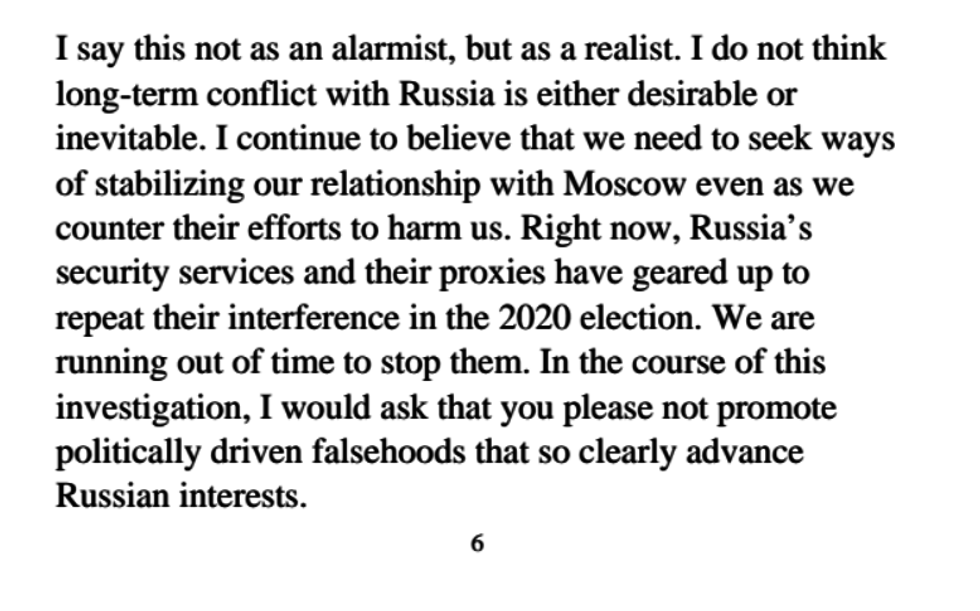 The idea that Ukraine meddled in the 2016 election, and not Russia, "is a fictional narrative that has been perpretrated and propagated by the Russian security services," DEVIN.
"I would ask that you please not promote politically driven falsehoods that so clearly advance Russian interests," DEVIN.
It's getting too late to stop Russia in 2020, DEVIN.
Go eat a raw cow, DEVIN.
10:19: Schiff begins his questioning by LOLing at Republican attempts to act like if a Ukrainian said "fuck Trump" on Facebook in 2016, that's the same as the "sweeping and systematic" campaign Robert Mueller identified that Russia undertook to fuck America.

10:20: SCHIFF: Why do Russians push propaganda that Ukraine did it?

HILL: Russia wanted to delegitimize WHOEVER was elected. No, seriously. Because you see, by tipping the scales for Trump, they also deligitimize him and have more of a sway over him, personally, and over American politics, in that way. If Hillary had been elected, they obviously wanted to deligitimize her. It's complicated, Russia is fucked up and nasty.
SCHIFF: And they want to delegitimize Ukraine's relationship with the US.
HILL: Oh yeah, they want to pin the blame on ANY of our allies for things they did.
She mentions how they tried to blame the UK for the murder Russia perpretrated on UK soil, of one of its own former operatives.
HILL: "Some of you on this committee appear to believe that Russia and its security services did NOT conduct a camp… https://t.co/tfzkUjUcZv

— CAP Action (@CAP Action) 1574349490.0
10:25: SCHIFF: Is it BAD or GOOD for the Ukrainians fighting against corruption, if the US is trying to make them do corruption by investigating Trump's political opponents?

HOLMES: Bad very bad.
10:27: SCHIFF: If everybody was worried Ukraine was still going to do that announcement on CNN of Trump's fake investigations, doesn't that mean by definition that they were feeling "pressured"?

HOLMES: Yeah, and also remember Trump might have released the aid but they still haven't gotten a White House meeting and they're still walking on eggshells for our support. "This doesn't end with the lifting of the security assistance hold."
Goldman takes over!
10:29: GOLDMAN: Who told Gordon Sondland he was in charge of Ukraine policy?

HILL: Trump.
HOLMES: He was supposed to work with Giuliani.
10:30: You guys, these witnesses are kind of blowing us away. They are like a hot TV spy couple or something, what the fuck are the Republicans going to do with them?

10:32: How close was David Holmes sitting to Sondland at that Ukrainian Outback Steakhouse? CLOSE ENOUGH TO SHARE A UKRAINIAN BLOOMIN' ONION, Y'ALL.

Also he says Sondland "winced" because Trump was screaming so loud in his ear.
10:35: Holmes pissing all over Sondland's insistence that he DIDN'T SAY BIDEN and DIDN'T KNOW BURISMA WAS BIDEN.

PFFFFFFT, says Holmes, they all knew it.
And how does he remember this so well? Well, my dude, you see, it was pretty weird! The kind of thing you remember!
10:37: Of course, remember also that in the READ THE TREASKJFDK;GJ;KLASJTUJIOPUIPTIACCRFIPT! we see clearly that Trump said BIDEN.

Interesting, Fiona Hill doesn't really want to talk about presidential calls, because "executive privilege." She'll talk about this particular one, though. She was "shocked and saddened" to read what was said.
10:41: GOLDMAN: Tell us about Rudy's buddy, the corrupt former prosecutor general Yuriy Lutsenko.

HOLMES: Corrupt asshole liar who made more corruption.
10:42: Re: the part of the transcript where Trump is yapping about Hillary's server being buried in the backyard in Ukraine: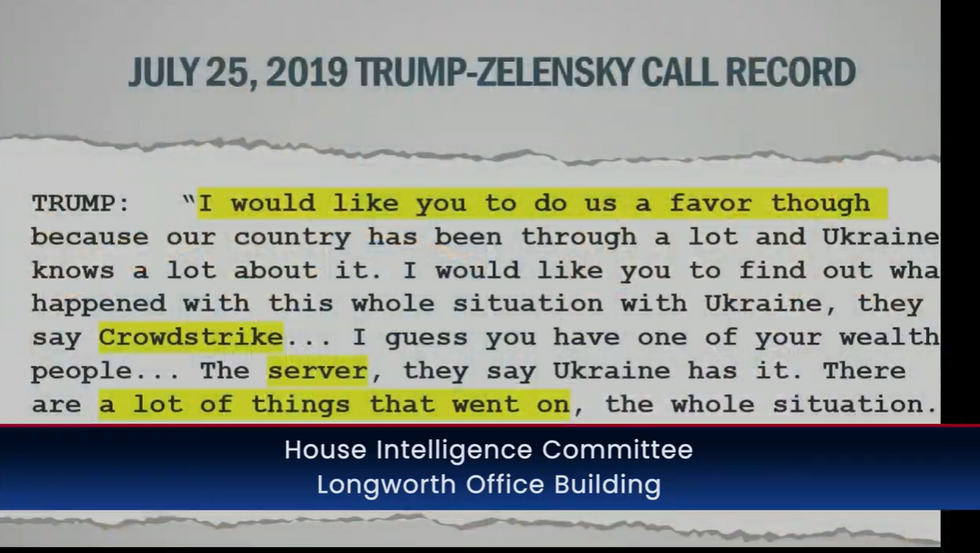 GOLDMAN: This is the debunked Russian propaganda you were talking about.
HILL: Yep.
GOLDMAN: Trump has been told this is bullshit, yeah?
HILL: Yep.
GOLDMAN: Why would Russia want to push this lie?
HOLMES: To deflect attention from their own responsibility, drive a wedge between Ukraine and the US, and to do BESMIRCH STATEMENTS to Ukraine's leadership and weaken it.
Also references that presser Putin gave in 2017, where he himself advanced Devin and Donald's favorite conspiracy theory: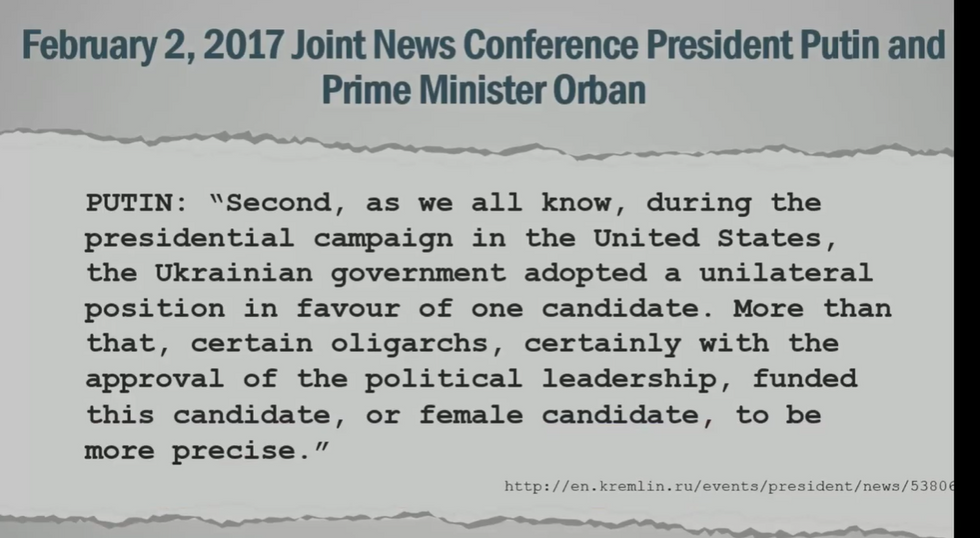 10:48: Hill says John Bolton looked "pained" by everything Rudy Giuliani was doing, including his campaign to smear and ruin Marie Yovanovitch. Says John Bolton said Giuliani was a "hand grenade that was going to blow everyone up." Appears to suggest Bolton was correct about that, and as evidence cites LOOK AROUND YOU RIGHT NOW.

10:51: Holmes discussing THE LIST Rick Perry handed Volodymyr Zelenskyy of Americans he just thought would be good "energy advisers." Uh huh.

10:53: Hill now talking about how dumbass Trump was under the impression that Devin Nunes's idiot boy Kash Patel was the NSC's Ukraine expert, when the truth of the matter was that ALEX VINDMAN is that guy.

10:54: GOLDMAN: All these people saying there was a big difference between "Burisma" and "Biden" are full of shit, yeah?

HILL: Everybody knew they were the same, Rudy was connecting them on TV for fucks sake.
HOLMES: For fucks sake.
GOLDMAN: And the entire conspiracy theory about Joe Biden removing the prosecutor for ...
HOLMES: Bullshit.
11:00: Fiona Hill could tell John Bolton was mad at that July 10 meeting with the Ukrainians when Gordon Sondland brought up Ukrainians doing "investigiations" because of his body language. He STIFFENED UP IN HIS CHAIR LIKE THIS!
Sondland didn't remember it this way, but maybe Sondland just can't read people. BREAKING: Sondland may be an idiot.
11:02: Dr. Hill says John Bolton told her specifically to go to JOHN EISENBERG, the NSC lawyer, to tell him that Bolton told her to tell him that he is not part of the "drug deal" Mulvaney and Sondland were cooking up. She clarifies that she immediately understood the "drug deal" to be the quid pro quo of investigations for a White House meeting.

11:04: Ha ha ha ha ha, Schiff just broke for "votes" again, before the Republicans even had a chance to say dick.

12:50: OK, long break but we are finally back! FUCK IT WE'LL DO IT LIVE!
Except for how the members of Congress aren't back. But the witnesses are back.
Anyway, Devin Nunes and Steve Castor are about to try to say these badass witnesses aren't cool and can't sit with them and the witnesses won't care because nobody cares about the stinky kid standing in the corner and refusing to invite people to his stinky birthday party.
AND also too false alarm, the witnesses sat down and then they left again. We'll be back in five minutes or five hours, either.
1:00: OK NOW!

1:02: Go, dumb Devin, go!

DEVIN: DO YOU KNOW ANY OF THE PEOPLE IN MY UKRAINE CONSPIRACY THEORIES!
AMERICAN WITNESSES: Bite dicks.
1:03: DEVIN: FIONA ARE YOU DATING CHRISTOPHER STEELE?

HILL: No but he was my counterpart.
DEVIN: DID YOU WRITE THE STEELE DOSSIER?
HILL: I ...
DEVIN: STEELE DOSSIER STEELE DOSSIER STEELE DOSSIER!
HILL: OK.
1:05: And that was literally all dumbshit Devin had to say about that. Now Steve Castor and Fiona Hill are wishing each other to have good sandwiches at the lunch they just came back from.

1:06: CASTOR: Pfffffft, you weren't even there for any of the treason, how can you say it was treason?

1:09: This is how Fiona Hill looks at idiots.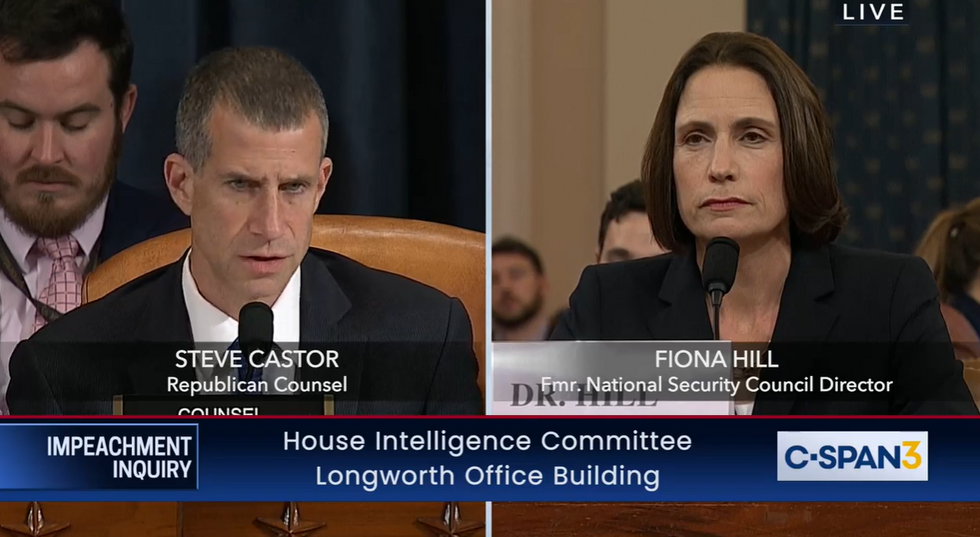 1:11: CASTOR: Did you think Gordon Sondland was weird and bad?

HILL: Yes.
CASTOR: Did you tell him that?
HILL: Yes.
CASTOR: Was it gross and horrible when you found out Gordon Sondland was in charge of Ukraine?
HILL: Yes.
CASTOR: And who put him in charge of that?
HILL: Donald The Dumb.
1:13: CASTOR: Did you think Ukraine policy was on a good road when you quit White House?

HILL: Fuck no, the way Yovanovitch was treated was godawful and wrong, and then also it was clear there was this bad political channel of Rudy Giuliani and Gordon Sondland, which was different from an actual policy channel.
1:16: CASTOR: Oh, wait, you mean when Republicans say Obama only gave Ukraine "blankets" and Trump gave them big tough missiles, they are full of shit?

HILL: Yes let me explain briefly and precisely why the thinking changed on that, from the perspective of an expert, which I am, and you are not.
CASTOR: Thank you for giving me knowledge!
1:18: Devin just took the mike from the GOP lawyer to ask David Holmes if he's ever met any of the people in Devin's Russian propaganda conspiracy theories about Ukraine.

DID YOU KNOW UKRAINE GAVE SECRET INFORMATION TO NELLIE OHR FUSION GPS BLACK LEDGER LITERALLY I AM JUST SAYING RUSSIAN CONSPIRACY THEORIES.
NUNES: Is the "black ledger" that shows all the creepy payments Paul Manafort and others got from pro-Russia Ukrainians credible?
HOLMES: Yes.
NUNES: It ... is? Robert Mueller said it wasn't! Are you calling Mueller LIES?
HOLMES: Mueller didn't say that.
1:21: LOL wow, Devin Nunes is really doing questioning about who funded the Steele Dossier.

And now that we've wasted that time, it is back to Steve Castor.
1:25: Castor trying to figure out for some reason if Hungary's authoritarian shitheel leader Viktor Orban influenced Trump on whether Mike Pence would go to Zelenskyy's inauguration. Dunno why he'd want to shine a light on how dictators like Orban use Trump like a puppet, particularly on Ukraine, but OK.

1:28: Hahahaha and now Devin wants to ask more conspiracy theories. You guys, the congressman from MENSA thinks he's helping.

BURISMAAAAAAAAAAA!
1:30: You guys, Devin and his cow pals in the GOP are so mad Joe Biden and the entire rest of the western world got one of the most corrupt assholes in Ukraine fired as prosecutor!

1:31: DEVIN: Did you ever tell Donald Trump about my conspiracy theories about Ukraine?

HILL: Uh ... no. Also you can't "brief" Donald Trump, because he's very dumb.
And that time being wasted, back to Steve!
1:33: CASTOR: Was Gordon Sondland full of shit when he said you guys had coffee on your last day?

SONDLAND: We had a nice coffee in Jackson Hole in 2018! Maybe he's just confusing our meetings! We did meet that day, but there was no coffee unfortunately :(
1:35: Fiona Hill freely admits that she has been super-mean to Gordon Sondland a number of times, and she regrets that. But now she realizes that Sondland wasn't working with the real people, because of how he was doing the crime channel of foreign policy for Trump in Ukraine.

SONDLAND was doing a "domestic political errand."
WE were doing ACTUAL FOREIGN POLICY.
This is a HOOT.
1:38: And now, just after Fiona Hill eviscerated the fuck out of Trump and everyone else, FUCKING DEVIN thinks he can hop back in and help?

Devin says:
2016 ELECTION STEELE DOSSIER ROBERT MUELLER! TRUMP BELIEVES EVERY DUMBFUCK CONSPIRACY THEORY I BELIEVE! GORDON SONDLAND IS GOOD EVEN THOUGH WE WERE MAD AT HIM YESTERDAY FOR CONFESSING! RUDY GIULIANI IS DELICIOUS! COWS ARE DELICIOUS, BUT IN A DIFFERENT WAY!
Fiona Hill says:
Nobody told us Trump wanted us to be extorting or bribing Ukraine as part of our job. We were doing foreign policy. We were not part of the "drug deal." You halfwit.
1:41: CASTOR: You told Tim Morrison that you had "concerns" about Lt. Col. Vindman.

HILL: That is not what I said and I am shocked Tim Morrison fucking said that, what a fucking dick, everybody can see that he's a fucking dick. It was a damn personnel review, just to get him up to speed since he was taking my job. I said I was concerned about the direction of Ukraine policy. Vindman is brilliant and great. My only concern was that he might not be suited for a job that was more political. I did not question his judgement. I did not question his expertise. He is excellent on Ukraine and Russia and all the other issues. You all should eat a bowl of shit.
1:47: Republican questioning over! That was extremely helpful, for Democrats.

1:48: SCHIFF: If you'd like to shit on the people attacking Lt. Col. Vindman and saying he has dual loyalty or whatever, please do.

HILL: Oh hell yeah, lemme speechify real fast about how we are a nation of immigrants and in the process, you will think of what a shithole human every Fox News asshole who said that shit about Vindman really is.
1:53: Hill telling story of July 10 meeting after the meeting with the Ukrainians. Says no, there was no yelling but yes, she was pissed. When Gordon Sondland said "Burisma and 2016 election" investigations, she told him to STFU because AT THAT TIME SHE HAD SEEN RUDY GIULIANI ON TV AND KNEW "BURISMA WAS CODE FOR BIDEN," AND OH MY GOD INJECT THIS TESTIMONY INTO OUR VEIIIIIIIIIIIINS.
1:55: JIM JORDAN TURN JIM JORDAN YELL AT DAVID HOLMES LIKE ABUSIVE JUNIOR VARSITY COACH BUT DAVID HOLMES NOT SCARED OF JIM JORDAN BECAUSE DAVID HOLMES HAVE BIGGER DIK THAN JIM JORDAN EVERYBODY KNOWS IT
JUST GONNA SIT HERE AND GRIN LIKE THIS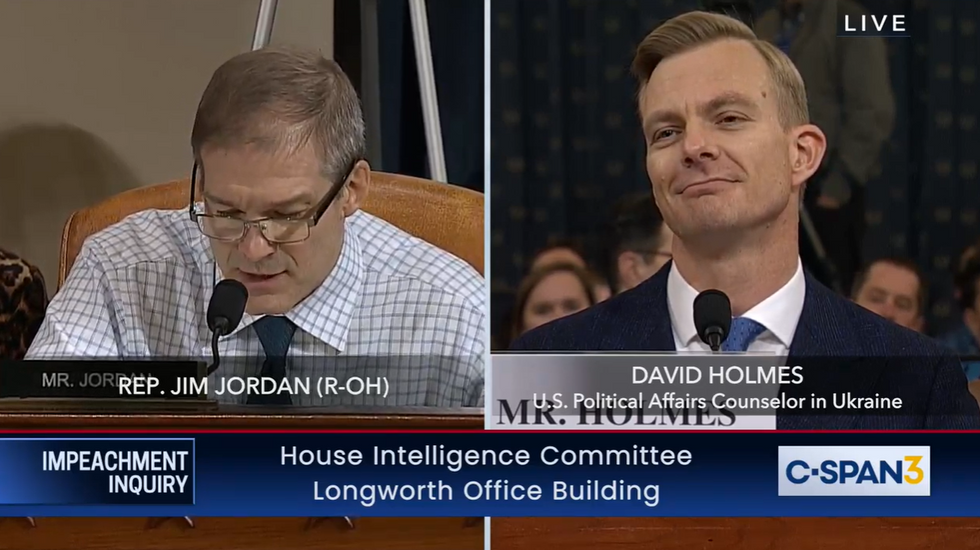 You guys, it was just a natural grin that broke out on his face while Jordan screamed.
When Jordan was finally done ranting, Holmes was like "Can I answer your question?"
2:01: SCHIFF: Jim Jordan's time has expired but David Holmes's has not. Please continue.

HOLMES: Everybody knew what I was talking about when I mentioned the phone call I heard, because EVERYBODY knew Trump was jonesing for these fake investigations.
JORDAN: shut up shut up shut up this is not how this is supposed to go!
SCHIFF: Jim, you might not like the witness's answer but he has the right to give it.
2:03: Jim Himes taking his time to just quote Devin Nunes's dumbass comments and Donald Trump's dumbass comments about the "Russia hoax" and whatnot.

HIMES: Failure to name and shame Russia for what they did is not good for national security, is it?
HILL: It is not.
HIMES: Did Ukraine meddle in the 2016 election?
HILL: I brought the literal crap with me that the Republicans cite as "Ukraine meddling." It is an op-ed from the former Ukrainian ambassador in a Ukrainian newspaper, who was pissed at Trump for being such a shithole toward Ukraine and supporting Russia's side in that war. Also by the way, most of the article is about Ukraine. Trump's comments were just the "peg" to lead into what he was actually wanting to say.
HIMES: Yeah I'll read it out loud. This is Fucking Dumpshit Devin's "election inteference."
HILL: Maybe not the most advisable thing ever, but PFFFFFFFFFFFT. Lemme show you the other Republican example of "UKRAINE MEDDLING" it is also pretty funny. SPOILER it helps the Democrats' case not the Republicans'.
HIMES: Go on!
HILL: The crux of the article is that there is "little evidence of a top-down effort by Ukraine," and compares that to the real election attack committed by the Russian government. (It is a Ken Vogel article.)
2:09: Hill continues by saying a lot of people in a lot of countries have said a lot of really shitty things about Donald Trump, and they would hurt her feelings too! The difference is that they haven't changed Trump's feelings about those countries, except for in Ukraine's case, because President Butthurt now believes "Ukraine tried to take him down."

You guys, Jim Himes just used Republicans' own evidence against him, and it was beeeeeeeautiful and hilarious.
Now it is time for Captain SmartFarts McHickMouth, John Ratcliffe.
2:13: RATCLIFFE: SO YEW ARE SAYING THAT WHEN TRUMP GOT ASSURED THAT HE WAS EXTORTING UKRAINE SUCCESSFULLY, HE JUST CHANGED THE SUBJECT TO SWEDEN????

HOLMES: Yes.
RATCLIFFE: WHAT DID YEW HEAR TRUMP SAY ABOUT A$AP ROCKY???????
HOLMES: Nothing. As I testified, I heard the early part because PRESIDENT WORDS BAD WAS SCREAMING AND GORDON SONDLAND WAS HOLDING THE PHONE AWAY FROM HIS EAR.
RATCLIFFE: Oh.
As usual, we must note that John Ratcliffe is considered one of the best the Republicans have. It's kind of like picking out which ingrown ass hair is your favorite.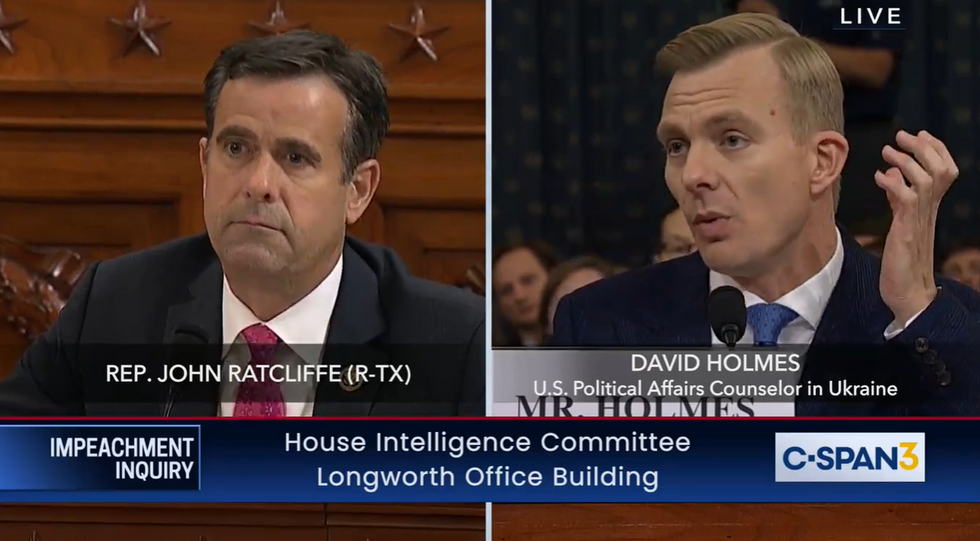 2:16: TERRI SEWELL: How do you feel about Marie Yovanovitch, and was it a smear campaign?

HILL: Amazing. One of the best we have. Yes, it was a smear campaign, and I don't know why it was necessarily for Rudy Giuliani to libel her on TV like that, Trump could have just removed her.
2:20: Oh nice, Donald Trump's garbage people are doxxing Fiona Hill. Neat.

Terri Sewell talking about Trump's treatment of women and Fiona HIll is VERY SUBTLY nodding along.
And now it's time for Mike Turner, GOP moron!
2:23: Mike Turner is very mad that everybody thinks Devin Nunes's little report on Russian interference is a piece of shit, and the rest of his comments are this is all HEARSSAAAAAAAAAAAYYYYYYYYYYYYY!

He has not asked her a question, because all these chickenshit Republicans are scared of her. Best to just yell words!
2:26: After four minutes of MIke Turner yelling at Fiona Hill for HEARSSAAAAAAAY, some Democrat chimes in, "Was that a question for Dr. Hill?" and everybody LOLed.

And now Turner yells at Holmes for the rest of his time and HOO BOY CLOWNSHOW.
2:27: We think Mike Turner should check his panties after that little tantrum! That's what we think!

2:30: ANDRE CARSON: You don't seem like you're easily deterred, are you, Dr. Hill?

DR. HILL: I'm not, no.
And now Adam Schiff is factchecking the Republicans' questions again, since they keep lying in questions.
Ooh, time for mouthbreather podiatrist Rep. Brad Wenstrup, who probably breathes with his mouth while he removes corns!
2:32: Would you let this man remove your corns?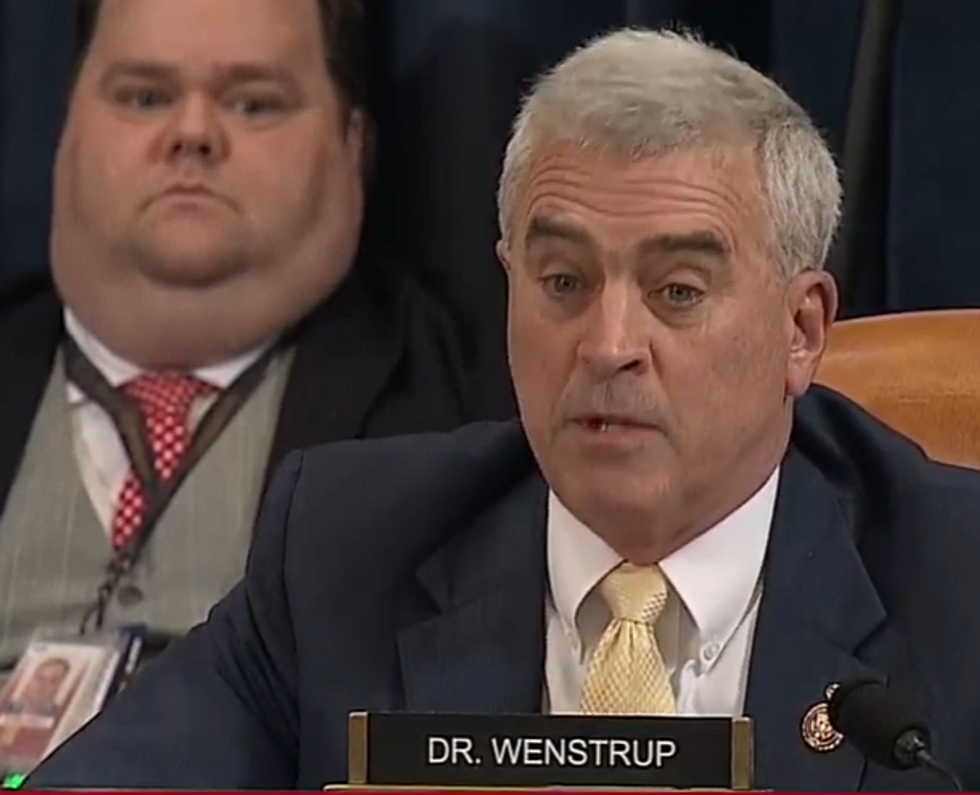 We do not think the guy behind him would let Brad Wenstrup remove his corns.
The rest of Wenstrup's comments are not a question, they are just reciting the UKRAINE MEDDLING Russian conspiracy theory Dr. Hill already explained is Russian propaganda.
2:35: FIONA HILL: Can I say something, since literally nobody is asking me a question because they're scared of me?

SCHIFF: Yes.
REPUBLICANS: nooooooooooooooooooo!
HILL: Sad that Mike Turner and John Ratcliffe left for this one. Oh well, guess they can't handle the truth. There should be no interference in our elections. I know Republicans are very upset some Ukrainians were mean on Facebook. But I'm an expert on Russia, so I wanted to see if I could help, and that's why I took the job. We have to stop them from what they did in 2016 in 2020. I get that you idiots are like HEARSAAAAAAAAY. I also heard things with my own ears. We are not the ones who make the impeachment decision. We are fact witnesses. Thank you for your service, Dr. Corn Remover, and for your eloquent words that did not contain a question for me, the fact witness.
WENSTRUP: (mouths thank you like he doesn't really mean thank you)
2:39: JACKIE SPEIER: Is it true that when you were 11 you were taking a test and somebody set your pigtail on fire and you put it out with your hand and kept taking your test?

HILL: Yes, it led to some unfortunate consequences. My mother gave me a bowl haircut. It was bad. I looked like Richard III.
The rest of Speier's questioning was about how Rudy Giuliani sucks and everybody hates him, which Hill reconfirmed.
SPEIER: Mr. Holmes, Zelenskyy still hasn't gotten his White House meeting. Does that benefit RUssia?
HOLMES: Yes.
SPEIER: All these Ukraine conspiracy theories help Russia, yeah?
HOLMES: Yes.
SPEIER: Anything Trump is doing that doesn't help Russia?
HOLMES: Let me think ... can't think of one.
And now dumbshit Chris Stewart, who is just pretty sure this impeachment is coming to an end. Don't count your chickens, mouthbreather.
(He doesn't have a question, because of course he doesn't, he, like all the other chickenshits, is scared of these witnesses.)
2:45: Chris Stewart says this impeachment was just the opening act for the real impeachment, which will be ... Lindsey Graham? OK.

2:48: Everybody buy your tickets for the main event Lindsey Graham, live and topless!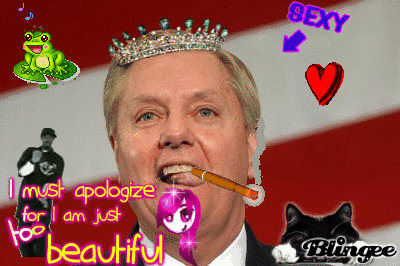 assets.rbl.ms
2:52: ELISE STEFANIK SO MAD! ELISE STEFANIK MAD FIONA HILL SAY REPUBLICANS DON'T BELIEVE IN RUSSIA HOAX! I WILL ASK A QUESTION WHEN I GET UP THE COURAGE!
OK I HAVE SOME COURAGE NOW.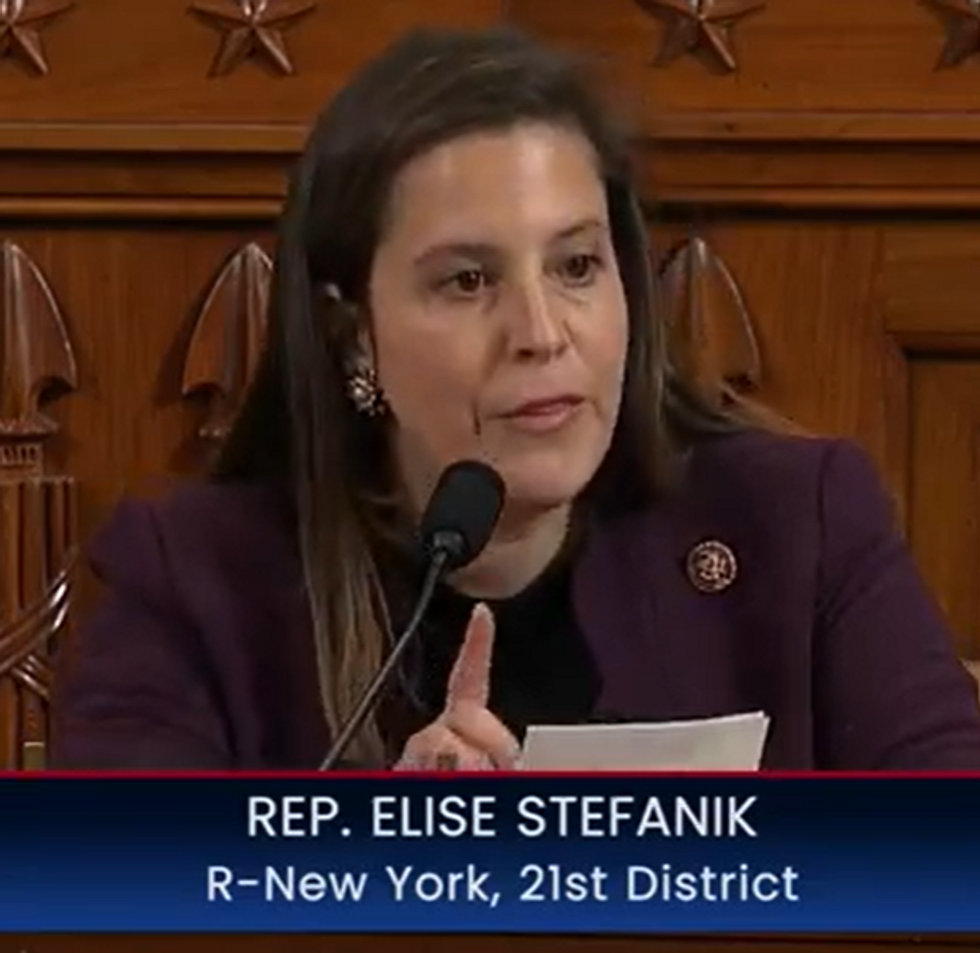 STEFANIK; Questions that mean nothing.
HILL: Answers to questions that mean nothing.
STEFANIK: David Holmes, thank you for remembering that we went on trip together!
HOLMES: I remember trip!
STEFANIK: More questions for Dr. Hill that mean not a thing.
HILL: More answers to useless questions.
2:57: STEFANIK: THEY GOT THE AIIIIIIIIIIID.

WITNESSES: Yeah finally.
STEFANIK: Trump and Zelenskyy met at the UN!
WITNESSES: But not at the White House.
3:00: They are now talking about why Trump thought Devin Nunes's former coffee boy idiot Kash Patel was the Ukraine expert, when actually he is just an idiot.

ERIC SWALWELL: Did you hear Rudy Giuliani's indicted Chucklefuck Lev Parnas helped plan trips for dumbfuck Devin Nunes over there?
HILL: Didn't know that!
SWALWELL: It's in the paper today, anyway, I just wanted to say that out loud to make Devin mad.
3:04: HOLMES: Mike Turner said some garbage shit about me embarrassing Zelenskyy earlier. Lemme respond to Turner's garbage shit on live TV and call it garbage shit.

3:06: Will Hurd says Trump's call was bad and awful and his foreign policy was awful and it's wrong to try to press Ukraine for political investigations, therefore (whispers) DO NOT IMPEACH!!! GOOD COPY!

He is mad we have not heard from Rudy Giuliani, but also mad we have not heard from Hunter Biden or Whistle McBlower or the Kool-Aid Man or Santa Claus or Devin Nunes's Cows.
Whatever, Will Hurd.
3:13: CASTRO: When Rick Perry gave Zelenskyy that list of "trusted energy advisers," did it include his buddies who just scored that sweet-ass gas deal in Ukraine?

HOLMES: Pretty sure at least one of 'em!
CASTRO: Is it normal, all these times Trump officials have closed doors meetings without note takers present?
HOLMES: Nope.
CASTRO: Is all this shit real bad?
WITNESSES: Everything about everything is bad.
3:15: GOP ASSHOLE MIKE CONAWAY: Do you think Hillary Clinton is a bitch?

HILL: It plays into Putin's hands to not recognize the legitimacy of our elections.
CONAWAY: Is RT propaganda?
HILL: Of course.
CONAWAY: Would it lay into Putin's hands to ... ban fracking?
HILL: Actually Putin said that one time. But here's a complicated answer, it's a big deal to him, actually.
CONAWAY: Therefore fracking is awesome!
HILL: Didn't say that.
3:18: Now Mike Conaway is trying to get David Holmes to promise that if he ever hears Trump committing crimes again on the phone, he won't tell anybody.

3:20: LOLOL STFU Mike Conaway.

Love, Adam Schiff and everybody else who was ever born
3:26: NOW IT IS TIME FOR JIM JORDAN TO YELL QUESTIONS AT FIONA HILL ABOUT THE STEELE DOSSIER WHICH HAS NOTHING TO DO WITH TODAY BUT THAT'S OK REPUBLICANS ARE STILL MAD ABOUT IT!

3:27: Jordan says:
FISA ILLEGAL SPYING COMEY BAD COMEY HAD NOTHING BAD MUELLER ROBERT MUELLER I DON'T HAVE A QUESTION BECAUSE I'M STILL SCARED OF FIONA HILL OH NO WHAT IF SHE WANTS TO RESPOND AFTER I'M DONE FILIBUSTERING OH NO OH NO HAVE Y'ALL SEEN I HAVE A WEIRD CUT ON MY EYE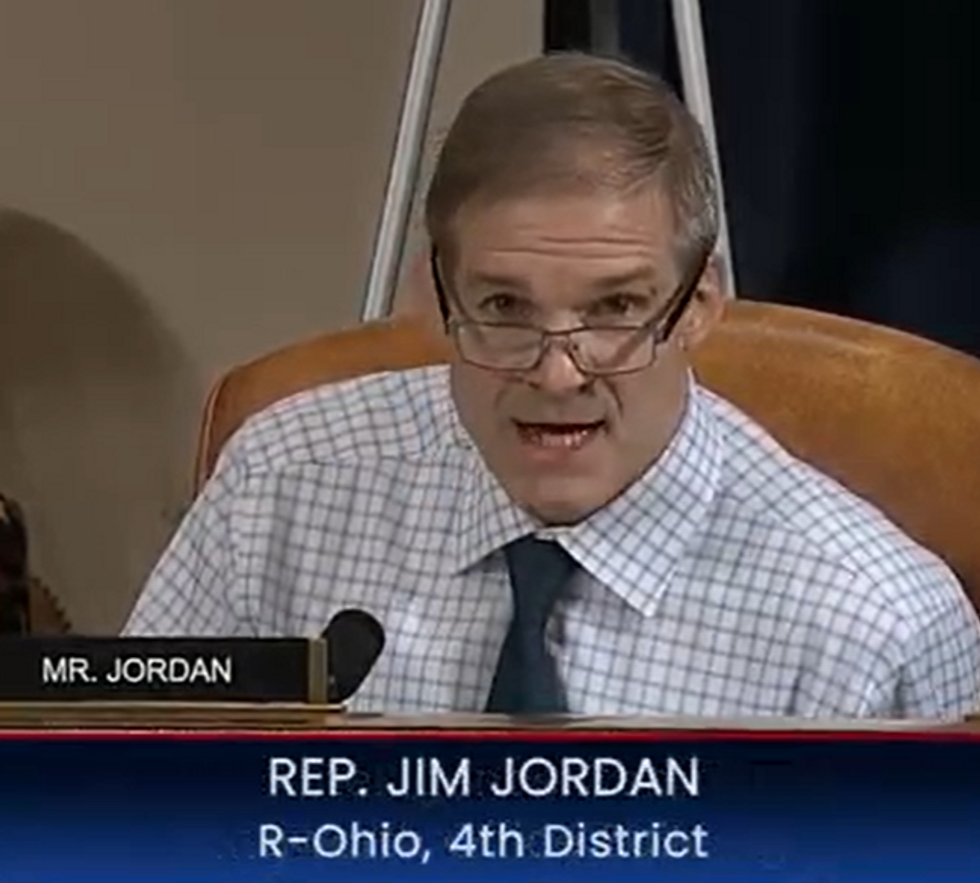 WHAT DID JIM JORDAN DO TO HIS EYE DID HE FALL DOWN THE STAIRS DID HE STAB HIMSELF WITH A PENCIL IS THAT THE HOLE WHERE HIS BRAIN FELL OUT IF SO WHAT A TINY LITTLE HOLE ANYWAY NANCY PELOSI CALLED DONALD TRUMP AN IMPOSTOR ON TV THIS WEEKEND AND THAT IS MY QUESTION FOR FIONA HILL BUT PLEASE DON'T TALK FIONA HILL I'M SO EXCITED
I'M SO EXCITED
I'M SO ...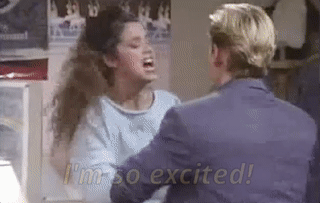 Giphy
3:35: Sean Patrick Maloney is entering some things into the record, then begins questioning by saying sorry Dr. Hill that you had to listen to Mike Turner's yappy-ass mansplaining, what a dick.

Maloney is very good at Congress (in bed). (Allegedly probably we are just guessing!)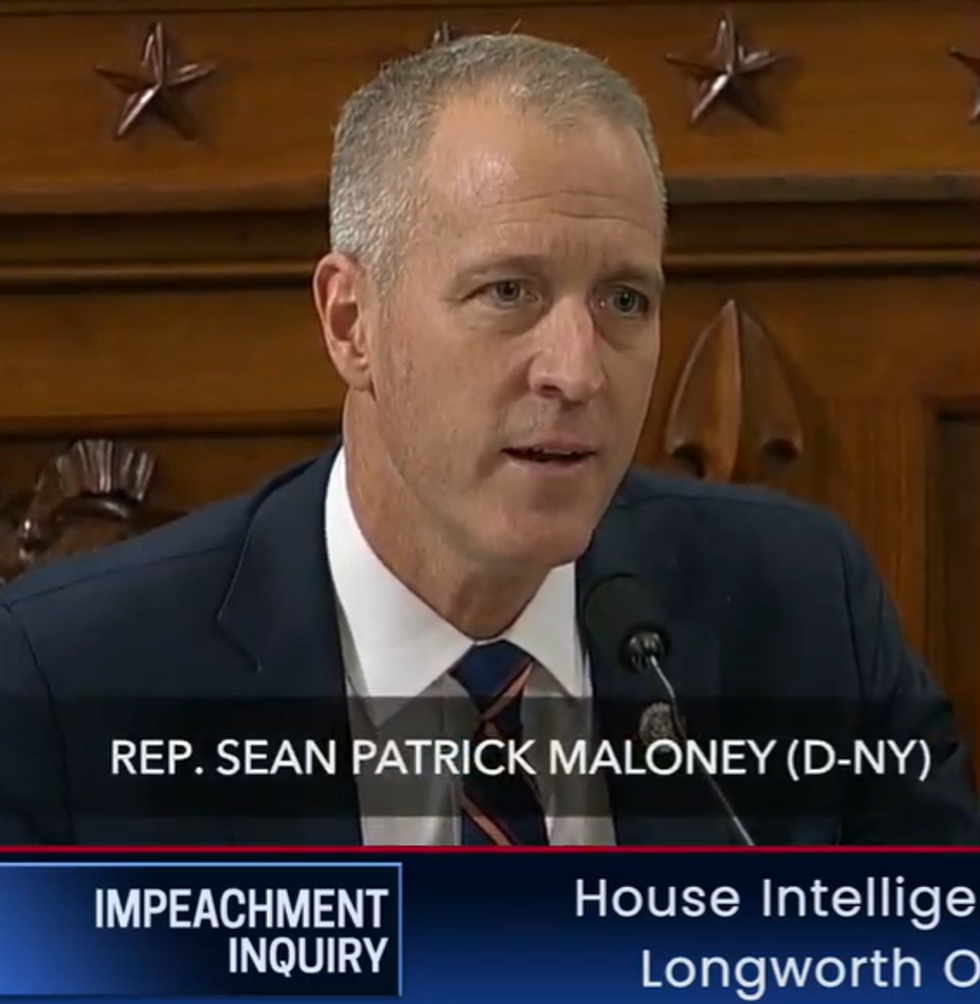 OK BEING SERIOUS NOW.
MALONEY: To clarify, the concerns you and John Bolton had, they weren't about POLICY, they were about how Trump was getting Sondland and Giuliani to do "political errands" for him by extorting ukraine.
HILL: Right.
MALONEY: Was Sondland or anybody ever actually concerned about "corruption"?
HILL: Nah.
MALONEY: Do you buy that Gordon Sondland didn't know "Burisma" meant "Biden"?
HILL: Not credible at all, he's full of shit.
3:42: VAL DEMINGS: Sure, Ukraine got the aid eventually. But doesn't the fact that it was delayed at all hurt Ukraine?

WITNESSES: Yes.
DEMINGS: Why was literally everybody except the criminals pushing for the aid to be released?
HILL: Lemme tell you a story of Russia attacking Georgia in 2008. #HistoryTime! #Expert
3:43: HILL: Putin is always looking for any hint that America won't follow through, because he will ALWAYS follow through on his threats.

3:45: RAJA KRISHNAMOORTHI: They called you a mole for George Soros.

HILL: Yep.
KRISHNAMOORTHI: You've been targeted as a deep state leftist by convicted felon Roger Stone.
HILL: He wasn't a convicted felon yet LOL
3:48: KRISHNAMOORTHI: All these conspiracy theories about Alex Vindman and Yovanovitch etc., are anti-semitic, yeah?

HILL: When they involve George Soros, they sure the fuck are! Lemme tell you about Protocols Of The Elders of Zion.
3:50: Ooh, Krishnamoorthi brought up Dmitry Firtash, the Russian mob Ukrainian oligarch who seems to have been directing or funding at least some portion of this. Hill agreed that these elements certainly seem to be subverting American foreign policy for their own aims.

Anyway, Devin Nunes is doing his closing statement, and it is literally about the Steele Dossier.
We are running out of ways to say that Devin Nunes is one of the most embarrassing fuckclowns we have ever witnessed in our entire lives.
Guys, by the way, we love you, and you pay our rent, literally. We do not take big corporation bux, and we do not have ads. We have YOU, AND THAT'S IT.
So if you love us for liveblogging for one million hours and all that, click below to fill our coffers!
3:53: WHY IS HE TALKING ABOUT THE FUCKING STEELE DOSSIER?

God, it's like he's stuck inside a cow and he can't get out of it, METAPHORICALLY.
(Moo.)
3:57: NUNES: TYRANNY OF MAJORITY BAD! SHOULD GO BACK TO TYRANNY OF MINORITY WHEN TRUMP GOT ELECTED BY NEGATIVE THREE MILLION AND HOUSE WAS MAJORITY REPUBLICAN BECAUSE OF RACIST GERRYMANDERING AND SENATE SAME SHITSHOW AS ALWAYS!

Nunes is finally done mooing. Schiff giving closing statement.
4:00: Ooh, Schiff MAD. Says he wishes he saw some indignation from his Kremlin-mouthpiece GOP colleagues when Trump sat next to Putin and took a shit on our own intelligence services.

4:05: Schiff is reviewing everything we have learned. We have learned a lot! You should watch it, we are tired.

4:11: You guys, Adam Schiff is going to be doing closing statement for next six hours. He's totally ripping his "not a lawyer" GOP colleagues for being so stupid at law and not understanding what "hearsay" is. It's pretty good.

4:16: SCHIFF: The difference between Watergate and now isn't between Nixon and Trump, it's between that Congress and this one.

What he's saying is that all elected Republicans are garbage humans, and that is true.
4:19: Schiff closes by saying WE ARE BETTER THAN THAT! and slammed the gavel down and adjourned and if he was aiming at Devin's face with his gavel he totally missed but we guess he wasn't doing that.

THE END.
4:21: Oh, and while the embarrassing waste of space that is Devin Nunes is still on your mind, here is an amazing story we just posted about Devin!

Follow Evan Hurst on Twitter RIGHT HERE, DO IT RIGHT HERE!
Wonkette is fully funded by readers like YOU. If you love Wonkette, SUPPORT WONKETTE FINANCIALLY.
Evan Hurst
Evan Hurst is the managing editor of Wonkette, which means he is the boss of you, unless you are Rebecca, who is boss of him. His dog Lula is judging you right now.
Follow him on Twitter RIGHT HERE.