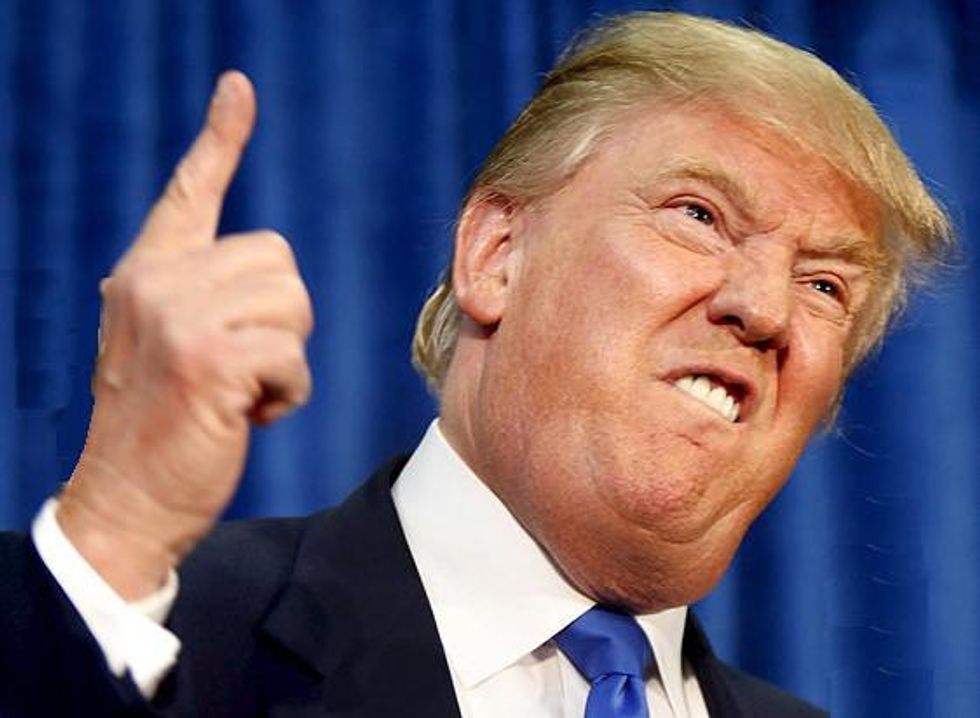 Does this look like A Idiot to you? (Yes)
---
As we type this at you, Deputy Attorney General Rod Rosenstein is testifying before the House Judiciary Committee, fielding normal questions from Democrats and watching with a confused look on his face as wingnuts like Rep. Jim Jordan of Ohio and Rep. Louie Gohmert of Texas loudly toss poo into each other's mouths, screaming about how the Robert Mueller investigation is BIASSSSSSSS. Basically, Republicans are desperately trying to get the Orange Pussgrabber in the White House to Saturday Night Massacre the Mueller investigation. Rosenstein, in response, has signaled that ACTUALLY Robert Mueller is doing a great job, and if Trump wants him removed, he's going to have to fire Rosenstein first. Are you afraid of being fired by Trump? asked a congressman. LONG HAIR DO NOT PARTICULARLY CARE, answered Rosenstein.
The barking GOP congressmen are having a particular upset over text messages, uncovered in a DOJ inspector general's investigation, between Peter Strzok, who was fired from Robert Mueller's team this summer, and his lady FBI friend Lisa Page, who was also on the Mueller investigation for a short time. As we explained last week, Strzok committed the grievous sin of being a government employee who doesn't wanna kiss Trump's ring, which means he is BIASSSSSSSSS. While we have no evidence Strzok's political leanings affected his work on the Mueller investigation (or on the Clinton email investigation, the subject of the inspector general's probe, which he also worked on), the fact Mueller fired Strzok "immediately" when the texts came to light should be an indicator to any reasonable American that the system is working.
Not for the paste-eating rage monkey Republicans in the United States House of Representatives!
Since we have them, let's look at some Trump-hatin' sexts:
Responding to a Washington Post story about Trump saying it hadn't been proven that Russian President Vladimir Putin had killed anyone, Page wrote: "What an utter idiot."

In a March 2016 message, Page exclaimed: "God trump is a loathsome human....omg he's an idiot."

"He's awful," replied Strzok.
CAUGHT! Peter Strzok and Lisa Page agree with Secretary of State Rex Tillerson, National Security Advisor H.R. McMaster, and a super-majority of the American people that the president of America is a fucking idiot. LOCK EVERYONE UP or something, we guess.
In other sexts, Strzok dared to say he wanted Hillary Clinton to win, like some sort of American citizen who has the right to vote. He was horrified at the idea of Jeff Sessions becoming attorney general (who with a brain wasn't?), said John Kasich is a secret gay, that Democratic primary candidate Martin O'Malley is a "douche," and UH OH BIPARTISAN SHIT-TALKING, he apparently didn't like Obama-era Attorney General Eric Holder. Not a Bernie fan either! This guy didn't like anybody. ('Cept Hillary.) (#RIGGED!)
As Politico notes, the texts between Strzok and Page stopped in December of 2016, so we're not sure how they could have affected the Mueller investigation, which according to our back of the napkin math started in May 2017.
Natasha Bertrand at Business Insiderreports that the DOJ invited reporters Tuesday night to look at 375 of the texts (out of 10,000 texts Fox News curiously claims to have) in advance of Rosenstein's testimony, which is strange since they're part of an ongoing investigation. This is not proper DOJ behavior, not at all:
"It's appalling behavior by the department," said Matthew Miller, a former DOJ spokesman. "This is an ongoing investigation in which these employees have due-process rights, and the political leadership at DOJ has thrown them to the wolves so Rosenstein can get credit from House Republicans at his hearing today."
WHO'S THE LEAKER? WHO'S THE LEAKER? Oh, it is just the Trump DOJ. Apparently they wanted to make sure the texts were out so GOP assholes on the House Judiciary Committee could publicly jerk themselves off into oblivion during Rosenstein's testimony. It's almost like somebody at the DOJ is colluding with GOP idiot reps to help their stupid barely elected king obstruct justice.
What's so utterly bizarre about all this -- but not unexpected, due to the mental bankruptcy of the current GOP -- is that nobody actually thinks FBI or DOJ employees wouldn't have political opinions of their own. Remember Rudy Giuliani's Trump-licking goons in the New York FBI field office? Remember how "sources" in the "NYPD" and the "FBI" were leaking fake news to Blackwater sadist Erik Prince a few days before the election that there were one million classified Hillary emails on Anthony Weiner's laptop that showed her doing #Pizzagate to all the children of the world?
When's a special counsel gonna investigate the New York FBI field office? Just curious.
Natasha Bertrand quotes a former FBI guy who says of course folks have their political opinions, it doesn't affect how investigations work, and if anything, Peter Strzok and his Hillary-loving self was the outlier:
"It would be literally impossible for one human being to have the power to change or manipulate evidence or intelligence according to their own political preferences," said Mark Rossini, a former FBI unit chief who spent 17 years at the bureau.

"FBI agents, like anyone else, are human beings," he added. "We are allowed to have our political beliefs. If anything, the overwhelming majority of agents are conservative Republicans."
But, but, but! That's NORMAL! Because real Americans are conservative Republicans, right? That's what freakshows Louie Gohmert and Jim Jordan say!
Patriotic Americans, your countdown clock to shutting this fucking shit down is at 328 days, because that's how many days it is to the 2018 midterm elections. Let's vote these fuckers OUT.
Follow Evan Hurst on Twitter RIGHT HERE.
Are you a good Wonker who sends us money by Amazon? Well not anymore you're not, because Amazon done fucked our payment system. Would you be so great as to re-sign with Paypal or Stripe? K we love you bye. (All you others can too.)
Evan Hurst
Evan Hurst is the managing editor of Wonkette, which means he is the boss of you, unless you are Rebecca, who is boss of him. His dog Lula is judging you right now.
Follow him on Twitter RIGHT HERE.