Florida Education Commissioner So Mad At Public Schools That Insist On Keeping Kids Alive
coronavirus
August 18, 2021 10:34 AM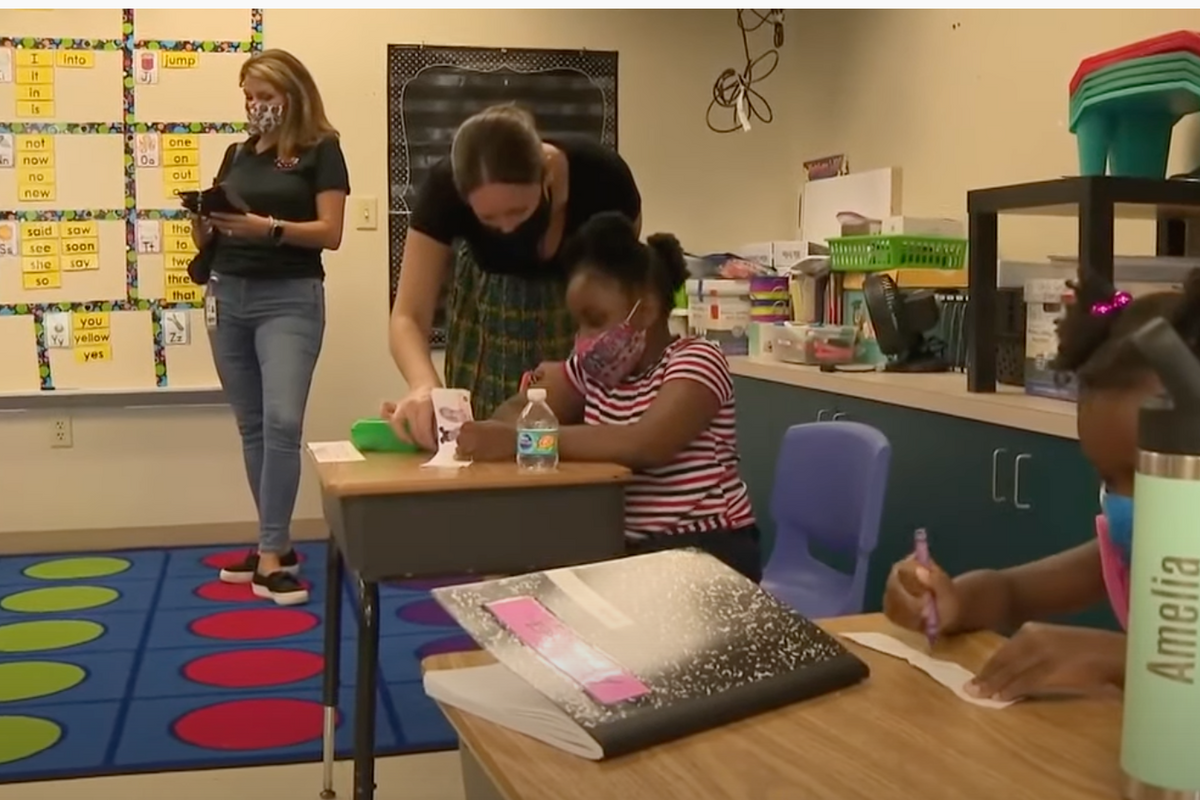 Broward County Public Schools has defied Florida GOP Governor Ron DeSantis's absurd executive order banning mask mandates in schools. COVID-19 cases are surging, and two Broward County teachers and an educational assistant have died because of the virus. Rosalind Osgood, who heads the school board, said Sunday that the district had no choice but to ignore DeSantis.
"We're living out the nightmare of the Covid pandemic, where so many people in our county, including members of our staff and others, are being impacted," she said.
The school board imposed a mask mandate for students, staff members and visitors. Exemptions are permitted with a doctor's note, and presumably that means notes from good doctors, not someone like Dr. Oz.
Now Florida education commissioner Richard Corcoran is considering sanctions against Broward County Public Schools. He's not sure what form they take, but he'll make sure they think twice about prioritizing the safety of children, most of whom aren't yet eligible for vaccination.
---
Corcoran sent a letter to Broward schools Tuesday declaring he'd found "probable cause that the School Board of Broward County and the district's superintendent, Vickie Cartwright, acted contrary to the law." He also called out the Alachua County school board for following Broward County's lead.
He listed what he considers appropriate protocols for slowing the spread of COVID-19: Schools should "encourage" routine cleaning of classrooms and high-traffic areas. Schools should also "encourage" students to wash their hands regularly throughout the day. Students should also stay home when they're sick. These are common methods of keeping kids from catching the common cold or flu, which, if you recall pre-pandemic days, were rarely that effective.
Corcoran is OK with students wearing masks or facial coverings, but parents must have the right to "opt out.". We've been over this repeatedly since the damn pandemic started, but masks aren't like seat belts. They are for other people's protection, not just your own, and according to the Centers for Disease Control and Prevention, they are most effective when everyone wears them. Considering that parents who are anti-mask are more statistically likely to be anti-vaccine, there's a greater chance that maskless booger machines in schools are spreading coronavirus.
Carlee Simon, superintendent of Alachua County Public Schools, told the Washington Post that she's heard reports of parents sending their kids to school after a known exposure to COVID-19.
"We know we have people who have positivity rates at home, and we have families who are still choosing to bring their children to school," she said. "When they do that, they're essentially bringing covid into our buildings, and that's putting everyone at risk."
Last week, Corcoran threatened to withhold salaries of superintendents and school board members who defied the governor's executive order. That fell flat, as the school administrators said they'd rather lose a paycheck than a single student or faculty member to COVID-19. However, school officials could also be replaced if they stand up against the DeSantis administration.
DeSantis has argued he's defending parents' rights, but when concerned parents sued his dumb ass, he asked a judge to throw out their lawsuit.
Disgruntled parents who "fear being around unvaccinated, non-masked people" don't have a right to sue because the executive order raises political rather than legal questions, DeSantis argued in a motion to dismiss filed Monday in state court in Tallahassee, Florida.

"The governor, as the public official duly elected by the majority of the citizens of the state of Florida, was entrusted with the sole authority to make such statewide policy determinations -- not the parent plaintiffs, and not a court," a lawyer for DeSantis said in the filing.
Even the people foolish enough to elect DeSantis didn't technically make him dictator of Florida with free rein to endanger the lives of vulnerable people. He claims his MAGA-mugging executive order somehow balances "the legitimate state interests of school safety and parental rights." That's nonsense. It shows no regard for school safety and caters specifically to entitled morons.
If you trust science and want your child protected, then you'll support a mask mandate. If your brain has retired to Boca Raton, you'll oppose this safe and effective mitigation measure.
These aren't equally valid positions.
Follow Stephen Robinson on Twitter.
If you enjoyed this story, please donate what you can to keep Wonkette going forever!
Stephen Robinson
Stephen Robinson is a writer and social kibbitzer based in Portland, Oregon. He writes make believe for Cafe Nordo, an immersive theatre space in Seattle. Once, he wrote a novel called "Mahogany Slade," which you should read or at least buy. He's also on the board of the Portland Playhouse theatre. His son describes him as a "play typer guy."