Florida Man Gonna Save Kids From All That Porn In School Libraries
Education
March 20, 2019 10:03 AM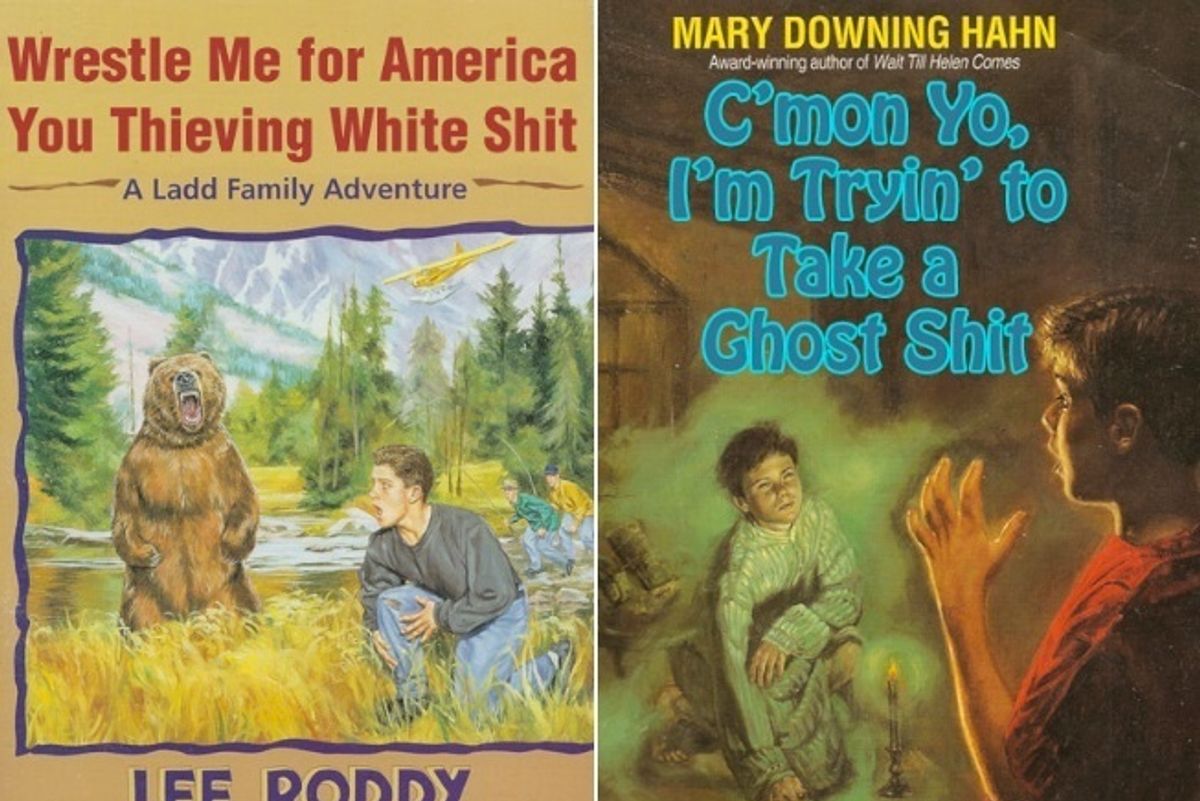 A pair of bills introduced in the Florida state legislature in February are aimed at cleaning all the dirty books from Florida schools, and at jailing any librarians or teachers who might allow a student to read filth like A Clockwork Orange or Toni Morrison's Beloved or The Bluest Eye. The bills, pushed by the rightwing Florida Citizens Alliance, would allow any Florida resident -- not just parents -- to challenge a book, and would make distribution of materials deemed "pornographic" or "harmful to minors" in schools a third-degree felony. No big -- that's only a five-year prison sentence and fine up to $5,000. Per bad book.
The sponsor of the House version of the bill, state Rep. Mike Hill, just knows the schools are full of porn.
The purpose of the bill is to remove pornography out of our public schools, which is existing there today. I've seen it firsthand [...] It is simply trying to protect our children.
The text of the bill, Florida HB 855, is pretty darn sweeping! The "harmful to minors" standard is defined thusly:
[Any] reproduction, imitation, characterization, description, exhibition, presentation, or representation, of whatever kind or form, depicting nudity, sexual conduct, or sexual excitement when it: (a) Predominantly appeals to a prurient, shameful, or morbid interest; (b) Is patently offensive with respect to what is suitable material or conduct for minors; and (c) Depicts an image or text that meets the definition of "deviate sexual intercourse."
But don't worry! Some depictions of sex or naughty bits would still be allowed in "materials used in a formal, scheduled sex education course." Which of course would require written permission (and possibly a character reference from a pastor). Also, we checked the relevant Florida statute to find out what in Florida constitutes "deviate sexual intercourse." It's truly wild stuff!
"Deviate sexual intercourse" means sexual conduct between persons not married to each other consisting of contact between the penis and the anus, the mouth and the penis, or the mouth and the vulva.
---
Presumably, a book could be banned just for mentioning blowies, then. HOORAY. Guess any books on Bill Clinton's impeachment would have to be eliminated, too. Those tiny cartoon genitals that gave Victoria Jackson the vapors a few years back would be right out. Not to mention books used in high schools that the Citizens Alliance has already made a fuss about, like Kate Chopin's The Awakening, Frank McCourt's Angela's Ashes, and Cristina Garcia's Dreaming in Cuban. Wait, there was sex in that one? Been a while since we've read it.
Of course, there's plenty more: Our favorite part of the bill is the bit that instructs schools to "proactively remove" from all schools any materials that might be considered a sex book under the definition above, "regardless of whether a parent or resident has objected to the material" before October 1, 2019. After that, the felonies start piling up.
The bills have so far not been scheduled for hearings in either chamber, but they're already worrying the sorts of people who'd prefer not to hand control of school libraries and literature classes over to a bunch of people who think Toni Morrison is a pornographer. The Florida chapter of the ACLU is in the fight, as are academic groups, particularly since the Citizens Alliance has focused previous efforts on trying to eliminate social studies textbooks it considered too friendly to Islam, and science texts that say climate change is real.

The bills pose a "clear and present danger" to public education, said Brandon Haught, a leader with Florida Citizens for Science and a Volusia County classroom teacher.

Florida Citizens Alliance members "want to bully the school boards into complying with them," Haught said.
Marion County schools superintendent Heidi Maier -- whose district is the focus of the Alliance's wrath over 14 novels it just knows are actually porn -- is a self-described conservative, but she'd prefer local control of school materials instead of a statewide mandate to remove any conceivable nasty books from libraries and classrooms.
An avid reader, Maier also bristled at the notion of criminalizing the purchase of books.

"Frankly, I would probably be the first to be put in jail" if the legislation becomes law, she said.
Well then, maybe she needs to be in jail if she supports making kids read porn, huh?
It's unclear what the bills' chances of passage actually are, but it would be a good idea to keep an eye on Florida. Gov. Ron DeSantis included the Florida Citizens Alliance managing director Keith Flaugh on an education advisory committee, and Flaugh knows for sure there's porn all over the schools, claiming his group has "documented almost 100 textbooks and novels that violate [Florida] statutes" of one kind or another. And sure, even if this thing passes, it's probably unconstitutional, but won't those lawsuits be fun and expensive?
Asked for comment on the drive to eradicate sexual content from the schools, Florida teenagers looked up from the porn on their smartphones and said, "Whatever."
[Tampa Bay Times / Book Riot / Ocala Star Banner]
Yr Wonkette is supported by reader donations. Please send us money and we'll do our very best to keep being unfit for Florida's pinch-faced arbiters of decency.