Florida Man Pretty Sure Constitution Lets Him Shoot Anyone He Wants By Accident
News
February 16, 2016 03:15 PM
See? Problem solved!
---
[contextly_sidebar id="zt4je7xj25T7JndjCw3iWksrHL96QrNx"]Florida is very, very proud of its wonderful gun laws, which in addition to the always-delightful "Stand Your Ground" legislation that allows citizens to defend themselves against scary blacks in hoodies, also include another law that not only allows gun owners to fire weapons on private property any damn time they feel like it, but also prohibits municipal governments from placing restrictions on such backyard gun ranges. The only limit the state law places on backyard shooting ranges is that you can't fire your boomstick "recklessly or negligently" on your own land, although even that limitation seems to offer plenty of leeway, because as everyone knows, Americans need guns to keep ourselves safe from all the dangers to ourselves and our Liberty.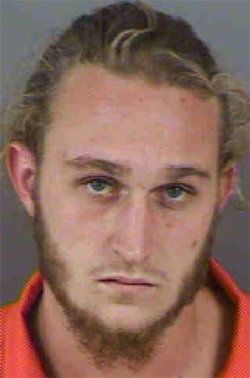 For instance, consider the plight of poor Harold Lanham, 21, of Collier County, Florida, who is currently facing a completely bogus felony charge of "shooting a missile into a dwelling," all because he made a teensy little mistake while taking target practice in his backyard. Like any safety-minded Responsible Gun Owner, Lanham had built up a 3 foot high berm of sand as a backstop for his improvised firing range. But on February 7, he aimed a little bit high, and a bullet flew over the barrier, hitting a sliding glass door and also the hand of 14-year-old Deborah Ledesma, whose home is directly beyond Lanham's back yard, according to a report from WFTX-TV:
Now, honestly, who in their right mind would hold Mr. Lanham responsible for a few stray rounds? Certainly not Lanham's attorney, Mike Chionopolous, who has clearly learned from former Florida Gov. Jeb Bush that in a free society with lots of guns, sometimes "stuff happens," and while it may be unfortunate, it's not like anyone has any degree of control over the stuff what happens. Mr. Chionopolous explained:
This was a tragic result, this young lady gets hurt. But he wasn't doing anything illegal [...]

There's no doubt this was a tragedy. But I'm sorry, sometimes accidents happen, and that doesn't mean somebody's committed a crime simply because there's a tragic outcome.
You see, there's this thing called the Second Amendment, and both that fine Constitutional provision and Florida law prevent charging anyone with a crime merely because they discharged a weapon on their own property and a bullet happened to hit someone. People should know better than to go around their houses without body armor while a neighbor is taking his perfectly legal target practice, after all!
Miss Ledesma claims she was trying to move her mother away from the house's sliding glass door, but isn't the real question one of personal responsibility? When you hear gunfire, you hit the dirt, you don't go gallivanting around some sliding glass door in your own home, now do you?
Miss Ledesma's behavior seems especially reckless, considering that earlier in the day, her family had already reported to police that their house had been hit by several other stray bullets from Lanham's yard. When the hell will people take some responsibility for themselves?
[contextly_sidebar id="qUufui2lIuPcy2tMqhlrD9Zfgckxy6UO"]Poor Mr. Lanham is merely the latest victim of Liberty-hating Floridians who hate Liberty; as we've noted previously, other Responsible Gun Owners have faced complaints from neighbors for other backyard gun ranges, and one gent was even publicly mocked on the Colbert Report merely because he enjoys practicing his shooting hobby in a residential neighborhood -- the sign at the top of this story was posted by a neighbor of that Second Amendment hero.
And apart from that whiny 14-year-old who keeps pointing out that if the bullet hadn't hit her raised hand, it might have hit her in the head, nobody has ever been harmed by bullets fired from a backyard gun range. Unless maybe you count that one guy shot dead on Christmas day 2013, which you shouldn't count, because he was killed by a stray shotgun pellet fired by a neighbor shooting at a bird, not a target in a backyard gun range as initially reported.
So it's pretty much a perfect safety record, and why is anyone even making a fuss about this?
[Naples Herald and WFTX via Raw Story / Baltimore Sun / Orlando Sentinel]