Florida Man Reports Child's Lemonade Stand To Authorities. You'll Never Guess What Happened Next!
Featured
August 29, 2014 02:35 PM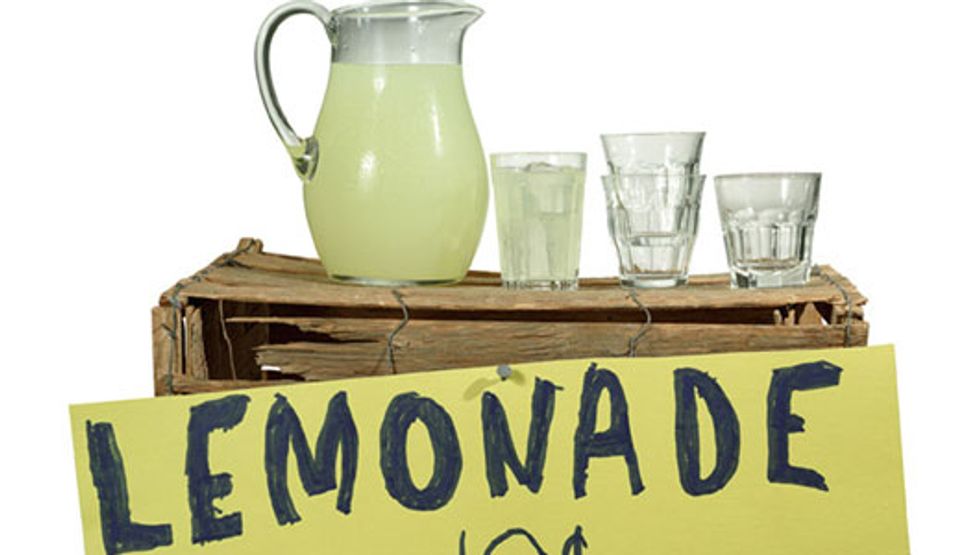 Today's lesson in not being a curmudgeonly dickhead comes to us courtesy of Dunedin, Florida, where 12-year-old T.J. Guerrero, an enterprising lad who runs his own lemonade stand, has won a victory over the forces of darkness that hoped to teach him a lesson about the over-regulated nanny state by shutting him down forever. Ha, we're kidding. The forces of darkness was really one force, an older guy who just didn't like the kid and his friends and their skateboards and their saggy pants and hippy-hop music or whatnot. Also, clouds.
---
Guerrero began running his stand (a card table with a folding chair and a sign) at the corner of his street two years ago and has used the money (along with whatever he has earned mowing lawns) to buy himself an iPod, pay his cellphone bill, and take his mom out to dinner. None of the neighbors mind, except 61-year-old Doug Wilkey, who lives a couple of doors down from where Guerrero set up the stand. Wilkey has complained in writing to City Hall at least four times in the last two years about the stand, becoming increasingly shrill as authorities refused to step in and shut down this flagrantly unlicensed business that, he claims, is lowering the property value of his home, what with all the trash allegedly being tossed on his lawn and Guerrero's skateboarding friends cursing while hanging out on the sidewalk. Children on a public sidewalk in a residential neighborhood! Why we never!
Reports that Wilkey wrote all these emails with an onion tied to his belt could not be confirmed.
The Tampa Bay Times (winner of 10 Pulitzers!) sent a reporter to cover this little contretemps, which has seen a Dunedin city police officer get involved at least twice to try to mediate the conflict. The story went viral, as these things do, and in the last week, Guerrero has been flooded with so many donations from near and far that he has donated some of the money to a local Humane Society animal shelter, set up a college fund, and is looking for other charities to donate to. He also got a limo ride to a TV station in Tampa so he could tape a segment for Fox & Friends (okay, maybe the story does have one dark spot), and a local radio station set up its own stand in Guerrero's usual spot while he was in school on Monday, inviting people from the area to come by and surprise the kid when he got home in the afternoon.
And Wilkey? Aside from being up for the role of Mr. Potter in the Pinellas County Dinner Theater's stage adaptation of It's A Wonderful Life, the grouch is now under investigation for running his own – surprise! – unlicensed home business. An anonymous tipster reported to Dunedin officials that Wilkey has listed his home as the principal business address for something called Bayport Financial Services. City officials have notified Wilkey that if he is running this company out of his house, he must apply for a $45-per-year business license and sign an affidavit saying he is following certain rules, and faces fines of up to $250 a day if he doesn't comply. Whoops. People, glass houses, et cetera.
The lesson is, don't be a dick.