Nice Time! Statue Of Florida's Mary McLeod Bethune Kicks Confederate Racist Coward Out On His Ass!
Nice Time
July 14, 2021 02:35 PM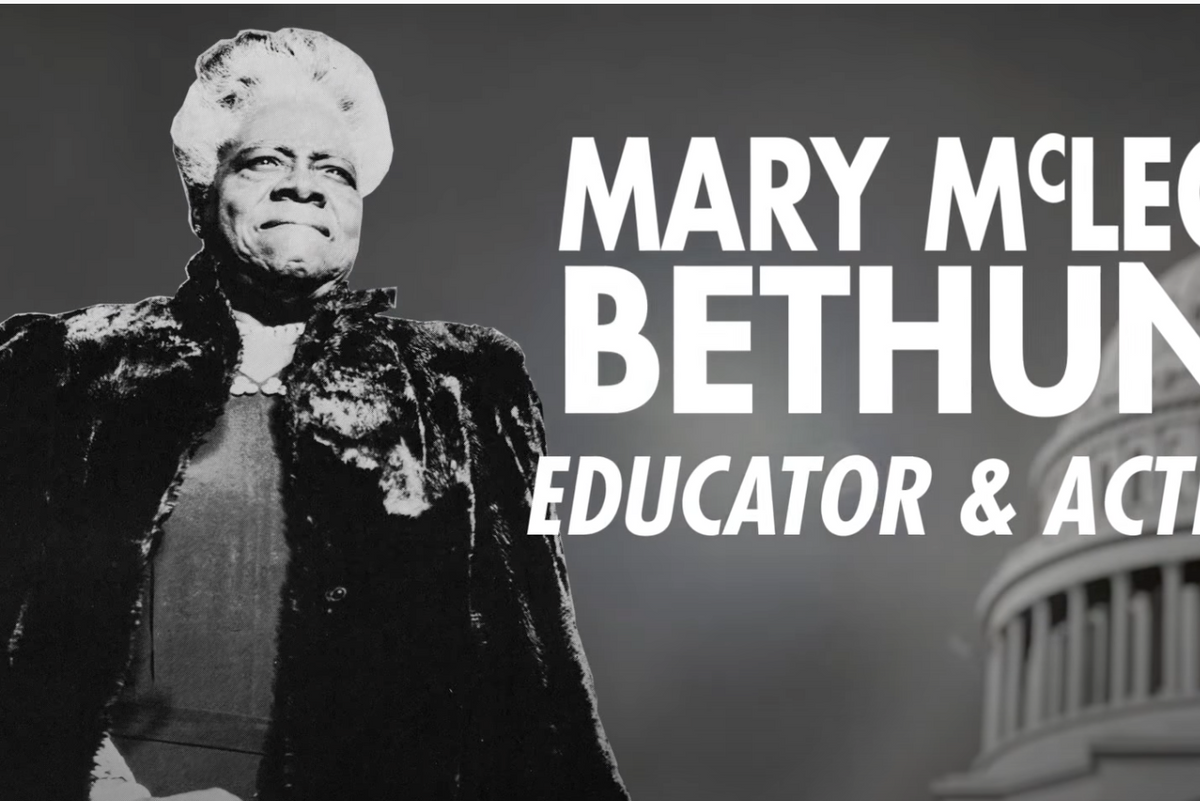 The House of Representatives voted last month to remove all Confederate statues from display in the US Capitol's Statuary Hall, despite the resistance from 120 Republicans who apparently hoped that some day their own sedition will be commemorated.
Intellectual heavyweights on the Right lamented that this meant southern states could never honor any resident who lived before Republican MLK gave his four-word "I Have A Dream" speech. Apparently, the same people who claim that critical race theory teaches kids that all white people are racist believe that all white people in history were racist treason makers. Of course, more than a few white Southerners back in the day were almost respectable. We could honor them! Recent fossil records also reveal that Black people existed in the ancient South. Shocking, I know.
Dr. Mary McLeod Bethune was a prominent educator and civil rights advocate from Florida. Her statue will soon stand in Statuary Hall, the first to commemorate a Black person from any state. It's like Congress finally realized we're Americans.
---
House Rep. Kathy Castor from Tampa shared the good news this week that Dr. Bethune's statue was formally unveiled Saturday in Pietrasanta, Italy. Fort Lauderdale-based sculptor Nilda Comas completed the statue in Pietrasanta, where she lives when she's not in Florida and wondering why she's not in Italy.
"The citizens of the state of Florida can take great pride in being represented by the great educator and civil rights icon Dr. Mary McLeod Bethune," Castor said in the announcement. "Her legacy and the sculpture will provide a symbol of unity, hope and reconciliation in a state and a country that continues to grapple with racial justice and equal rights for all."
Born in South Carolina, Dr. Bethune worked in the fields with her formerly enslaved parents when she was just five years old. She was driven to educate herself and, with the help of benefactors, attended school at what is now know as the Moody Bible Institute in Chicago. When she moved to Florida, she soon founded the Educational and Industrial Training School for Negro Girls. In the early 1900s, she was inspired to open a hospital that would treat people of color after one of her students was refused medical assistance because she was Black. Dr. Bethune demanded that a white physician at a local hospital care for the girl, but she later discovered that she'd been neglected and segregated on an outdoor porch. In 1911, Dr. Bethune opened the first Black hospital in Daytona, Florida, which went on to save countless Black lives.
Dr. Bethune was an active suffragist, who raised money to help Black voters pay poll taxes, provided tutoring for literacy tests, and organized voter registration drives. She was a frequent target of the Ku Klux Klan. Dr. Bethune was elected president of the National Association of Colored Women in 1924. President Calvin Coolidge invited her to attend the Child Welfare Conference in 1928, and two years later, President Herbert Hoover appointed her to the White House Conference on Child Health. She would later found the National Council for Negro Women and establish the organization's flagship publication, Aframerican Women's Journal.
She served as a national adviser to President Franklin D. Roosevelt and worked with him to create the Federal Council on Color Affairs or as she called it, "the Black Cabinet." Dr. Bethune was the only woman of color present at the founding conference of the United Nations in 1945.
Dr. Bethune's statue will replace the one of Confederate general and white supremacist (though that's usually a given) Edmund Kirby Smith, who in coming weeks every rightwing troll will suddenly recall fondly. On April 6, 1861, Smith resigned his commission in the US Army so he could join the Confederacy. That's informally called the desertion and treason two-step. He was the last general to surrender, but he didn't exactly fight to the death. No, he cut and ran, abandoning his wife and two kids, and headed to Mexico and later Cuba. Smith's (very forgiving) wife negotiated with General Ulysses S. Grant for his return, and he grudgingly signed the Oath of Amnesty, which swept the whole treason matter under the rug and allowed former Confederates to hold elected office. It makes you wonder how fully committed America was to Black emancipation.
When Florida selected Smith for honor in Statutory Hall in 1922, it was described as a "rebel yell for common country." That's hardly subtle language. The "common country" was the resurgence in all but name of the Confederacy, as white supremacists passed Jim Crow voting restrictions targeting Black residents and effectively rolled back Reconstruction-era reforms. This should all sound eerily familiar.
Castor and other members of Florida's congressional delegation advocated for the removal of Smith's statue in June 2015 after a white supremacist murdered nine Black people at Mother Emanuel AME Church in Charleston. It's taken six years, but the good work has been achieved.
Replacing Confederate memorials isn't about erasing history or, as Laura Ingraham claimed, hating "all things traditionally American." Dr. Bethune is a figure from our shared history who's truly worth celebrating.
Follow Stephen Robinson on Twitter.
Keep Wonkette going forever, please, if you are able!
Stephen Robinson
Stephen Robinson is a writer and social kibbitzer based in Portland, Oregon. He writes make believe for Cafe Nordo, an immersive theatre space in Seattle. Once, he wrote a novel called "Mahogany Slade," which you should read or at least buy. He's also on the board of the Portland Playhouse theatre. His son describes him as a "play typer guy."