Florida Republicans Ban Icky, Divisive Pride Flag, OK With Loving, Inclusive Confederate Flag
News
March 16, 2023 09:20 AM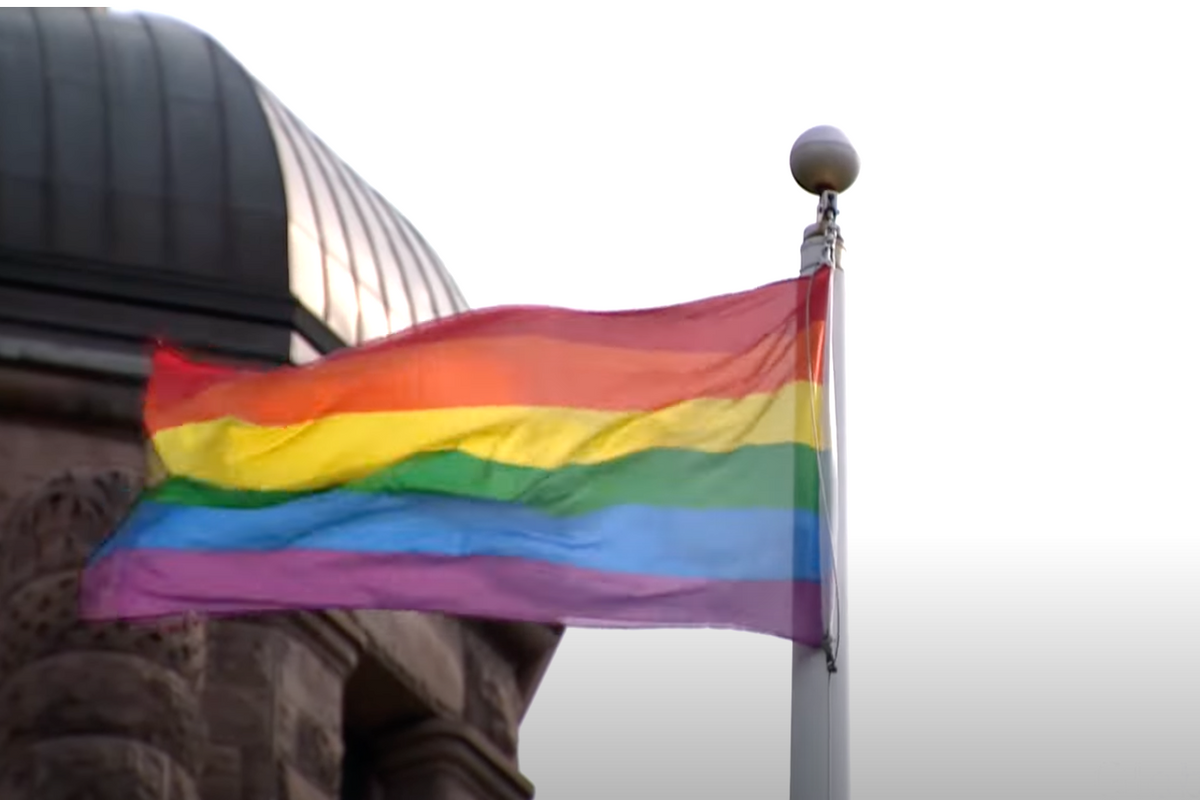 Florida Republicans, as part of their ongoing hate campaign against the LGBTQ community, filed a bill last month that would ban the display of Pride flags in the state's municipal buildings. The proposed legislation, from the very busy and important state Sen. Jay Collins from Hillsborough County and state Rep. David Borrero from Miami-Dade County, declares, "No other flag may be exposed to public view for exhibition or display, in any manner, by a governmental agency, local government, or unit of local government."
Originally, the bill limited the flags approved to fly on government property to the US, Florida, POW, and the Firefighter Memorial. You might've noticed that the Confederate flag is absent on this list, which puts you one up on Borrero and Collins. Whoops!
However, in an epic display of shamelessness, Republican state Sen. Jay Collins from Tampa filed an amendment to the we really hate the gays flag ban bill. The exemptions, by this point, were already up to a half dozen. Earlier this month, Collins told local media that his dumb-ass bill "just clearly lines up what flags can be flown over government facilities, like the state flag, the American flag, the POW flag, and our firefighter's flag." He'd neglected to mention the white supremacist traitor flag.
---
Rightwing bigots have long seethed with rage over the Pride flag's defiant expression of joy. The Pride flag declares, "Do your worst. You won't make us go away." The Confederate flag has a less storied history, as General Grant and my boy Sherman put those assholes down. The would-be Confederacy remains a threat, of course. You could argue it's consumed the modern Republican Party, but its flag expresses only bitterness, resentment, and hate.
Wilton Manors, Florida, Commissioner Chris Caputo said the Pride flag, which for now flies outside City Hall, "tells me it's a safe space. It tells me that I'm welcome here and people like me are welcome here."
He added, "It's women's history month if we wanted to fly something for women or breast cancer awareness month — like to not be able to fly flags that express the values of our community — this is really, it's scary."
But fear is the point. That's the twisted irony in the Confederate flag's inclusion on the approved flags list. The loser flag was resurrected during the Civil Rights Movement and flown in opposition to integration. In a 2015 Tampa Bay Times article, Sheila Grimes described the Confederate flag, which still flew outside the Walton County Courthouse, as "malicious. It just makes you tremble. It needs to come down."
Grimes vividly remembers what life was like, growing up black in Walton County in the 1960s, when the Confederate flag flew outside Walton High and the school band, with black and white members, played Dixie at football games. When schools were integrated, race riots broke out and the principal took down the flag.
The Confederate flag was never about heritage. It was about asserting dominance over a marginalized group. Yet, it remains exempt from the metaphorical flag burnings.
Forbes reports that last December, Miami-Dade County school board member Roberto Alonso proposed prohibiting the "display of flags that promote a political issue." Alonso wasn't thinking about the Confederate flag, which is hardly apolitical. His request came shortly after Sarasota County Schools had ordered Jeremy Baldwin, a teacher at Booker HIgh School, to take down a rainbow-colored "COEXIST" flag from his classroom. The flag had been in his classroom for years but, after Florida's "Don't Say Gay" bill passed, school officials suddenly claimed the "COEXIST" flag violated the rule against political activity on school grounds.
Queer existence is not a political debate. Meanwhile, Florida still recognizes Confederate Memorial Day, Robert E. Lee's birthday, and Jefferson Davis's birthday as official state holidays. Florida Republicans continue to choose hate instead of love and acceptance.
[Forbes]
Follow Stephen Robinson on Twitter if it still exists.
Did you know SER has his own YouTube Channel? Well, now you do, so go subscribe right now!
Subscribe to the Wonkette YouTube Channel for nifty video content!
Click the widget to keep your Wonkette ad-free and feisty.
Stephen Robinson
Stephen Robinson is a writer and social kibbitzer based in Portland, Oregon. He writes make believe for Cafe Nordo, an immersive theatre space in Seattle. Once, he wrote a novel called "Mahogany Slade," which you should read or at least buy. He's also on the board of the Portland Playhouse theatre. His son describes him as a "play typer guy."