Florida Teacher Somehow Broke Law By Registering Students To Vote
News
October 24, 2011 04:12 PM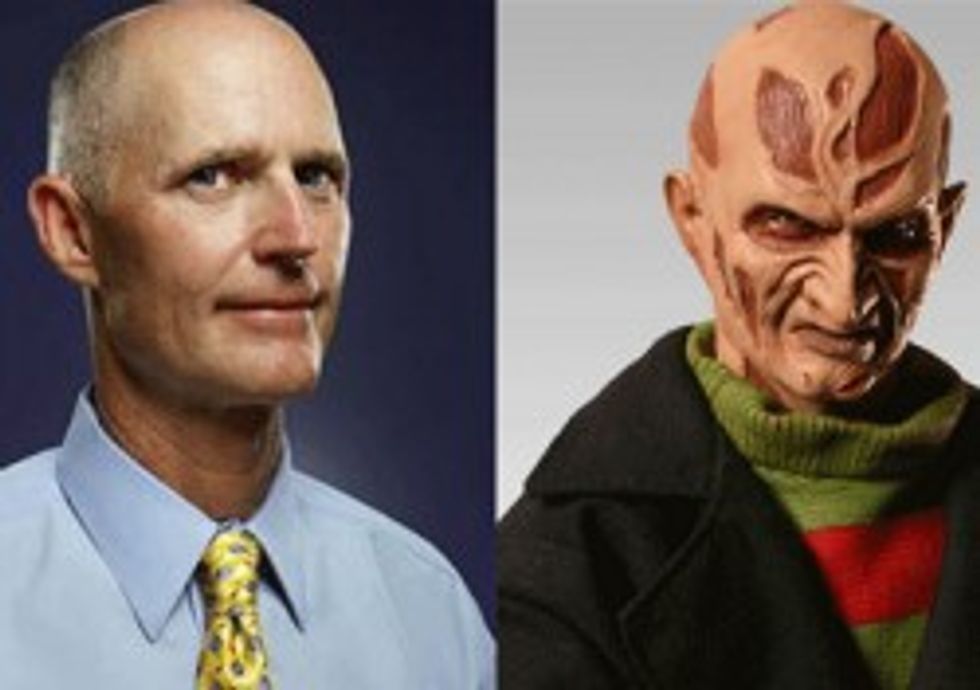 Grim hairless weasel Rick Scott's idea of defending democracy is to pass ahated law to make sure that minorities and students (read: dangerous liberals) in Florida are never again allowed to participate in the electoral process, which means that a high school civics teacher who organized a run-of-the-mill voter registration drive at her school is now technically a criminal. Jill Cicciarelli was unaware that it is currently illegal to go around freely teaching young people to give a shit about politics without the permission of the state, so she will face a fine or be forced to rub Rick Scott's greasy devil noggin or something, as punishment for Caring.
---
The Daytona Beach News-Journalreports:
The teacher who heads up New Smyrna Beach High School's student government association could face thousands of dollars in fines. Her transgression? Helping students register to vote.

Prepping 17-year-olds for the privileges and responsibilities of voting in a democracy is nothing new for civics teachers, but when Jill Cicciarelli organized a drive at the start of the school year to get students pre-registered, she ran afoul of Florida's new and controversial election law.

Among other things, the new rules require that third parties who sign up new voters register with the state and that they submit applications within 48 hours.
That's cute. Rick Scott's entire strategy for handing Florida to the GOP in 2012 is to just paperwork voter registration groups to death and criminalize those who don't fill out applications correctly. The joke will probably eventually be on Rick Scott, however, as high school civics teachers are at least literate, unlike his legions of idiot teabagger supporters. [Daytona Beach News-Journal]