Florida Just Gonna Go Ahead And Ban Trans Youth From Existing Entirely
LGBTQ
April 22, 2022 12:12 PM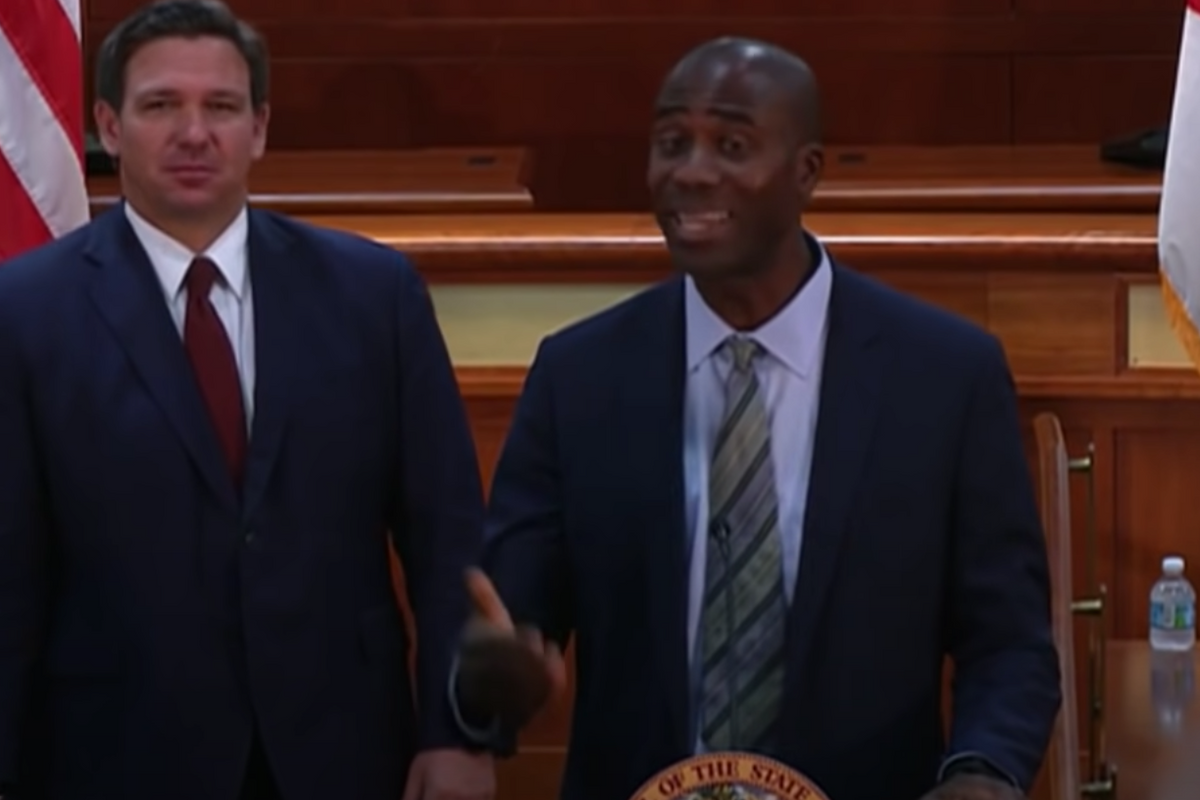 ABC News Screenshot
Over the past few months, the state of Florida has been leading the attack against transgender youth (see also: Black people, gay people, anyone who can get pregnant, anyone who likes not contracting COVID on planes). It's almost as if Florida Governor Ron DeSantis is planning on running for president and so hopes to dazzle the Republican constituency with just how very efficiently he can restrict the rights of anyone who is not a heterosexual cisgender man whose understanding of epidemiology derives near-exclusively from QAnon message boards and rightwing media.
This week, in response to a Health and Human Services memo explaining gender affirmative care — which is the standard of care for gender dysphoria supported by the American Medical Association, the American Psychological Association, and the American Academy of Pediatrics — Florida state Surgeon General Joseph Ladapo issued his own guidance on gender dysphoria, as supported by the personal instincts of Tucker Carlson's target audience.
Florida's guidance, more or less, is for parents, doctors, psychologists and school personnel to react to a young person telling them they are trans by placing their hands over their ears and loudly singing "LA LA LA LA LA I CAN'T HEAR YOU."
---
Due to the lack of conclusive evidence, and the potential for long-term, irreversible effects, the Department's guidelines are as follows:

- Social gender transition should not be a treatment option for children or adolescents.

- Anyone under 18 should not be prescribed puberty blockers or hormone therapy.

- Gender reassignment surgery should not be a treatment option for children or adolescents.

- Based on the currently available evidence, "encouraging mastectomy, ovariectomy, uterine extirpation, penile disablement, tracheal shave, the prescription of hormones which are out of line with the genetic make-up of the child, or puberty blockers, are all clinical practices which run an unacceptably high risk of doing harm."

- Children and adolescents should be provided social support by peers and family and seek counseling from a licensed provider.
This is quite a list. First it says children or adolescents shouldn't be allowed to identify as a gender other than the one they were assigned at birth. This may be a "guidance," but it will likely severely limit the ability of gender-diverse children and adolescents to receive not only necessary treatment, but social support as well.
Curiously, the study Florida cites as backing up their opposition to "social transition" (names, clothes, pronouns) does not in fact do that. It says only that in some cases, it might be best to wait to socially transition until right before puberty — which is very different from saying adolescents should not transition at all.
Of the articles cited to back up their assertion that no one under 18 should be given puberty blockers (which makes literally no sense given that 18-year-olds are rarely still pre-pubescent), only one is an actual study of puberty blockers, which found that "Overall patient experience of changes on GnRHa treatment was positive. We identified no changes in psychological function. Changes in BMD were consistent with suppression of growth."
Puberty blockers, by the way, are entirely reversible. They are prescribed to give an adolescent more time to decide if they want to fully transition. Should they stop taking it, puberty will resume as normal.
For the articles meant to provide evidence that adolescents should not do hormone therapy, one article pretty much just says that there should be more research on hormone therapy, while the other actually just says that hormone therapy didn't have any effect on psychological comorbidities.
Via TandfOnline:
Results: Those who did well in terms of psychiatric symptoms and functioning before cross-sex hormones mainly did well during real-life. Those who had psychiatric treatment needs or problems in school, peer relationships and managing everyday matters outside of home continued to have problems during real-life.

Conclusion: Medical gender reassignment is not enough to improve functioning and relieve psychiatric comorbidities among adolescents with gender dysphoria. Appropriate interventions are warranted for psychiatric comorbidities and problems in adolescent development.
Do they not know what comorbidities are? It means more than one condition. Hormone therapy not treating comorbidities is hardly evidence that it should not be used.
As for surgical transition, and their meant-to-be-terrifying list of "encouraging mastectomy, ovariectomy, uterine extirpation, penile disablement, tracheal shave, the prescription of hormones which are out of line with the genetic make-up of the child, or puberty blockers," none of that is happening until you get to "hormones" and "puberty blockers," which, see above. If it does, it's a decision to be made by the adolescent and their doctor, not the adolescent and the state.
Perhaps the Florida Department of Health was not counting on anyone actually reading their citations. Either that or they didn't give a damn, because this has literally nothing to do with science or children's welfare. They don't care if this "guidance" ends up with kids killing themselves — clearly — because all they care about is reassuring bigot parents who are scared their kids will be trans or that they will interact with trans kids their own age and find out that they are fine and nice and not scary like Mommy and Daddy say.
Coincidentally, the details of Joseph Ladapo's background check for the Surgeon General position have come out recently. They reveal that his former boss at the University of California Los Angeles recommended against the appointment, saying, "In my opinion the people of Florida would be better served by a surgeon general who grounds his policy decisions and recommendations in the best scientific evidence rather than opinions."
Clearly, Ron DeSantis disagrees.
[Florida Department of Health]
Do your Amazon shopping through this link, because reasons.
Wonkette is independent and fully funded by readers like you. Click below to tip us!
Robyn Pennacchia
Robyn Pennacchia is a brilliant, fabulously talented and visually stunning angel of a human being, who shrugged off what she is pretty sure would have been a Tony Award-winning career in musical theater in order to write about stuff on the internet. Follow her on Twitter at @RobynElyse