Former IA Gov Tom Vilsack Wins $150,000 Powerball Prize. That's It. That's The Headline.
Local News
February 11, 2020 10:40 AM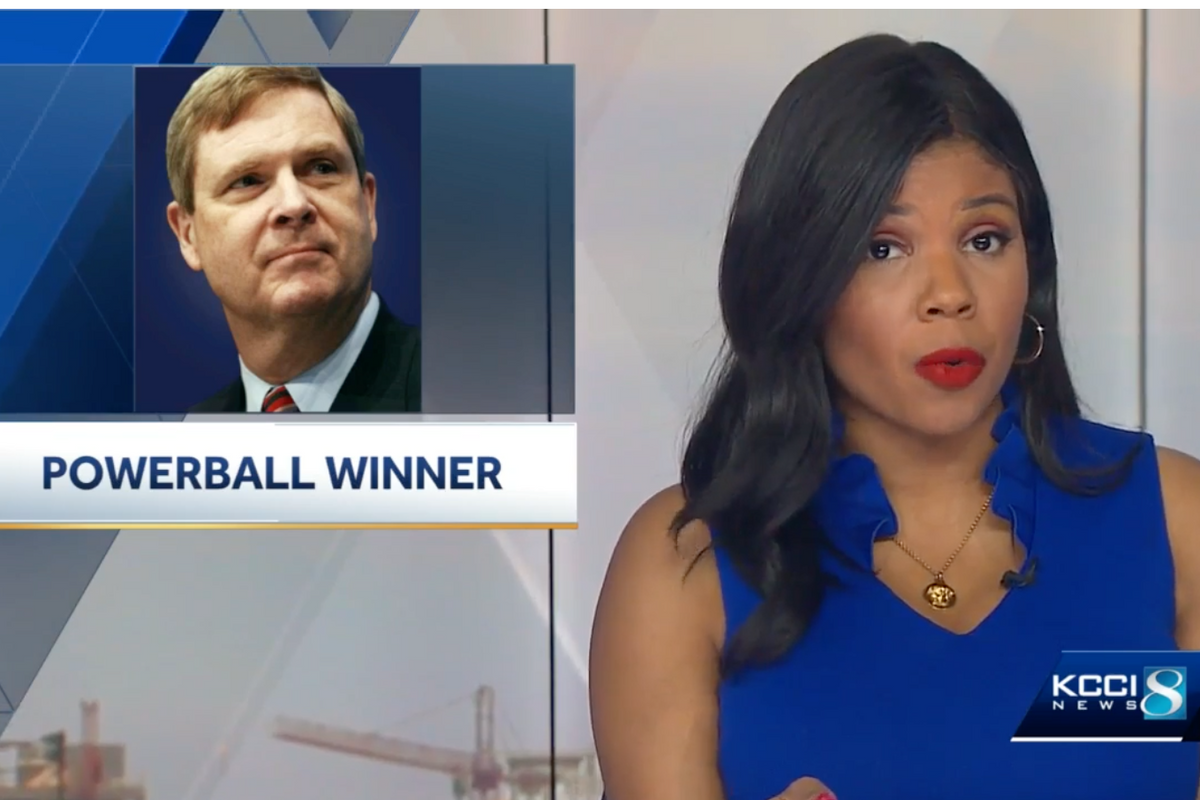 Last week was a complete disaster for the Democratic Party specifically and the state of Iowa in general. However, one Iowa Democrat did come out the other side in good shape. Iowa lottery officials announced Monday that Tom Vilsack claimed a $150,000 Powerball prize at the lottery headquarters in Clive, Iowa. Vilsack was mayor of Mount Pleasant, Iowa, and later served in the Iowa Senate. He was governor of Iowa for eight years before serving as Secretary of Agriculture for the entirety of Barack Obama's presidency. That's all very nice, but it's nothing compared to scoring 150,000 big ones in the lottery.
When accepting his winnings, Vilsack made sure to talk up all the positives of legalized gambling.
VILSACK: Occasionally when the Powerball gets above $250 million, I think, "What the heck?" You know, you can dream, like everybody else. And I also know that the chances of me winning anything are next to none and so the money is going to go to education or veterans or the state fund for natural resources or infrastructure, or all the good things that the lottery does. So, I figure it's a good contribution.
---
Yes, indeed, Vilsack has simple dreams just like all of us who are CEOs of major corporations and earn close to $1 million a year. No one said the lottery was a need-based charity, because it ain't. During Vilsack's first full year at Dairy Management, Inc., Vilsack pulled down $999,421. Maybe there's some complicated tax reason why the company couldn't just give him the remaining $579, but it's possible that's what drove him to the lottery. A guy just wants to impress his friends.

Vilsack could still take comfort knowing his corporate salary was almost five times more than what he earned working for the black guy. Dairy Management is technically a non-profit, but it's certainly more profitable than common government work. Dairy Management is connected with the "Got Milk" campaign, and its primary goal is to convince people to consume more milk and cheese, which has only objectively positive health benefits.
Congress requires dairy farmers to pay into a "checkoff program" overseen by the Department of Agriculture, which you'll recall Vilsack used to run. Dairy farms aren't doing well -- almost 3,000 closed nationwide in 2018, and some have criticized the big paychecks Dairy Management executives receive.
From the Milwaukee Journal Sentinel:
"The fact remains that they are grossly overpaid considering the (lack of) success dairy farmers are seeing in the marketplace," said Joe Maxwell, former executive director of the Organization for Competitive Markets and an outspoken critic of mandatory checkoff programs. "Perhaps they should let their executives go and bring on a team that could actually help the dairy farmers of America."
But enough about dairy farmers' bad luck. Let's get back to Vilsack's good luck. Bill Nye once said the lottery was an extra tax for "people who are bad at math," but Vilsack showed him! According to lottery officials, Vilsack struck bubbling crude in the Powerball drawing on January 22. He'd forgotten about the ticket for almost two weeks, but when he finally remembered, he was curious enough to see how he did. It turns out he was just one number away from winning the total jackpot of $347 million. He originally thought all he'd win was a "close-but-no-cigar" prize of $10.
Vilsack double-checked the details on the lottery's website and saw that he'd won a lot more than $10, according to lottery officials. He said that when he bought his ticket, the store clerk had asked him if he wanted to add the Power Play® option to his ticket for an extra $1 per play, so he decided that he would. That option multiplies most prizes in the game by the Power Play number selected in the drawing. The Power Play number was three the night that Vilsack won his prize.

After realizing he'd won, he said he shared the news with his wife, Christie, who didn't believe him.
"I said, 'Geez, honey, actually I won $150,000,'" Vilsack recalled. "She said, 'No you didn't!' I said, 'No, look at this.'

And I gave her the ticket. She looked at the numbers and she said, 'Go next door to Jess (the couple's eldest son) and have him read the numbers and make sure you're looking at this right.' I said, 'I put it in the system here! It's telling me I won $150,000!'"

Jess ultimately confirmed that his dad had won big – and so did the lottery.
Oh, that's kind of adorable. Vilsack plans to donate some of the money to his church, his kids who love him even more now, and the rest goes to the bank. Let's hope his wife leans on him to finally take her on that spa weekend.
Before you leave, break out some tissues, though, and watch this clip of the big winner from last year, a single mother and grandmother who walked away with $343,900,000. I still can't advise playing any form of lottery, because I'm a square.
[KCCI / Milwaukee Journal Sentinel]

Follow Stephen Robinson on Twitter.
Wonkette is independent and fully funded by readers like you. Click below to tip us!
Stephen Robinson
Stephen Robinson is a writer and social kibbitzer based in Portland, Oregon. He writes make believe for Cafe Nordo, an immersive theatre space in Seattle. Once, he wrote a novel called "Mahogany Slade," which you should read or at least buy. He's also on the board of the Portland Playhouse theatre. His son describes him as a "play typer guy."