Fox News Affiliate Will Protect You From Picasso's Fancy Sex Nipples
News
May 15, 2015 08:30 AM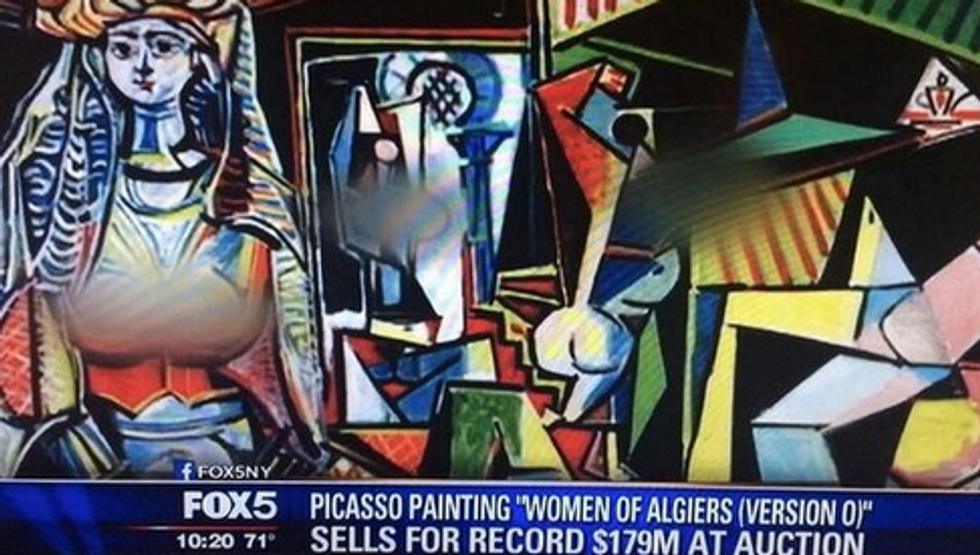 ---

Don't you hate it when you're watching the evening news with your mom and they say "BREAKING!" and it's a story about how a Picasso sold for $179M at Christie's auction, so you freak out because you just know they're going to show art nipples on teevee, and now you have a boner in front of your mom? Well, Fox 5 in New York decided to blur them out so that won't happen:

When a Fox news station reported on the record-breaking $179 million sale of Picasso's Women of Algiers (Version O) at a Christie's auction, it outdid itself by blurring out the abstract breasts in the painting.

After Fox5NY ran the story on Wednesday, several people took to Twitter to express their derision at Fox's decision to censor a masterpiece firmly established of the Western canon of art. [...]

Not only did the censorship reveal a perversion in how Fox views the human body, but blurring out the nipples inherently sexualizes and objectifies the female form, even in an abstract piece of art like this.

In response, some evoked the #FreeTheNipple campaign, an initiative to desexualize women's breasts and allow women to reclaim ownership over their bodies. The movement was inspired by a film of the same name, which explored the legal double-standard in New York of men being allowed to expose their nipples while women can't. It has transformed into an international campaign and is particularly popular in Iceland, a country known for its feminism, in the fight to make the treatment of men's and women's bodies equal.

Art boobies! Maybe they were just worried John Ashcroft would see the report and blow a gasket.

Oh, here is a very sad, sick story. A man in Montana wanted a beer with tomato juice, but instead he got Clamato juice, which is part clam juice, and so he decided to try to murder the bartender who served him. The bartender survived, but his beloved pit bull did not. Why did he do this? Oh, just because of his SINCERELY HELD RELIGIOUS BELIEFS:

A Hamilton, Montana man is behind bars after shooting his bartender early Saturday morning. 59-year old Monte Hanson had ordered a "red beer," beer with tomato juice, but when he learned he had been served Clamato, a tomato and clam juice mixture, he was furious.

After the bar closed, Hanson reportedly went to the home of Joe Lewis, the 29-year old bartender. Hanson says it's against his religious beliefs – he is Jewish – to drink Clamato, so he allegedly shot Lewis.

"Court records said he told a neighbor later that he was going to retaliate and kill Lewis," the Montana Standard reports. [...]

Lewis was hospitalized, but Hanson also shot Lewis' dog Jackson in the head. The purebred red-nose pit bull died, literally taking a bullet that saved Lewis' life.

Good news! Only 32 percent of Texas Republicans believe the government is literally trying to take over Texas. Another 28 percent are "not sure," but they can see how it could happen. That leaves 40 percent of Texas Republicans who can be trusted to go outside without wearing a helmet.
It's only been 17 years since the gruesome murder of Matthew Shepard, but his hometown of Laramie, Wyoming, has finally gotten around to passing a simple nondiscrimination ordinance:

Local organizers focused their efforts on Laramie after the Legislature repeatedly rejected anti-discrimination bills, most recently early this year. The Laramie Nondiscrimination Task Force presented a draft ordinance to the City Council last summer, founding group member Will Welch said.

"My opinion is that LGBT people should have civil rights throughout the nation, really," Welch said. "So since the state wasn't looking like it was able to do anything, I said, 'Let's do it in Laramie.'"

Don't be too shocked, but racism is still a huge thing in the real estate market:

These institutions, private and public, didn't cause racism in housing markets, but they gave it official sanction, which—over time—influenced how individuals understood the value of their homes and neighborhoods. A white neighborhood was a good one; a black neighborhood, a bad one.

We see this in public opinion. Twenty-eight percent of whites support an individual homeowner's right to discriminate on the basis of race when selling a home, note researchers in their analysis of the General Social Survey, a long-running study that measures Americans' attitudes on a wide range of topics. Likewise, when asked in 2008, 20 percent of whites said their ideal neighborhood was all white, 25 percent said it had no blacks, and 33 percent said it had neither Hispanics nor Asians. And only 25 percent of white respondents said they would live in a neighborhood where one-half of their neighbors were black. [...]

Here's how the Washington Post describes the phenomenon, writing about the largely black Prince George's County, Maryland. "Most whites live in largely white neighborhoods, where homes often prove to be a better investment because people of all races want to live there. Predominantly black communities tend to attract a narrower group of mainly black buyers, dampening demand and prices, they say." For wealthy blacks who bought into Prince George's County for the comfort they felt in a mostly black community, that "meant their home brought them less wealth than if they had purchased elsewhere."

Science is starting to find some answers to why some galaxies die. The answer? THEY ARE BEING STRANGLED!
Finally, if you're looking for the latest bewb tube shenanigans and snarky recaps of your favorite teevee shows? Go show some love to our gone-but-not-forgotten kid sister Happy Nice Time People. And be sure to follow Happy Nice Time People on Twitter.
Evan Hurst
Evan Hurst is the managing editor of Wonkette, which means he is the boss of you, unless you are Rebecca, who is boss of him. His dog Lula is judging you right now.
Follow him on Twitter RIGHT HERE.