Fox News Jackass So Excited About EgyptAir Crash, Because It's GREAT News For Trump
News
May 19, 2016 03:45 PM
Douchewad McGee.
---
By now, you probably know there was an awful EgyptAir plane crash off the coast of Greece, carrying 66 people on their way to Cairo from Paris. Wreckage may have been found not far from the Greek island of Karpathos, but Greek officials dispute that. At this point, very little else is known for certain. Could it have been terrorism? Maybe! Will we find out for sure when officials actually have something to report? Absolutely!
But Fox News dickweasel Stuart Varney is SO excited, because he just KNOWS it was terrorism, and who wins when terrorism kills people dead? Donald Trump, of course!
I ... think this may be good politically for Donald Trump. He's already tweeted out saying this is probably terrorism ... He's the guy who is saying, "Hands off, keep Muslims out temporarily, whilst we figure out who comes in." An incident of this type is surely a plus for Donald Trump!
YIPPEE! And Trump did tweet that, before anybody knew for sure whether the plane had crashed in the first place, because he's a trigger-happy fuck-spigot who is just like "SQUEEEE!" when things like this happen, because it gives him an opportunity to fear-monger his dumbass hordes of followers.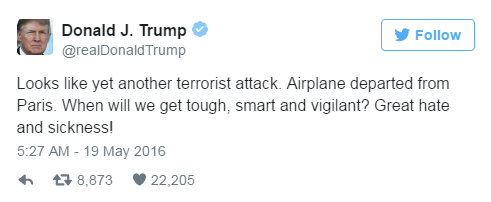 [wonkbar]<a href="http://wonkette.com/599890/terrorist-attacks-in-brussels-prove-donald-trump-right-about-everything"></a>[/wonkbar]Remember when the terrorist attacks in Brussels happened? Trump was on "Fox & Friends" immediately talking about how this was "just the beginning," and blah-blah-ing about how President Obama is a pussy who won't even say the words "Radical Islamic Terrorism," which is why we can't defeat it. Dumb Obama can't even say "ISIS" right, according to Trump, saying "ISIL" like some nancy-boy terrorist-lover.
[wonkbar]<a href="http://wonkette.com/596583/san-bernardino-mass-shooting-great-news-for-donald-trump"></a>[/wonkbar]Trump did the same damn thing after the San Bernardino attacks, except then he was even grosser, retweeting shit about how his poll numbers always go up when people die at the hands of Muslims.
And Fox News just LOVES THAT SHIT. That day, when we didn't know much of anything about what really happened in San Bernardino, Bill O'Reilly was spouting off about how "I'm not saying it's ISIS, but it's ISIS." TERRORISM! RADICAL MOOSLIMS! REPUBLICAN TERROR BONERS!
And now Stuart Varney, in the wake of yet another tragedy, has a tingle running up and down his inseam, because BIG TUFF STRONG TRUMP will get 'dem terrorists, and get 'em good!
At this point, officials are beginning to say that it "looks like" terrorism. That's fair, but again, we won't know for sure until we know. CNN is already asking how the crash will impact the American election, and though CNN is a shitty dog turd network, that's at least a better question. Because the truth is, a lot of GOP voters are pant-shitting scaredy-twats who are just pretty sure there's an ISIS around every corner and under their beds and sneakin' in from Mexicostan, and those people, if this is terrorism, likely will jump into Big Daddy Trump's Big Ginger Arms, pissing themselves and shrieking the whole time.
But hey, Stuart Varney, Fox News, all of you cable news dicks: You shouldn't be excitedly reporting that, like "YAY, Trump! People died! Trump Trump Trump! He'll kill those dirty Islamics! Trump!"
You fucking twits.
Evan Hurst
Evan Hurst is the senior editor of Wonkette, which means he is the boss of you, unless you are Rebecca, who is boss of him. His dog Lula is judging you right now.
Follow him on Twitter RIGHT HERE.