Fox News Worries About Extinction (Its Own)
News
May 11, 2012 06:36 PM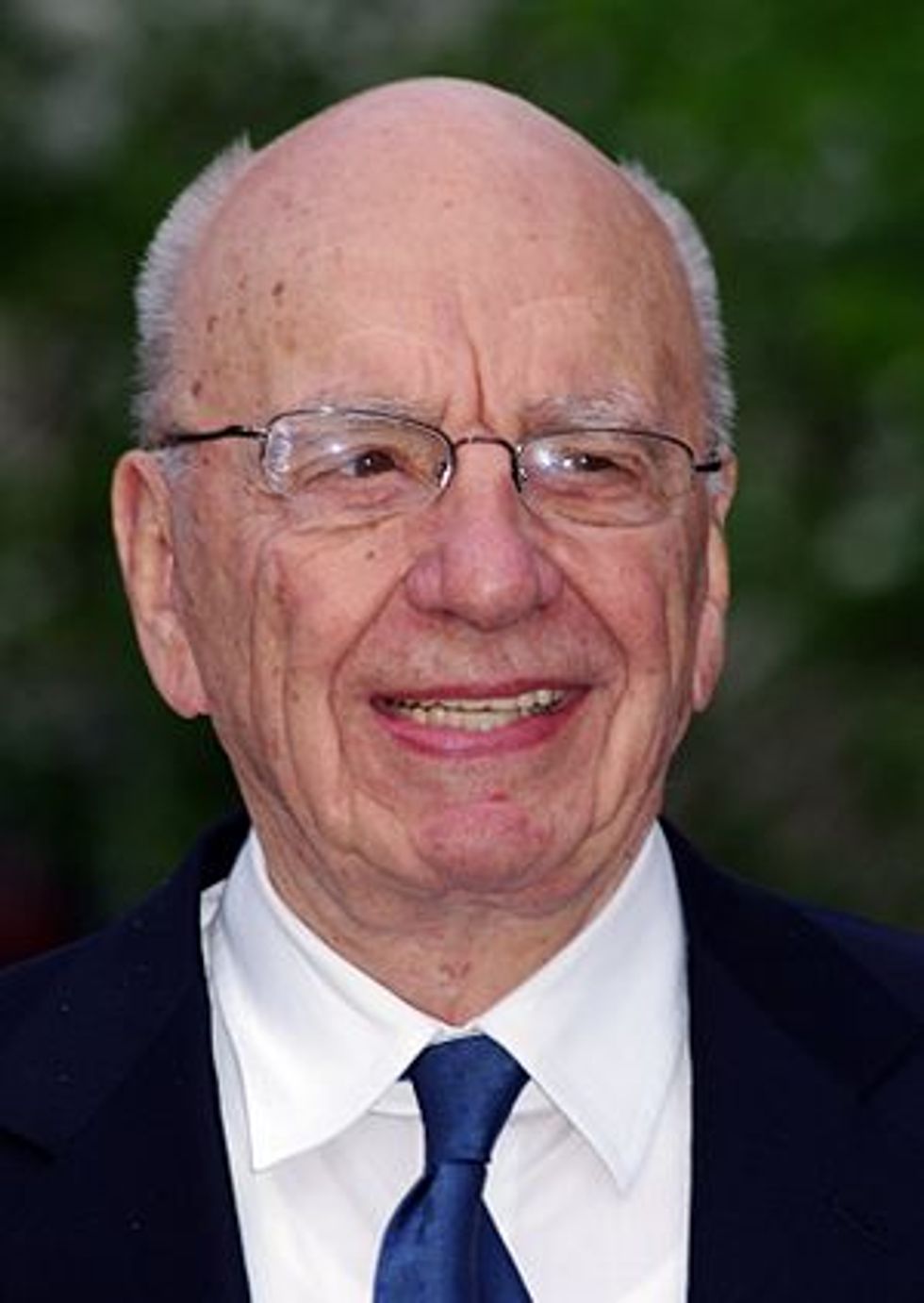 ---
As Rupert Murdoch's News International (UK subsidiary of American company News Corp) saga continues in Blimeyland, Americans may not give two faggots about it. But there's an eentsy beentsy spider of a chance that if Murdoch's media ship sinks, Fox News might eventually be the last ones on deck singing Nearer My God To Thee. So, listen up while we drop some knowledge.
A British parliamentary committee report released recently, based on the results of the ongoing Leveson inquiry, has already deemed Murdoch "not a fit person" to run an international company. These happen to be the exact words used in the British Broadcast Act as a reason for someone to be denied a broadcast TV license. While the report doesn't result in any jail time for Murdoch, it kills Murdoch's chances at grabbing full ownership of SkyTV (British cable news company) and/or he could lose all 39% of his existing shares. Couldn't happen to a more horrible guy!
Meanwhile, across the pond in ye olde colonies, three US civil cases were filed against News Corp for phone hacking and Democrat John D. Rockefeller wrote a letter to Lord Leveson, asking him to send over the deets on Murdoch for a US investigation. At the same time, Citizens for Responsibility and Ethics in Washington (CREW) jumped on the fitness bandwagon to call upon the FCC, Congress, the FBI, the Justice Department and Smokey the Bear to revoke Murdoch's broadcast licenses in the US. (Petition)
The civil cases have a good chance of getting payoffs from News Corp (based on the millions that have already been paid out to several UK victims) but unfortunately, there's not much of a chance CREW will be successful, since FCC rules were "relaxed" during the Reign of Reagan in order to make it possible for GE to buy NBC and RCA. GE had many fraud convictions as a company, which would have precluded them from owning a broadcast company, but the FCC rule was changed to say that licenses would be revoked or not granted only if individual owners of the company were convicted of a felony.
So, if CREW wants Murdoch's empire to go down using the FCC fitness standard, they need to get him convicted of a felony. Plus, Murdoch is no stranger to the FCC. He manipulated them, along with his arch nemesis Ted Kennedy, way back in the early '90s.
But don't despair, fine Wonkaderos. London Metropolitan Police Deputy Assistant Commissioner Sue Akers, who is heading up the criminal investigation of Murdoch's papers, said that there is no doubt that hundreds of thousands of dollars have been paid in illegal bribes to government officials and they had been authorized "at a very senior level within the newspaper."
The US Justice Department has also launched an investigation into News Corp for violations of the Foreign Corrupt Practices Act (US companies are not allowed to bribe anybody while doing business overseas) and the FBI is investigating allegations that News Corp hacked into 9/11 victims' cell phones.
So maybe, just maybe, if all that ballast lands on Murdoch's Love Boat at one time, it will be enough to sink the shit ship forever. We just want Shep to make it onto the life boat. Recently, there's been a glimmer of hope for his redemption.
Meanwhile, Fox News, perhaps in an unconscious premonition of "things to come," continues to deliver its finest in newsy end-of-the-world articles and associated advertising on today's home page.