Fox & Friends Know Who Real Victims Of Hannukah Attacks Are, SURPRISE It Is Christians
News
December 30, 2019 11:56 AM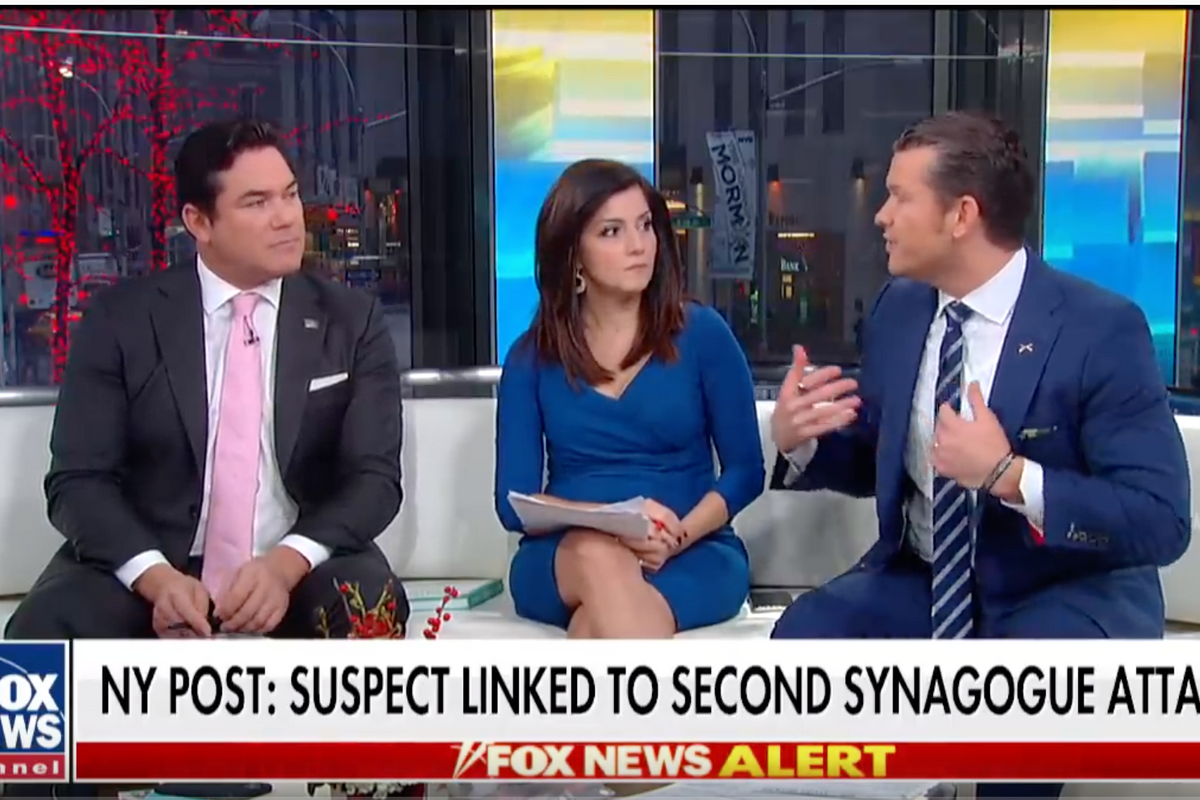 Five people were wounded Saturday at a Hanukkah party in Monsey, New York. This was the the ninth anti-Semitic attack in New York City during this year's Hanukkah. It's part of an alarming trend of anti-Semitic attacks around the country. According to the Washington Post, hate crimes targeting Jews have risen 21 percent in the past year. New York Gov. Andrew Cuomo put it bluntly at a press conference Sunday.
CUOMO: This is a national phenomenon that we are seeing and it's frightening and it's disturbing. If anyone thinks that something poisonous is not going on in this country, then they're in denial.
If you want to observe folks in denial in their native habitat, you should swing by Fox News. This morning on "Fox & Friends," today's fake Ainsley Earhardt, Rachel Campos-Duffy, made sure that the spotlight never wavered from CHRISTIANS, CHRISTIANS, CHRISTIANS. When Jewish Americans are straight-up terrified, there's no better time to insist -- without evidence -- that Christians are the most persecuted people who were ever persecuted.
---
In the wake of a string of anti-Semitic attacks in NYC, Fox & Friends' @RCamposDuffy says, "we've seen over some Ch… https://t.co/jLCVQTRDi7

— Aaron Rupar (@Aaron Rupar) 1577716475.0
Campos-Duffy described Christians as the most "persecuted religion on the planet right now" less than two minutes after the panel reported on the anti-Semitic attacks this weekend. What the hell kind of transition is that? They brought on Secretary of State Mike Pompeo to discuss the matter and co-host Pete Hegseth asked him about the "persecution of Jews AND CHRISTIANS." He just shoehorned Christianity in there like it was the winter solstice.
POMPEO: It's important to put it into context. You've seen increased anti-Semitism around the world. We've all observed Christians under threat in the Middle East.
Conservatives suddenly care about the world at large when Christians are involved. They also like when they can point fingers at "savage" culprits abroad. The disturbing anti-Semitic attacks occurring just this month all took place inside the house. From the Washington Post:
This month, David Anderson and Francine Graham went on a violent rampage at a kosher supermarket in Jersey City, killing three people inside the store. The pair have been linked to the Black Hebrew Israelites, a hate group that traffics in anti-Semitic tropes. [...]

On Dec. 23, a 28-year-old man punched and kicked a 65-year-old in midtown Manhattan while yelling anti-Semitic slurs, police said. Steven Jorge was charged with assault in the second degree as a hate crime.

On Thursday, an Orthodox woman was walking with her 3-year-old son in Gravesend, a neighborhood in Brooklyn, when she was approached from behind by Ayana Logan, officials said.

Logan, 42, whacked the 34-year-old mother in the head, officials say, and delivered an ominous message: "You f---ing Jew. Your end is coming to you."...

A day later, 30-year-old Tiffany Harris slapped three Orthodox women in the face and head in Crown Heights.
Pompeo reassured us that Sam Brownback, who handles "religious freedom issues," is on the case. Brownback has a history of defining "religious freedom" as the right for bigots to kick LGBTQ Americans in the ass. After Hegseth forced Christians into the discussion, Campos-Duffy went ahead and ditched Jews entirely.
CAMPOS-DUFFY: We've seen over Christmas some horrific attacks on Christians -- by the way, the most persecuted religion on the planet right now. Beheadings, a village attacked and seven killed there, as well as the kidnapping of the young teenage Christian girl. Why are we seeing this rise in attacks, specifically for Christians?
Doing his best to put Campos-Duffy at ease, Pompeo said the United States has a responsibility to protect Christians across the world. And that was it. The panel moved on to other things. Maybe Uncle Sam will get around to looking after Jews in Brooklyn. If not, they'll just have to take care of themselves. A man killed two people at a church in White Settlement, Texas, Sunday morning, where parishioners were actually armed. Fortunately, no one died when a machete-wielding asshole tried to kill people at a New York rabbi's home this weekend. They managed to fight him off with an antique coffee table.
Follow Stephen Robinson on Twitter.
Yr Wonkette is funded entirely by reader donations. Please send us money to pay the writers a living wage, and the other costs too. Thank you, we love you.
Stephen Robinson
Stephen Robinson is a writer and social kibbitzer based in Portland, Oregon. He writes make believe for Cafe Nordo, an immersive theatre space in Seattle. Once, he wrote a novel called "Mahogany Slade," which you should read or at least buy. He's also on the board of the Portland Playhouse theatre. His son describes him as a "play typer guy."