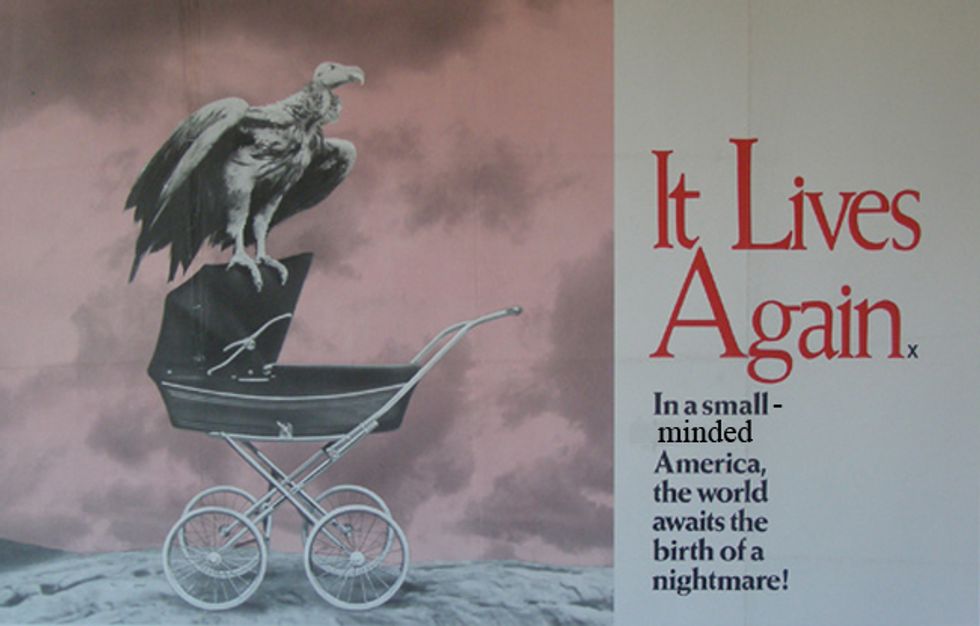 What rude beast slouches forth THIS goddamned time?
---
With less than two weeks to go before the deadline to pass a bill with only 50 votes, Senate Republicans are giving one more try to repealing and "replacing" the Affordable Care Act, this time with what may well be the worst possible plan they've offered yet, the terrible plan put forward by South Carolina's Lindsey Graham, Louisiana's Bill Cassidy, and Nevada's Dean Heller, who joined late so the bill is usually just called "Graham-Cassidy." This is the one that would convert all federal funds for both Obamacare AND Medicaid into block grants for the states starting in 2020, cutting the available money immediately and then reducing the grants every year until 2026, at which point the ACA replacement grants simply go away and there's no federal money being spent on what Obamacare used to cover -- AND which removes all protections for pre-existing conditions and allows insurers to raise your rates every time you get sick. Yes, really. And now it looks like Republican leadership is moving forward to try to rush it through before September 30, while it can still be passed through the weirdass "reconciliation" process, which would avoid a filibuster.
As we discussed a while back when
John McCain suddenly said
oh, sure, he could vote for that, "regular order" be damned, this is just a terrible, terrible bill. Go read that earlier post for details; the
Washington Post
and
Vox
both have excellent 'splainers as well. But here's a
quick list
of the worst features of the thing, from Andy Slavitt, who ran the Centers for Medicare and Medicaid Services (CMS) during the Obama administration: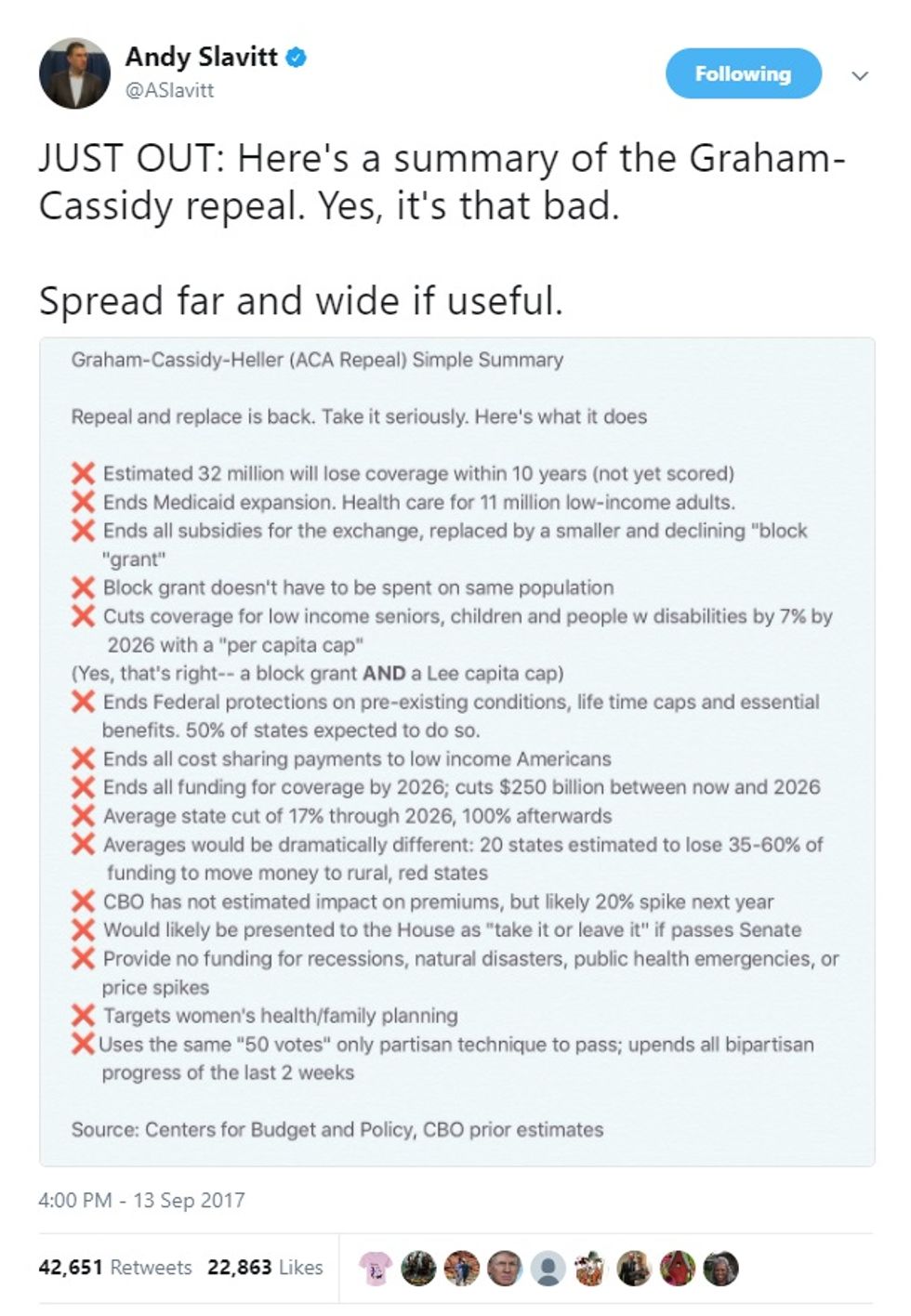 If you're a policy-details junkie, most of the details for that summary can be found at the Center on Budget and Policy Priorities. But for a change, since we've already delved some into why this is terrible policy, we're going to focus here on process: Where exactly does this abomination stand, what chance does it have of passing, and what do we do to stop it? Short answers: 1) Yes they're seriously trying this, B) it's hard to say but it could happen (and Trump will sign literally anything called a "replacement" for the ACA), and III) RESIST, RESIST, RESIST.
Where it Stands: Politico reports Mitch McConnell is definitely interested in moving the bill forward: If it has the support of at least 50 senators, the bare minimum needed to pass it through reconciliation (with a tie-breaker by Vice President Mike Pence), then he'll bring it to the floor. And Senate Republicans are rushing through all the mechanics of getting the bill ready for a reconciliation vote: The draft has been sent to the Congressional Budget Office with a request for an expedited score on how much it would cost and how many people would be affected by it. They'll also need a decision by the Senate parliamentarian on whether all parts of the measure can be passed through reconciliation within the confines of the Senate's rules -- basically, reconciliation can only be applied to budget issues, and the parliamentarian decides whether they fit that description.
What Chance does it Have of Passing? The big trick will be actually persuading 50 Republicans to vote for the damned mess. How close are they to getting there? Says Politico:
Cassidy estimates he is now just a handful of votes short of passing the bill, and other senators are beginning to press for another vote before they turn their attention to tax reform this fall.

Some Republicans believe that if the bill were put on the floor Monday, it would have the support of 49 senators.

"All we need is one more," Sen. Pat Roberts (R-Kan.) said of the repeal effort, which failed in July after GOP Sens. John McCain of Arizona, Susan Collins of Maine and Lisa Murkowski of Alaska voted no on a slimmed-down repeal bill.
Yes, that means that a whole bunch of senators -- including Dean Heller -- who said they couldn't possibly support the mean meanness of earlier Senate bills because of their Medicaid cuts may have decided that this bill is suddenly acceptable, and that's thanks to a cute trick in the formula for Medicaid funding. The block grant amounts for Medicaid funding would be divvied up to bribe red-state senators: Since the ACA's Medicaid expansion would be rolled back, the new Medicaid block grants would actually redistribute available Medicaid money to all states based on their pre-expansion Medicaid eligibility, negating the increase in coverage in those states that expanded Medicaid. As a result, blue states would see their Medicaid funding cut sharply, while red states that didn't expand Medicaid would see few relative cuts:
Nine states would see their funding cut by 50% or more compared to what their Medicaid expansion and exchange subsidies would otherwise be. These states include expected conservative targets like New York, California, New Jersey and Massachusetts, but also North Carolina, Florida and Virginia.

Yet somehow Maine, Alaska, Nevada and West Virginia are almost entirely protected from these cuts in the early years (although every state would be hard hit in the long run or in the event of a recession or public health emergency like Hurricane Harvey). What do those states have in common? Each has Republican senators who either voted against or strongly considered voting against the last Senate repeal bill.
So will red-state senators decide that's a terrific deal? No telling. But Graham and Cassidy have McConnell pushing for them, and as Politico notes, they've actually gotten Donald Trump to start making calls and lobbying senators to get behind this thing. So it's really going to once again come down to a handful of R votes in the Senate, and even if it passes in the Senate, there's the question of whether House Republicans would get on board. They're big enough bastards that they could.
What Do We Do to Stop This Thing?Phone calls to your senators and representatives, kids. The entire Resistance playbook. Call YOUR senators, and if your own Senators are Democrats, then call them and insist they use every parliamentary trick in the book to run out the clock. Get into the streets. Yes, again. The best way to save healthcare for tens of millions of Americans is to fight this fucking thing until September 30 and make sure it STAYS DEAD. After that, any attempt to kill the ACA would be subject to filibuster, and that will give us some breathing room -- not a lot, but reconciliation will be dead.
Yr Wonkette is supported by reader donations. Click here to give us money!
[Politico / CBPP / USA Today / Indivisible]