Liveblogging George Bush Rescuing The Auto Industry!
News
December 19, 2008 08:56 AM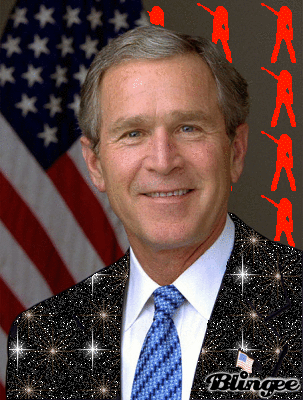 The shameful publicity whore Barack Obama will be holding his FIFTH press conference of the WEEK today, while the ever modest George W. Bush holds his first in months. (Ha ha we kid, he tore himself away from his Wii to mutter some not-very-encouraging things about our teetering American economy, once, in early November. The stock market tanked.) So let's see what our bold and fearless leader has to say about resurrecting an industry singlehandedly brought down by the famously corrupt United Auto Workers, who keep promoting this Socialist idea that people should receive "money" in exchange for their "labor."
---
8:55 AM -- Let's watch a little soothing Fox and Friends before this madness begins. O they are chummy. That lady sitting next to Alan Colmes looks like Rita Cosby, but apparently it is his wife. (Sean Hannity is his "other" wife.)
8:57 AM -- Jesus, is there nothing more depressing than the commercials that air on morning cable? Burlington Coat Factory, medical devices for housebound diabetics, drugs, local retailer sales, national retailer sales...we are a nation of impoverished elderly people trying to complete our Christmas shopping for under $200. This year, everyone in the Smith family gets a pill-splitter and a $5 Starbucks gift certificate.
8:59 AM -- Ha ha, we have missed the summary of what George Bush is going to say because we were too busy typing about pill splitters. But: sounds like bankruptcy is NOT in the cards, and short-term loans are.
9:00 AM -- Oh hey look it's George Bush! Shut up, Norah O'Donnell.
9:02 AM -- "As a Republican, I do not want to intervene. As a sensible person, I do." (He did not actually say this, this is a 'parodical type summary,' as they say in the comedy business. Sorry for any confusion surrounding the suggestion he might have said anything that intelligent. -- Ed.)
9:03 AM -- Option 1: Orderly bankruptcy. But Chapter 11 won't work because people won't buy cars once they find out the automaker might go under. Also the automakers don't have enough time to do an orderly bankruptcy. Option 2: Disorderly liquidation. But that would hurt the job market and "exacerbate" the financial crisis. Dudes, he said "exacerbate" correctly. Option 3: Give them another non-bankruptcy option to restructure.
9:05 AM -- Weaselly Republicans derailed a Congress-approved plan to do this. So the White House is stepping in. They're offering loans under "similar conditions" to those set out in the Congressional plan. Hmm, does this include the sticky provision about labor making pay concessions pretty much immediately?
9:07 AM -- He's taking the money out of TARP. Everybody will have to suck it up. Mostly the labor union. March 31 is the deadline for coming up with a "viable plan."
9:08 AM -- Most effective and responsible solution, blah blah... He looks even older and more tired than usual. Poor dude, he should just be packing his boxes and making mixtapes at this point in his breakup with the American people. Instead he has to make decisions and stuff.
9:10 AM -- OK, so if the automakers DON'T demonstrate they can get their shit together, they'll have to pay back the loans. But if they can't get their shit together, doesn't that suggest that they won't be able to pay back the loans, either?
9:11 AM -- Some MSNBC expert says, "Yeah, this is a pretty predictable move."
9:14 AM -- Over to CNN. Christine Romans looks like a crazy little anime doll. Final tally: $13.4 bilion in short-term loans to GM and Chrysler, with $4 billion more in February. No money for Ford for the time being.