George W. Bush Wants Your Member For His Foundation
News
March 31, 2010 01:30 PM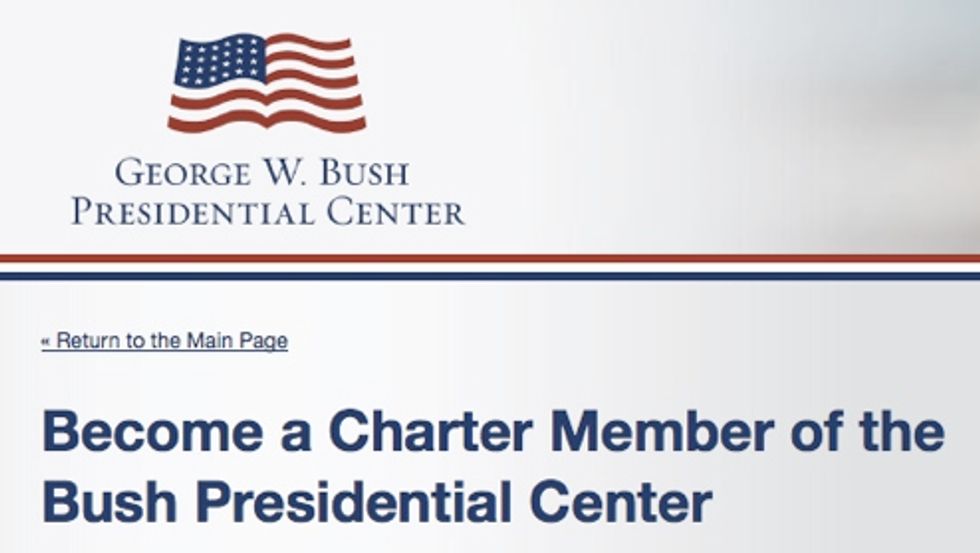 Today in the Wonkette Tips Box, we received a link to this wonderful investment opportunity from e-mailer "The Washington Times Marketing Showcase." SPAM SPAM SPAM RUN FOR YOUR LIFE, right? Wrong! If you give George W. Bush's new pretend company some cash, you can be in the George W. Bush Foundation Freedom Registryfor life. This is perhaps the best (only?) investment opportunity in America right now.
---
Help advance the principles that guided the Presidency of George W. Bush. Become a Charter Member of the Bush Presidential Center today.

When you contribute $50 or more, your name will be included in the Freedom Registry, which will be on permanent display at the Presidential Center. Using the latest technologies, this innovative Registry will be housed in a specially designed kiosk and will feature an interactive listing of those who continue to share in the President's commitment to the universal principles of freedom, opportunity, responsibility and compassion.
So a fuckin' laser-eyed George W. Bush Freedom Robot will carry your name in his metal tummy forever, in Texas?
Maybe later.