George Zimmerman Will Feed You To The Gators! Also, He's Been Charged With Stalking.
Post-Racial America
May 08, 2018 04:55 PM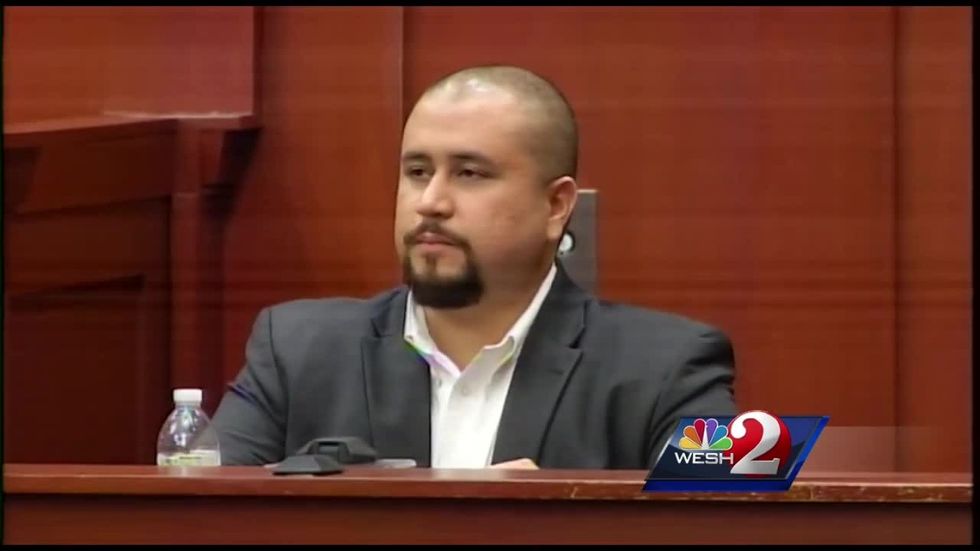 This is him trying to look normal.
---
George Zimmerman, the sadistic thug who stalked and killed Trayvon Martin the night of February 26, 2012, yet was found not guilty, has found himself back in the spotlight with some brand new stalking charges. Zimmerman has been accused of harassment and threats while stalking a private investigator, according to Seminole County. Zimmerman's target (this time) is a grown ass man named Dennis Warren, so, looks like Georgie can't use the "scary black child" defense to get out of this situation.
George Zimmerman totally deserves to have the proverbial shitty book thrown at him by the Seminole County Sheriff's office, but they are being kind enough to merely charge him with misdemeanor stalking. Really, when is this guy going to finally be treated like a black man? Or a black child, for that matter? Let's just hope they don't wait until he finally kills a white person before somebody realizes how absolutely dangerous he is and gets him off the street. Because when you look at the things he said, the fact that he is only being charged with misdemeanor stalking is actually a bit problematic. I mean, he HAS killed a child before, right? Whom he also stalked? Are we not concerned he may actually make good on a threat -- he's both threatening to kill the PI and bragging that he got away with it with Martin -- or nah?
Why would George Zimmerman, who has constantly been in trouble and in bizarre situations since he killed Trayvon Martin, think it's a good idea to stalk ANYBODY? We all remember when he was an artist, his gun auction, when he was accused of hitting his girlfriend (while he had a wife), when he got shot at, when he was homeless, and when he was kicked out of a bar for using a racial slur, so why take a risk of jail time, Zimmerman? There are black people in jail.
Apparently, Zimmerman doesn't like to be "fucked with," and by "fucked with" he may mean simply leaving a voicemail asking for his input on a new documentary about Trayvon Martin. In 2017, Warren, the private investigator, reached out to witnesses and people who had knowledge of the incident. "Witnesses" includes George Zimmerman because, hey, HE IS THE ONE WHO KILLED TRAYVON. Zimmerman took much exception to himself and his family being contacted, and apparently decided that this would not stand! Then the texts began. And continued. And the voicemails came. George had much to say. And this was because the private investigator, Dennis Warren, contacted him ONE TIME. Just once. And he received back 55 calls, 36 voicemails, 27 emails, and 67 texts. In nine days. Which is scary as fuck coming from a man who has killed a person.
Let's take a look at a few choice quotes to see what the everloving fuck:
Help Mrs. Warren out and give him a heads up, I'm going to find him. And I'm bringing hell with me.
And another.
Dennis is a [expletive] who bothered my uncle in his home ... local or former law enforcement officer he's well on his way to the inside of a gator as well. 10-4?
More.
Answer your phone, [expletive]
Uh ...
I'll see you before you realize it.
At this point Warren contacted the Sheriff's Department, because, well, he feared for himself and his family. He was told to text back asking Zimmerman to stop, but Zimmerman was not going away that easy. Trayvon would maybe agree that it's hard to get rid of Zimmerman, if he had not been stalked to death.
I know how to handle people who [expletive] with me, I have since February 2012" and "Anyone who [expletive] with my parents will be fed to an alligator.
An investigation was opened in December 2017 due to the harassment that began in September, and George Zimmerman was contacted by a sergeant in January. He reportedly yelled profanities at her and berated her, ending with demanding they contact him through his lawyer. Which is totally not normal at all in any way, shape, or form, and did nothing to prevent him being issued a summons on May 3. Let's hope that this time the criminal justice system takes a hard look at the threats when he is arraigned on May 30. These punk assholes always get away. Time for that to end.
Now it is your OPEN THREAD.
Don't forget to support Wonkette with money, we like when you read us and depend on your support.
Wonderbitch
Follow Wonderbitch aka Bravenak aka Bianca DeLaRosa, loves her jobs as Social Media Manager for Wonkette more than Sarah Huckabee Sanders loves lying to America. Bianca also moonlights as a Witch (THE BAD KIND!!) and is a Freelance Goddess of All Things Ever. Be very nice her because she likes to curse people, especially mean people. You can find Bianca on Twitter @Wonderbitch81, or email her at bianca@wonkette.com