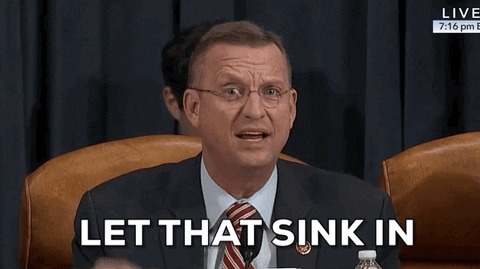 Congressman Doug Collins is about to make Georgia's US senate race a whole lot more interesting. Yesterday the ardent Trump supporter announced that he's running to fill out the remaining two years of Johnny Isakson's term after the senior senator retired on December 31 for health reasons. The problem is that Georgia's Republican Governor Brian Kemp already appointed someone to that seat, and it isn't Doug Collins.
The GOP may appear to have whittled itself to a party of one, catering only to the whims of an orange manchild with brains the consistency of ramen noodles, but still Brian Kemp, who only beat out Stacey Abrams in 2018 by the tiniest of margins, managed to resist Donald Trump's pressure to appoint Collins to the vacant seat. He opted instead for gazillionaire Kelly Loeffler, who can dump $20 million into the campaign and maybe use her two X-chromosomes to stanch the party's bleeding with suburban women.
Which is NO FAIR for Doug Collins, who filibustered that House impeachment hearing like an auctioneer hawking a 2012 Dodge Ram on the East Asscrack County courthouse steps. He earned this one fair and square, and now he's taking it.
For months, I have given serious deliberation to the role I should serve that would best benefit GA, the country an… https://t.co/OXiXIT2r3r

— Doug Collins (@Doug Collins) 1580299824.0
---
This is not sitting well with the National Republican Senatorial Committee (NRSC), which has two Senate seats to defend in Georgia, since David Perdue's regular term is also up. The NRSC would like everyone to get on board with a Georgia candidate who can self-finance so the party can throw all the money at Perdue, Cory Gardner, Susan Collins, and Thom Tillis. NRSC executive director Kevin McLaughlin said in a statement,
The shortsightedness in this decision is stunning. Doug Collins' selfishness will hurt David Perdue, Kelly Loeffler, and President Trump. Not to mention the people of Georgia who stand to bear the burden of it for years to come. All he has done is put two senate seats, multiple house seats, and Georgia's 16 electoral votes in play. The NRSC stands firmly behind Sen. Kelly Loeffler and urges anyone who wants to re-elect President Trump, hold the GOP senate majority, and stop socialism to do the same.
Hey, Doug Collins, heard you were a SOCIALIST LOVER who's campaigning for Bernie Sanders in Georgia now! What gives, buddy?
Don't be ridiculous, this is FAKE NEWS coming from the head of a Washington-based group whose bylaws require him to… https://t.co/IdHPJfkfqQ

— Doug Collins (@Doug Collins) 1580317379.0
Oh, it's on!
The NRSC is flipping its shit because Georgia law calls for a "jungle primary" to fill a vacant seat, so all the candidates, Democratic and Republican, will run against each other on election day in November. Which means Collins and Loeffler could split the GOP vote, forcing one of them into a bruising January 2021 run-off with the Democrat if nobody gets a majority. If Collins and Loeffler spend the next nine months kicking the shit out of each other instead of kissing Trump's ass and claiming Democrats are Marxists who want to steal your hard-earned social security checks and distribute them to MS-13 at the border, it might also lead to hurt feelings and low GOP turnout on election day. Hence the NRSC freakout over Collins's candidacy.
As one campaign source told CNN, "A fractured primary puts Georgia's electoral votes, both Senate seats and multiple House seats in play. Collins' vendetta against Kemp could be the straw that breaks the camel's back and finally flips Georgia blue." Collins is in foul odor with the national Republican party, and it's no coincidence Collins was immediately shoved off his perch as Ranking Member of the House Judiciary Committee. (Oh, Lord, it's gonna be Jim Jordan!)
But Collins, who served in Georgia's legislature before being elected to the House, is not without allies. And on Monday, his pals on a Georgia House Governmental Affairs subcommittee approved legislation scheduling a May primary to fill Isakson's seat. The bill passed with bipartisan support, since Democrats would also prefer to narrow their field to one candidate. The fact that Collins, who has only $1.4 million on hand, might well knock out Loeffler, who's married to the chair of the New York Stock Exchange and has already plowed $4 million into ad buys, is just gravy. Kemp has promised to veto the bill, which is unlikely to improve his relationship with Collins. And Collins has taken to rightwing media, where he's been kicking around a lot longer than that newbie Loeffler, to make his case.
If the Gov of Georgia sides w the fixers and prevents republicans from choosing their next senate nominee expect a… https://t.co/fcq0GPf9Oq

— Matt Schlapp (@Matt Schlapp) 1580319218.0
Isn't it just PRECIOUS when Republicans whine about not having their votes counted!
Meanwhile the variable no one can control is compulsively poop-tweeting in the White House. Less than two years ago, Kemp himself was shoved over the finish line in the Republican gubernatorial primary by Trump's endorsement, despite the Georgia GOP's strong preference for then-Lieutenant Governor Casey Cagle. Loeffler has been shouting her support for Trump in the Senate impeachment trial, but Collins has been whispering in the orange ear for much longer. So ... who knows? Trump could throw a wrench into Georgia the way he did the last time around in Kansas when he endorsed Kris Kobach.
Collins's announcement brings the total number of open GOP House seats to 23, although his conservative district is highly unlikely to be a Democratic pickup. But his entry into the Georgia Senate contest has the potential to throw the whole race into chaos. Which ... well, we ain't mad about it. Go Dougie, run like the wind, you crazy sumbitch!
[CNN / Cherokee Tribune and Ledger News / Politico / AJC / CNN, again]
Follow Liz Dye (FKA your FDF) on Twitter!
Please click here to fund Yr Wonkette. You know we'll cover these races just the way you like -- with cusses!
Liz Dye
Liz Dye lives in Baltimore with her wonderful husband and a houseful of teenagers. When she isn't being mad about a thing on the internet, she's hiding in plain sight in the carpool line. She's the one wearing yoga pants glaring at her phone.