Coke, Delta Look At PISSED OFF Georgians, Get Some OId-Time Voting Rights Religion
Post-Racial America
March 31, 2021 04:30 PM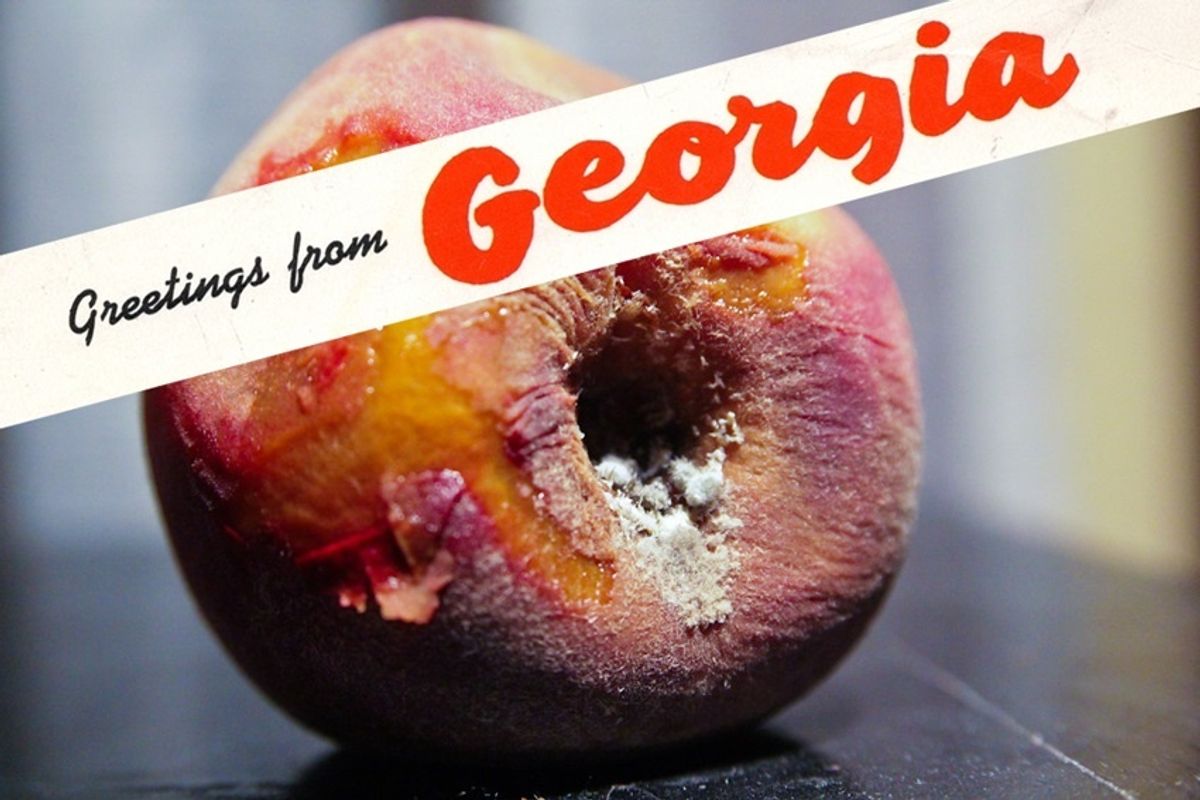 Georgia Republicans fucked around, and now they're about to find out as corporate America gears up to help fight the avalanche of Jim Crow laws passed in the wake of Democrats' November and January Peach State electoral wins.
With 16 electoral votes going to Joe Biden and both the state's Senate seats going Democratic, Georgia's Republicans spent the winter in a panic. How could they preserve their own power when their own constituents prefer the other team? Naturally, they returned to the tried and true tactic of letting fewer constituents vote, shoving through an appalling bill last week that ensured long lines in populous Democratic precincts, curtailed early and absentee voting, enabled the Republican legislature to overturn any election results it didn't like, and even criminalized providing water to voters trapped for hours waiting to cast their ballots. Then they arrested a black legislator for protesting — you know, in case the message wasn't clear enough.
But rallying public support for the bill has been a harder sell, largely because the rampant vote fraud it was supposed to prevent does not exist. For a minute, it looked like corporate America might whiff the play, with Coca Cola and Delta, the two local giants, issuing mealy-mouthed statements saying virtually nothing.
---
"Over the past several weeks, Delta engaged extensively with state elected officials in both parties to express our strong view that Georgia must have a fair and secure election process, with broad voter participation and equal access to the polls," Delta's CEO Ed Bastian said on Friday, adding later, "We are committed to continuing to listen to our people and our communities, and engage with leaders from both parties to ensure every eligible employee and Georgia voter can exercise their right to vote."

Which was never gonna cut it with such a blatantly racist attempt to disenfranchise Georgians getting rammed through on party lines. Ditto for Coke's pablum about "support [for] nonpartisan get-out-the-vote campaigns across the country" and "continu[ing] to press for improvements to Georgia's election laws in future sessions."
The only thing the beverage behemoth was sure about was that no one should boycott its product.
You may see comments and calls for protests and boycotts of our state and our company. We have never wavered on our point of view and we have and will continue to meet with a wide array of stakeholders inside and outside of Georgia to hear their views, work together, and advocate for greater voting access. We will do this because it is the right thing to do and will help create a better shared future for everyone.
What does that even mean?
As the New York Times reports, it means your company just stuck its dick in the paper shredder.
"We are all frustrated with these companies that claim that they are standing with the Black community around racial justice and racial equality," said Black Voters Matter cofounder LaTosha Brown last week. "This shows that they lack a real commitment to racial equity. They are complicit in their silence."
Brown then led a protest at Atlanta's Delta terminal calling for a boycott of the airline.
"We took him at his word," Bishop Reginald Jackson of the African Methodist Episcopal Church said of Coca Cola CEO James Quincey's prior statements of support for racial justice. "Now, when they try to pass this racist legislation, we can't get him to say anything. And our position is, if you can't stand with us now, you don't need our money, you don't need our support." Bishop Jackson is leading a call by Black clergy to boycott the company until it comes out forcefully against the new law.
Sen. Raphael Warnock summed it up bluntly. "I've seen these corporations falling over themselves every year around the time of the King holiday, celebrating Dr. King," he said. "The way to celebrate Dr. King is to stand up for what he represented: voting rights."
Then the senator went and recorded an episode of the wildly popular New York Times podcast "The Daily," decrying the nationwide assault on Black voters.
Because WTF did these companies think was going to happen? We all saw this movie before when it played in North Carolina with that vile bathroom bill.
Today, 72 Black business leaders released an open letter calling on corporate America to step up and help fight the wave of voter suppression laws being unleashed by the minority party.
"There is no middle ground here," former AmEx CEO Kenneth Chenault told the Times. "You either are for more people voting, or you want to suppress the vote."
Chenault demanded nothing less than the support that corporate America showed for LGBTQ Americans when North Carolina passed its discriminatory law.
"You had 60 major companies — Amazon, Google, American Airlines — that signed on to the statement that states a very clear opposition to harmful legislation aimed at restricting the access of L.G.B.T.Q. people in society. So, you know, it is bizarre that we don't have companies standing up to this," he said. "This is not new. When it comes to race, there's differential treatment. That's the reality."
Or maybe not. The head of the MLB players association is already expressing support for moving the All-Star Game out of Atlanta to protest the law, calls for boycotts of the film industry are rumbling (although this is more controversial). Companies seem to have grokked that there is no neutral ground here.
"I need to make it crystal clear that the final bill is unacceptable and does not match Delta's values," Ed Bastian said in a revised statement this morning.
"After having time to now fully understand all that is in the bill, coupled with discussions with leaders and employees in the Black community, it's evident that the bill includes provisions that will make it harder for many underrepresented voters, particularly Black voters, to exercise their constitutional right to elect their representatives. That is wrong," he continued. "The entire rationale for this bill was based on a lie: that there was widespread voter fraud in Georgia in the 2020 elections. This is simply not true. Unfortunately, that excuse is being used in states across the nation that are attempting to pass similar legislation to restrict voting rights."
He then expressed the airline's support for the national voting rights legislation Democrats are pushing in Congress. You know, the law Republicans are desperate to paint as a totalitarian takeover of Congress, while privately admitting that their own voters love it.
Coke's CEO has similarly found Jesus, saying, "Let me get crystal clear and unequivocal, this legislation is unacceptable. It is a step backwards and it does not promote principles we have stood for in Georgia around broad access to voting."
Wouldn't it be HI-FREAKIN'-LARIOUS if all this GOP vote suppression fuckery inspired corporate America to light a fire under Congress so they finally ditched the filibuster and passed meaningful voting reform?
Fuck around and find out, Gippers.
OPEN THREAD!
Follow Liz Dye on Twitter RIGHT HERE!

Please click here to support your Wonkette. And if you're ordering your quarantine goods on Amazon, this is the link to do it.
Liz Dye
Liz Dye lives in Baltimore with her wonderful husband and a houseful of teenagers. When she isn't being mad about a thing on the internet, she's hiding in plain sight in the carpool line. She's the one wearing yoga pants glaring at her phone.