Getting The New Republic Over With
News
February 05, 2009 05:34 PM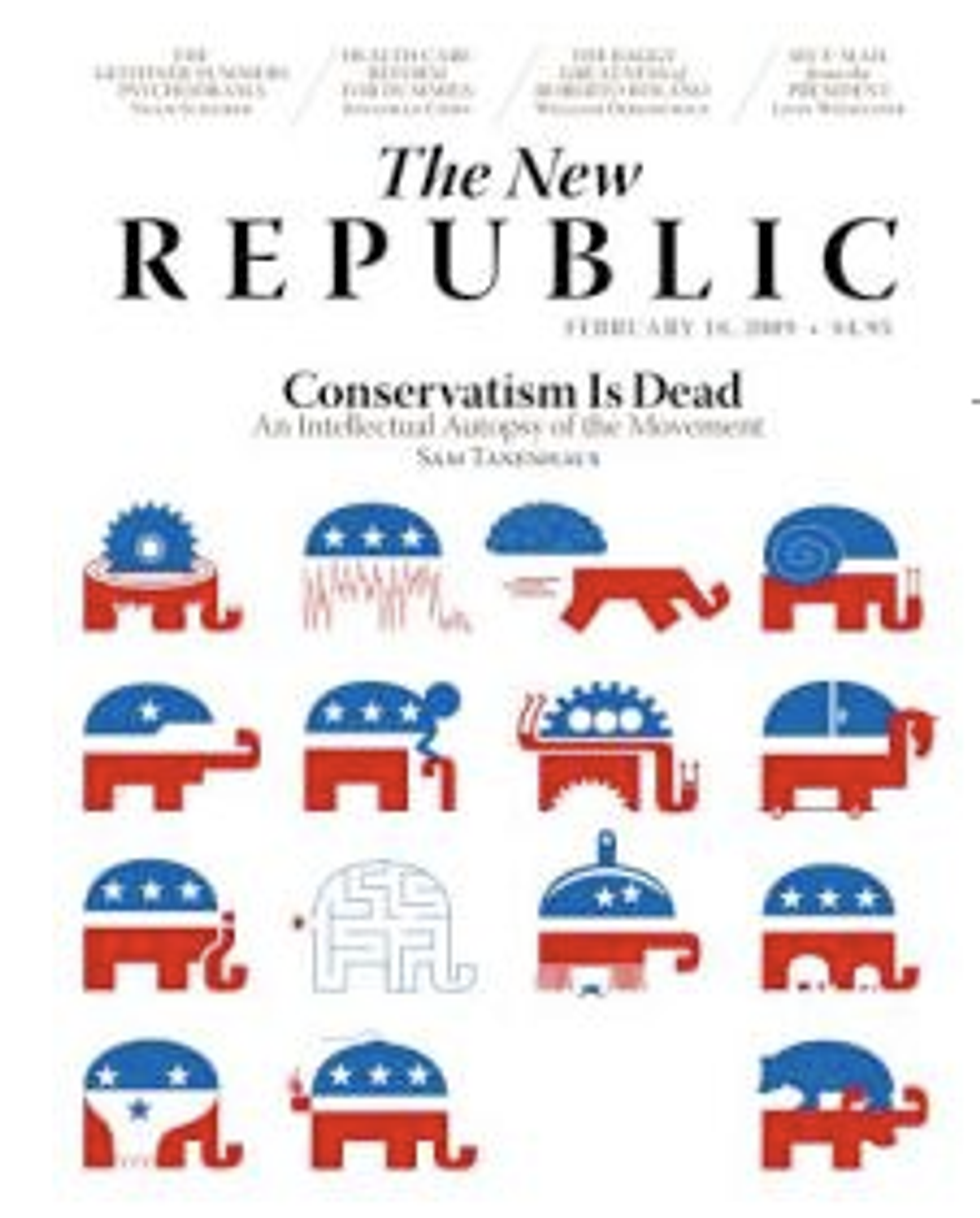 It was only a matter of time before theThe New Republic stopped being an inevitability in this little feature. Well, the time has come—just one week in! Let's take a look what worthwhile things are afoot in these storied pages this week, for our new feature, Thursdays Are For Magazines.
---
"The Right Man": Famous neocon David Frum threw a fancy cocktail party! Literally two sentences in, we find out he was playing Norah Jones, something we suspected from sentence one. Frum talks about his new website, NewMajority.com, it will save c/Conservatism forever by publishing stories about how Sarah Palin dropped off all of her snow-stained fancy harlot clothes in Hefty bags. [TNR]
"Viva Chai": Hey DC is so cool, with poetry readings and "lattes." It's totally like New York or whatever except Barry is here, so everything is so different now. Hipsters -- that's young people partial to the counter-culture, for you old people out there -- sit on couches with their Howard Zinn and just talk about shit, but it's so chill right? Right. Busboys and Poets is the epicenter of the new millennium, because they serve these things, these "lattes." [TNR]
"Spare the Rod": A hilarious "defense" of guess who, the premise of which is literally, well, he's not any worse than failed vagrant-hobbit Norm Coleman, who recently was beat out for Senator of Minnesota by Chevy Chase. Coleman, like Blaggy, received illegal monies too, except the former convinced a fake marine biologist to pay Coleman's wife, a sex robot. All Blaggy did was famously use foul language, on tape. [TNR]
"Washington Diarist": Lothario-in-cowboy-boots Leon Wieseltier, who is TNR's literary editor, is quite displeased, but also heartened!, by these emails that Barry keeps sending him. You know the ones. Mr. Wieseltier thinks they have "alacrity"! But all this hippie togetherness -- Obama addresses Mr. Wieseltier as "friend" -- actually makes our hero feel quite sad you see. Bonus thing: A sentence actually starts with "Btw."
[TNR]
"Border War": The most exciting celebrity feud since Palin/Judd: it's Larry Summers vs. Tim Geithner. Geithner used to be Summers' protege. And Geithner is such the shrinking violet, whereas everyone used to think Summers was sort of elbowing his way into the spotlight, in fact it was Geithner elbowing himself, all the time. [TNR]