Gingrich Bus Breaks Down In West Hollywood, Everyone Laughs
News
February 16, 2012 04:52 PM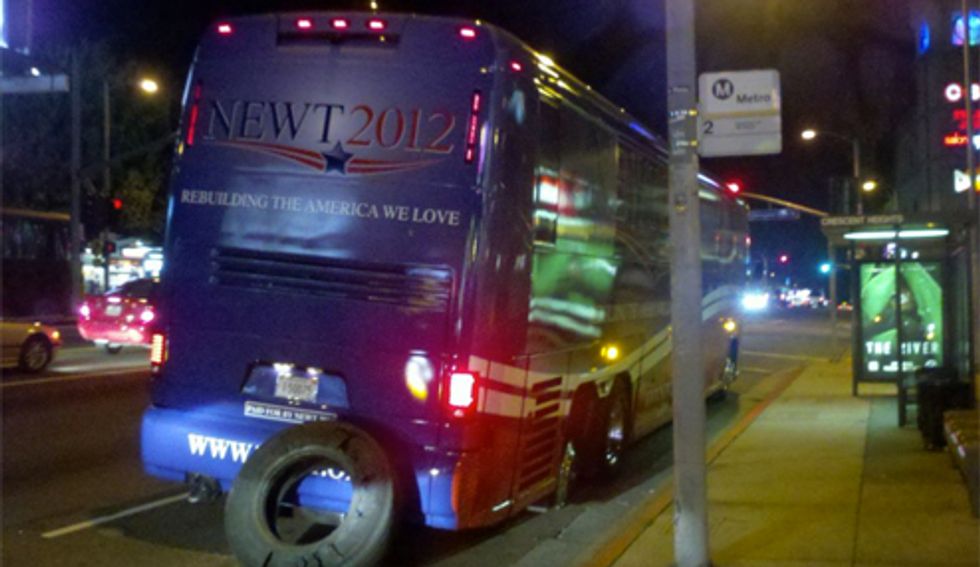 Newt Gingrich is out in Los Angeles scrubbing a few rich peoples' toilets with his tongue, for their amusement, in order to lock down whatever fat-cat money's still out there. He got into town yesterday and what happens, of course, the bus gets a flat tire -- in West Hollywood, where a great many homosexuals partake in social activity, according to Internet articles. Did these friendly gay Hollywood liberals help him? Eh, not so much.
---
89.3 KPCC monitored the Gingrich bus collapse and accumulated a number of real-time reactions from the local hedonistic city snobs, on Twitter:
Gingrich, who is in Los Angeles campaigning, did not receive much sympathy for his vehicle's mechanical difficulties. Instead, locals took to Twitter with red-white-and-blue language, unsolicited advice, claims of voodoo, musings on karma, and at least one mention of a glitter-bomb.
Did Newt Gingrich survive? Was he safe? No one knows, because the national media has stopped covering him. We'll find out sooner or later.
[KPCC; Image via Chris Hughes]