Give Barack Obama Money, Because Health Care Reform Hasn't Been Passed Yet!
News
July 29, 2009 03:32 PM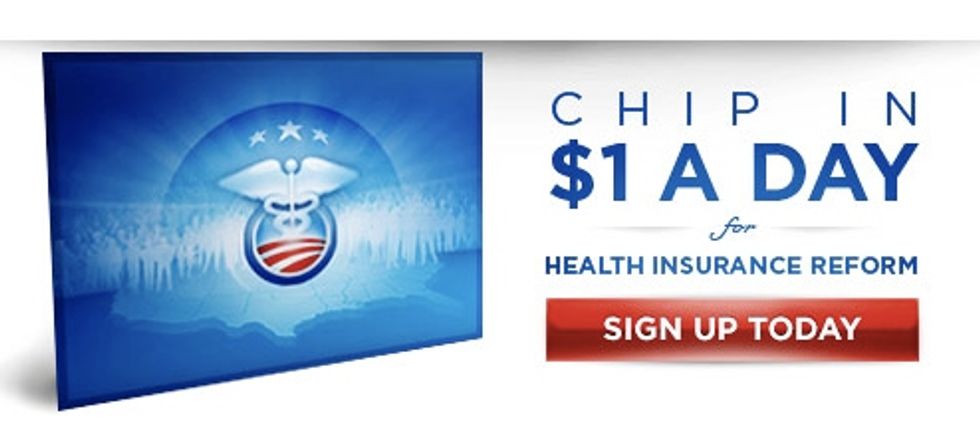 A number of understandably perplexed readers have forwarded us this weird, offensive e-mail from the notorious spammer "Mitch Stewart, BarackObama.com," who wants us todonate money to the DNC -- one dollar a day "until real health insurance reform is signed into law," so as to "show the insurance companies and their allies in Congress that their delay tactics will only make our movement stronger." Well that's a great idea, pretend Obama organizing troupe at the DNC! But down here on Planet Earth, we're going to tell you "no," and also maybe to eat a bag of lightly salted poison rat dicks.
---
So first they want money, because their massive majorities and executive positions in several thousand wings of government have been unable to finish a bill. "Your donation will help us to keep training volunteers, hiring organizers, running ads, organizing local events, bringing constituent voices straight to Congress, and make sure real-life stories are heard louder than the lobbyists' spin," this stupid evil e-mail from Hell tells us, as though we are SIX-YEAR-OLD RETARDED CHILDREN FROM OUTER SPACE.
Why have more local events, or bring more hobos to Congress? The public already favors both tax increases on super-millionaires to fund universal coverage and a public option to compete with private insurance, by wide margins, in Polls. The reluctant congressmen are already aware of these facts and these people with their "real-life stories," and they have chosen to go with the "lobbyists," who pay them money to bankrupt the country and kill most of its people. Minds will not be changed, so now the more appropriate action w/r/t these evil representatives would be to simply drown them in the Anacostia River, and get on with the business of producing sensible legislation. It'd be too easy! "Hey, Blue Dogs," you'd say to the slobs, "we hear the insurance lobby dropped a few shiny, fancy nickels in the Anacostia River, just for you -- a Treasure Hunt!" "Doggoneit Ima git me dem dere nickel-munnies 'fore you do, Mike Ross, haw haw haw, derpa derpa derp," they'd mutter, before drowning in the sludge stream for good.
Uhh... so let's get back to Mitch Whatever's terrible, astonishing e-mail: "So I want to ask you for something unusual: Can you chip in $1 each day until we pass real health insurance reform? A huge response will show the insurance companies and their allies in Congress that their delay tactics will only make our movement stronger." They want to charge $30 at a time, is the thing! "We'll bill your credit card for 30 days' worth of donations now and once every month until real health insurance reform is signed into law. When the bill is signed, we'll refund a prorated amount for that month."
Yet they do not offer any worst-case contingency info! What if Barack Obama never signed into law "real health insurance reform," which, depending how you weigh the adjective "real," is the likely outcome in 60% to 175,000% of current scenarios? Then this deadline would be open-ended, so DNC staffers could literally flush your $30 automatic payments down the toilet, every month, until Piper Palin takes over as dictator in 2034 and saves everything.
Here's when we'll give you money, asshole Democrats: when you pass a good health insurance bill with your power and majorities and knowledge of Senate Rules. Well, maybe not money, but we will consider voting for any of you ever again, in the future!
But money right now, for the Democratic Party, to somehow sway the insurance lobby's biggest allies in Congress? DO THESE FARTS REMEMBER THAT THEY PUT *MAX BAUCUS* IN CHARGE OF REFORMING HEALTH CARE? DO DNC SLOBS EVER *READ* ABOUT MAX BAUCUS? LOOK AT WHAT THE ANCIENT DEMON MAX BAUCUS IS DOING. GOD. JESUS. KIDDIN' US? JOKING? ARE YOU ATTEMPTING TO MAKE FUNNIES HERE? FUCKBEANS. FUCK. BEANS. BWAH.
Organizing For Health Care [Barack Obama]