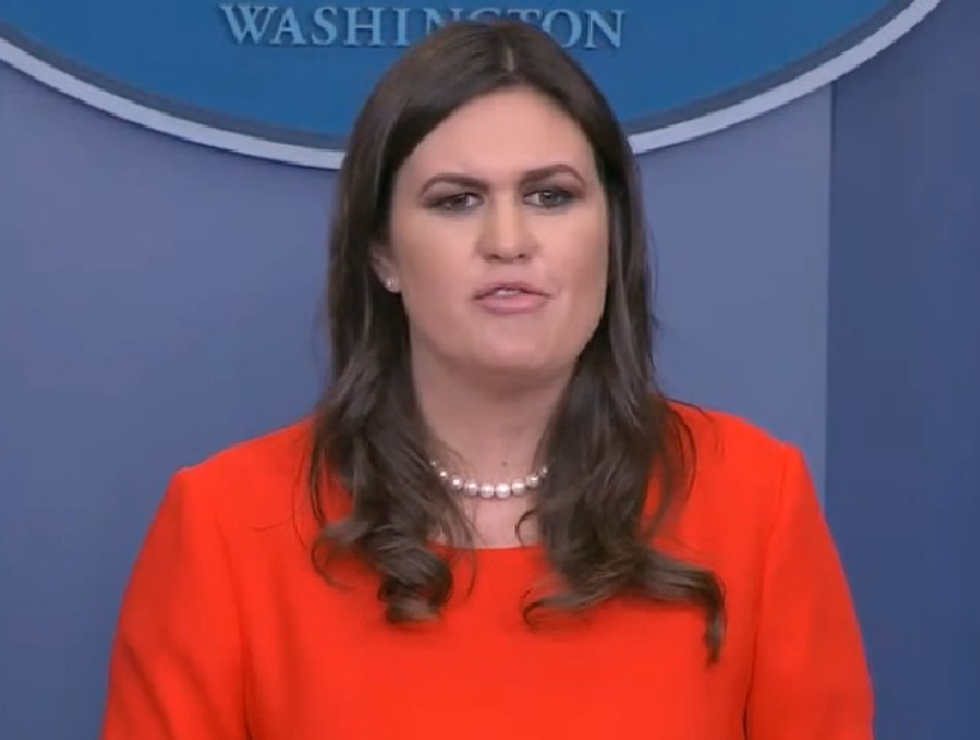 God bless screen grabs.
---
We can scarcely believe we haven't devoted a post in our beloved series of children's bedtime stories "Oh Go Fuck Yourself (INSERT ASSHOLE'S NAME HERE)" to Our Lady Of The Tablecloth-Wearing Lie Mouth, AKA Sarah Huckabee Sanders. But we haven't, so here we go.
What was the worst thing Sarah Huckabee Sanders said or did this week? Was it when she tweeted Wednesday morning about how she was happy enough to fry a squirrel for dinner that CNN was boycotting the White House's Christmas party?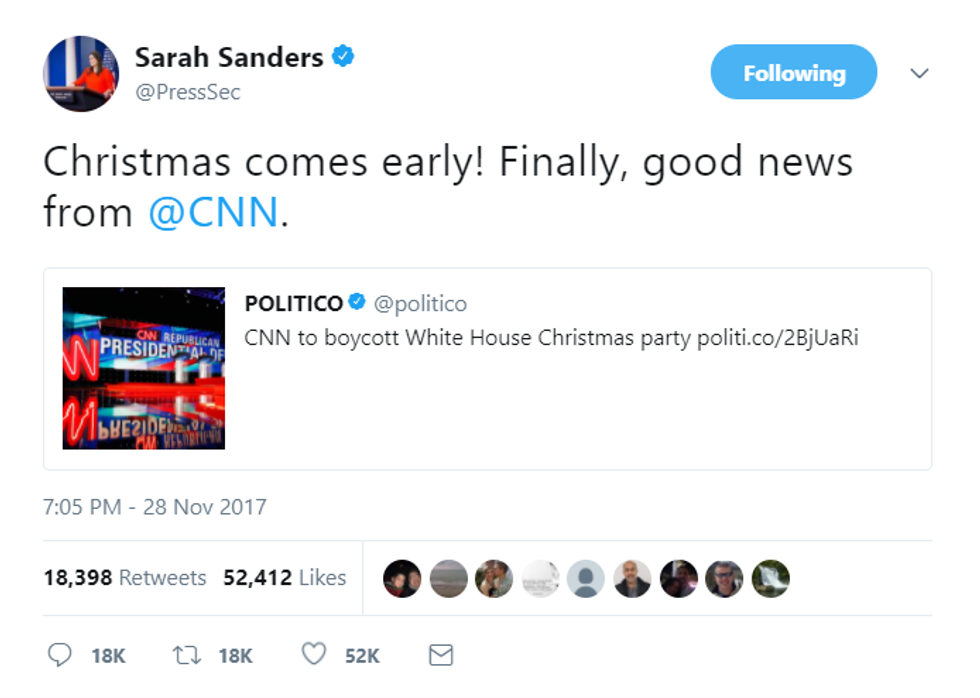 "HAW HAW HAW, MIKE HUCKABEE IS MY DAD, WHICH IS WHY MY #JOKES ABOUT FAKE NEWS CNN ARE SO FUNNY!" Shut the fuck up, but that's not the worst thing the Shuckster said or did this week.
Was her worst act of the week when she defended her white supremacist boss Donald The Stupid after he hurled racism at Navajo code talkers who helped us win World War II, by telling them all about mean old "Pocahontas" in the Senate? Sanders did her typical bullshit thing, baselessly claiming "people" (her boss sitting in the Oval Office playing with himself with one tiny hand and mashing the button for Coca-Cola with the other, allegedly) are more concerned that Elizabeth Warren "lied" about her heritage to get ahead (she didn't). It was a stupid, shitty lie (Sanders, not Warren, who, again, DIDN'T), but we've learned not to expect anything better from Sanders. Hey, at least she didn't murder a dog like her brother did.
Sarah Huckabee Sanders on Trump calling Elizabeth Warren "Pocahontas" while honoring Native American war veterans earlier today:

"I think what most people find offensive is Senator Warren lying about her heritage to advance her career" pic.twitter.com/6IYwYABD2E

— BuzzFeed News (@BuzzFeedNews) November 27, 2017
No, that was not the worst thing she did this week.
Hands down, the worst sin against common decency Sarah Huckabee Sanders committed this week was her response to Trump tweeting anti-Muslim torture porn on Wednesday morning, sourced from British white supremacists who make American white supremacists look like ... OK let's just say it's a tie as to who has the worst white supremacists. Trump's tweets were a libelous incitement to violence, a way to greet the morning with his pigfucking supporters, by reminding them bright and early that THE MUSLIMS ARE COMING, THEY ARE DOING WAR AT YOU!!!!1111!!!
Even for Trump, it was fucking disgusting, and that's saying something.
Let's pass the mic to Shuckles The Clown, who is answering a question about whether it matters if the videos Trump tweeted were even real:
Question on President Trump's retweets this morning: Does it matter if it's a fake video?

Sarah Sanders: "I'm not talking about the nature of the video. I think you're focusing on the wrong thing. The threat is real, and that's what the President is talking about." pic.twitter.com/Nh2YyuLD01

— NBC News (@NBCNews) November 29, 2017
I'm not talking about the nature of the video. I think you're focusing on the wrong thing. The threat is real, and that's what the President is talking about.
First off, at least one of the videos has already been debunked and the other two are suspect and/or completely out of context. So there's that.
But Sanders says she doesn't care because "THE THREAT IS REAL"? What "threat" is that, asshole? Because Trump didn't explain his retweets. As far as we can tell, the "threat" that keeps the president shitting his Depends at night (allegedly) is the mere existence of Muslims, and he didn't do anything to disabuse people of that notion Wednesday morning. To be clear, only one of the videos refers to an "Islamist" mob. The other two referred to a "Muslim" and a "Muslim migrant." How the fuck is this different from Hitler or any other genocidal maniac who libeled entire races and religions of people as unclean or dangerous?
TELL US, HOW THE FUCK IS IT DIFFERENT, SARAH HUCKABEE SANDERS, YOU COMPLICIT PUS-FILLED WHITE TRASH SCAB ON THE TINY DICK OF DONALD TRUMP'S HUMANITY?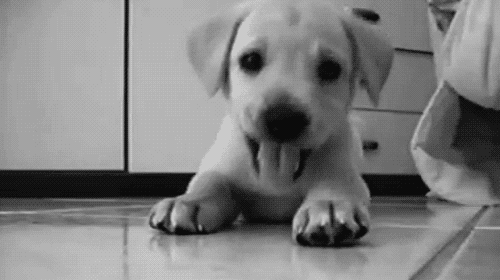 Look, it is puppies! They are telling Wonkette to relax!
This week on the "Morning Joe" program, Mika Brzezinski couldn't hold back her disgust at this dumb fucking Shuckwad and the way she brazenly lies and covers for her boss. This came just after Trump's Pocahontas comments, but it applies to every single thing Sanders has done during her shameful tenure at the White House. Here are a couple Morning Mika quotes, as lovingly transcribed by RawStory, which means they're probably wrong:
"What's wrong with her? Why does she do that job? How can she look in the mirror every day and say, 'I am doing the right thing for the American people?' Because you are not — you are not. This is Kellyanne Conway territory. This is horrible." [...]

"It's sick, the whole thing is sick, the whole relationship is sick," Brzezinski said. "She's taken the oath. I don't know how you do it. You are raising three children. Stop."
MIKA MAD. As well she should be. We, too, are worried about Sarah Huckabee Sanders's children and what they're learning from the example their mother sets. But that's between her and her God, we guess.
Speaking of God, let's end with a LOL tweet about what's going to happen right after Sanders dies of old age, just before Jesus sends her to hell: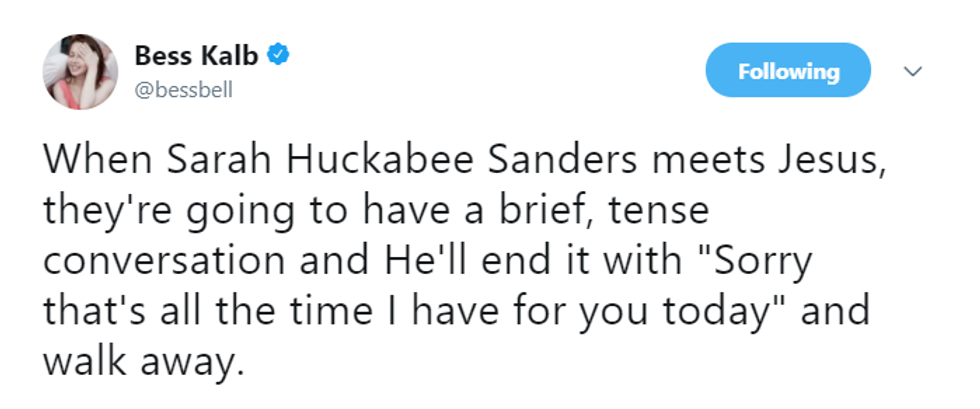 What did we say in the headline of this post? Oh yeah, it is go fuck yourself, Sarah Huckabee Sanders, you debased redneck motherfucker.
And that's what we have to say about that.
Follow Evan Hurst on Twitter RIGHT HERE.
Wonkette salaries and servers are fully paid for by YOU! If you love us, click here to fund us.
[RawStory]
Evan Hurst
Evan Hurst is the managing editor of Wonkette, which means he is the boss of you, unless you are Rebecca, who is boss of him. His dog Lula is judging you right now.
Follow him on Twitter RIGHT HERE.