Go Off, MyPillow Guy, Go Off!
News
January 27, 2021 04:40 PM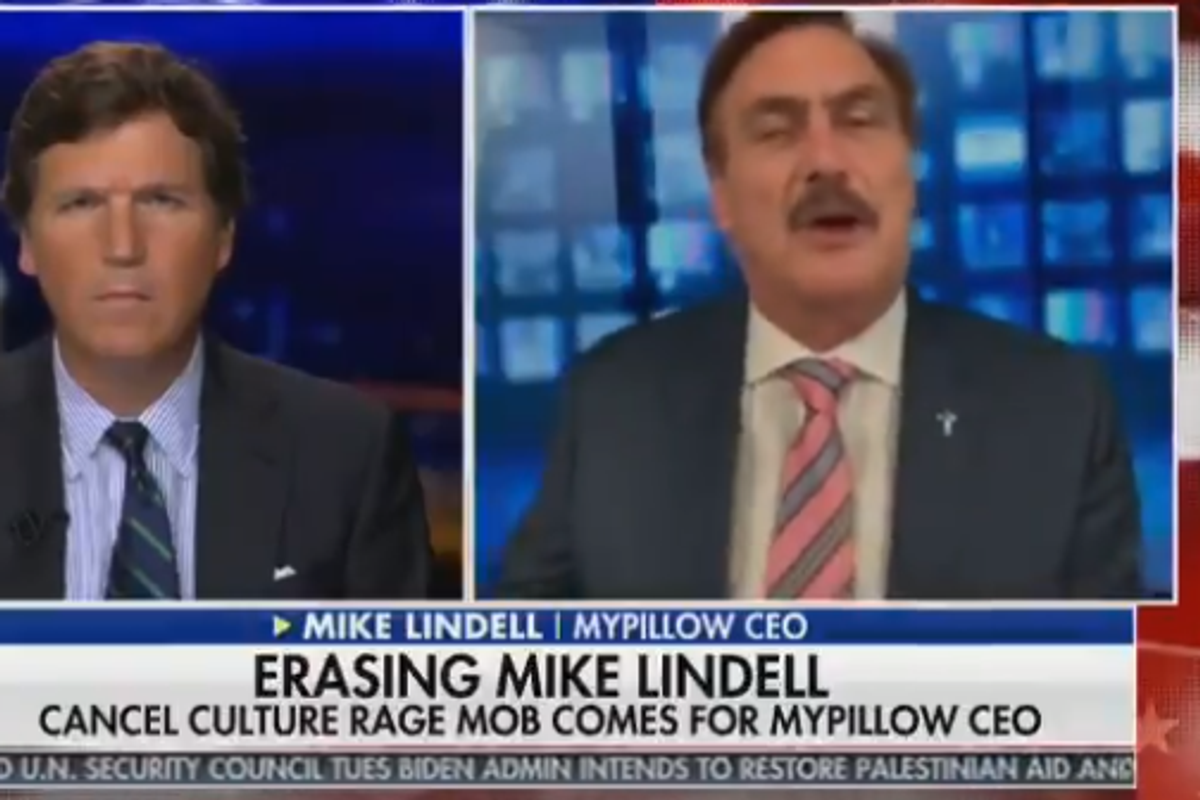 Mike Lindell, AKA the MyPillow guy, AKA Le gar de MyPillow, is having a week. He's been permanently banned from Twitter, for constantly pushing Donald Trump's fascist Big Lie about winning an election he lost in a landslide. And now all the TV channels and the big box stores are saying they don't want to sell his stupid dumpster pillows no more. :(

Boy, things sure have changed for him ever since the weekend before Joe Biden's inauguration, when Trump invited Lindell to the White House to show off his very brilliant plan for how they could still pull off a fascist coup, even after Trump incited that Capitol terrorist attack on January 6.
El chico de MyPillowwent on Tucker last night to explain what Twitter did to him:
---
This is sheer lunacy from the MyPillow guy. If you of your family members ranted like this you'd be worried about t… https://t.co/IYhIaXGv03

— Aaron Rupar (@Aaron Rupar) 1611714016.0
IL RAGAZZO DE MYPILLOW: I JUST COULDN'T DO ANYTHING AND THEY WERE RUNNING MY TWITTER LIKE THEY WERE ME!
Yeah? They were running your Twitter? Can you tell us what they look like? Can you hear them?
MY FRIENDS ARE GOIN' "YOU'RE NOT TWEETIN' VERY MUCH AND WHEN YOU DO," I SAID "I'M NOT DOIN' THAT!" SO I TRIED TO TAKE IT DOWN AND I GOT A THING FROM GERMANY SAYIN' THESE ARE TWITTER RULES AND YOU CANNOT DO THIS, TAKE ANYTHING DOWN.
Germany? Der MyPillow-typ got a thing from Deutscheland saying it was the Twitter rules coming after him?
SO THEY RAN MY TWITTER FOR ABOUT 14 DAYS, 15 DAYS ...
Who was running your Twitter for two weeks, Mike? Who? Tell us what you see!

THEN YESTERDAY THEY PUT IT BACK UP SO I COULD RUN IT, AND I MADE ONE TWEET, AND THE TWEET WAS A GOOD LETTER WRITTEN BY ONE OF MY EMPLOYEES 'CAUSE I'M GETTIN' ATTACKED ABOUT MY INTEGRITY AND STUFF? AND THEY TOOK IT DOWN FIVE MINUTES LATER!
They tooked it down!
AND THEN A WEEK AGO, THEY DID A, DOMINION WENT ONLINE, WENT ON TV AND SAID THEY WERE GONNA GO AFTER MIKE LINDELL. WELL THEY DID, THEY HIRED HIT GROUPS AND BOTS AND TROLLS, WENT AFTER ALL MY VENDORS, ALL THESE BOX STORES, TO CANCEL ME OUT, THIS CANCEL CULTURE!
Dominion got online!
IT'S JUST A SHAME, TUCKER, WHAT THEY, IF THEY CAN DO IT TO ME, BELIEVE ME, THEY CAN DO IT TO ANYONE OUT THERE! BUT I'M NOT BACKIN' DOWN, WE CANNOT BACK DOWN OUTTA FEAR THIS TIME, NOBODY CAN, I TOLD THESE BOX STORES, YOU GUYS THESE AREN'T REAL PEOPLE, THESE ARE TROLLS AND BOTS, THE REAL PEOPLE WILL BUY THE PRODUCTS AND WILL SUPPORT YOU, YOU CAN'T DO THIS JUST BECAUSE THEY CANCEL YOU, TRYIN' CANCEL CULTURE!
Dominion tryin' cancel culture!
Now you might think that when even Tucker Carlson is lookin' at you like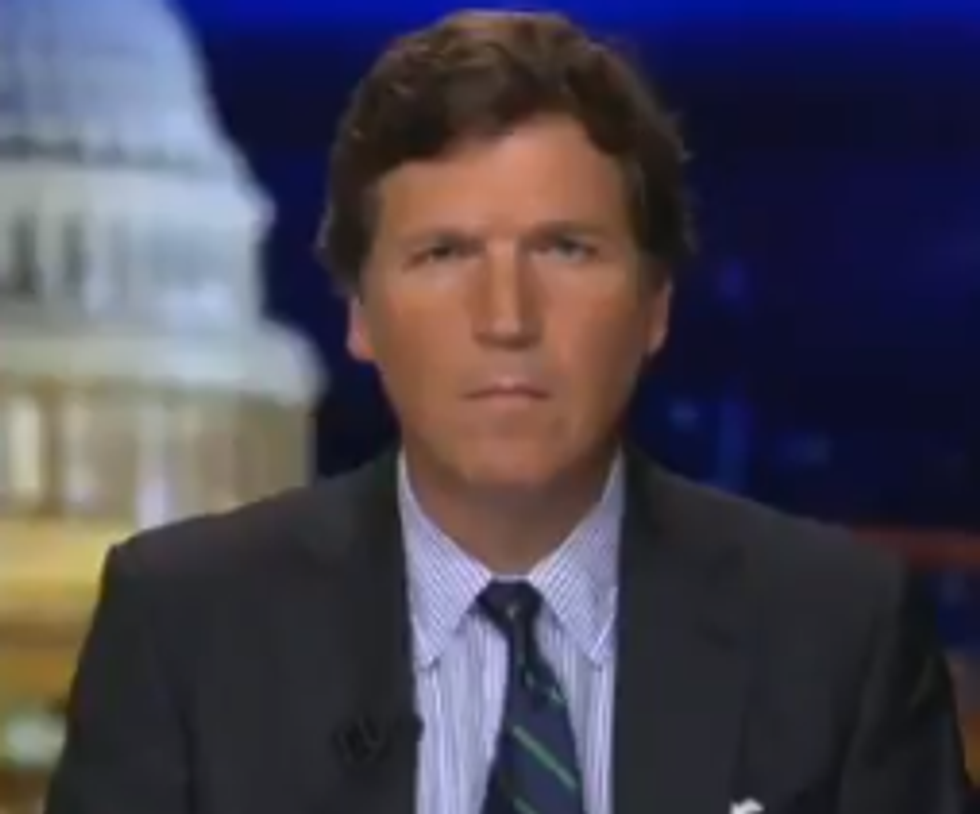 that maybe even Tucker is like "Nah."
But no, Tucker was concerned! And not about whether Mike Lindell would be able to find a policeman to help him figure out where he lives if he happens to get lost, either!
As Talking Points Memo reports (we are not searching the internet for more clips of this), Tucker bragged that Di mipillov bokher (Yiddish!) was one of his "biggest sponsors," and before that shitshow up there happened, he was more than glad to rage along with his white viewers that Twitter had cancel cultured their beloved pillow prince:
"For the crime of having different opinions, Mike Lindell has been banned from Twitter," Carlson said.

"It seems pretty clear they're sending a message," the Fox News host added. "People the public recognizes cannot step out of line because you might convince others to do the same."
Is "stepping out of line" the phrase we're using for this? OK.
To be clear, Tucker is lying when he says الرجل MyPillow (ooh that's Arabic, bet he don't like that one) was banned "for the crime of having different opinions." He was banned for violating Twitter's clearly stated policies against spreading fascist Big Lies about elections. Twitter is a privilege, not a right, Tucker.
Tucker did seem to make a thinly veiled dig at ʻO ke kāne MyPillow (Hawaiian!), while acting like he was attacking Dominion Voting Systems, which did indeed send Lindell a "we are about to sue your ass, don't destroy anything" letter. (Dominion may also have some opinions about Lindell's baseless accusations that they had "hired" bots and trolls to take him down.)
"They're not making conspiracy theories go away by doing that," Carlson said, adding: "You don't make people calm down and get reasonable and moderate by censoring them, you make them way crazier. Of course!"
LOL, Tucker just called dude's beliefs "conspiracy theories" and said if you "censor" them you make those people "way crazier!" There was an insult in there, but we are guessing MyPillow家伙 missed it. (Oh no, the Chinese language just stole Mike Lindell's name!)
In related news, Lindell said Tuesday that, like Rudy Giuliani, he WANTS Dominion to sue him, but he knows they won't, because then he would get to use discovery to PROVE that "these machines" ate his baby stole the election from the most unpopular and detested loser shithole in American presidential history, Donald Trump:
"I want to get sued by Dominion because then both sides have to show in court. ... Dominion's lawyers are not going to bother me because they know I have all this [evidence]," Lindell said. "My support of Donald Trump has never wavered since the time I met him and it never will. Never ever, ever. They stole this election from him, these machines."
OK.
(Spoiler: they sued Rudy. Guess they are not that scared.)
We'd say we're going to pray for the MyPillow Guy but we doubt God gives a shit.
OPEN THREAD!
[Talking Points Memo / Minneapolis Star-Tribune]
Follow Evan Hurst on Twitter RIGHT HERE, DO IT RIGHT HERE!

GIVE IT WONKETTE. We mean money. Thank you.
Evan Hurst
Evan Hurst is the managing editor of Wonkette, which means he is the boss of you, unless you are Rebecca, who is boss of him. His dog Lula is judging you right now.
Follow him on Twitter RIGHT HERE.