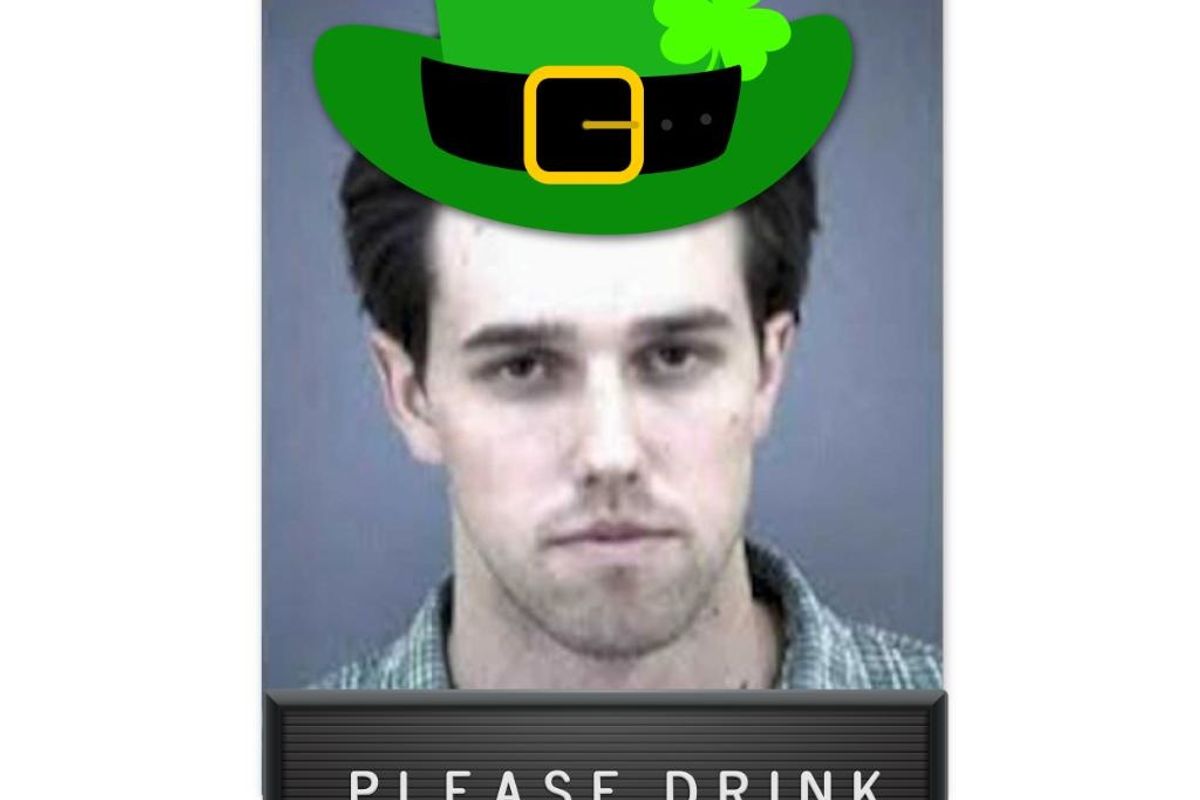 In a possible new twist on outreach to black voters, the GOP seems to be trying to prove they treat everyone equally, by showing us they are not just racist against us and the Latinos, and the Asians, and the Middle Easterners, and the Native Americans, and they "Gypsies," and the Shithole Countries, and ... well, damn. I guess white people were all they had left to oppress. Why is the GOP suddenly remembering that it is perfectly fine to show ethnic bias against "some" white people? That damn Beto O'Rourke made them do it. They fear him, and they should; Beto is nice, fun, charismatic, was in a band, and he broke first day fundraising records LIKE A BOSS!
Beto O'Rourke is continuing to break records.
In the first day of his presidential campaign the former congressman from Texas raised over $6.1 million, according to NBC News. This is the largest first-day fundraising total of any 2020 Democratic contender to date, including Bernie Sanders.
Just in time for Saint Patrick's Day, Beto O'Rourke jumped into the race for the Democratic nomination. Saint Patrick's Day isn't one of the holidays where the GOP can offend dark people, so some genius Photoshop MacGyver decided it was "stereotype the Irish O'Clock," and went to work.
On this St. Paddy's Day, a special message from noted Irishman Robert Francis O'Rourke. https://t.co/JRjMEXhZRY

— GOP (@GOP) 1552839363.0
---
The GOP Twitter account fired out its dumbass meme at 9:16 in the morning, and by 9:17 they were already getting told to fuck off.
Do you recall hearing that there was a time when the Irish weren't quite ... white? The Irish (and Irish Americans) sure the fuck do. Apparently, the English have been fucking with them for about near, oh, I'd say almost a THOUSAND damn years, so, it's kinda hard for them to forget certain things. Like that time the English watched them starve. Irish people don't like that.

AND Irish-Americans really don't like the tweet the GOP sent out, nobody does, really. All the likes are from complete assholes.
From DailyMail:

The Republican Party is being accused of peddling anti-Irish stereotypes by posting Beto O'Rourke's mug shot from his drunk driving arrest 20 years ago on its official Twitter account.

The tweet included the caption: 'On this St. Paddy's Day, a special message from noted Irishman Robert Francis O'Rourke.'
O'Rourke is of Irish descent.
The GOP has never met a set of stereotypes that it didn't immediately begin a long term love affair with, but take a look at the effort they put into "mocking" Beto by posting his sexiest photo on Twitter. Oops, looks like the GOP has yet another SELF-OWN trophy to put on their fail shelf.
The photo attached to the tweet showed O'Rourke's 1998 mug shot after he was arrested for driving while intoxicated in Texas.

The mugshot was photoshopped, as a green leprechaun hat was placed on top of O'Rourke's head.
Like, really. A hat. Sigh. The GOP is so fucking lazy, it's like they hired my nine year old to make Beto looks Irishy.
Since the GOP thinks it's a joke to use stereotypes against groups that have been trying to live down shitty accusations for generations, maybe they should learn how to shut the fuck up in light of how notorious they are for getting wild and crazy themselves.
[Brett] Kavanaugh famously expressed his love for beer during his Senate confirmation hearings, during which it emerged that he had been accused of sexually assaulting a woman at a high school party more than 30 years ago.
Kavanaugh, like O'Rourke, is of Irish Catholic descent.
Oh, yes. The Schrodinger's Rapist (allegedly) who likes to hang with Squi and drink BEERS I LIKE BEERS DON'T YOU LIKE BEERS THIS MY LIFE YOU'RE MESSING WITH YES I WILL DRINK THAT BEER.
[Matt] Gaetz, the congressman from Florida, was arrested in 2008 for driving under the influence, according to the Tampa Bay Times.
Nobody knows if this is the first time or the millionth time because he has a face like a biscuit, and that's a common facestyle in Douchebagville, so he could just give a fake name and the guy he blames will look just like him. Allegedly.
Donald Trump Jr, the president's eldest son, was arrested for public drunkenness during a Mardi Gras celebration in New Orleans in 2001.
My only surprise here is that he didn't shit himself that we know of. No, really. I am surprised.
O'Rourke has talked about his arrest when running for El Paso City Council, where he served before he was elected to Congress in 2013.

'I drove drunk and was arrested for a DWI in 1998,' he said during his campaign last year.

'As I've publicly discussed over the last 20 years, I made a serious mistake for which there is no excuse.'
Bottom line is that the GOP loves being racist so much that I was finally able to find the anti-white racism that I have been told is going on, but couldn't find, and now I just wish would go away.
I have finally found some anti white racism! Thanks for stereotyping the Irish and being kinda racist, GOP! "Not… https://t.co/osR35BskNy

— 👑Devin Nunes Cocaine BJ Cow Treason (@👑Devin Nunes Cocaine BJ Cow Treason) 1552851528.0
Next time the GOP wants to tangle with The Beto, maybe they should just back the hell on up. He doesn't even have to fight you back to win, and really, isn't that all that matters. Fight him, don't fight him, it's pretty obvious you have no idea wtf to do with Beto, and boy oh boy, that is enjoyable as hell. Thank you, Beto, and good luck in your campaign!
Wonkette is ad-free and funded ENTIRELY by YOU. Be a pal, throw us a bone!
Wonderbitch
Follow Wonderbitch aka Bravenak aka Bianca DeLaRosa, loves her jobs as Social Media Manager for Wonkette more than Sarah Huckabee Sanders loves lying to America. Bianca also moonlights as a Witch (THE BAD KIND!!) and is a Freelance Goddess of All Things Ever. Be very nice her because she likes to curse people, especially mean people. You can find Bianca on Twitter @Wonderbitch81, or email her at bianca@wonkette.com