GOP Gov. Ron DeSantis Heroically Leading Florida To COVID-19 Disaster
coronavirus
August 02, 2021 12:11 PM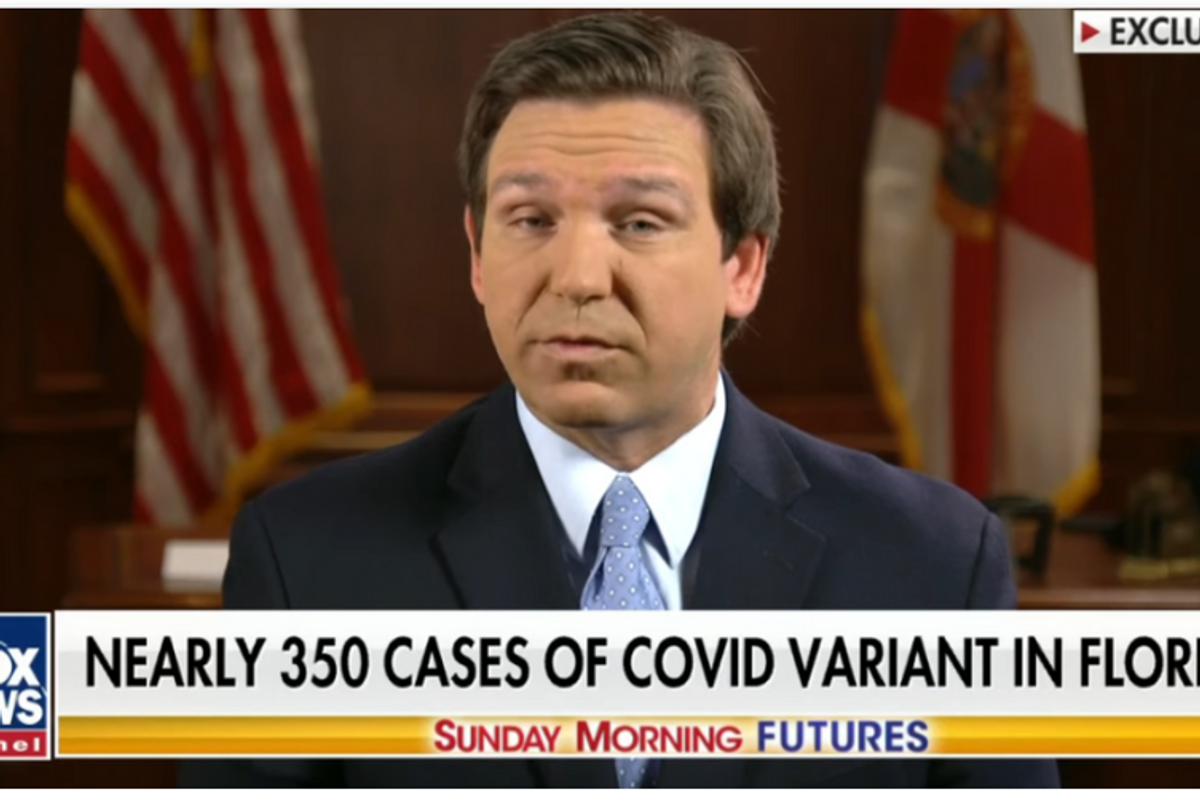 Florida is a deeply red state, not just politically but as a COVID-19 hotspot. Florida represents about 6.5 percent of the US population, but accounts for 21 percent of new COVID-19 cases. The state now leads the nation in per capita hospitalizations for COVID-19. There were almost 10,000 reported on Saturday, and Florida has resorted to putting emergency room visitors in beds in the hallway. According to the Safety Net Hospital Alliance of Florida, the median and average ages of patients admitted with severe COVID-19 symptoms has dropped, respectively, from the high seventies and low eighties last July, to the forties and sixties now.
This is directly related to vaccine resistance among young people, who are just as mortal as older Floridians but apparently not as intelligent. As of last week, fewer than 50 percent of Floridians under the age of 40 were vaccinated, while more than 84 percent of Floridians over the age of 65 were vaccinated. That's how you end up with a very red hotspot map.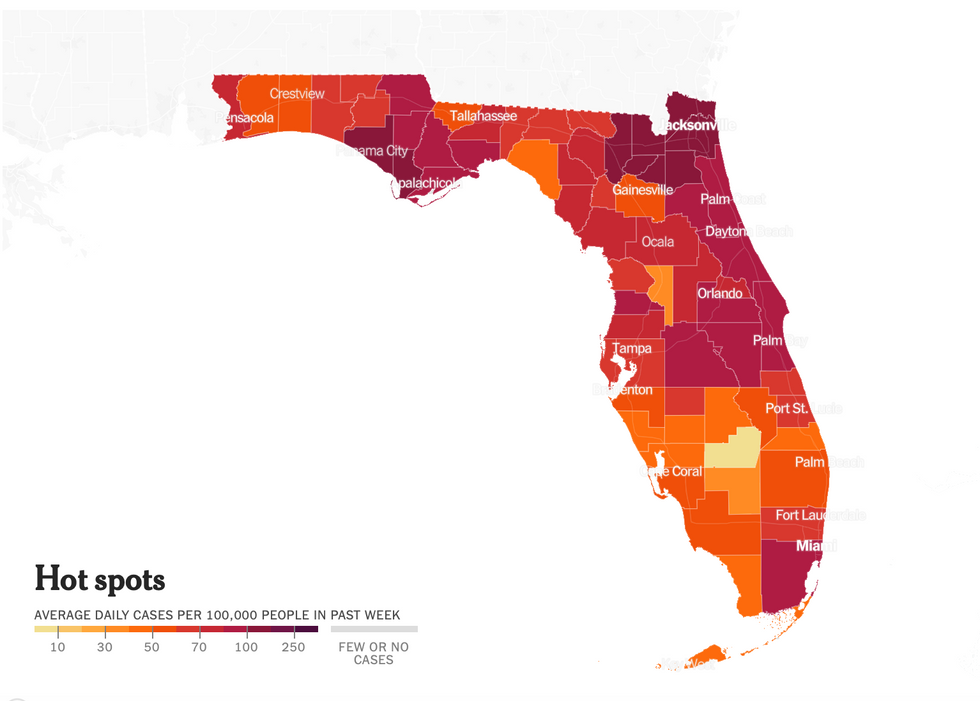 New York Times
---
Florida GOP Governor Ron DeSantis is a master at handling contrived crises, such as people exercising their First Amendment rights in ways he doesn't approve, trans kids simply existing in public, and critical race theory (ooga booga!). But he's all thumbs on a real crisis that's killing residents of the state he supposedly leads. He's actively preventing private businesses from requiring proof of COVID-19 vaccination, which is freely available to anyone with two brain cells to rub together.
State attorneys for the DeSantis administration argue:

Exercising its sovereign authority through its traditional police power of safeguarding public health, safety and the economic well-being of its citizens, the Florida governor and Legislature have determined that businesses in the state should be prohibited from denying service to customers who decline to provide documentation certifying COVID-19 vaccination --- so-called "vaccination passports" -- or post-COVID-19 recovery.
Young, unvaccinated dullards are running around Florida spreading the COVID-19 variants delta, gamma, and now a third, B.1.621. This is a completely preventable crisis, but DeSantis enables these fools to endanger themselves and others, including children who can't yet receive the COVID-19 vaccine. Even if we disagree, we can appreciate the principle behind not forcing people to divulge their health status before entering Piggly Wiggly, but DeSantis has blocked local officials from imposing mask mandates, which are no more tyrannical than existing rules requiring shoes and shirts if you want service.
DeSantis decreed that parents should decide if their kids wear a mask to school, which means most kids won't wear masks to school. It's also hard to imagine that he'll permit mandatory COVID-19 vaccinations even once they are FDA-approved. Yes, Florida public schools currently require students be vaccinated against measles, chicken pox, and polio, but DeSantis wasn't governor then.

Students return to school August 23, just three weeks from now, and DeSantis has threatened to pull funding from schools that attempt to have mask mandates.
"I have (three) young kids. My wife and I are not going to do the mask with the kids. We never have; we won't. I want to see my kids smiling. I want them having fun," DeSantis said.
This asshole isn't content to merely oppose mask mandates in school, now publicly implying that parents hate their kids if they send them to school wearing masks. You can imagine the scene on Florida public school playgrounds: "My mommy and daddy don't want to cover my beautiful smile with a mask. They love ME. Also, they think the COVID-19 vaccine is filled with alien microchips."
DeSantis won't declare a state of emergency despite the COVID-19 variant surge, but local officials seem to realize he's useless and are moving forward with sensible solutions. Miami-Dade County Mayor Daniella Levine Cava says masks will be required again at indoor county facilities, regardless of vaccination status. Orange County Mayor Jerry Demings declared a state of emergency last week for the county, which is home to Walt Disney World and Universal Orlando Resort. Demings will require that all 4,200 non-union county employees get their first shot by the end of August and the second shot by the end of September.
Cava and Demings would both make better governors than DeSantis, as would a reasonably educated credenza. Unfortunately, Florida is stuck with DeSantis through 2022. Let's hope there are enough Floridians left to vote him out of office.
Follow Stephen Robinson on Twitter.
If you enjoyed this story (as we're sure you did), please donate what you can below to keep Wonkette and its staff going.
Stephen Robinson
Stephen Robinson is a writer and social kibbitzer based in Portland, Oregon. He writes make believe for Cafe Nordo, an immersive theatre space in Seattle. Once, he wrote a novel called "Mahogany Slade," which you should read or at least buy. He's also on the board of the Portland Playhouse theatre. His son describes him as a "play typer guy."