GOP Senators Gush Over Gorsuch. Wonkagenda For Weds., March 22, 2017
Elections
March 22, 2017 09:19 AM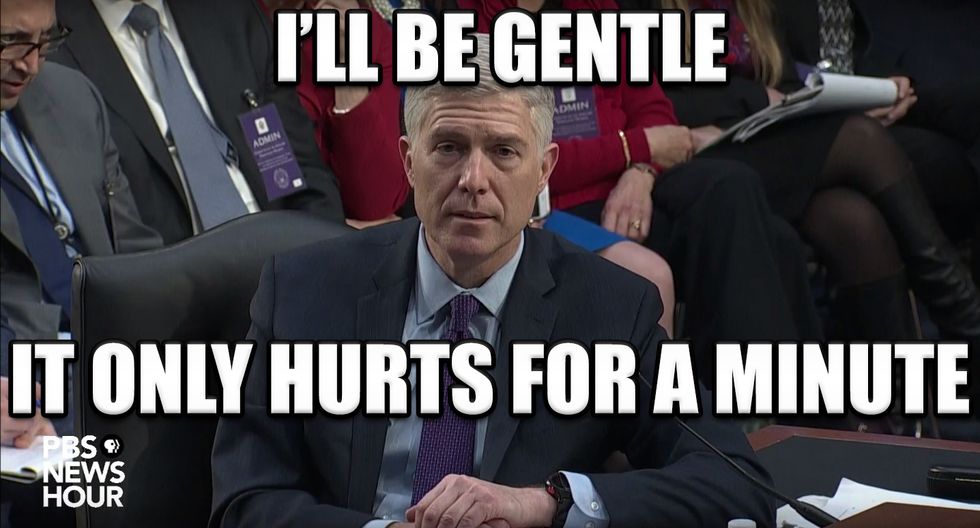 Morning Wonketariat! There's a bajillion things going on today, and here's some of the things that we may be talking about!
---
President Trump threatened to end GOP House members (with votes) if they don't pass Trump/Ryancare, even though the bill is likely dead on arrival in the Senate because they've dug themselves into a hole after eight years of genuine stupidity.
Neil Gorsuch greased himself up so he'd be easier to swallow as many Senators lined up to gobble up all of his smooth-talking horse shit, though some Senators were having none of it. We'll have to wait and see what happens in Day Three.
It's getting a hell of a lot harder for Paul Manafort to say he wasn't, at the very least, a Russian political operative as new documents detail Manafort's 2005-2009 plans to spread pro-Russian politics and businesses across former Soviet republics. Manafort says it's all "a smear campaign." SSMMEEAARRS!
BUT WAIT, THERE'S MORE! Manafort has also been fingered by a Ukranian lawyer for allegedly laundering money for former Ukranian pro-Russian president Viktor Yanukovych.
You want MOAR Russian spy stuff? The FBI is investigating Dead Breitbart and InfoWars for pro-Russian influence for peddling the crazy-pants junk spewing from Trump-bots across social media. [MORNING MADDOW!]
A Russian lawyer "accidentally fell" *wink* from his fourth floor window in Moscow when workers were trying to install a Jacuzzi in his apartment. Coincidentally, he's a witness for a massive money-laundering scheme perpetrated by Russian mobsters that was being pursued by former US attorney Preet Bharara.
Trump probably going to snatch private land to build his Tortilla Curtain, which is SURE to piss off good 'ol boys down in the great state of Texas.
Republican governors are strangely distancing themselves from Trump's budget by having aides pick up the phone and say that they're in the shower or doing their hair when he calls for support.
Some poorly written right-wing news site is trying to take itself seriously seeing as how its pro-Trump puff pieces got it to be the only credentialed news outlet attached to Rex Tillerson.
Alex Acosta will have his confirmation hearing for Labor Secretary later today, and we're just DYING to know who has the balls to ask why Acosta cut a deal with a billionaire pedophile.
Michigan Republican Rep. Dave Trott was caught on a hot mic plotting and scheming how to warp his disastrous town hall into a campaign ad for "un-American crap." And, of course, Fox and Friends was happy to oblige.
Colorado's former Republican party chairman, Steve Curtis is being accused of voter fraud after filing his ex-wife's ballot for last year's election. Those darn I.D.-less illegals gone and done it again!
Ethan Couch, the rich little shit known as the "affluenza teen" is appealing his two year jail sentence for killing four people while drunk driving and then skipping the country.
A Mexican newspaper wrote a scathing editorial about lazy spring breakers who've been a bunch of ignorant racists. What fucking college student can even AFFORD a vacation?
Jared Kushner's big, new building is either a gaudy representation of his impotence and inadequacy, or a giant middle finger to New York.
Ivanka Trump may be moving into the West Wing, but that's just the start of her problems! Not only is she skirting the line of multiple ethics violations, but she's also being sued by small-fry clothing retailers who think her ugly garbage wares have an unfair advantage in the marketplace.
Joe Piscopo's run as an independent for a Senate seat in New Jersey might be over before it's started seeing as how he's just another broke Trumpkin ass trying to run for office in a perpetually screwed up state political system.
Our B. Barry Bamz has become a tabloid media darling now that he no long has to spend night after night keeping America from falling into the toilet. Maybe that's why Trump hates him so much?
And here's your late night wrap-up! Seth Meyers had a solid monologue, dug up Neil Gorsuch's resume;Colbert wondered how many bong hits it takes until you're paranoid of the deep state, laid out under the stars with Ryan Reynolds and had a special tribute to women; Trevor Noah took a stab at the stories he doesn't have time to talk about;Jimmy Kimmeltalked to Dave Chappelle and made some Drunk Donald Trump videos.
And here's your morning Nice Time! A baby gerenuk! They're adorable bug-eyed deer/giraffes from Somalia, so they're clearly not going to clear Customs and Border Patrol.
Wonkette is supported by readers like you, so donate and we'll keep giving you all hard-hitting and independent 'splainerings, dick jokes, and mommy blogging you already love!
Dominic Gwinn
Dominic is a broke journalist in Chicago. You can find him in a dirty bar talking to weirdos, or in a gutter taking photos.