Gordon Brown Going To Queen's House To Resign, David Cameron To Take Over In Tit-Bit?
News
May 11, 2010 02:46 PM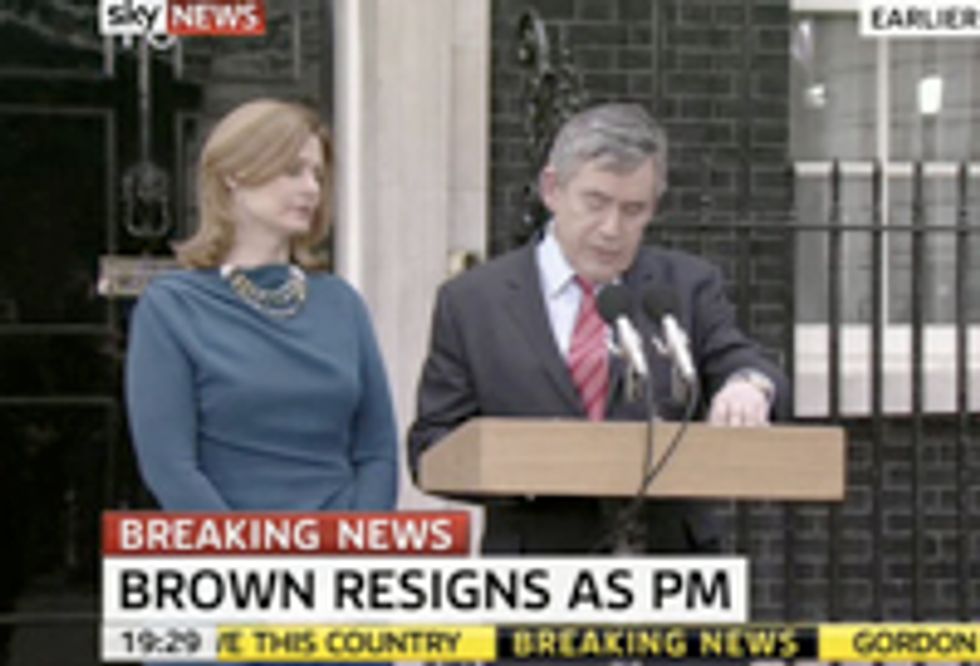 Self-loathing Labour monster Gordon Brown is literally in a fancy carright now on his way to the Queen's Palace to tell the noble monarch Elizabeth Windsor that he would be honored to no longer have a job running Her Majesty's Government, immediately, if she would be so gracious & comely as to accept his failure. She will then utter a faint "quite quite" and honorably chop off his head with her longest, most jewel-encrusted Knife and feed it to her pet lions, Bubby and Munnie, of Dover.
---
It looks like a done deal now that the Evil Tories will form a government with the rudderless Lib-Dems, to be known henceforth in Englande as the "Sell-Outtingtons."
"England's Talking Points Memo," The Guardian, has a liveblog of these rather crude developpements. (Did you know that England takes place in the future?)
7.25pm: Sky is saying that Nick Clegg will be deputy prime minister.

7.25pm: As a family, they walk hand in hand down to the car, which is not parked immediately outside the front door. Some of my colleagues find the pictures a bit sugary, but I found it sweet and touching. The children looked delightful.

Brown then got into one car to go to the palace. Sarah and the children left Downing Street in another car.

7.22pm: Holding hands with Sarah, he goes back into Downing Street and comes out again with his children, John and Fraser.

7.22pm: He thanks his wife. And as he leaves the second most important he could ever hold, he cherishes even more the first – his job as a husband and father.

7.21pm: His resignation as Labour leader will take effect immediately. (Harriet Harman must be acting Labour leader.)
How very tasteless to make such a Scene.