Government Reveals Comedy Central's Secret, Boring Rally Plans
News
October 28, 2010 12:19 PM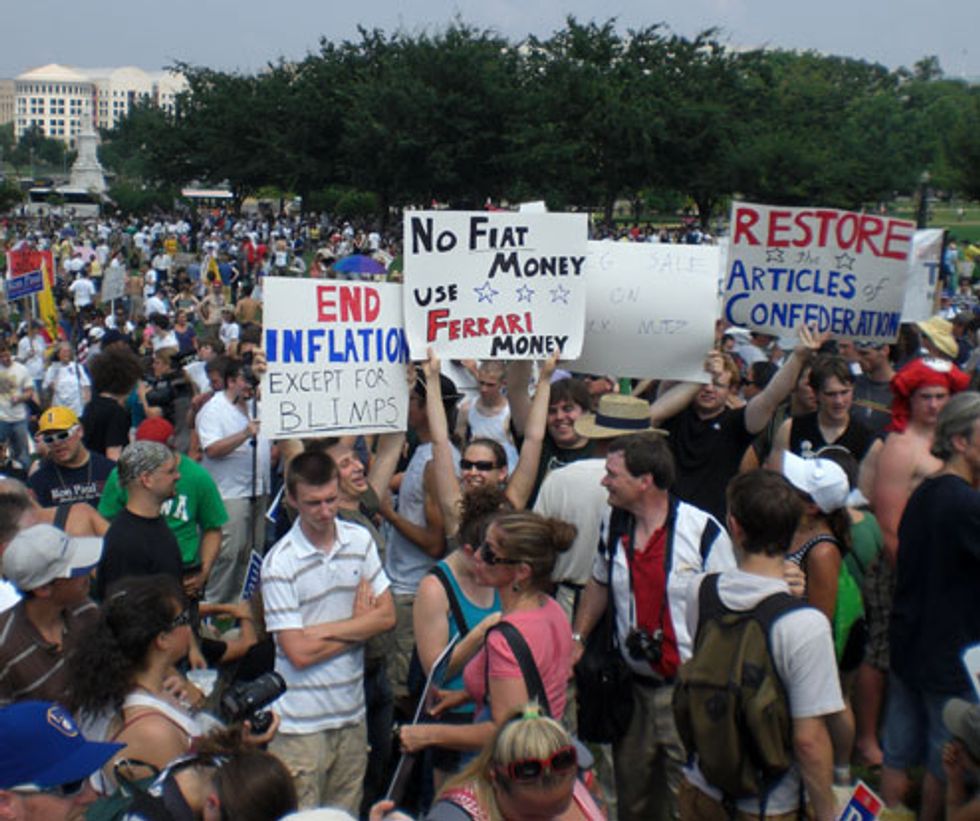 Such mystery surrounding the Jon Stewart/Stephen Colbert comedy rally in Washington this Saturday! One mysterious thing is that people who work for news outlets in DC "can't go" because it is going to be funny, but perhaps not funny in the way that angry old racist people playing bumper cars with theirobesity scooters are funny. ALSO, the Youth! It will be "funny" when America's old people and Washington's press corps both learn that the viewers of these Comedy Central current events programs are, in fact, mostly in their early 40s. This is information publicly available through such youth outlets as the Wall Street Journal and the Nielsen audience-measuring conglomerate. But what about the secret liberal-comedy schedule? We have it!
---
Do you remember the Obama rally in Denver, at the stadium, where he accepted the nomination? We remember, because we were there. We remember wandering through the crowds for hours, and Jim Newell getting arrested by the Secret Service because he left his laptop (a bomb) in his chair when he went searching for an anus burger or kettle korn, and mostly we remember seeking an empty spot in the press level but instead wandering Dante's endless levels of Hades, while Sheryl Crow bleated her lite rock for what seemed like an eternity, in Hell.
According to a National Park Service permit granted to Comedy Central for this event, it's going to be almost exactly the same, but with the addition of teevee's "Father Guido Sarducci," who was a late-night television sensation with "the hippies" back in the 1970s.
Here are the groovy details, via the Christian Science Monitor:
# 10:00 a.m.: The pre-pre-show begins with videos and music on the jumbotron to keep the gathering crowd friendly and entertained.

# Noon: The pre-show starts with a performance from The Roots.

# 12:40: A comedian (to be determined) warms up the audience.

# 12:57: A video countdown with a show introduction.

# 1:00: The show kicks off with the national anthem by a musical guest (to be announced).

# 1:05: Mr. Stewart welcomes the crowd – whose projected size is ballooning daily. Currently, there are 200,000 sign-ups on the official Facebook page alone.

# 1:20: Mr. Colbert enters, and two actors – Don Novello and Sam Waterston – perform readings.

# 1:40: Jeff Tweedy and Mavis Staple perform for 10 minutes, followed by Stewart and Colbert until 2 p.m.

# 2:15: Sheryl Crow performs for five minutes, followed by speakers and guests (to be determined).

# 2:30: Musical guests (also still being lined up) come on.

# 2:40: The show turns to a pre-taped sequence – The Sanity and Fear Awards.
Oh yeah, pre-tape! Anyway, if you're going, make sure to keep an eye on your watch during the "five minutes" of Sheryl Crow, because otherwise it's going to seem like seventeen hours of waiting for your wife to try stuff on at "The Limited." [Christian Science Monitor]