Grandpa, Tell Us About The Division Of Labor In The Hippie Commune Times
History Facts
May 04, 2022 01:45 PM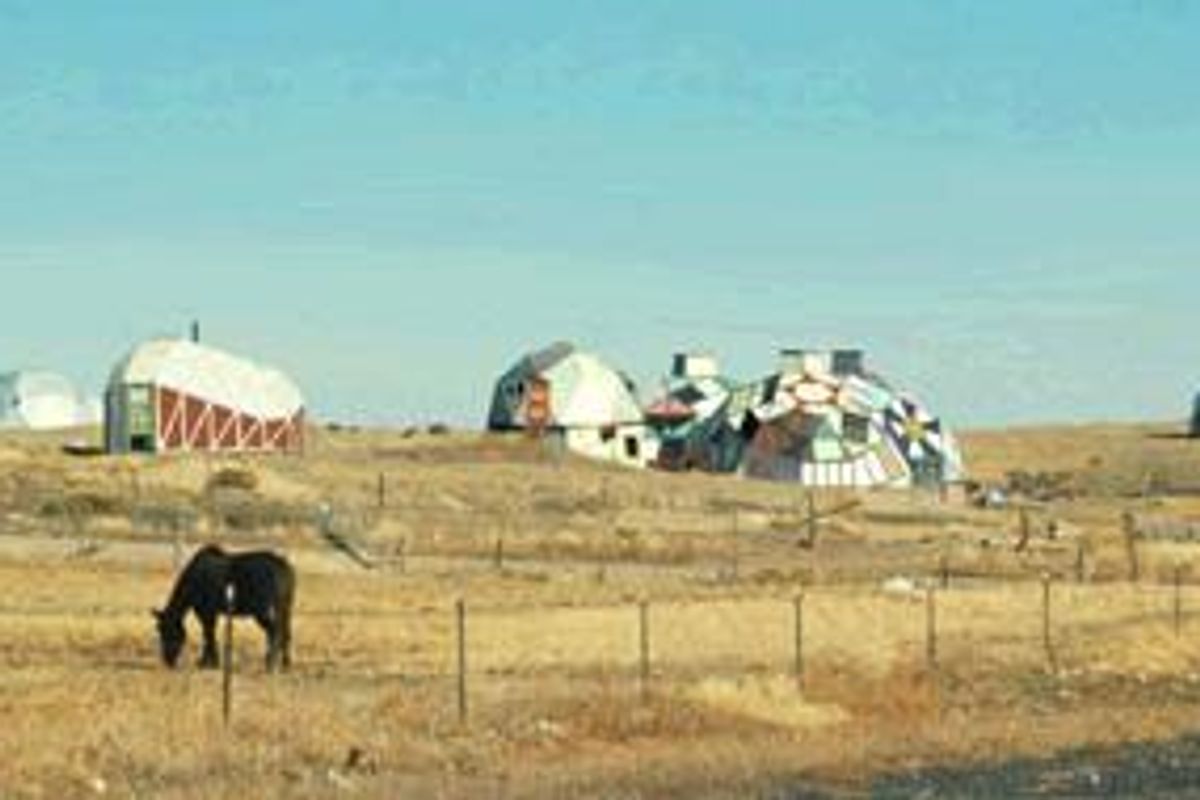 Editrix's note: Sorry, as usual, for skipping Loomis yesterday. We had a lot on our minds.
On May 3, 1965, Gene Bernofsky, JoAnn Bernofsky, Richard Kallweit, and Clark Richart bought a seven-acre piece of land north of Trinidad, Colorado. This would become known as Drop City, among the first and most important of the countercultural communes that dotted the American landscape during the late 1960s and 1970s and continuing, in a much diminished form, to the present. While itself not a particularly important day in American labor history per se, we can use this date to serve as a window into how work was organized in the counterculture, which is quite important to understanding this key part of American history.

Both then and now, there is a stereotype that hippies avoided work. The reality was far more complicated. Sure, many in the counterculture relied heavily on the welfare state to supplement their income. But most, including many of those who qualified for state benefits, valued hard work very highly. What the counterculture by and large rejected was work within the system of corporate capitalism. They weren't going to be The Man in the Gray Flannel Suit, for instance. They didn't want to work for wages, be union members, go into middle management. But there are many forms of work. Many in the counterculture wanted to labor for themselves, often in the beautiful nature of the American West, either regenerating both the natural world or themselves (or both) through labor. One chapter in my book Empire of Timber details the Hoedads, a group of countercultural reforestation workers in the 1970s. These people took up some of the hardest work imaginable – planting trees on the steep slopes of the Pacific Northwest. Both men and women engaged in this work that was often back-breaking. They felt they were contributing to a more just and sustainable natural world by planting trees while working for themselves outside of capitalism. This work did not make them very much money, usually less than minimum wage, and it was extremely strenuous. But it was work nonetheless.
---
In the communes, the work was often quite different but was still work. People such as Stewart Brand promoted countercultural work norms through the Whole Earth Catalog, focusing on self-sustaining economic and environmental projects that promoted people working for themselves. In 1971, the Whole Earth Catalog sold over 1 million copies. Believing that rural spaces were unspoiled, unlike the polluted corporate cities, many young people sought to establish themselves in the country, working on the land. The problem with this is that this work was tremendously hard and most were not ready for it. Disasters struck frequently. Communes would save money and buy a piece of relatively expensive farm equipment and then ruin it because they didn't know how to use it. They would build unstable structures that would collapse. That they eschewed many western farming methods and instead sought authentic Native American practices, often attempting to contact Native Americans to show them the way, did not help their material conditions much. Poverty was often the result. But being in touch with the earth through planting seeds by hand, harvesting farm animals, weaving, or planting trees was work well worth the effort for thousands of people during the years, despite the economic hardships they often faced.
But for all the potentially world-changing implications of countercultural work norms, one thing that is striking is how gender- traditional it all was. The counterculture broadly speaking, and certainly many if not most of the communes, internalized traditional gendered work norms. In the communes, men did most of the outdoor labor of constructing buildings, killing hogs, or plowing fields, while women both planted seeds in those fields and worked inside the buildings, cleaning, cooking, and taking care of the children. Women who tried to lay bricks with men reported being ignored and facing huge social pressure to return to the house. Over time, this did begin to fade in some communes, with men being forced to take on some childcare and women doing more physical farmworking tasks.
But this depended on the commune. On The Farm, in Tennessee, founder Stephen Gaskin — considered a guru by many of his followers — set up a traditional gendered world. Because Gaskin believed in the sacred power of women's reproductive yin and men's creative yang, he created a sexual division of labor that largely replicated an idealized past of what was considered 19th century rural gender roles. Quickly realizing that they were in over their heads in terms of the physical creation of community and self-sustainability, 12 to 14 hour work days with highly specialized roles became common. When they couldn't make enough money, men hired themselves to local farmers for cash. Women on the other hand created collectivized childcare and worked in cottage industries, financing the enterprises, cooking, farming, teaching in the commune's schools, and other tasks deemed feminine because they were seen as reproductive. In particular, the commune valued midwives as the highest form of female labor and they often played important social and political roles in these groups. Gaskin's teachings reinforced these ideas, calling men "knights" that needed to protect and provide for women. There was an attempt to reject an unproductive animalistic masculinity in exchange for what he called the creation of the New Age sensitive man, but the gendered norms remained powerful and deeply connected to labor.
By the late 1970s, the commune movement was fading fast for a variety of reasons. Hippies were becoming old people and out of touch with the youth, or at least that's how both the hippies themselves and young people saw it. Continued hardship and poverty were not appealing to a lot of men and women who were highly educated, and even if they had taken a decade off from the rat race, they still had Vassar or Columbia degrees and a lot of racial and cultural capital they could turn into future careers as lawyers or other professions. The revolutionary work ideas of the commune movement would largely go untapped, but their influence can be seen today in the organic farming and DIY work movements, both of which remain vital.
FURTHER READING:
Gretchen Lemke-Santangelo, Daughters of Aquarius: Women of the Sixties Counterculture
Tim Hodgdon, Manhood in the Age of Aquarius: Masculinity in Two Countercultural Communities, 1965-1983
Ryan Edgington, "'Be Receptive to the Good Earth: Health, Nature, and Labor in Countercultural Back-to-the-Land Settlements," published in Agricultural History in the Summer 2008 edition
Jeffrey Jacob, The New Pioneers: The Back-to-the-Land Movement and the Search for a Sustainable Future
Pssst, you holding? Please keep Wonkette paying its writers and going forever!